Rustic or contemporary, in the town or on the piste – there's no set formula for what we think makes an outstanding mountain hostelry. You'll see that many of the world's most famous five-star hotels are absent from our list. That's because, in our opinion, they lack that magical indefinable factor that makes them stand out from the crowd. This list is, for most of us, aspirational but shows a standard of design and facilities that other ski hotels are beginning to aim for.
Our Favourite Ski Hotels…(not in any particular order)
Arosa – The Tschuggen Hotel
Minimalist design, excellent food, and an incredible 5,000 sq metre spa designed by Mario Bottaover. The ski resort of Arosa used to be ignored by serious skiers because of its relatively small ski area, but all this has changed with the new link to Lenzerheide opening up a total of 225km of piste.
Cervinia – St Hubertus
Saint Hubertus Resort calls itself an apart-hotel, but it's much more than that. It's set in the woods and is owned by the same family as The Hermitage and is as cutting-edge contemporary as its neighbour is traditional. The spacious apartments are all eco-friendly with rough wooden beams, stone fireplaces, some unusual designer furniture, wood and stone floors, and gorgeous views from the windows. See also Where to Stay in Cervinia.
Courchevel – Le Melezin
The only alpine property of Aman Resorts, Le Melezin has taken the minimalist Aman-Asian style and added some alpine warmth. It has a great position on the Bellecote piste, a short walk from the ski resort centre. The ambience is chilled and calm, as well as very discreet. You can forget the other ski hotels in 1850 – too flashy. See Where to Stay in Courchevel.
Flims – Parkhotel Waldhaus
Built in 1877, The Parkhotel Waldhaus used to be a rather dour hotel until 2007 when SF40 million was spent on renovations. The hotel has three wings, which are linked by long corridors. Each wing is completely different, ranging from rustic chalet-style with lots of wood to minimalist Zen style. The hotel has two slate swimming-pools (one inside and one out), and a fabulous spa. See also Where to Stay in Flims.
Going – Hotel Stanglwirt
Hotel Stanglwirt has got to be the winner when it comes unique features, which include a Lipizzaner stud housing 20 horses. During the ski season you can trot around the indoor riding school or watch through the windows of the hotel bar. The hotel's Cow Barn Restaurant also has huge windows – this time overlooking an actual cow barn. The sports centre has a gym, swimming-pool and…wait for it…a boxing ring. Going ski resort is part of the giant SkiWelt area, linked on piste to Soll, Ellmau, Scheffau and Westendorf.
Gstaad – The Alpina
Having rested on its laurels, in December 2012 the world-famous ski resort opened its first new five-star hotel in 100 years. The Alpina is a contemporary interpretation of traditional Swiss architecture, finished with ancient fir. The three in-house restaurants include Megu featuring modern Japanese cuisine – from the finest fish and Kobe beef, to hand-made tofu and delicate wasabi. Other highlights are a Six Senses Spa with two pools and a range of holistic treatments.
Ischgl – The Madlein
The minimalist Zen style ski hotel features cool stone as the main material, with contemporary art hanging on the walls, and Philippe Starck bathrooms – which all come together to create a calming ambience.
As a complete contrast, The Madlein houses a Pacha nightclub, of Ibiza fame. The hotel is 100m from the Pardatschgrat gondola by covered escalator. See also Where to Stay in Ischgl.
Kitzbuhel – Hotel Kitzhof
Hotel Kitzhof interior is an innovative take on classical Tirolean, with lots of antique wood, glass, loden and modern furniture. There are four differently shaped restaurants, an enoteca (wine bar), and a spa features JUST PURE cosmetics that follow the cycle of the moon. See Where to Stay in Kitzbuhel.
Lech – Hotel Almhof Schneider
It's a toss-up between the illustrious Hotel Post and Hotel Almhof, so we've opted for the less obvious choice, which was also Princess Diana's favourite. The building started life as a farmhouse in 1451, but since 1929 it has been run as a hotel.
Conveniently located off the main road, the skiing is right on your doorstep. The hotel has suites and bedrooms decorated with a variety of natural materials such as wooden furniture and stone-made accessories. See also Where to Stay in Lech.
Megeve – Les Fermes de Marie
Ten minutes' walk from the medieval town centre is Les Fermes de Marie hotel hamlet run by artist and designer Jocelyn Sibuet. It's an exquisite ski hotel, with rooms and suites located in the farm buildings based around a 16th-century cowshed.
A pool is set into rocks and the spa is one of the finest in Europe featuring its own delicious creations based on mountain plants. See also Where to Stay in Megeve.
Meribel – Le Kaila
Le Kaila is Meribel's first five-star and is full of lovely untreated wood, textures such as tweed, suede and cow hide, central log-burning fireplaces, and a natural colour scheme. There's a gastronomic restaurant and luxury shops. The Spa Nuxe has a large pool with aqua bikes, hydro-massage seats, and geysers. In keeping with the overall style of the hotel, the spa is decorated in slate and wood, with natural tones. See Where to Stay in Meribel.
San Cassiano – Hotel Rosa Alpina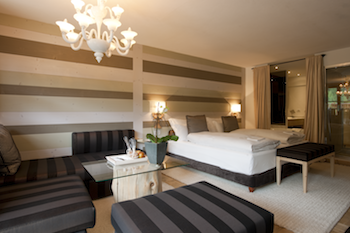 Not many places can beat the Rosa Alpina in little San Cassiano for its fusion of comfort and style – it's a chic, family-run, luxury hotel in the village centre with a restaurant boasting two Michelin stars. A newer annex contains gorgeous suites, and there's a lovely spa that even caters for children. See also Where to Stay in San Cassiano.
Sierra Nevada – Hotel El Lodge
The Andalucian resort of Sierra Nevada is 32km from Granada, and the presence of a ski resort here seems at odds with the nearby resorts of Marbella and Malaga, two hours away. Last year Hotel El Lodge opened, housing a branch of the Suite Lounge, Marbella's cool nightclub. The hotel has 20 Nordic-style rooms, all of which can connecting with others to create suites.
St Anton – Raffl's St Antonerhof
The St Antonerhof is a boutique hotel located in the heart of St Anton, combining traditional Tirolean charm and luxury service. The Grand Suite has two separate double bedrooms, with two free-standing baths and a Stüberl (typical Austrian living room) with tiled stove. One of the bedrooms has an open fire place. The hotel has a spa and pool, while the St Antonerhof kitchen has been awarded 13 points by Gault Millau. See Where to Stay in St Anton.
St Moritz – The Carlton
Not The Palace, as you'd expect, because we prefer The Carlton. Originally built in 1913, it reopened a few years ago as the resort's first luxury boutique hotel. Forget the other five-stars, this is our favourite hotel in town. The bedrooms are enormous and all completely different, and the lake views are to die for. Bank manager permitting (it might make sense to invite him/her!), you can even rent the entire hotel for family, friends or business associates – there are seven floors, 60 suites, restaurants, bars, and a three-storey spa. See Where to Stay in St Moritz.
Val d'Isere – Les Barmes de l'Ours
Les Barmes de l'Ours is where to stay if you're rich and famous or simply if you want to be tucked away from the hustle and bustle.
It is set at the bottom of La Face Olympic downhill course and walking distance to the resort centre. It has a wonderful spa and a Michelin-starred restaurant. Each of the four floors is decorated in a different style: from Scandinavian to contemporary. See also Where to Stay in Val d'Isere.
Val Thorens – Altapura
Artist and designer, Jocelyne Sibuet, famed for her gorgeous Les Fermes de Marie hotel in Megeve, opened her highest-altitude hotel, Altapura, in 2011. The four-star has a chic bar, a choice of three restaurants, high-tech rooms and one of Jocelyne's signature lush spas. The piste-side location is to die for, although it's a hike from the main apres-ski in the village centre. See also Where to Stay in Val Thorens.
Zermatt – The Omnia
None of the 30 rooms in The Omnia have numbers, and the hotel is set deep into the side of the mountain. There's a gorgeous indoor-outdoor swimming-pool, floor-to-ceiling windows, wooden floors, modern fireplaces and funky bathrooms.
One of the highlights is the Cavern bar – a glass and steel space inside a man-made cave that floats on water. See also Where to Stay in Zermatt.
New for 2013-14…
Andermatt – The Chedi
Alps meets Asia in this brand new five-star hotel and apartment development. But it's not just The Chedi that's new: the former Swiss garrison town is undergoing a £1.2bn makeover to place it onto the world ski map.
The hotel has open fireplaces, wood panelling, and two restaurants including The Japanese Restaurant featuring a tempura and sushi bar.
Chamonix – Heliopic Sweet & Spa
Located a few metres from the Aiguille du Midi lift station in the southern end of the resort, The Heliopic is contender for best hotel in Chamonix which until now has been dominated by The Albert 1er.
The decoration has a touch of 50s and 60s style and there's a spa with swimming-pool, water-wall, and ice-cave. See also Where to Stay in Chamonix.
Courchevel – L'Apogee
Located in the prestigious Jardin Alpin area, L'Apogee has suites, rooms and a spectacular penthouse with its own Jacuzzi and private terrace, and views over Courchevel village.
There's a superb spa and swimming-pool, and a restaurant presided over by Michelin two-star chef, Yannick Franques. See also Where to Stay in Courchevel.
Verbier – The W
They've been talking about it for five years and now it's finally here. The Alps is getting its first W Hotel, and as well as the five-star hotel the complex contains The Residences luxury apartments and a shopping area called Place Blanche. See also Where to Stay in Verbier.
And the Little Gems…
These are not necessarily the most luxurious hotels, but they are small and cute, with alpine atmosphere coming out of their ears. They also happen to be a bit cheaper than those listed above.
Les Carroz – Servages d'Armelle
The tiny eight-bedroomed Servages d'Armelle is one of those delightful little places you're bound to fall in love with. Les Carroz is part of the Grand Massif area shared with Flaine. The hotel is decorated with leather and cowskin, linen bedding, walls clad in old wood or slabs of granite, log fires, stripped floorboards and rough wooden beams. It houses a Michelin-starred restaurant, too. See Where to Stay in Les Carroz.
Les Houches – Les Granges d'en Haut
Les Granges is nice little oasis in a ski resort otherwise lacking in stylish places to stay, and famous only for its World Cup downhill course. The restaurant and spa are in the main building and you stay in one of the 14 chalets in the grounds – all of them have warm and woody bedrooms and beautifully equipped kitchens. The style is traditional alpine with lighting made from antlers and animal horns. See also Where to Stay in Les Houches.
Sauze d'Oulx – Chalet Il Capricorno
The rustic little Capricorno is set among pine trees at 1700m at the top of the Clotes piste, 2km above the resort. The nearest chair-lift is 200m away. The seven individually designed bedrooms have hand-made furniture and en suite bathrooms.
The restaurant is one of the two best on the mountain with a welcoming log fire and a fine wine cellar. See also Where to Stay in Sauze-d'Oulx.
St Luc – Hotel Bella Tola
Little St Luc in Switzerland's Val d'Anniviers doesn't have much to offer experienced skiers, but Grimentz is a short drive down the road. Anyway, you won't feel like doing that much skiing when you're staying at one of the most romantic hotels in the Alps. The Bella Tola was built in 1883 on the foundations of a Roman villa. The bedrooms are quirky with lots of personal touches, there's a lovely spa where you can stretch out on steamer chairs, swaddled in soft rugs, beside the swimming-pool and blazing log fire. See Where to Stay in Grimentz.
St-Marcel – La Bouitte
The little three-star, La Bouitte, lies in a hamlet between St-Martin-de-Belleville and Les Menuires. It has a Michelin star and an intimate farmhouse atmosphere. Old wood and natural colours throughout create the Alpine character. The cuisine is its forte – signature dishes include snails stewed with foie gras followed by double rack of lamb cooked in an earthenware dish, sprinkled with penja pepper and juniper. See Where to Stay in St Martin de Belleville.
If you're not sure where to stay this winter, see also our features on What Kind of Ski Accommodation is Right for Us?, Ten Reasons to Rent a Ski Apartment and The Best Luxury Ski Chalets in the World.