Chalets are getting a more contemporary look these days. It's a style that reflects what people might choose for their own home, rather than recreating traditional alpine ambience. It's also taking the best ideas from original design and fusing them with something more cutting-edge.
With any ski property, altitude and location are key, and this is what we aim for with our new-build projects such as the three here that have had a makeover. People want a comfortable stylish home to enhance their stay, and this is made possible with impeccable interior design.
So step inside, says Andy Sturt, MD of chalet-holiday specialist VIP SKI.
Avoriaz
Plans for Chalet Kobuk and Kakisa were drafted by me, together with interior designer Laughland Jones.
 
'Avoriaz is stunning, in an avant-garde way. There is great continuity in the architecture,' Andrew Laughland told me. 'Inside the chalet, we introduced pops of colour with the soft furnishings, with a grey, modern background. We tried to make it jolly and fun, along with being durable.'
If you're seeking to achieve a similar look to these chalets, we have revealed some of the stores to visit.
 
Get the look
Door handles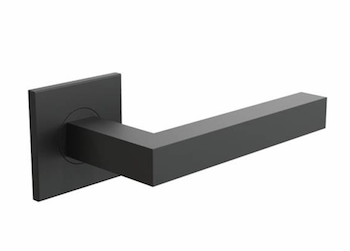 For the fixtures and fittings, we turned to Frost Demark for black door handles called Lever Handle Kube 101. But at around £55 each it may be out of your budget, especially if you have a lot of doors. A significantly cheaper £9 alternative called the Touchpoint Bella lever door handle is available from IronmongeryDirect.
 


Dining chairs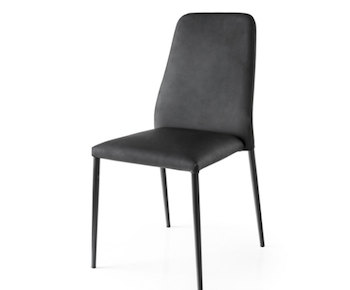 Fishpools sell a chair like the ones here called Calligaris Dining Chair with upholstered seat and backrest, and metal stained in Skuba Black. There's a choice of modern leather seats or clear technopolymer shells, chrome frames or wooden legs, from £138.17.
Lights
Similar lights to the ones in the chalet can be found at Light in the Box, dimmable with remote control / WIFI Smart via voice control, at £179.84 each.
Walls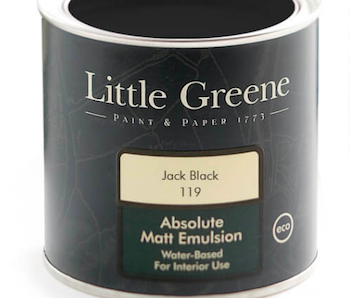 And for the striking dark colour on the walls, the interior designers used a Little Greene paint colour called Jack Black 119, which is an absolute black with the pigment produced from the soot of burning oil. It costs £45 for 2.5 litres. 
 


Alpe d'Huez
We have five chalets in Alpe d'Huez, built around an atmospheric cobbled courtyard at an altitude of 2000m, and surrounded on two sides by piste. The properties are what you would expect of a traditional chalet: stone walls, slate roofs, vaulted ceilings and solid timber floors.
 
Hugely popular with returning clients, it was time to bring them into the 21st century. The first of the five chalets to get a facelift was chalet La Ferme, and what a transformation it was.
 
The refurb was undertaken by the chalet owners, Philippe and Sandrine Seigle, who sourced artwork from local artists S. Palla and Links. The bold dining table finished with an orange resin top was custom made by a retired artisan, and lighting was created by the owners themselves.
 
Get the look
Dining Chairs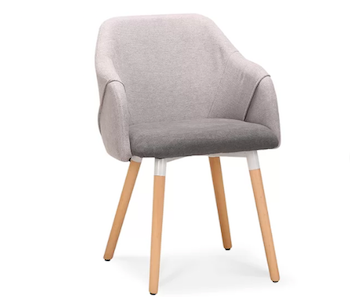 Get the contemporary style with upholstered grey dining chairs such as Hewitt Upholstered Chair. Seen here in light grey, but also available in orange or blue, the cushioned chairs would look equally good in a bedroom or living space. From Wayfair, £119.99 each.
Floor lamp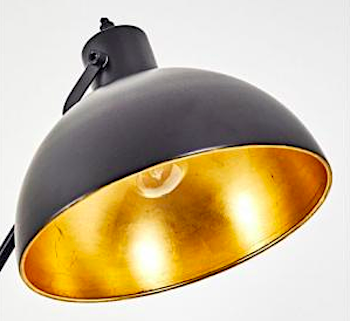 PAROLA Floor Lamp in black, measures 80cm wide, 163cm tall, and 25cm in diameter. The lampshade is black metal. From Illumination, £109.52.
Coffee table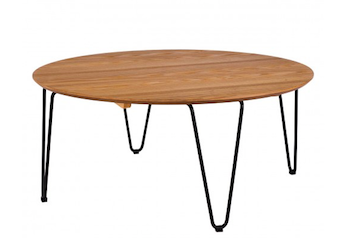 Tyler ash and black metal coffee table pairs pale, beautifully grained wood veneer with slender, 'hairpin' legs in a distinctive design. From Habitat, £95.
Val d'Isere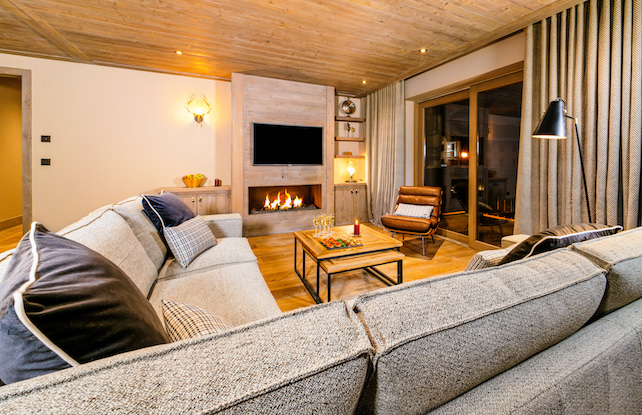 Over in Val d'Isere, we embarked on another build project, working with interior designer Valerie Gonay. Whilst the building is brand new, each of the Aspen House apartments is sumptuously designed, creating a timeless aura with classic furnishings and a rich decor. The suites sleep from four to ten people, and each provides a sensational home for a week's skiing. All fabrics, curtains, window dressing and cushions are from Atelier de 5 Frères, showcasing local wool from Arpin.
 
Get the look
Bedspread/throw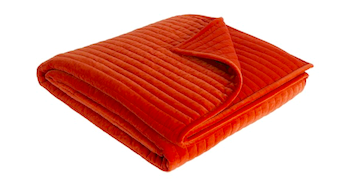 Orford brick red cotton velvet bedspread is made in India from a breathable, pure cotton velvet fabric that is soft to touch, its quilted ribbed design will add a luxury finish to your bedroom. Measuring 200 x 200cm, it also comes in blue, and costs £200 from Habitat.
Bedroom cushion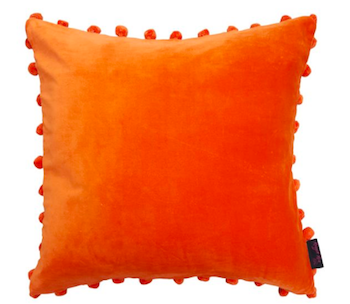 Arabella Orange Velvet Pom Pom Cushion is larger in size than your average cushion, measuring 50cm square. It is made from mandarin orange velvet on both the front and the reverse side, then finished with a dangly matching pom pom trim around all sides. It also comes in fuschia, kiwi, gold or silver. it costs 335 from Ragged Rose.
Nest of tables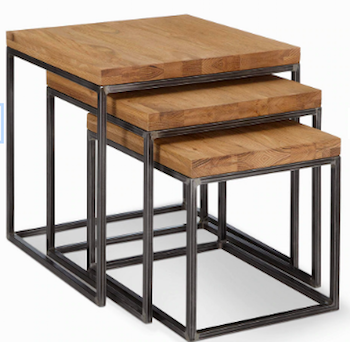 Calia Nest Of 3 Tables in light oak. Also comes in dark colour wood. Made predominantly from solid American white oak, our Calia range of furniture has a natural, rustic look thanks to its wire-brushed, distressed finish. Each piece is made from individual wood slats. The price is £299 from John Lewis.
Sofa cushions and throws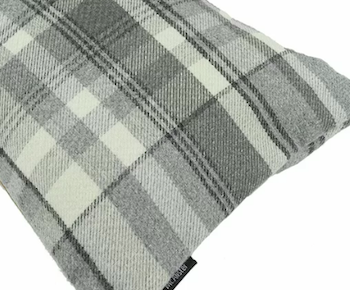 Loving the checked throw cushion look, but we think €110 for the Arpin is a little pricey. Instead check out the Golder Cushion by Marlow Home Co, shown here in dark charcoal grey, stocked at Wayfair and costing £29.99.
Leather chair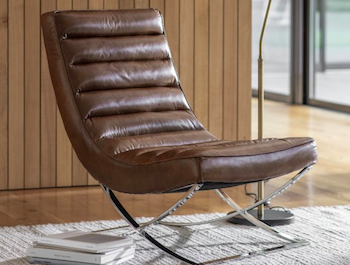 Cassino Brown leather lounger like the one in the sitting room, is ultra modern and stylish, perfect for a contemporary living space. It is made from top grain leather with metal, and is priced from £660 at various retailers.