Steve Wells knows a thing or two about luggage. Not only is he the ski luggage and ski hardware buyer at Ellis Brigham Mountain Sports. He also travels to and from the mountains frequently on equipment tests. Here's his guide to a question that vexes every skier who owns a pair of skis, or can't fit his or her boots into a suitcase: how much is it going to cost to transport my kit to the Alps by plane?

Not every airline or tour operator will charge you to carry your skis and boots on their flights. SWISS doesn't. Nor does the British chalet specialist YSE. But for most, it's been standard practice for years – and it can significantly increase the cost of your journey.
Check out the chart, below, for details of who charges what amongst the scheduled airlines serving the Alps. Unfortunately prices continue to rise, and the pricing structures can be opaque and complicated – especially now that most charge to carry any kind of checked-in baggage, not just sports equipment. But the fundamental point remains the same: always, always take the airline's luggage allowance policy into consideration when comparing ticket prices.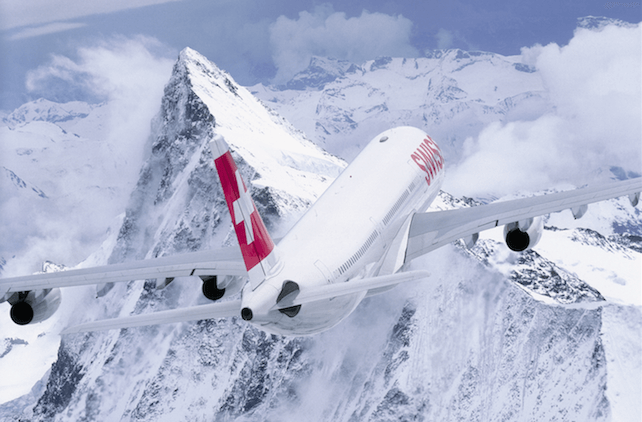 Current Airline Luggage Allowances and Charges
These figures were correct on March 16, 2016 – for airlines with direct flights to the Alps. If you notice any updates, mistakes or omissions, please email editor@welove2ski.com and let them know. Keeping track of the charges, and the way they're levied, is a mind-boggling business.
Click on the airline names for links to their baggage information pages.
Airline
Bags
Total weight
Price per bag
online
Price per bag
in airport
Charge for skis
and boots
1
23kg
free
free
Up to €70-75 each way
1
23kg
free
free
Up to £36-40 e/w
1
20kg
£13-24 e/w
£32-45 e/w
£30-40 each way
1
20kg
free
free
£30 e/w
1
20kg
free
free
Up to CHF70 e/w
Up to 3
22kg per bag
from £25 e/w
£30 e/w
£25-30 e/w
1
23kg
free
free
Up to €50 e/w
Up to 5
20kg
£15-36 e/w
£36 e/w
£25-28 e/w
1-2
15-20kg
£15-35 e/w
£30-75 e/w
£40-£45 e/w
1
23kg
free
free
free
Additional Information About These Airlines
Air France
Skis are carried for free on Air France if you buy a standard economy ticket, and you can carry your ski boots in a separate bag. But they're included within your checked-in baggage allowance of 23kg. If you exceed that weight allowance, or you want to bring a separate suitcase, you'll need to pay extra: €70-75 depending on the size of the bag.
British Airways
Skis are free on BA if you buy a with-baggage airfare – but only if you don't have any other checked-in baggage and the ski bag is less than 190cm long. If you take skis in addition to a checked-in bag, you'll pay £36 each way online, and £40 each way at the airport. See full range of charges here. Travelling in a higher grade of cabin increases your baggage allowance.
easyJet
Prices for normal checked-in baggage are only shown when you make your booking. Skis are classed as "small sports equipment" and must be carried in a separate bag – which costs £30 each way online and £40 at the airport. This payment increases the weight limit for the passenger's luggage to 32kg.
Flybe
Our chart shows the allowance for Flybe's Get More class of ticket. A larger baggage allowance is available on Flybe's "All In" class – but this still doesn't include ski carriage. In whatever class you fly, skis must be booked separately through the call centre, and because Flybe's planes are smaller than most, only a limited number of skis are allowed. The charge is £30 each way.
Helvetic
Provided that you do not exceed your baggage allowance, skis are carried at no extra charge with Helvetic – but only if they're less than 150cm long. The charge is CHF70 each way if they're longer than that. By paying a fixed fee of CHF40, you can also increase your baggage allowance from 23kg to the maximum of 32kg per flight (but you'll stay have to pay the extra fee to carry skis longer than 150cm).
Jet 2
Up to 3 bags can be booked by Jet 2 passengers, in advance of travel. With each bag booked the weight allowance allowance increases by 22kg. Skis (up to a weight of 20kg) must be paid for separately. They cost £30 each way if you book at the airport, with a £5 saving online.
Lufthansa
Buy a standard economy class ticket for European travel with Lufthansa, and you get a 23kg, one-bag allowance for your checked in luggage. You can also add a separate bag containing a pair of skis or ski boots, at no extra charge, provided it doesn't exceed your 23kg weight allowance. If it does, you'll need to pay €50 extra each way, depending on the size of the bag. Either way, you'll need to ring Lufthansa to register the extra baggage.
Monarch
You are allowed 20kg of luggage upon payment of the hold baggage fee, but can share your weight allowance over a maximum of 5 pieces of luggage with the combined total weight not exceeding 20kg.Ski equipment must be booked separately from other checked-in baggage, and must not exceed 20kg in weight. Ski carriage costs £25-28 each way online and £35 at the airport.
Ryanair
Ryanair allows you to book up to two bags (of either 15 or 20kg) online when booking flights. Prices vary depending on whether flights are in high or low season. Ski equipment (up to 20kg) costs £40 each way booked online or £45 at the airport.
Swiss
Skis and ski boots still travel for free on standard Swiss airline bookings, in addition to your checked-in baggage allowance. You can carry your ski boots in a separate bag, too.
Package-holiday charter flights
Most British tour operators allow one free piece of checked-in baggage, weighing 20-23kg, on their charter flights; and charge £30-£40 return for ski carriage.
What Are the Alternatives?
When it comes to ski carriage, prices on some airlines are now high enough to make equipment storage and delivery services look like good value. For example, companies like Piste of Mind and Send My Bag offer luggage carriage, collecting from your home and delivering skis, boards and bags directly to your resort. They can also collect from Alpine resorts and deliver back to your home.
Ski Carriage offers a warehousing and delivery service, as well straightforward door-to-door despatch. Prices for all of these are on application, but they can sometimes work out cheaper and more convenient than airline charges for similar items.