In a Nutshell
Zermatt may be home to some incredible terrain, but we think you'll enjoy it most if you want to mix skiing hard with eating out in the superb mountain restaurants and soaking up the view.
The Stats
Altitude: 1620m
Lifts: 59
Top Lift: 3883m
Ski area: 350km of piste
Adult lift pass: CHF380-434 for six days


Official Site |

Ski Map |

Webcam
Ed Mannix, who runs Matterhorn Chalets with his wife Suzanne, first skied at the age of six and quickly caught the bug that has haunted his life ever since. Mountains caused him to give up his career as a sound engineer and session bass guitarist in favour of the ski industry.
He ran a couple of big-name chalet companies before migrating to the French Alps. Later he set up a highly successful business as a fixer for tour operators and chalet owners, covering every ex-pat need from tax consultancy to chalet building. Ed moved to Zermatt six years ago and started his own highly personalised chalet business, and here's why.
Essential Advice for the Perfect Trip
I've always loved it here. Zermatt is like no other resort in the Alps, a skiing and climbing community huddled at the foot of the world's most majestic mountain. For over 150 years The Matterhorn has enchanted visitors from all over the world – I'm one of them, and these days I'm lucky enough to be greeted by its angular eminence each morning when I wake up.
Sophisticated chalets are run by individuals like me who've spent rather more than half a lifetime in the Alps, graduating from France to Switzerland in search of a real village with genuine ambience and a high altitude, snow-sure ski area that thrills.
Zermatt is quintessentially Swiss with sophisticated shops, a lively nightlife, and lots to do for non-skiers. The restaurants – on and off the mountain – are the best of any ski resort in Europe. Expensive? Reassuringly so, but your daily spend can be tempered by Zermatt's proximity to Italy. Lunch on the Italian side is of equal quality, if a little chaotic, but at a fraction of the price. I really can't imagine wanting to live anywhere else.
Zermatt's place in history is inexorably linked with the Victorian climber, Edward Whymper, who conquered the Matterhorn in 1865. On the descent the rope broke, sending four of the seven climbers to their deaths.
Zermatt and the Matterhorn have held a fascination for many people ever since – all of them have been gobsmacked by the Matterhorn, the charm of the quaint town where old barns stand beside modern hotels, and farmers still tend to their chickens and goats within 200m of the resort centre.
Many people choose to treat a holiday in Zermatt in a very relaxed fashion. They have a leisurely breakfast each morning, then ski for a couple of hours before stopping off for lunch at one of those exquisite restaurants, working their way through several courses, before wobbling down the final stretch of pistes at the end of the day. Finally, after a long bath, a massage and maybe a cocktail at the Vernissage or a glass of fondant at Elsie's, they head out to a restaurant or back to their gorgeous hotel or chalet for dinner.
The whole of Zermatt has great off-piste potential, with heli-skiing possible on the Monte Rosa and the Aschhorn, and from the Alphubeljoch, all of which can be arranged through through the Zermatters' office in the village centre.
One downside – or perhaps the advantage – is the lack of easy access to the resort. If you're driving out, you'll take your car in the village of Taesch lower down the mountain. Then you'll have to take your luggage on to the train up to the resort. A bonus is the spectacular rail journey, when you leave normal life behind to start your Zermatt experience. Private cars are banned from the resort, so everyone travels around on foot, in electric buses and taxis – or by horse and carriage for those staying at hotels Grand Hotel Zermatterhof and Mont Cervin Palace.
There's something for everyone
This is also an ideal resort for non-skiers who are either happy to shop and spend their time in cafes and restaurants, or want to try some of the many activities on offer. These include ice-skating, curling, and ice climbing. You can even stay the night in a real igloo up the mountain – complete with an outdoor hot tub.
There are jewellers and Swiss watch shops, boutiques and sports shops, but this is not the place to shop for haute couture. Zermatt is a real town with a year-round population, so you will find groceries, bakeries, and butchers shops alongside the souvenir and chocolate shops.
Guide to the Mountain
The Zermatt ski area is linked to that of Cervinia, just across the Italian border, and together they provide an impressive amount of piste mileage and some challenging off-piste. Problem is, the terrain is scattered across a vast area and is not always easy to find. So you need to be well-informed and well-organised to get the best out of it.
In fact, I strongly recommend taking a qualified local guide, whatever your ability, so that he/she can show you how best to make use of Zermatt's lift system. Much of Zermatt's freeride terrain is rocky and needs lots of snow-cover to be skiable. In December some of the off-piste and yellow trails or Abfahrtsrouten – itineraries which are marked, and avalanche-controlled – can lack snow, but the snow builds up and doesn't melt on these slopes until late in the season because they are mainly high and north-facing.
The easiest pistes are on Gornergrat, which you get to by the quaint but efficient cog railway, or the more recent Riffelberg Express gondola from Furi. There is however a well organised beginners' area around Sunnegga, closer to Zermatt, whilst intermediate skiers will enjoy Europe's highest pistes which are on the Theodul glacier, although getting up there takes time and there is a risk of poor visibility or the lifts being closed in bad weather. The glacier is also the link with Cervinia which is accessed by a run that's world class: the Ventina. But all these sectors are scattered over a vast area, and getting between them can take time. So to get the best of the area you need to be well organised. If you do think ahead, then the rewards can be huge.
The glacier's a great place to build confidence
Despite global warming, this is still a BIG glacier, sprawling between the Matterhorn and Klein Matterhorn. On a clear day, the views are quite simply stunning. The skiing is pretty much like you'll find on all glaciers – wide and not very steep. Still, it's a great place to warm up at the start of the trip, staring open-mouthed at the view, and building your confidence.
The runs down off the glacier and below the Trockener Steg lift station are wonderful, although lower down the black from Furgg to Furi is often icy and crowded and a harrowing experience for intermediates of uncertain confidence. If you are going to try it, do so at lunchtime when the snow is likely to be at its softest, and the traffic is considerably reduced. You can then reward yourself with lunch at a big selection of good restaurants at or below Furi, including Blatten, Les Marmottes, Gitz Gadi, Cafe Furri or Zum See.
A more friendly way down to Furi from Furgg is by taking the gondola back up to Swartzsee and then down either the Weise Perle or Stafelalp pistes, the latter passing under the dramatic north face of the Matterhorn, past the rebuilt Stafelalp restaurant and accessing the Hirli chair-lift.
At the beginning of the 2018/19 winter season, the world's highest 3S cableway, the Matterhorn glacier ride, started taking passengers to the Klein Matterhorn. It is the world's most modern cableway, taking nine minutes up to the highest mountain lift station in Europe.
Stupendous views from Stockhorn and Gornergrat
The red from Riffelberg down to Furi is one of the nicest cruisers on the slopes above Zermatt – as opposed to the ones across the border in Cervinia. Some people might find it a bit unnerving at the start, when it's just a narrow strip of piste alongside the Gornergrat railway, but lower down beneath Riffelalp it becomes a wide, evenly-pitched beauty, lined with trees. It's a great place to go when the weather's bad and visibility is low. Plus there's an eight-seater gondola serving the run, so you can even ski laps to warm up.
Higher up on the Gornergrat, the runs are gentle blues and the views of the Matterhorn are stupendous. You'll pass a lot of people on the mountain, by the way, skiing at a snail's pace because they can't stop staring at the view.
Zermatt has a formidable reputation amongst some advanced skiers – especially when it comes to the much-vaunted freeriding. The place to head for is the north face of the Stockhorn and Hohtalli. When good skiers and boarders tell you how much they love Zermatt, it's this area they're usually thinking of. The Rote Nase cable-car opens from February and that gives access to an off-piste area below Stockhorn, but the drag-lifts have been out of commission for a few years as the glacier has melted and one of them now goes over a precipitous drop. There are some highly-rated freeriding routes there, as well as off the side of the magnificent White Hare piste from Hohtalli, down to Gant and Grunsee.
The Rothorn is a good place to start
The Sunnegga underground funicular is the first stage of the way up to Rothorn and gives easy access to a well laid out beginners' area. Sunnegga is also a good place to go when the weather's been cold and snowy – but if it's been warm the lower slopes can be icy in the morning. The best way to get round the problem is to go right to the top of the mountain and ski laps of red Fluhalp run down to Gant and then back up via the Hublot chair-lift to Blauherd.
Itineraries for sampling the area's freeriding potential
A number of routes are yellow runs or Abfahrtsrouten and are only open when there's enough snow. You'll also find these itineraries on the Rothorn, in the Stockhorn area and coming down from Schwarzsee towards Furi.
If you do luck into the right conditions, the yellow trails are a great way to sample the area's steep pitches, without hiring a guide – although the powder will be skied out almost instantly. If it is, resist the temptation to venture away from the route-markers. There are crevasses to watch out for beneath the Stockhorn if you go to the skier's right of the main bump run down.
The big Alpine descent for experts
This is one of the greats – provided that your budget can extend to a couple of days' of heli-skiing. The reason expert skiers come to this resort is for the big Alpine descents, such as the one-day trip from the top of Monte Rosa, or the descent from the Alphubeljoch to Taesch or Saas Fee.
Actually, several of these runs aren't especially difficult, and guides ask for only limited off-piste experience. Not every descent requires a heli-lift. Several glaciers such as the Schwarztor can be reached by walking – between 15 minutes and 1.5 hours from the top of the lifts. There are also a number of hard-core ski-touring routes.
Heli-skiing can be cheaper over the border in Cervinia with one of the mountain-guiding outfits based in Italy, although not as well organised. The UIAGM qualification is just as good over there as it is in Switzerland, but I'd recommend using a Zermatt guide who will arrange an Italian chopper for you – finding your own way to the Italian helipad is tricky.
Where to Learn
SKiBro, either online or as an app, is an intuitive, user-friendly platform that helps you find the most suitable instructor for your needs – for everyone from families with small children and teenagers to improving intermediates and off-piste aficionados.
The Swiss Ski and Snowboard school is merged with the local mountain guides' association under the banner Zermatters, whose office is in what used to be the Alpin Centre. Biggest and most established of the independent schools is Stoked which although Swiss-owned, is very international (they even employ me as an instructor!), whilst the British-owned Summit Ski & Snowboard School is also well established in the resort.
Others include European Snowsport, Prato Borni Ski & Snowboardschule, Matterhorn Diamonds, and Adventure.
Childcare facilities
The resort's childcare facilities and ski schools do get very busy, so it's important to book them well in advance. Summit Ski & Board School offers lessons for six year olds and above, as well as special courses for teenagers. Stoked runs a kindergarten at Furi, by the Alm restaurant, which cares for children from four years old. Snowli Kids, run by Zermatters, is a dedicated ski slope for four- to six-year-olds up at Riffelberg. A special kid's Gornergrat train takes children up from the centre of Zermatt in the morning, and returns them to their parents in the afternoon.
At Sunnegga, the discouragingly named Wolli Park is the heart of Zermatt's beginners' area and there is a special lift pass which includes the funicular, Wolli Park and other beginners' lifts in the area. Kinderparadies is a two-storey building 200m from the railway station. It's open seven days a week and inside are separate areas for different ages and interests. Upstairs is for toddlers and very small children from three months. Downstairs is a dolls play area, a building blocks area, and another with cars, trucks, garages and a tool bench. There's also an outdoor playground with a small ski slope where children from three years can learn.
Where to Stay
There's an extensive choice of luxury hotels and chalets in Zermatt – so try to save your trip for a winter when you can afford one of them. You'll need to factor in one of the great pleasures of being in Zermatt: eating out. A good choice would be to go for an apartment, B&B, or a flexible hotel or chalet – and plan just one big lunch or dinner a day, in a range of different restaurants. Otherwise you might explode.
Grand Hotel Zermatterhof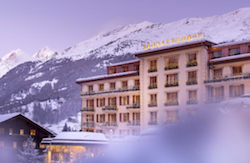 Grand Hotel Zermatterhof first opened in 1879 and was a favourite of both Audrey Hepburn and Walt Disney. The still-glamorous hotel would be our choice over its flashier neighbour, the Mont Cervin. The hotel features three restaurants and the Vita Borni spa with a pool, a 'sauna landscape', treatment rooms, and a private spa for couples. Guests are picked up from the train station in the Zermatterhof's iconic blue horse-drawn carriage.
Mont Cervin Palace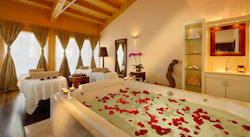 Mont Cervin Palace is also over a century old. Many of its suites come with a Jacuzzi and an open fireplace, while the separate Residence has some good suites with kitchens and saunas. The spa and wellness area offers massages and some exclusive beauty treatments. Facilities include an indoor and outdoor pool, a separate children's paddling pool with slide, saunas and steam baths, whirlpools, and a fitness room.
Riffelalp Resort 2222
In splendid isolation up the mountain at Gornergrat is Riffelalp Resort 2222 (the numbers are its altitude) with a nice sun terrace. The outdoor pool is heated to 35°C, and there are saunas, a steam room, a hot tub and a solarium. The three restaurants offer everything from fine dining to Italian and local specialties.
The offbeat hotels
Romantik Hotel Julen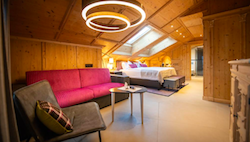 Romantik Hotel Julen gets the thumbs up from us because it's cute, clean, well run and well-positioned, just over the river from the church in the middle of town. It's also close to the Papperla Pub, which could be a problem – although none of its reviews say anything about the noise.
Cervo Boutique Hotel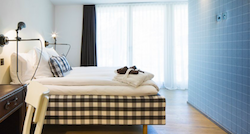 Cervo Boutique Resort is set at the edge of the forest and combines comfort with hunting cabin charm; it has a spa and two excellent restaurants one of which, Cervo Puro, boasts 14 Gault Millau points. The hotel consists of six chalets, with spacious rooms and suites. All contain a private wellness room and are easily accessible by lift and a footpath.
The Omnia
None of the 30 rooms in The Omnia have numbers, and the hotel is set deep into the rocky side of the mountain. There's a gorgeous indoor-outdoor swimming-pool too, lots of floor-to-ceiling windows, wooden floors, modern fireplaces and funky bathrooms. One of the highlights is relaxing in the Cavern – a glass and steel space inside a man-made cave that floats on water. The restaurant is also worthy of particular note with its Michelin star.
Hotel Alex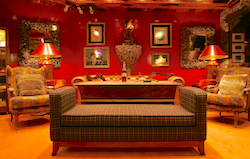 Hotel Alex is a bizarre Alpine-Byzantine fusion – on the outside it looks like an oversized mountain hut, but it's a stylish boutique hotel inside. The rooms are eclectically decorated with antique furniture, brocade curtains, velvet pillows, exquisite carvings and precious paintings of the Matterhorn. There's also a grotto-style swimming-pool and spa with fitness centre, squash court and indoor tennis court.
Hotel Mirabeau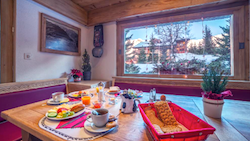 The Alpine Residence of Hotel Mirabeau has the kind of super-cool rooms you'd expect to find in Manhattan, not Zermatt. Just make sure you stay in the residence and not in the main hotel, whose rooms are older. By the way, Le Bar at the Mirabeau runs the Vernissage a close second as the most sophisticated place in town for a drink and Marie's Deli is excellent for upmarket snacks and light meals. The only drawback is that the Mirabeau is at the wrong end of town for the main lifts up to the Klein Matterhorn. If you're going to do this thing in style you need to budget for lots of electric taxis (or plan to start your skiing from Sunnegga instead).
Backstage Boutique Hotel
Conceived and owned by legendary design guru, Heinz Julen and managed by his wife Evelyne, the Backstage Hotel is the jewel in his crown. Not just a luxury hotel but also a design statement where aesthetics meet comfort. Located just off the Bahnhofstrasse, this unique hotel has rooms that include Cubes, which are mini-suites with the sleeping accommodation upstairs on a substantial metal mezzanine structure. The After 7 is Zermatt's only two Michelin star restaurant and the Vernissage cocktail bar, cinema and art gallery is in the basement.
Monte Rosa Hotel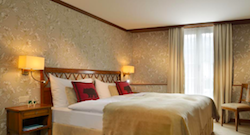 You might almost miss the Monte Rosa hotel, so unobtrusive is its modest wooden entrance door in the Bahnhofstrasse. But this is without a doubt the most atmospheric and historic hotel in the resort (it opened in 1853) – as the base from which Victorian mountaineer, Edward Whymper, set off to conquer the Matterhorn. Winston Churchill stayed here too. Edwards Bar on the ground floor also serves the best Aperol Spritz in town.
Fabulous chalets – from traditional to cutting-edge
Anyone in the market for luxury should check into one of our recommended hotels, but there are also some excellent chalets.
Chalet Ulysse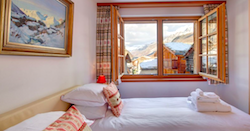 One of our own properties, Chalet Ulysse, is a stand-alone building that is five minutes' walk from the Matterhorn Express gondola. For much of the season it is usually possible to ski back to within 200m of the front door. It sleeps up to 12 people and is particularly suitable for families. For younger kids, the Winkelmatten play park is opposite, whilst a second sitting room on the ground floor creates a good TV room away from the upstairs living room.
Chalets Binna and Banja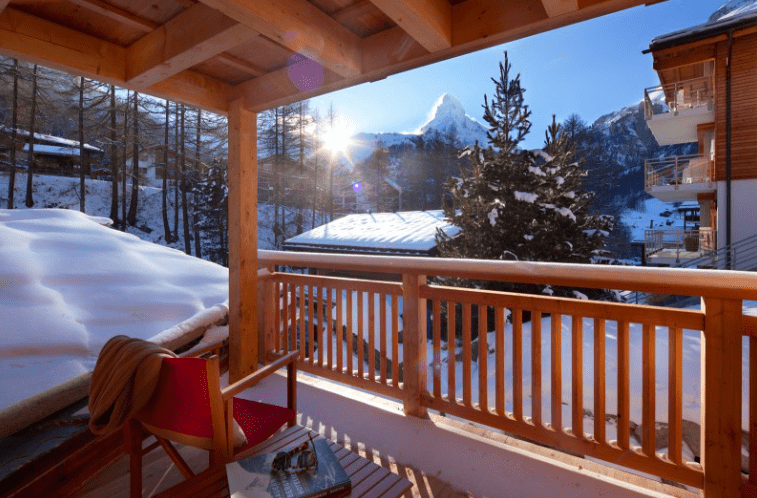 We also feature the adjoining chalets Binna and Banja for eight and six people. These were built in 2014 and set a high standard. Being close to Chalet Ulysses, they share its view of the Matterhorn and convenient location. Each chalet has its own wellness area with a sauna and, whilst Binna has an outside hot tub Banja has, arguably, Zermatt's longest private swimming-pool from where you can see the Matterhorn whilst swimming lengths.
Backstage Luxus Chalet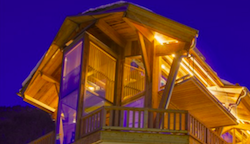 Part of Heinz Julen's portfolio of luxury properties in Zermatt and available fully catered or self catered with daily housekeeping, the Backstage Chalet is operated and staffed by Heinz's team from the Backstage Boutique Hotel. Based on an old Valais house, it includes a large areas of glass providing a panoramic view over the village and the Matterhorn. There is also a unique hot tub: at the press of a button the roof opens and the pool is hydraulically lifted through the opening … the view from there is breathtaking! 
Backstage Loft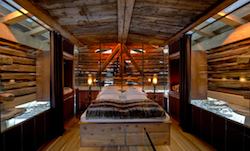 Situated in between the village centre and Matterhorn Express gondola and with views towards the Matterhorn itself, the Backstage Loft is the most recent addition to Heinz Julen's portfolio in Zermatt. Obscenely spacious, this five-star chalet is also offered on either a self catered basis with daily housekeeping or fully catered. The main part is of totally modern construction whilst the integrated extension is based on a converted Valaisan mazôt or barn. Possibly the largest building of its type in Zermatt, with around 600m of habitable space, the Loft has all the luxury facilities needed to make this the ultimate Alpine holiday chalet.
Cool bed and breakfasts
Le Mazot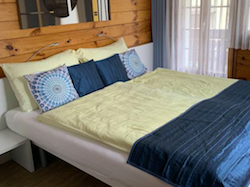 Run for many years as a catered chalet, the popular Le Mazot is now a convenient, if simple, bed and breakfast in one of Zermatt's most central locations. With multiple south facing balconies to enjoy the views of the Matterhorn, the resort's most popular apres-ski venues and restaurants are almost on the doorstep whilst it's a five-minute walk along the river to the Sunnegga Express funicular station.
Mountain Paradise Hotel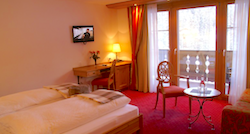 We'd particularly recommend the Mountain Paradise Hotel. This unassuming but well-run three-star establishment is only a couple of minutes' walk from the Matterhorn Express gondola and the comfortable south-facing rooms have a great Matterhorn view. Good value and happy to take bookings for short stays outside of the Christmas period – this is a great base for a weekend break.
Coeur des Alpes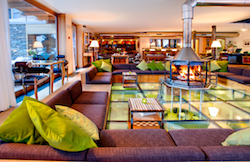 Although not strictly a B&B as it offers a great selection of all-day snacks as well as a raclette evening, Coeur des Alps is arguably the best hotel of its type in the Alps: well run, with a spa, and cutting-edge design by…yes, you guessed it, Heinz Julen. The double-height, loft-style Sky Apartment is one of the finest rooms in town – and is the same price as one of the small standard rooms in the Zermatterhof (although at the Zermatterhof, dinner for two is included in the price). Book a year in advance to be sure of getting it.
Zurbriggen Suitenhotel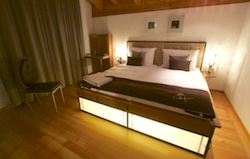 The Zurbriggen Suitenhotel is a collection of super-cool, spacious double rooms and larger apartments filled with natural light and enjoying views up to the Matterhorn. We think they're absolutely gorgeous, and we're pretty sure you will too. The property is owned by Pirmin Zurbriggen, one of the greatest skiers of the 1980s, which gives it extra allure. It's also close to the Klein Matterhorn lifts and breakfast is delivered to your room in the morning.
22 Summits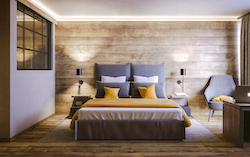 New for the 2018/19 season was a four-star boutique hotel called 22 Summits, which has 22 rooms, a two-storey spa, and a cool bar. There's an alpine chic meets modern theme with warm earthy tones, a casual ambience and gorgeous views of the Matterhorn. The Matterhorn Express gondola station is three minutes' walk away.
How to cut costs in a pricey resort
If you are on a tight budget (which is hard in Switzerland), here's one option.
Zermatt Youth Hostel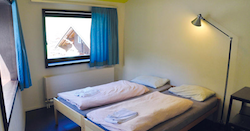 Refurbished a few years ago, Zermatt Youth Hostel is regarded as one of the best youth hostels in the country – there are even views of the Matterhorn from the bedrooms. Most of the rooms are for four people, and some have private showers, but there are twin rooms and dorms too.
Where to Eat
There are half a dozen mountain restaurants in Zermatt – and a few more over in Cervinia – which manage that near-impossible trick of being cute, efficient, characterful and seemingly off-the-cuff – all at the same time. It's as if all this good food and good cheer had come together by accident for one day only, and you just happen to have lucked into the miraculous moment.
There's none of that stuffiness you find in top French and American mountain restaurants either: conditions are often too hugger-mugger to allow anyone to stand on ceremony.
The world capital of mountain restaurants
Bear in mind that to get a table in any of them you should book ahead – on the morning of your visit will do in quiet weeks, but we suggest at least full week in advance in high season.
One other thing – don't expect them to be at the top of the mountain, as they are in other resorts. For the most part, Zermatt's mountain restaurant scene is further down the slopes, in two settlements: the old village below Furi, and at Findeln, below Sunnegga. These, by the way, are where the people of Zermatt used to live in the summer months.
The current site of the town was regarded as too sunless and avalanche-prone in the old days for permanent settlement, and the grazing down there was too good to waste on housing. So everyone lived higher up, on sunnier ledges above the valley floor. Lots of the old ramshackle, log-built houses remain, and in some cases, these are what have been turned into restaurants.
The Furi and Findeln eateries
Zum See, between Furi and Zermatt, is on everyone's hit list and is reached either on foot from the town (about 40 minutes) or by the Matterhorn Express gondola to Furi and then skiing down to it. The creaky little wooden hut contains a wonderfully atmospheric restaurant with some of the best food in the resort. The terrace is gorgeous on fine days and lunch goes on to about 4pm.
We like Blatten, owned by the Taugwalder family, a short ski further down. The duck here is good, the lamb even better. Best of all is the crayfish truffle risotto. It has a good terrace where they provide blankets to keep you warm.
Back up in Furi, we particularly recommend the Gitz-Gaedi restaurant at the Hotel Silvana, as well as Simi and the restaurant Alm where they serve fresh trout. I also like Les Marmottes, again in Furi. It's owned by Roby Perren and Katja Fux, and Roby is a keen hunter, so game is done very well here – the venison with red cabbage and chestnuts is excellent.
Chez Vrony, up in the hamlet of Findeln, is another fabulous eatery. It is has particularly delectable pasta with prawns and wild mushrooms. In the same hamlet is the excellent Findlerhof with lovely views from its terraces and a conservatory for bad weather days. Rosti and sweet omelettes are the specialities at Stafelalp. Fluhalp has live music, the best views and yet more great food.
At Blauherd you'll find the hip Blue Lounge, with a large terrace and magnificent views of the Matterhorn. It has daily live music and DJs. Inside there is leather seating and a log fire. The Riffelberg Hotel restaurant has a lovely sun terrace. Specials include three types of Rosti, steaks, various vegetarian dishes, and a black-and-white Toblerone mousse.
Just below Riffelalp Resort on Gornergrat, Alphitta is a rustic wood-panelled mountain hut with live music and lots of atmosphere. This is run by Dave Banks and his partner Tanja Siemerink, both previously of the hotel and restaurant at Schwarzsee. Dave is a talented musician and fronts a popular band that sometimes plays on the terrace at lunchtime, as well as at various evening venues around the resort.
Other favourite mountain eateries are over in Italy – Chalet Etoile (+39 0166 940220) with its surprisingly quick service, the Rifugio delle Guide del Cervino (+39 0166 948369), just inside the Italian border at Testa Grigia, and the Foyer du Guide at Valtournenche (+39 0166 932780).
…and one of the top ski resorts in the Alps for dining out
In town, top of the impressive list is the After Seven restaurant in the Backstage Hotel. With two Michelin stars and 17 Gault-Millau points, eating here would be the highlight of any stay in Zermatt. Ian Adam, the chef, has created a mix of locally inspired as well as more worldly dishes, based around an "open concept kitchen" which is the focal point of this extraordinary restaurant. The surprise menu is highly recommended and this includes a selection of perfectly matched wines.
In second place is The Omnia. "The ambience is very cool and personal," said a reporter. "There is also a table in a sort of turret out the side of the building, giving you full views to town below you, it was a very romantic place to have dinner.
"The food was fantastic. It is something genuinely different from the usual Zermatt restaurants, even the fancy ones. All our food was stunning. Perfectly cooked, interesting flavours well matched. The portion size is not huge but it is plenty and, to be honest, really nice not to be given a half a cow!"
Le Gitan has its own 'gypsy kebabs' and succulent giant prawns. The rustic Schaeferstube in Hotel Julen, has lamb from its own flock. Rua Thai in Hotel Albana Real, has authentic Thai cuisine. Teppanyaki restaurant,
Fuji of Zermatt is also in the Albana Real ("genuine Japanese, fun and entertaining"). The Veranda restaurant in Hotel Mirabeau is very highly regarded and has 14 Gault-Millau points.
Where to Party
The nightlife is almost up there with the likes of Verbier or St Anton and, surprisingly for a resort of this stature, apres-ski is less expensive than the equivalent in the major French resorts. There are several key staging posts during the course of a night out in Zermatt:
Where to go before sunset
Apres-ski on the Sunnegga side starts with a drink at the Champagne Bar on the final run into town, followed by a visit to the terrace bar at the Hotel Cervo at the end of the piste. Take the lift down into the bowels of the Sunnegga station and then go out through the tunnel and turn left for another glass or two at Snowboat. This strange construction was designed by local design guru, Heinz Julen, and looks like a large boat.
Hennu Stall, the piste-side bar, on the way down from Furi into Zermatt, is the liveliest of all après ski venues and as soon as the temperatures rise and the sun comes out, there are live bands on the terrace.
If you want to carry on dancing, head for the Papperla Pub, the most lively apres-ski venue in town, with crowds spilling onto the street. It's hard to get a table in the rather cramped Elsie's Bar with its wonderful ambience and equally good Champagne and oysters, but it shouldn't be missed.
From grown-up drinks to funk bands
Don't miss out on artist Heinz Julen's Vernissage – part bar, part art gallery, part cinema projectionist's room. The decor is extraordinary and includes a vast chandelier made from old violins and bead necklaces, and door handles made from silver teapots. Edward's Bar in Monte Rosa is another place to go for a grown-up drink. It's worth a visit to The Cavern in The Omnia hotel – it's a glass and steel space inside a man-made cave that floats on water.
Gee's in the Bahnhofstrasse is an elegant lounge bar which, amongst other things, serves excellent sushi and other nibbles, whilst the Cuckoo Club nightclub is downstairs.
If you're feeling wilder, then it's up to the Post Hotel complex which contains five bars and clubs – the Brown Cow Pub which is a classic apres-ski pub; Papa Caesar's Lounge Bar for cocktails; The Pink with live jazz, soul and funk bands; Broken Bar Disco where you can dance on a giant beer barrel; and finally Loft Club Lounge which is a popular party location.
More sedate is the lounge and cocktail bar in Hotel Alex, popular with the over-35s and often with live music. It has open fireplaces, and alcoves with different themes – the Scottish Corner has a large selection of whiskies, and there's a bar serving wines from around the world.
The annual Zermatt Unplugged music festival takes place towards the end of season in April. Past acts have included Bryan Ferry, Seal, James Blunt, Jamie Cullum, Lionel Ritchie, Alanis Morissette, and Boy George.