In a Nutshell
Les Gets is a traditional Savoyard village close to Morzine in the vast Portes du Soleil ski area, which is popular with families. The village has the French government's Famille Plus Montagne for childcare. The pistes are ideal for the intermediate skier – those who ski for one to two weeks each year.
The Stats
Altitude: 1200m
Lifts: 194
Top Lift: 2466m
Ski area: 372km of piste in area
Adult lift pass: 265€ for six days Portes du Soleil Skipass, 204€ for local Les Gets/Morzine pass


Official Site |

Ski Map |

Webcam
Essential Advice for the Perfect Trip
Les Gets is a village that's easy to reach from Geneva, and sits at the western end of the massive Portes du Soleil ski area. It's a shame it's not 1000m higher but it's a great place for a last-minute break. Les Gets is slightly higher than neighbouring Morzine, but both resorts share the same lift pass and make excellent bases for a mid-winter family holiday.
Whilst early season snow can sometimes be unreliable, the rolling pastures mean that it only takes a minimal amount of snow to be able to open, unlike some of the rocky higher resorts. For example, in the 2017/18 season Les Gets has excellent snow throughout.
The first lift was installed in 1936, but it wasn't until the 1960s that the winter sports industry began to eclipse farming, which still forms part of the local economy. The Chavannes gondola was first installed in 1973 and the single Portes du Soleil lift pass was introduced in 1974.
Les Gets itself is a pleasing mix of old Savoyard chalets and more modern wooden-and-stone buildings constructed in keeping with their beautiful alpine surroundings. An open-air ice-rink in the centre of town, opposite the attractive town hall building, provides a focal point for apres-ski family activity.
This is a family resort with a relaxed atmosphere and some good places to eat both on and off the mountain. Whilst there are plenty of bars (and one nightclub) to choose from, party animals would be better advised to stay in nearby Morzine.
There are good links on snow into Morzine and beyond into the depths of the giant Portes du Soleil, but the majority of families choose to stay in the local area and use the local Les Gets-Morzine lift pass. Snow cover in the main areas of Les Chavannes and Ranfoilly bowl is usually good, however, the south-facing aspect of Mont Chery means that conditions on that side of the village are not always reliable early and late in the season.
"I can see the concern about the lack of altitude," said a reporter, "but it wasn't a problem…they seemed to have fairly comprehensive cannon coverage in case of emergencies".
On a good day, the skiing around Les Gets and Morzine is superb – especially for beginner and intermediate levels. More advanced skiing can be found on Mont Chery, Chamossiere and Nyon. The Les Gets bowl also has a couple of black runs, but these are shorter in length.
---
---
Guide to the Mountain
There's something for everybody in Les Gets and the Portes du Soleil ski area: tough mogulfields like the Swiss Wall, long, wide cruisey pistes, big backcountry descents, and easy nursery slopes. The top of the lift system rises to only 2466m above Avoriaz – if only it were 1000m higher. However, an important point worth considering is that although Les Gets is not as high as many other resorts, with grass as the base together with its highly skilled pisteurs, one can often find better pistes in Les Gets even when its snow depth is less than in higher resorts.
Whilst Les Gets and Morzine aren't in the heart of the Portes du Soleil, there's plenty of local skiing to occupy most families. One of the most popular places to ski is the bowl where many of the pistes come together, and don't miss out on Mont Chery which is lesser-known and therefore often empty even at peak times.
The dedicated beginner areas in Les Gets are excellent and easily accessible using the Chavannes gondola. There are two moving carpet lifts and two rope-tows, plus a gentle button-lift that accesses the children's village and a couple of steeper beginner slopes. The gradual progression and width of most slopes makes the Chavannes and outlying areas perfect for beginners and intermediates.
However, a reporter warned: "The only downside was the link to the Portes du Soleil circuit. If you're a strong skier it's not too bad, but even then you're watching the clock a bit to make sure you make the return links. If you're a timid intermediate, buy the local pass."
"Good variety of local slopes and not a queue in sight," said another reporter, "treelined runs were a godsend on the two or three poor light days that we had, but the compensation was powder everywhere. Even on piste, you could make fresh tracks at lunchtime".
Expert skiers would probably be better off staying in Avoriaz. A reporter recommended: "If you stay on the Chavannes side, you can quickly ski down into Morzine and take the lifts up to Avoriaz – giving you the best of everything".
---
---
Where to Learn
Les Gets is an excellent choice for learning to ski, with dedicated beginner areas that are easily accessible using the Chavannes gondola. There are two magic-carpet lifts and two rope-tows, plus a gentle button-lift which accesses an Indian Village for kids, and a couple of steeper beginner slopes. The gradual progression and width of most slopes makes the Chavannes and outlying areas perfect for beginners to intermediates
The range of ski and snowboard schools including a number of excellent British ski schools. Les Gets Snowsports (LGS) has a great reputation and is run by Tim Scott who has lived and worked here for many years. British Alpine Ski and Snowboarding School (BASS) regularly receives high praise. There's also snowboard specialist Mint Snowboarding, and for Telemark lessons try Alpine Learning Curves (ALC).
Ecole de Ski 360 International has a dedicated following and the ESF also has a strong presence in the village. Ski Academy is for ski-touring, heli-skiing, paragliding and snowshoeing.
Mountain guides Jean-Luc Tamanini (+33 450 43 97 62) and Marco Deshayes specialise in off-piste and ski-touring in the Portes du Soleil area.
Children will love Les Gets' mini-train, which chugs between the main lifts and the Mont Chery ski area. The local ski area is perfect for beginners and intermediates, and there's a dedicated children's ski area called Le Grand Cry where adults are only allowed if accompanied by children. Here children can enjoy skiing the bumps and bends as well as visiting an Indian wigwam.
After skiing, the ice-skating rink is open to children from three years of age, with equipment that has been adapted for little ones.
Local kindergartens include Les Fripouilles Nursery welcomes children from six months to four years old. The ESF takes children from three to five years for a sensible mix of lessons and play. Ecole de Ski 360 International and Ile des Enfants Ski School offer group lessons for kids from four years.
British-run Cheeky Monkey's provides childcare services in Les Gets and can come to your accommodation armed with age-appropriate arts and crafts, toys and books. They can usually also pick up children and drop them off at ski school or from easily-accessible locations on the mountain or around town. The village is a base for Ski Famille, which has its own Mountain Marmots ski lessons for children aged 3-12 years.
---
---
Where to Stay
In Les Gets, the mix of old Savoyard chalets and more modern wooden-and-stone buildings have been constructed in keeping with their beautiful alpine surroundings. There's a healthy selection of chalet holiday companies, many owner-run, offering catered and self-catered options for most budgets.
Lots of Family Chalets and Hotels
Les Gets is well served by British tour operators specialising in family skiing holidays, and by child-friendly hotels.
Chalets Bogart and Bacall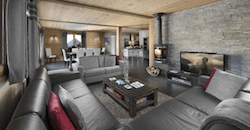 For example, Ski Famille has several chalets in town, notably Chalet Bogart and Chalet Bacall, right in the middle of the resort, five minutes' walk from the ski school meeting point. Set in what used to be Les Gets' cinema, they're unusually spacious and feature in our guide to the best ski chalets for families. Pictured here: Chalet Bacall living room.
Chalets Delavey and Fleur de Neige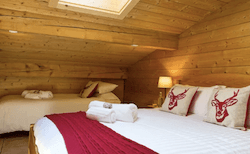 Tour operator Ski2 has two chalets in the resort: Delavey ("Very comfortable in a fantastic location") and Fleur de Neige (two identical two-storey apartments connected by a central door), with four and six bedrooms respectively. All of the operator's catered chalet holidays to Les Gets include free lift passes. Pictured here: one of the bedrooms in Chalet Delavey.
Altitude Lodge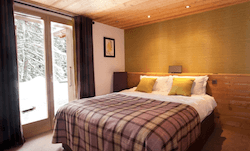 Altitude Lodge, run by tour operator VIP Ski, is located right on the piste and sleeps up to 29 people – with nine bedrooms including five family rooms with child bunks and other bedrooms having space for a cot. The lodge has a piste-side bar and lounge terrace. Residents have exclusive use of two small private sitting rooms with open fire.
Chalet de l'Alray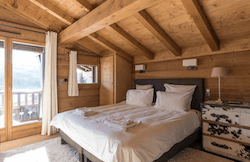 Chalet de l'Atray is arguably the best four-bedroom luxury chalet in Les Gets and was completed three years ago. The chalet was furnished by an interior decorator to exceptional standards, and it is less than four minutes' walk to the Les Folliets lift. The free ski-bus is just a minute's walk away and, if you are driving, there is a large garage for two cars. The chalet has a separate playroom/tv room and next to it is a separate, large living area, with curved screen TV, games machine and also a sofa bed – ideal for children.
Hotel-Chalet La Marmotte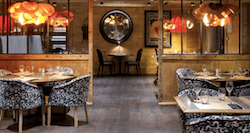 Family-friendly hotels include Hotel-Chalet La Marmotte, which is a family-friendly property: a 1930s building in the village and just across the road from the slopes and main ski lifts. Facilities include a swimming-pool, spa, games room, a free evening creche, and baby-listening devices provided for parents.
Hotel Labrador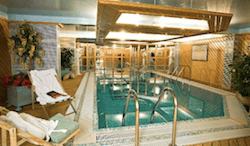 Hotel Labrador provides everything for babies – from bottle-warming to baby baths and high chairs. The four-star hotel has four types of room, including family rooms, and Residence Labrador which has 13 apartments sleeping from two to eight people in each. Its spa contains a heated infinity pool, with the temperature set between 28° and 29°C, and a sauna using colour to heighten the sensation of tranquillity: the different colours stimulate the body's natural ability to regenerate and refresh itself.
Ski-In Ski-Out Accommodation
Hotels located on the slopes but not in the village are for the keenest skiers who want to get out there first thing in the morning and don't care too much about the nightlife.
Chalet Le Croix Blanche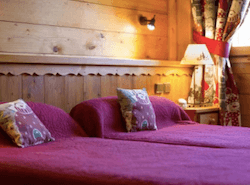 These include Chalet La Croix Blanche is a cosy chalet-hotel with a family ambience (there's the option of a family room with three beds), situated opposite the Les Chavannes cable-car. This makes early mornings effortless, but means the shops are a short shuttle ride away. There are nine comfortable rooms brimming with Alpine charm (think wooden panelling, stone interior, woolly cushions and blankets, mountain-themed pictures on the walls). There's a modest but pleasant and fully renovated spa, as well as a mini gym.
Le Lodge Chasse Montagne
Also on the slopes is Le Lodge Chasse Montagne, which is in a converted farmhouse overlooking the resort. It was constructed from traditional wood and stone and decorated in Alpine style. Its restaurant offers differently-themed menus throughout the week and there's also the in-house L'Isba snack bar.
Chalets de l'Alpe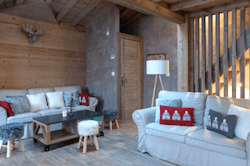 Chalets de l'Alpe offers spacious duplex apartments with the ambience of an alpine chalet. There's one five-bedroom, two with three bedrooms and one two-bedroom duplex apartments. The property is not quite ski-in ski-out, but is located less than 100m to the nearest lift so pretty convenient for the skiing. The chalet also benefits from a spa, with large hot tub, sauna and exercise area.
Chalet-Hotel Crychar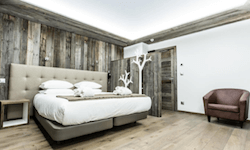 Chalet-Hotel Crychar is a four-star hotel located a little out of the village, at the foot of the slopes. This has a more contemporary feel to it, and boasts a brilliant spa with a huge indoor pool, aromatherapy steam rooms, saunas and Jacuzzi facilities. The rooms are spacious and modern (some would say small), but the wooden theme maintains a sense of cosiness. Post-mountain there's a delicious after-skiing tea on offer, freshly prepared daily.
Hotel Christiania

Hotel Christiania is ski-in ski-out yet also convenient for the village; its food is said to be excellent. The hotel contains both bedrooms and apartments, and – rather like in a chalet – tea and cake are served beside the log fire in the cosy sitting room after skiing.
Sightly Cheaper Places to Stay
Comparing Les Gets with the A list resorts like Val d'Isere and Courchevel, you'll be pleasantly surprised by the prices here.
Chalet Hastings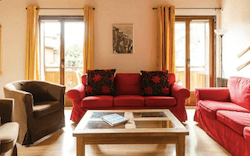 One of the best economy chalets is Chalet Hastings, which has two four-bedroom apartments available (Wessex and Bayeux) and one three bedroom (Edith). The four-bedroom apartments are both 100 sq meters, which is the same size as many four-bedroom chalets. Additionally, there is a sauna on the ground floor. Usually you can ski back to within a few meters and the bus stop is right outside.
Hotel Loc'Alpen Sports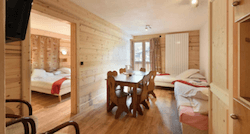 Hotel Loc'Alpen Sports is another centrally-located, cheaper hotel in the village centre. Again, just a few steps from the lifts and high street, so it's hugely convenient if you're going to be dashing around the resort. The hotel has a heated outdoor swimming-pool, a sauna, steam room and hot tub, as well as a cosy lounge with a crackling log fire for chilly evenings. The rooms are spacious and modern and the restaurant offers local specialities.
Hotel Alpina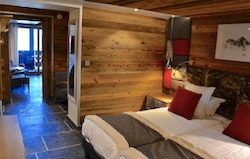 Hotel Alpina is a six-minute walk from the lift station and has six quality chalets (Adelphine 1-6) in its grounds, sleeping from 4-16 people. If you're looking for a traditional property that isn't going to break the bank, this is a good choice. You can enjoy the relaxing spa area and its large indoor pool, before exploring freshly-prepared Savoyard cuisine (there's a four-course set menu each night). Reporters praise "the friendly staff and warm ambience that guarantees a three-star experience that will excel all expectations".
Residence Annpurna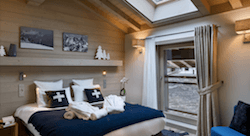 Residence Annapurna is considered to be one of the best apartment choices in the resort. The smart accommodation includes a restaurant called the Vina, which serves good value cuisine. The residence include an indoor swimming-pool, and a spa complete with steam room, hot tub and treatment rooms.
Luxury
Les Gets has some sumptuous chalets, some complete with swimming-pools and wellness areas, all of them beautifully designed and furnished.
Grand Corniche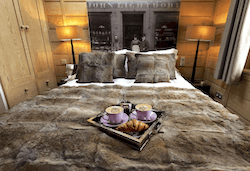 Chalet Grande Corniche mixes absolute luxury with astonishing panoramas of Mont Blanc from the dining area, as well as from the master bedroom. This is an award-winning chalet, located in a fabulous position high up the mountain above Les Gets, with seven en-suite bedrooms, a heated outdoor infinity pool, a wellness area, a snooker table in a vaulted wine cellar, and a two-tier home cinema. A favourite feature is the glass sauna where you can unwind after a hard day on the slopes whilst admiring the views.
La Ferme de Montagne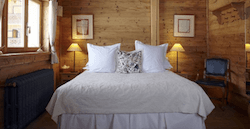 La Ferme de Montagne is a beautifully restored Savoyard farmhouse that can be booked as a whole for a chalet experience, or by room (there are eight bedrooms). The location is ideal, as it's perched just above the village, right next to the slopes for the ultimate ski-in-ski-out experience. With a gorgeous woody interior and top-of-the-range orthopaedic beds (including lambswool mattresses and a pillow menu), the atmosphere is wonderfully relaxed and cosy with a luxurious twist. Its restaurant is open to the public and has a brilliant reputation for healthy, locally-sourced food in an intimate and chilled setting.
Ferme de Moudon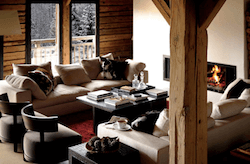 Ferme de Moudon is the ultimate in barn conversions, hidden away behind the church above the village. The British owner has avoided rustic kitsch and instead fused the original features with a sharp 21st-century look. It featured on Channel 4's Grand Designs Abroad, which described it: "like something from a James Bond set." We reckon this is one of the most iconic chalets in the Alps. It sleeps up to 14 people and is thoughtfully and stylishly designed, together with traditional farmhouse architecture and Alpine charm. It's a breathtakingly beautiful property, complete not only with designer furniture, but also with impressive spa facilities. The best thing about this place is the astonishing peace that it offers due to its tucked-away position.
---
---
Where to Eat
The slopes of Les Gets have lots of small, romantic chalet restaurants and cafés. If only the lunch scene in the A-list resorts was as good as this. La Grande Ourse on Mont Chery is one of the resort's best mountain restaurants and it's certainly the highest. It originally opened in the 1930s but is now owned and run by the Venning family from Cornwall. The menu featuring a twist on traditional local cuisine – the creations range from sausage and mash to La Grande Ourse speciality lobster and scallop tartiflette.
The most popular area for lunch in Les Gets is at Les Chavannes where there's a choice of good eateries including La Croix Blanche and Le Grand Cry.
La Paika is a pretty little chalet halfway down the Vorosses blue piste at La Turche, with a lovely sun terrace and an outdoor barbecue. Chez Nannon is a romantic hut offering local dishes – it's located on a blue piste beneath the Pointe de Nyon.
A selection of restaurants in Les Gets cater particularly well for children. These include La Case K2 (+33 450 79 78 09), L'Alpina, Le Chasse Montagne, La Peau de Vache (+33 450 75 86 64), Le Tyrol (+33 450 79 70 55) and Pizzeria La Taniere. Wild Beet Kitchen opens in 2018/19; it's the first totally vegan venue in the French Alps.
In the town centre is As de Neige et le Comptoir, which is divided into two halves, both of which are excellent. As de Neige has gourmet cuisine using fresh, local produce. Try the Avalanche Menu: a tailor-made surprise menu of three or four courses with wine. The Comptoir is for pizza, pasta or a plat de jour. It's a good place for cocktails or a 'ski-pressure' tasting of four beers from around the world. The Speakeasy Alpin has the atmosphere of a New York café with a French twist; the menu includes lamb cooked for seven hours, and puddings like pecan pie and cheesecake.
Dinner in a Bubble
For something different on Valentine's day is a romantic dinner in the Mont Chery bubble. The cabins are decorated to provide a warm, romantic atmosphere, and one course is served each time you pass through the lift station. The added bonus is the gorgeous night-time view over the village.
---
---
Where to Party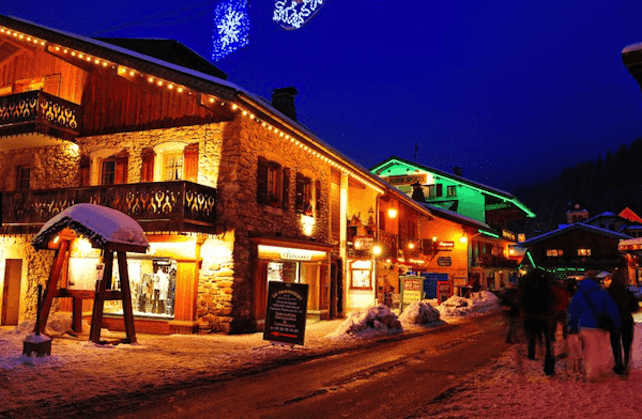 Les Gets is full of exhausted parents who are asleep by 10pm. However, it has some great apres-ski bars, although the village is probably not the ideal destination resort if nightlife comes top of your list. You'd be better off staying down the road in Morzine or in purpose-built Avoriaz.
Most of the bars are in and around the main street. L'ApréSki Bar, in Hotel Bellevue at the foot of the slopes, and Bar Bush (+33 450 79 86 62) are popular straight after skiing. Black Bear (+33 450 75 40 81), Le Pub Irlandais (+33 450 75 86 02) and Barbylone (+33 954 62 92 81) are lively places to head out to for a drink after dinner.
For tapas and wine bars, try Le George in Hotel Regina, Le Bacchus in Hotel-Spa Crychar, L'Anka (+33 450 84 55 35) or Le Boomerang.
Igloo Chalet-Club is Les Gets' only nightclub and it first opened in 1938, making it one of the oldest nightclubs in France. Today it has a resident DJ and holds themed events such as disco, rock and 80s evenings. It opens from 11pm to 6am.