In a Nutshell
One day, if you ski or snowboard long enough, and well enough, you'll end up in Chamonix – unable to resist the lure of its hard-core terrain, and stunning glacial scenery. Don't rush to get here, though. It's far better to wait until you've got the skills, and the courage, to do it justice.
The Stats
Altitude: 1035m
Lifts: 72 in Chamonix-Mont Blanc
Top Lift: 3842m
Ski area: 150km of piste
Adult lift pass: 258€ for six days Chamonix Pass


Official Site |

Ski Map |

Webcam
Essential Advice for the Perfect Trip
Tourism first came to Chamonix in 1741, when two heavily-armed English explorers, William Windham and Richard Pococke, took three days to reach the valley from Geneva. Pococke, for reasons best known to himself, was dressed as an Arab.
They gazed up at the ice fields and vertiginous crags in wonder: and cannot, in their wildest dreams, have imagined how their fellow man would one day use this dazzling and dangerous landscape as a playground.
The extreme-skiing capital of the world
Now of course, the little town of fin-de-siecle villas and grand hotels is stuffed to the gunwales with ambitious skiers and boarders. They've come from all over the world to prove themselves against the long, steep descents of the Mont Blanc massif, and they've imbued the place with special atmosphere. No doubt about it: this is one of the greats.
Don't expect it to be like other ski areas you've visited, though. Chamonix looks and feels like a workaday town, rather than a ski resort, and its satellite villages stretch for miles up and down a vast valley. The lift system does the same – with big, impassable gaps in between. Whatever you do here – whether it's cruising the pistes or plunging down couloirs – you're going to spend time commuting.
For intermediate skiers, this is a royal pain in the a*se: it's fine for a weekend, but for a longer stay the bitty-ness of it will bug you. For those who've come for the rough stuff, however, it's just part and parcel of the experience. The terrain here is just too good for it to matter.
Here's an example of what we're talking about, posted a few years ago by the absurdly talented guide and film-maker Seb Montaz-Rosset.
In Chamonix you can party as hard as you can ski – mainly on two streets: rue Docteur Paccard and rue des Moulins, and when it comes to eating out the buzzing town offers everything from McDonalds to blow-the-budget gastrodomes. On the mountain it's a different story, and it's often said that the best Chamonix lunch comes out of a rucksack. That said, there are a few atmospheric places in which to take a break from the rough and tough skiing.
But Chamonix is not just for skiing – bizarrely, it's also a good choice for non-skiers too, as there are plenty of other activities on offer here. You can take a trip on the Montenvers Mer de Glace cog railway or up the Aiguille du Midi cable-car for spectacular views. You can paraglide, horse-ride, go husky-sledding, or just walk. You can even try virtual climbing – thanks to the Tairraz Exhibition Centre (+33 450 55 53 93). It has an interactive exhibition where you can experience the sensation of mountaineering, discovering the five major summits of the Alps using mountaineering equipment.
---
---
Guide to the Mountain
The Chamonix valley is long, high and steep, but the lift system gives access only to small bits of it. This isn't a problem if you're tackling the big off-piste descents for which it's so deservedly famous. But it will frustrate you if you're used to the seamless on-piste cruising of resorts like Courchevel and Tignes.
These are the main sectors:
1. Aiguille du Midi cable-car: leaving from the southern end of Chamonix, and rising to 3842m, it gives access to the celebrated 22km Vallee Blanche glacier run, through staggeringly beautiful scenery. What's more, the classic route is an easy ski, once you've hiked down from the cable-car. See our Intermediate and Advanced sections for more.
2. Le Brevent and La Flegere: two separate, south-facing areas above Chamonix – which are linked by cable-car, and offer mind-blowing views across the valley towards the Aiguille Verte and the Mont Blanc massif. There are some nice pistes here, though most are fairly short, and there are queues for the lifts at weekends. There's good powder skiing/boarding here after a snowfall, too: Le Brevent has the steeper stuff, La Flegere the more rolling terrain.
3. Les Grands Montets: the most popular sector for lift-serviced off-piste, and one of the world's greatest ski mountains. The pistes here are long, and snowsure – but what makes this place famous are the big, backcountry descents such as the Pas de Chevre. For steep on-piste skiing, this is the place to head – notably for the two blacks, Point de Vue and Pylones. When linked to the Pierre a Ric red to the valley floor, either will make for a superb and thigh-bursting 2035m descent.
https://www.youtube.com/watch?v=fbHd2k-9WFE
4. Le Tour and Vallorcine: known as La Domaine de Balme, is up against the Swiss border, at the far end of the Chamonix Valley. There's been a lot of new building in recent years in Vallorcine, with new infrastructure added on the mountain. The area offers some good novice terrain, some rewarding runs on the Col de Balme and great tree-skiing down into Vallorcines. You need to be very careful off-piste, however, because of the avalanche risk. "It's full of wind-slabs," says guide Roland Stieger, who's worked in the valley for 25 years. "It's the place I am most tense when I ski."
5. Les Houches (see our separate resort report): at the Geneva end of the valley, and home to the valley's World Cup downhill race course (the Kandahar). The altitude is rather low for these globally-warmed times, but the pistes are long and tree-lined, and it's the best place to ski when it's snowing hard or the light is flat. Off-piste groups are often brought here during a blizzard by their guides – to ski delicious powder on top of a firm surface of groomed pistes. Recently, there's been a spate of building and restoration here, with new hotels, apartments and even a brewpub opening up.
Also included in the Chamonix-Mont Blanc area are Le Tourchet/Bonneville (two lifts), Les Chosalets (two lifts), and Les Planards (three lifts).
Chamonix for intermediates
Lots of Chamonix's on-piste skiing is excellent in places, but broken up into itty-bitty packets, with boring commutes (by a free shuttle bus service) and/or lift queues in between. We wouldn't recommend it for a whole week, but for a weekend – provided you don't mind riding the buses, it's okay.
Of all the areas, La Domaine de Balme, above the village of Le Tour is the best place to cut the corduroy, on well-groomed and snowsure pistes. There's a good mix of open and tree-lined terrain here too – the only drawback being the bus ride from Chamonix to get there (in fact, if all you want to do is ski them, you should consider staying in Le Tour or Vallorcine rather than in the main town).
The Vallee Blanche
Chamonix is dominated by the 3842m Aiguille du Midi, reached by cable-car from the southern side of town. This is the starting point for the famous Vallee Blanche, a glorious 22km descent past yawning crevasses and house-sized seracs (ice boulders) all the way back to Chamonix. Anyone who can ski parallel, has a head for heights, and can handle the odd mogul and patch of ice can tackle it – but a guide is essential.
The worst bit, by far, is the start. To get down to from the cable-car station, you have to walk down a long series of ice steps cut into the spine of ridge. They're not in themselves always difficult, but the 2000m sheer drop to your left gives plenty of people the wobbles.
After that, the easiest of the four routes is surprisingly flat – too flat, in fact, for snowboarders – and the only real distractions from the stunning scenery are the crowds, and the variable snow conditions (don't come here when the snow is thin).
Freestyle is not what Chamonix is about
There's a small terrain park at Les Bossons, on the road out of town towards Les Houches, and another on the Grands Montets. But for the most part, if anyone's catching air here, it's on natural lips and rollers on the mountains. La Flegere is a favourite sector of the lift system amongst the big-air brigade. However, just because it's underused, that doesn't mean the terrain park is entirely bereft of talent.
Experimenting with new terrain?
We still think there are other resorts – Verbier, Val d'Isere, Tignes, Jackson Hole, for example – which provide a better environment for advanced (but not expert) skiers. But there's a lot to be said for the inspiration Chamonix's stunning scenery and adventurous spirit can provide.
There's plenty of easily-accessed off-piste here too, notably above the Lognan cable-car station, though it's skied out in an instant after a snowfall, and quickly becomes a vast mogul field. If what you're after is easy powder to experiment on, then you're better off over in the Flegere sector.
One of the great testing-grounds of ski talent
Chamonix's sky-high reputation is thoroughly deserved. It's a shame there's so much competition for fresh tracks on a powder day, but it's no surprise, given the quality of the runs on offer. If you're coming here for the first time, there's only one rule: hire a guide. No amount of reading is going to prepare you for the challenges that await. When you do, make sure he/she has the gold-standard UIAGM qualification – and is therefore allowed to take you skiing on glaciers.
---
---
Where to Learn
By the standards of any other ski resort, the Chamonix community of UIAGM-qualified mountain guides is huge. You'll need its expertise too, if you plan to ski many of the most famous descents.
For beginners? Are you sure?
Several of the valley's nursery slopes are scattered along the valley floor – assisted by snow cannons, but still vulnerable to the sun. They're also separate from the main ski areas, so you'll spend all your time away from the more accomplished members of the party, wondering what they're up to, and feeling like a second-class citizen. We'd avoid them, and instead make sure you get your lessons either on the mid-mountain nursery slopes at Flegere, or at the new beginner's area under the Tabé chairlift in the Grands Montets. Even so, you might want to consider a more beginner-friendly resort such as Alpe d'Huez instead.
There is, however, a big choice of ski schools in the valley, including ESF Chamonix or ESF Argentiere, which are the traditional choices. Ski Sensations is the international ski school here, and Evolution 2 is popular. BASS Chamonix is a British ski school in the Chamonix Valley, Summits teaches skiing and parapet, and Kailish Adventure is for on- and off-piste skiing.
Taking children to the resort
This is not the place to come with babies, small children or even older children – unless they are proficient skiers or boarders. Two ski areas up the mountain, Les Planards and Le Savoy, are set aside for children, but even these are far from easy. Evolution 2 provides lessons for children from three years old in the area.
It's vital to hire a mountain guide
Most people who come here choose to hire a mountain guide for at least a day, and these can be booked through Association Internationale des Guides du Mont-Blanc; Compagnie des Guides de Chamonix; or one of the other companies offering properly qualified guides. Roland Stieger is a charming mountain guide and ski teacher who didn't learn the sport himself until the age of 20, so understands what it is like not to be born on skis.
---
---
Where to Stay
Chamonix offers the full spectrum, from youth hostels to five-star hotels, plus a wide choice of catered chalets and self-catering apartments in between. Just remember to pay close attention to the location before you book. This is a long valley – you don't want to end up in the wrong place.
If it's nightlife you're after, then you need to be in Chamonix itself. This is where the cable-car for the Aiguille du Midi leaves from, too, so if the Vallee Blanche is your focus, you might want to stay here, too. More expert off-pisters are usually happiest in Argentiere – as close to the lift up the Grands Montets as possible.
The village of Les Houches often bills itself as part of Chamonix, but in many ways it's a separate resort (and a much better place to stay if you're skiing with children).
There are plenty of ski apartments to choose from…
Bear in mind that lots of British tour operators feature the resort, such as self-catering specialists like Erna Low, Powder Beds and Peak Retreats.
Residence la Riviere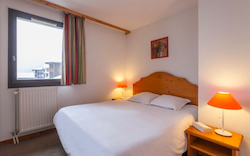 If you're on a tight budget – or prefer to spend money on a mountain guide, rather than posh accommodation – then the Residence la Riviere makes a lot of sense. It's south of the town centre – but still within walking distance of both the nightlife, and the Aiguille du Midi cable-car. Its small apartments were recently refurbished, and generally the feedback is good – although you mustn't expect the Ritz. Staying here with a car makes lots of sense – so you can day-trip up and down the valley.
Les Balcons du Savoy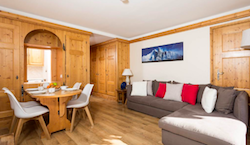 A little more expensive is Les Balcons du Savoy which are almost ski-in, ski-out, at bottom of the lifts and close to the nursery slope in the Brevent sector. There is a children's games room in the building, with a pool table and table tennis, as well as a gym. The hotel has a swimming-pool, sauna and fitness room, and there's an electric car charging station on site.
Residence la Ginabelle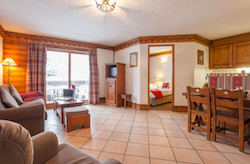 Meanwhile, the Residence La Ginabelle is a development of self-catering apartments next door to Chamonix's railway station, close to the town centre. There's a small swimming-pool and spa, and a car-park in the basement – which makes this a good base for anyone with their own transport who wants to day-trip up and down the valley, and maybe even visit Courmayeur. Decor is upmarket, and there's free wifi in the apartments – but don't come expecting lots of space.
Apartment Edelweiss
For an eclectic choice, try Ski Amis' portfolio of Chamonix and Argentiere apartments. For example, the Edelweiss in the centre of Argentiere has three bedrooms and is on the second floor of a traditional house with a balcony overlooking Mont Blanc, the Grands Montets and the the Argentiere glacier. The living area is spacious and bright, with a central fireplace that separates the living area from the dining area.
…Hotels and chalets in Chamonix centre
Chamonix is well-stocked with smart hotels and chalets – which is odd given how hard-core the skiing is here. Chamonix specialists like Hip Chalets, Collineige, Chamonix All Year, and Amazon Creek have chalets here.
Le Hameau Albert 1er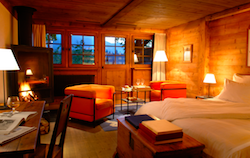 The five-star Le Hameau Albert 1er is a stylish and atmospheric hotel owned by the Carrier brothers. Its gastronomic restaurant has two Michelin stars, and has some of the loveliest bedrooms in the Alps, courtesy of its rustic-chic (very chic) annex at the Farmhouse. But you can't help wondering – how many of its well-heeled guests can do justice to Grands Montets?
Hotel l'Heliopic Sweet & Spa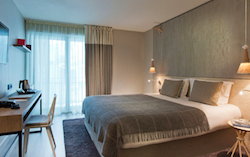 Located a few metres from the Aiguille du Midi lift station facing Mont Blanc, when it opened in 2013 The Heliopic Sweet & Spa became a contender for best hotel in the resort which until then had been dominated by The Albert 1er. The decoration has a touch of 50s and 60s style and there's a 500m2 spa with swimming-pool, water-wall, and ice-cave. There's also a restaurant, bar, ski shop, and an in-house take-away.
L'Auberge du Bois Prin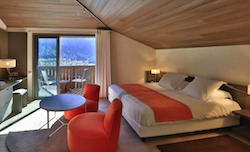 Meanwhile, the four-and-a-half-star l'Auberge du Bois Prin is another pampering place to stay with a highly-rated restaurant, serving locally-sourced produce, and a fine selection of Savoie wines. The chalet-style building has just 12 rooms, all decorated in contemporary style, with pale stripped pine walls and ceilings.
Grand Hotel des Alpes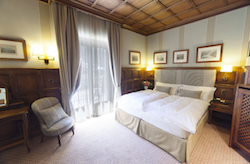 Up there, too, is Grand Hotel des Alpes, which is extremely comfortable (it's the sister property of the lovely Breithorn in Champoluc, Italy). It features a 'relaxation centre' with hot tub, wave swimming-pool and massage rooms. "I have travelled all over the world and stayed in a lot of good hotels," said a reporter, "this was the best experience we have ever had in terms of location, quality and service".
Langley Hotel Gustavia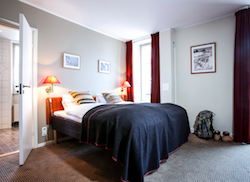 Simpler, as well as lively and central, is Langley Hotel Gustavia. Its Swedish owners have created a modern hotel with a vibrant atmosphere. "Food is fantastic and the lively apres-ski bar is separated from the hotel by a sound-proof door," says one reporter. Which is just as well, because the in-house Chambre Neuf bar is considered one of the best apres spots in town. 
Park Hotel Suisse & Spa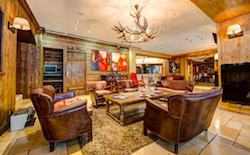 Park Hotel Suisse & Spa was rated "superb" by reporters. The four-star family-run hotel has been welcoming guests since 1930 and today has smart wood-panelled bedrooms, as well as a rooftop spa and a fitness centre. The restaurant has a small menu with cheese specialties such as fondue and raclette, or lighter meals such as salads.
Alpina Eclectic Hotel
The Alpina Eclectic Hotel couldn't be more different from your typical alpine accommodation. It's hip and modern, with lots of glass, and is decked out in vibrant colours. There's a bar with open fire, a on-site ski rental shop, a games room, a grocery shop, and the panoramic La Vista restaurant on the seventh floor. The spa has a sauna, Jacuzzi, steam room, and treatment rooms.
Le Vert Hotel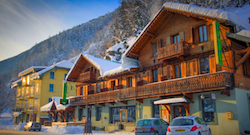 Le Vert Hotel is an affordable place in an old building with a growing reputation as the place to stay in Chamonix and the social hub for extreme sports. The hotel also has a restaurant, bar with a pool table and dance area, and an in-house ski rental shop. Bedrooms vary from singles to triples.
Villa Terrier
For more of a home-from-home, stay here in a chalet instead of a hotel. A good choice would be Villa Terrier, a grand old Chamonix house built in 1910 that still exudes an atmosphere of elegant opulence. More country house hotel in style than a chalet or ski hotel.
Or you can stay outside Chamonix centre…
Not everyone chooses to stay in the buzzing town centre, and there is a wide choice of accommodation in different locations along the valley, as well as up the mountain.
Baby Bear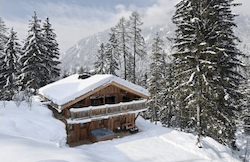 Baby Bear is hidden away in private woodlands in a gorgeous setting in the Les Bossons area of the Chamonix Valley. This is the ultimate romantic place to stay, or alternatively it would suit a family. Adjacent to Chalet Amazon Creek (you can take the two together), Baby Bear has a hot tub and cinema room. The chalet is self-catered.
Eco Lodge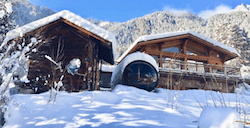 Eco Lodge, as its name suggests, is built using green technology and is fully self-sufficient and able to fully power itself with an advanced renewable energy system. It is in the prestigious hamlet of les Nants – just 1km from Chamonix centre. The property has five bedrooms and a large open-plan living area, making the chalet feel light and airy. The Scenic Sauna has spectacular views of Mont Blanc and Le Dru, whilst there's also outdoor hot tub for up to eight people.
La Folie Douce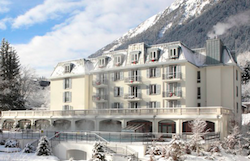 The La Folie Douce, known for its wild apres-ski, has picked Chamonix for its first hotel. Located in the former Savoy Palace it has 250 rooms, three restaurants, a spa, heated outdoor pool and – of course – an apres-ski venue with live music and DJs. It's ski-in, ski-out, with the in the Brevent-Flegere ski area's Savoy lift a few metres away. If you're feeling peckish in the afternoon, you can grab a bite from the in-house street food stall, Le Kiosque. Pictured: the Savoy Palace building before its revamp.
Terminal Neige – Refuge Mont Envers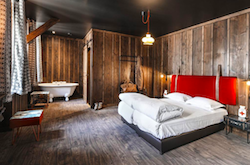 The remote alpine hotel, Refuge Montenvers is the second (after Flaine) Terminal Neige from the Sibuet stable of Megeve fame. The Terminal Neige brand is more cutting-edge and cheaper than the traditional Sibuet offerings. The original refuge was built in 1880 to accommodate the first mountaineers who visited the beautiful Mer du Glace. Today, the 19-room hotel also has a (smart) dormitory for 10, and two restaurants.
Hotel le Dahu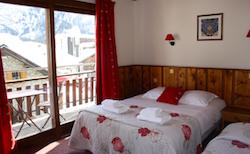 Two-star Hotel le Dahu is in neighbouring Argentiere and has simple rooms, is dog-friendly, has some family rooms, and is warmly recommended by those who've stayed here. The hotel is in the heart of Argentiere and close to the Grand-Montets ski area, 7km away from Chamonix town centre, and 6km from Les Praz-La Flegere ski area.
Hotel Jeu du Paume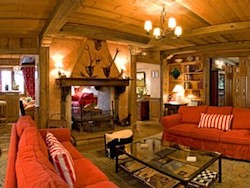 In the hamlet of Lavancher, Hotel Jeu de Paume is a romantic boutique hotel with an indoor swimming-pool, a steam room, sauna, indoor and outdoor hot tubs. The larger bedrooms are equipped with balneotherapy baths. There's also an outstanding gourmet restaurant called Le Rosebud. Chef Eric de Ganck creates subtle and creative cuisine, using spices and herbs from his garden.
---
---
Where to Eat
Chamonix has a few atmospheric places in which to sit down, crack open a bottle, and have a yatter at lunchtime. In the Grands Montets sector, La Cremerie du Glacier, in the woods beside the Pic a Ric piste, is one of the only restaurants not owned by the lift company. It is renowned for its croute fromage. Also recommended is the Chalet-Refuge de Lognan (+33 688 56 03 54) – in an atmospheric spot overlooking the Argentiere glacier. You need to be reasonably skilled to ski there (the exit from the refuge is off-piste), but all the same it's packed in peak weeks of winter. Book ahead! In the same sector, Plan Joran offers 'regional specialities served in a casserole' and has a good sun terrace. Cafe Rider (+33 450 54 10 21) is a sleek modern self-service. Swedish chef David Lillieroth opens MUMMA in Chamonix this winter, with cuisine inspired by his trips in Asia and South America.
If you're skiing the Vallee Blanche, drop in first at Le 3842 (+33 450 55 82 23), which is one of the highest restaurants in Europe. It is reached from the Aiguille du Midi cable-car and specialises in grilled meats.
At Brevent, La Bergerie de Planpraz (+33 450 53 05 42) is recommended for its grills and salads. At Flegere there's La Chavanne (+33 450 53 06 13), and the waiter-service restaurant l'Adret (+33 450 55 34 88). On the cross-country track in Chamonix you'll find Le Robinson (+33 450 53 45 87), which has a great atmosphere and serves typical mountain cuisine.
Everything from McDonalds to blow-the-budget gastrodomes
Got something to celebrate? Then book a table at the restaurant gastronomique of the Albert 1er hotel – it has two Michelin stars. The hotel's other restaurant, the more rustic Maison Carrier is also excellent, though not quite so high-falutin', and serves Savoyard cuisine. L'Auberge du Bois Prin is also warmly recommended, along with Hotel Eden in Les Praz. Le Rosebud is in Hotel Jeu de Paume in the hamlet of Le Lavancher. The restaurant has become known as one of the best in the Chamonix Valley, with its chef Eric de Ganck mixing herbs and spices to create an original style of his own. Le Rosebud. Try the mousse of fresh goat cheese from Giffre, beetroot, basil, pine honey and hazelnut biscuit, followed by an Arctic char fillet with thyme and lemon confit, spelt risotto.
In the centre of town, Atmosphere is right on the river and has a daily market menu strong on fish and seasonal produce. Nearby, at the Brasserie Le National (+33 450 53 02 23), the steaks in particular are recommended. l'Impossible is set inside an atmospheric 18th-century wooden farmhouse, and serves meat from organic farms, fish, and vegetarian dishes.
Pizzeria Casa Valerio (+33 450 55 93 40) is the valley's favourite Italian, and features a much-loved wood-burning oven. The owner, Valerio Comazetto, used to compete in the world pizza championships in Parma. Meanwhile, La Caleche (+33 450 55 94 68) specialises in traditional Savoyard dishes, and Satsuki is for sushi.
From curries to oysters
Le Cap-Horn is a restaurant and jazz bar complex in rue des Moulins, the oldest street in Chamonix. In keeping with its surroundings, Cap-Horn is in a beautifully-renovated old building with a different experience on each of the three storeys. On the ground floor is a jazz bar called Les Caves du Pele with wine, tapas and oysters from 11pm to 2am nightly. On the first floor is Cap-Blanc, which is Japanese. The top floor is Le Cap-Horn, a traditional restaurant with seafood, fish and local specialties – and a large sun terrace.
Annapurna is the first Indian Restaurant in the valley. In Argentiere, the restaurant scene is more laid-back, as befits its serious-skiing image. The Rusticana (+33 450 55 88 28), aka the Rusty, is a popular spot, and offers beer-battered fish and chips, wild boar sausages, and a celebrated 10oz steak.
---
---
Where to Party
Chamonix has a livelier apres scene than almost any other French resort we know. It has a strong British flavour: too strong, some might say. But actually, you'll find a lot of variety here, if you're prepared to look for it.
You can party as hard as you ski
Before you come down the mountain, from December 2018, you'll hear and see La Folie Douce, the chain of apres-ski venues known for its live music. This is its first foray into hotels. In town, top of the list for a posh drink is Mix bar (+33 611 14 96 71) on rue des Moulins. It's a lounge serving a wide selection of cocktails, and if there's something that you want that isn't on the menu then it can be made for you. Different DJs play every evening. On the same street is Le Cap-Horn, a three-storey restaurant and jazz bar complex. There's a different experience on each floor, with Les Caves bar on the ground floor. At Les Caves regular DJs and live bands play on various nights, with low-key jazz/blues early in the evenings and more upbeat tunes later on. Le Vert bar is another popular venue, with a pool table, and a projector to watch your day's skiing. At weekends the bar hosts some top international talent.
L'Amnesia is Chamonix's biggest club, open from 1am to dawn, and featuring international DJs and themed party nights. Le Privilege (+33 450 53 29 10) has live music and No Escape puts on cabaret acts. Late-nighters also end up at the BPM Night Club (+33 670 63 64 88) which hosts acts such as the Chippendales. Some hard-core off-posters hate these – much preferring the Chambre Neuf, in the Gustavia hotel, which is big with visiting Swedes, and therefore blessed with a high-cheekbones-high-drinking clientele. The Micro Brasserie de Chamonix – or MBC – is also popular with the same crowd. Le Garage (+33 450 53 45 26) is another popular bar. Bistrot des Sports (+33 450 53 00 46) was created for the 1924 Winter Olympic Games and retains an authentic local ambience. Gamblers can pay a visit to the casino, which is open until midnight and also has a restaurant.
The streets are paved with bars
If none of those suit you, then just take a walk through the centre of town. The streets (especially the rues du Docteur Paccard and des Moulins) are paved with bars.
In Argentiere, The Office bar (+33 450 54 15 46) is a resort institution where you can drink, eat, listen to live music, or even stay. FuBar (+33 450 965 361) is the only real nightspot in Argentiere.
Other apres options
Chamonix has a casino, a three-screen cinema, and a bowling alley. You can go ice-climbing, speed-riding, or try the Chamonix Alpine Coaster Luge at the Planards area. The 1300m-long track is fully lit at night.
If you're not skiing, take the rack and pinion railway from Chamonix station to Montenvers at 1913m. Up here there's a gorgeous panorama of the Mer de Glace glacier, the Drus and the Grands Jorasses. You can take a tour of the Grotte de Glace (ice cave) inside the heart of the glacier. Re-sculpted every year, it depicts the life of mountain people in the early 19th century, and can be entered either by a walk of around 20 minutes via a footpath, or by gondola. There are about 480 steps from the arrival of the gondola to the entrance to the cave. The eating choices at Montenvers are the restaurant at Refuge Montenvers, the bistro at Panoramique Mer de Glace, or a snack at the Glacier Bar.