In a Nutshell
Small, low-key and traditional, St Martin de Belleville is part of the enormous 3 Valleys lift system, but offers a radically different experience from neighbouring resorts. It'll bore the pants off party animals – but that's exactly how its growing band of fans like it.
The Stats
Altitude: 1450m
Lifts: 200
Top Lift: 3300m
Ski area: 600km in the 3 Valleys
Adult lift pass: 3 Vallees 283€ for six days


Official Site |

Ski Map |

Webcam

Xavier Schouller, founder of Portsmouth-based Peak Retreats, is a true French Alps specialist. One of the things he loves is introducing skiers to the back-door resorts that link into superb ski areas. St Martin de Belleville certainly qualifies as one of those hidden gems where skiers return to again and again, yet don't want to tell too many people about so it keeps that special atmosphere.
Driving up into the village past idyllic old farmhouses and timber-and-stone chalets you get a real glimpse of the past. Yet staying here you have brilliant 3 Valleys skiing right on your doorstep. Skiing back down to St Martin by taking the Jerusalem slope from the top of Meribel, then joining the Biolley piste down to the village, I wouldn't wish to be staying anywhere else.
Here's why I think St Martin de Belleville is so special:

Essential Advice for the Perfect Trip
Small-village atmosphere: big-resort skiing
Not everyone will love it, of course. Party animals will be much happier staying further up the Belleville valley, in Val Thorens, or on the other side of the Roc de Fer, in Meribel.
Anyone looking for real ski-in, ski-out convenience, and a sense of being at the hub of the piste system, should stay in Les Menuires, Mottaret (Meribel's high-mountain suburb) or Courchevel 1850. Those who want a high-altitude resort with guaranteed good-quality snow will be better off in Val Thorens.
But if you want at least a taste of old-fashioned France, as well as a more relaxed pace to your holiday, then put St Martin de Belleville near the top of your hit list. It's a very welcome antidote to what the French call les usines de ski – modern, purpose-built ski factories.
---
---
Guide to the Mountain
Contrary to what some people believe, St Martin is one of the best-connected resorts in the 3 Valleys, a suitable base for exploring the whole area. It takes less than 15 minutes to ride the gondola and the six-person express chair-lift out of the valley and onto the ridge that separates St Martin de Belleville and Meribel. At that point, you start to comprehend the sheer volume of skiing on offer.
From here, you can ski back down to St Martin on rolling blues and reds, or down to the neighbouring resort of Les Menuires, or over into Meribel, and beyond into Courchevel. In all there's a mind-boggling 600km of groomed runs to ski, plus of course the oodles of off-piste that lie in between. If you laid the pistes out end to end, they'd run from London almost as far as Aberdeen.
The best piste in the 3 Valleys, according to the many locals and regular skiers who come here, is Jerusalem. It's just above St Martin de Belleville, has rolling terrain and gorgeous views.
Back-door access to a vast ski area
Of course, technically, there's something for everyone here, and the high altitude of nearby Val Thorens means snow cover is more or less guaranteed. However, St Martin itself suits mid-winter parties of intermediate skiers much better than anyone else. The St Martin gondola has been upgraded for the 2019/20 season, with its capacity increased from 1,800 to 2,400 skiers per hour.
Here's why:
1. St Martin's low altitude and the western aspect of the local runs mean that at the end of the season the snow cover can be thin and slushy.
2. While there's plenty of advanced and expert terrain in the 3 Valleys, some might think it a bit of schlepp to reach it from St Martin.
In fact from the Tourgnete ridge between St Martin and Meribel it's two pistes down, then onto the Pas de Lac lift in Mottaret – and from then you're skiing in Courchevel. To go to Val Thorens from the same ridge it's just one piste to Les Granges lift, then one run to the Cote Brune lift – and you're skiing into Val Thorens.
3. Beginners will be fine on the resort's nursery slope (provided the snow isn't too slushy). But the local lift system doesn't connect to any more beginner-rated slopes, so unless they make quick progress, they'll be stuck down in the village for most of the holiday.
4. The village doesn't have a terrain park. Freestylers will be better off in Val Thorens, Les Menuires, or Meribel.
5. By contrast, some of the best intermediate skiiing in the whole of the 3 Valleys is right on your doorstep, in Les Menuires. There, the Pointe de la Masse is the place to go when the pistes elsewhere are too crowded (and this is a common problem during peak weeks, over New Year and during the February school holidays).
A great spot for intermediate snowboarders after heavy snow
We've met snowboarders in St Martin de Belleville who are having a wonderful time – which is because they're intermediates, venturing off-piste for the first or second time, who adore the wide-open off-piste terrain on the upper slopes of the valley.
More advanced riders will be happier staying in either Val Thorens or Les Menuires (both of which are in the Belleville valley), or over in Meribel. Beginners should avoid St Martin too, because the nursery slope is served by a drag-lift. It takes a long time to get the hang of drag-lifts on a snowboard.
---
---
Where to Learn
If you want to learn in St Martin de Belleville, you'll find a choice of two ski schools here. The first is the more traditional ESF. The other is the British ski school New Generation who run small classes for adults and children.
There is also Les Menuires Ski School, which is a handful of excellent instructors offering private lessons. They are part of the ESF, but tailored to English-speaking people. For off-piste skiing or snowboarding, they take groups to the Tougnette ridge or the Pointe de la Masse area when time and conditions allow.
Meanwhile, the local Bureau des Guides (+33 479 01 04 15) can organise off-piste excursions in the area. "The beginner area is tiny and the only pistes are blue ones, which have narrow and steep sections. Our novice boarders found this a problem," noted a reporter.
A good choice for self-sufficient families who know how to ski
You'd think St Martin de Belleville would be crawling with family-friendly British tour operators. But none has set up shop here – probably because the nursery slopes are rather underdeveloped, and there's a lack of family-friendly facilities you'll find in bigger 3 Valleys resorts. So we wouldn't recommend it if you've got new skiers in your brood.
That said, if you and your kids already know how to ski, are hungry for more, and can look after yourselves at night, then you might well enjoy St Martin. No-one's going to be kept awake in the small hours of the morning by drunken Dutchmen fighting in the street.
Those in search of child care will find it at the Piou-Piou club, which is run by the ESF and cares for both non-skiing and skiing children from 30 months to five years. Not all the staff speak English. It has a children's restaurant and ski lessons are given for little ones from three years old.
---
---
Where to Stay
There's a good range of accommodation in St Martin de Belleville and the neighbouring hamlet of St Marcel. For added convenience for people not staying piste-side, the resort has added ski lockers in the heart of the village.
Here are some of the best chalets:
Chez Bugi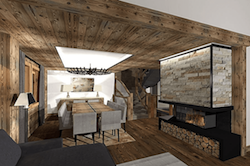 White Mountain Chalets have 11 luxury catered chalets in the resort including Chez Bugi, which has six en suite bedrooms, and is in a ski-in ski-out location – which is rare for this resort. It is decorated with lots of wood, floor-to-ceiling windows, and a muted palette of creams, taupes and light greys with sumptuous fabrics and textures.
Chalet Abode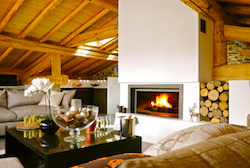 Abode is an upmarket catered chalet in the hamlet of Villarabout, on the outskirts of St Martin village. It's an old Savoyard farmhouse built in the late 1800s that's been beautifully restored with designer touches and is squirrelled away in the heart of the hamlet, with stunning views from the living room. If you want the full St Martin de Belleville effect, this is where to stay. Expect complete luxury and some of the best chalet food in the Alps.
Chalet Lou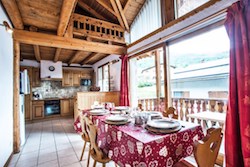 Chalet Lou is in a quiet location 1km from St Martin de Belleville, 1.5km from the lifts and ski school and 900m from the nearest piste; the shuttle bus linking with St Martin is 150m away. The spacious and comfortable self-catered chalet is part of a recently renovated stone village house. It is simply decorated and furnished in typical local style, making extensive use of wood. 
Chalet Polaris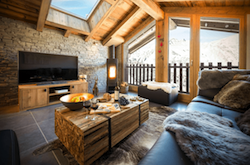 Ski Talini have three chalets in the resort, including the impressive Chalet Polaris, which has five bedrooms and has a lovely Scandinavian sauna, walk-in shower and a fitness room complete with exercise bike and step machine. The chalet's enormous living area with a gorgeous large wooden table has vast windows looking out onto the Belleville Valley. It's modern and sleek, but retains contemporary Savoie charm at the same time.
Chamois Lodge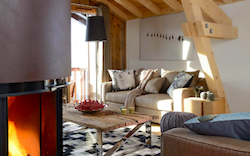 Chamois Lodge sleeps six adults and three children in three luxury super king/twin rooms and a triple bunk bedroom. It is beautifully finished in old wood and stone, and decorated in an elegant contemporary style. The food is good, too. only drawback is that it's a hike up to the lifts – fortunately the company operates an on-call chauffeur service to take care of the problem.
Chalet Rose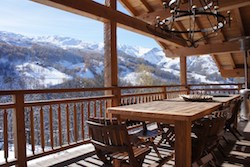 Chalet Rose is a recently-built self-catered chalet that's situated in a quiet neighbourhood at the edge of the village. It is located 100m from the gondola linking into the 3 Valleys, the ski school meeting point and the children's Les Piou Piou nursery. There's an outdoor hot tub, as well as a sauna, ski room, utility room, home cinema with a stock of 600 films, pool table, table tennis, and a heated garage.
Chalet de la Lune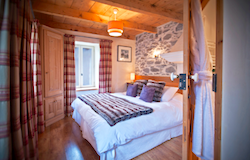 Some 400 years ago, Chalet de la Lune was working farmhouse with cows in the sitting room. Today it has been whipped into an image of total luxury, yet retains its rustic character with a vaulted-ceiling living area. Whilst it oozes authentic mountain charm, it also boasts a cinema den, a games room and an outdoor hot tub. Best of both worlds…
Chalet Coco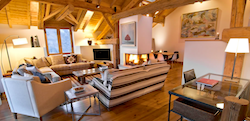 Chalet Coco is situated in Villarabout, just above St Martin de Belleville, making it less than a two-minute chauffeur driven journey from the centre of the village and the ski slopes. It has five en suite bedrooms and the whole chalet has been decorated in a stylish yet cosy alpine style, using soft warm tones, local rustic woods and natural materials.
The Ecurie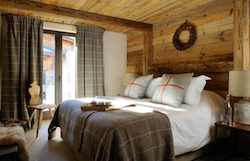 The Ecurie is a stylish renovation of a 130-year-old Savoie stable and farmhouse that's been turned into a four-bedroom luxury chalet. It's gorgeously rustic with a superb young chef who will nourish you beyond your wildest ski holiday dreams as you relax in front of the crackling fire. You can't just pop to the lifts, but it's only a four-minute chauffeured drive to the main lift hub.
Chalet des Anges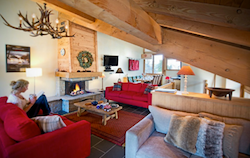 Then there's Chalet des Anges, which is close to the St Martin gondola and features a double-height ceiling in the sitting and dining area, with large windows offering spectacular views and opening onto a covered balcony. Treat yourself to a week in this opulent home, where you can snuggle up in front of a roaring fire enjoying some delicious homemade cake after skiing each day. Gorge on exquisite four-course meals amidst a truly heavenly ambience.
Pure Black & Pure White Crystal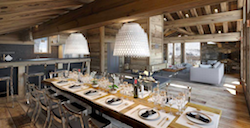 Pure Black & Pure White Crystal are new twin chalets, sitting side by side. They each contain five bedrooms, and have warm and woody interiors. The living and dining areas have a mezzanine with TV and games room, central fireplaces, huge windows, and swimming-pools. Food is not included but can be provided, and the chalets can be taken separately – or together for large parties of up to 24.
Chalet Floralie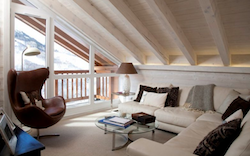 Chalet Floralie is an extremely spacious ski lodge that can sleep 18 people. There are eight individually furnished bedrooms, and lots of cosy areas where you can chill out – from the well-stocked library to the vast open-plan sitting room, with its floor-to-ceiling windows. The property also has a penthouse apartment, that can be rented separately and is reached by a private external staircase.
Chalet Cateline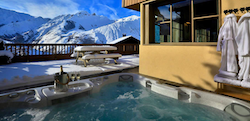 Chalet Cateline is situated a few minutes' walk from the centre of St Martin and the ski slopes. It was built as a luxury private chalet, with five bedrooms, and no expense was spared in its construction. In the living area a double-side glass-fronted log fire divides the sitting and dining rooms. The dining room in turn opens out onto a terrace with beautiful views from the large hot tub.
The hottest self-catering apartments
St Martin has some stylish apartments, some with facilities like swimming-pools, spas, and even an optional meal delivery service.
Chalets du Gypse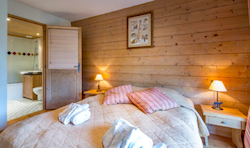 We reckon Chalets du Gypse apartments are a fantastic option for families, because they have a private indoor pool and are ski-in, ski-out. Recently built in traditional style, the apartments are a cut above the French rabbit hutch of old, and visitors rave about the location. The building is beautifully sculpted from natural wood and stone, and the pool and spa area is light and spacious and exactly where you'd want to unwind after a hard day's workout on the mountain.
Chalets Caseblanche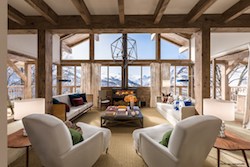 Chalets Caseblanche is a complex of 34 new luxury chalets/apartments in the the Grangeraies quarter, 50m from the gondola and ski school meeting point, and 300m from the resort centre. These spacious chalets and apartments all have either a wood burner or open fire and most have a private sauna. There is a reception and a ski hire shop, and a meal delivery service can be provided by one of the resort's most prestigious restaurants.
Les Chalets Cocoon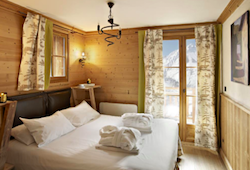 If you want to crank up the sumptuousness, check Les Chalets Cocoon, which are six luxury apartments in the suburb of St Marcel. The apartments have fireplaces, swanky TVs and sound systems, private saunas, hot tubs, and lush interiors (the owner is an interior designer). Prices are low, too – but that's probably because you need to commute into St Martin each morning to catch the lift (although you can ski off-piste back to the village).
Chalets Home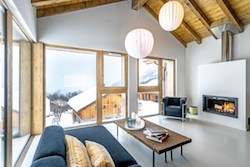 Chalets Home are stylish chalets and chalet-apartments decorated in a contemporary style – part of a small group of two chalets and three chalet-apartments. All bedrooms are en suite and both chalets have their own sauna. The property is located slightly above the resort, which is 300m away and a private shuttle bus service is available. The gondola and ski school meeting place is 600m away.
The best hotels
St Martin is better known for its chalets and apartments, but there are a few noteable exceptions such as La Bouitte, which houses a world-famous restaurant.
La Bouitte
Yeah baby! Fancy sleeping over a Michelin-starred restaurant every night? We certainly don't mind the inconvenience of staying in St Marcel (not least because there's a shuttle bus to and from the lifts). La Bouitte has ten rooms and suites, all rough-hewn and woody with log-burning stoves to complete the cosy winter grotto feel. This hotel is also a three-star Michelin restaurant, so it's a treat to have this delicious locally-sourced feast on your doorstep.
Hotel St Martin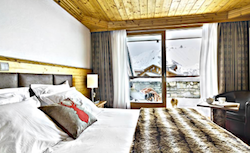 Hotel St Martin is a three-star offering both hotel rooms and self-catering apartments, located at the foot of the pistes. Rooms have been individually decorated and have a pleasant, woody feel. There are two restaurants to take your pick from, and a sauna for easing your aching muscles post-piste.
Alp'hotel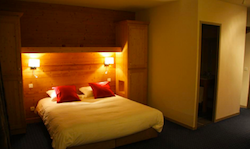 Alp'Hotel is another three-star that is right on the piste, but a bit of a walk from the centre of the village. It has traditional mountain decoration, giving you a true Alpine experience. Rooms vary from basic doubles to a nice wood-panelled mini-suite – beware of the attic rooms which are a little on the cramped side.
---
---
Where to Eat
There are plenty of options in the immediate St Martin de Belleville ski area, with good alternatives higher up in the Belleville valley. Lots of people ski here from other 3 Valleys resorts for lunch and there are some good spots – including Le Corbeleys (+33 479 08 95 31) at the top of the gondola out of the village, which has a sunny terrace and good food.
La Loy (+33 479 08 92 72) offers traditional regional dishes. Au Chaudron Saint Martin (+33 479 08 95 36) has a south-facing terrace and is also open for dinner followed by a torchlight descent. The evening outing is just for groups and must be booked 24 hours in advance. Down in the village, L'Etoile des Neiges, owned by Hotel Edelweiss, is another lunchtime favourite.
However, the star attraction in the area is La Bouitte, in the neighbouring village of St Marcel de Belleville, which has three Michelin stars for the superb quality of chef Rene Meilleur's food. The whole place has a lovely, rough-hewn farmhouse atmosphere. There's no piste down to the village, though that doesn't deter good skiers – and anyone who doesn't fancy the off-piste challenge (or can't find enough snow) can call the resort for a quick transfer from St Martin.
Another off-piste venue is the recently-opened (in 2017/18) Le Trait d'Union above St Martin, a sweet little refuge run by a mother and daughter – the mother cooks and the daughter assists – and drives the mini snowcat that delivers you back to the piste afterwards. It's a short detour to reach the place – but possible for any intermediate skier to tackle as it's via a rugged path which most people snowplough down. Lunch is cooked on the wood-fired stove and is wholesome and tasty.
Le Bouche a Oreille is owned by René and Maxime Meilleur of La Bouitte – but comes at a much lower price range. It is in a gorgeous setting at the top of the Roc de Trois Marches 2 and Granges chair-lifts, and has a delightful sun terrace from which to enjoy the views. The food is excellent: fresh ingredients and dishes such as trout with almonds, meat on the spit, and blueberry waffles. There is a good choice of wines, and the service is friendly, but you'll need to book in advance as it can be busy.
Of course, anyone staying in St Martin will be wandering right across the 3 Valleys, and may be more interested in lunch spots nearer other resorts than the ones on their doorsteps. There are plenty to choose from – Courchevel has the poshest spots, but the most up-and-coming lunch scene is above Val Thorens, which is in the same valley as St Martin de Belleville.
They like their food in St Martin de Belleville. You will too
L'Eterlou (+33 479 08 94 07), is recommended, as is L'Etoile des Neiges, (+33 479 08 92 80), which is open for dinner. Meanwhile Le Montagnard is set in an old hayloft. It's superb for an evening out, with its gourmet cuisine.
La Ferme de la Choumette, close to the resort, is a farm where you can see the cows, sheep and goats from the windows while eating in the restaurant. The speciality is meat cooked on an open grill. La Voute serves good pizzas, grills and fish.
---
---
Where to Party
This is not a party resort. If you're looking for nightlife then head to almost any one of the other 3 Valleys resorts – in particular Meribel and Val Thorens. The village has quite a few bars for a resort of its size, but no nightclub.
One of the best things to do after skiing is to wallow in the lovely La Bela Vya spa at La Bouitte in St Marcel. There's a Jacuzzi, sauna and well-being area, with treatments based around mountain hay, milk and honey. The resort also has dog-sledding, which is a fun activity for the whole family.
There's a new outdoor spa in the heart of the village for this winter. It has five outdoor hot tubs in the 'chill-out' area with its lovely mountain setting. There's also a herbal tea room and changing facilities. The Lys outdoor spa is open Sunday to Friday from 3pm to 8pm.
Zzzzzzzzzz…
"A bonnie wee place with a few nice pubs and restaurants, but don't expect raucous nightlife. The emphasis here is on good-humoured charm," said a reporter. We'd agree. The apres-ski scene is limited, but suits St Martin de Belleville's older clientele perfectly.
Another said: "I love St Martin but when I recently stopped in for a drink there were only two French in the crowded piano bar on a Sunday night and the rest came from Surrey, Fulham or Putney". The reason, according to the Alpine Club in the resort, is because "The British like to go out, whilst many of the French, Germans and Dutch holidaymakers are here on self-catering holidays and don't use the lovely village restaurants and bars that much".
The bar in Alp'Hotel is recommended and is open for apres-ski from 4pm to 7pm daily. Le Dahlia is 10 metres from the gondola and known for its vin chaud and vodka shots.
L'Eterlou (+33 479 08 94 07) is at the foot of the St Martin drag-lift, Le Joker cafe/bar (+33 675 23 31 80) and Bar Le P (+33 679 80 35 76) are other evening venues.
Also see our post on The Belleville Valley.