In a Nutshell
The essentials are all in place: a vast off-piste playground, lots of scintillating pistes, and some superb ski schools. Now all that Val d'Isere needs to do is drop its prices.
The Stats
Altitude: 1850m
Lifts: 75 in area
Top lift: 3456m
Ski area: 300km of piste
Adult lift pass: 304€ for six days


Official Site |

Ski Map |

Webcam
Essential Advice for the Perfect Trip
Espace Killy is no more. The name given to the combined ski area of Val d'Isere and Tignes has been changed to…er…Val d'Isere-Tignes. After 40-something years, it probably made sense to cease calling the area after its greatest sporting hero – a new generation of skiers may not know who Jean Claude Killy is.
These two resorts separated by a high mountain ridge are of very individual character. The only feature they truly have in common is that together they provide snow-sure skiing from late November until May and immediate access to one of the greatest playgrounds in the Alps.
Just how snowy was proved in winter 2014/15, which had the worst start for snow-cover for a generation. While other resorts in France and elsewhere has a green Christmas, Val d'Isere was half-buried in oodles of white stuff. Admittedly it was assisted by Le Snow Factory, the largest artificial snowmaking machine in Europe. It can fill an Olympic-sized swimming-pool with snow in 30 minutes and cover a whole mountain in 50cm in under a week. In the 2017/18 season the resort had so much snow throughout the winter that roofs buckled under the weight.
Yes, it's smart. Yes, it's expensive. But Val d'Isere (nor, indeed, Tignes) will never be swamped by a tidal wave of bling like Courchevel 1850 – because the skiing suits younger, stronger legs, and tougher, more phlegmatic people. Of course, that's not to say that there's an older generation of Val stalwarts who have had a go at monopolising the off-piste here through a combination of technical skill and City buying power – and they are showing no signs of giving up.
The mountains here are for the most part high and steep – the village is situated at 1850m and the skiing goes up 3400m in Val and 3456m at the top of the Grande Motte in Tignes. They're the setting for some thrilling descents. Not all the terrain is like that – but enough of it is to set the tone. To really get the best this place you need to ski well, but that's not to say that intermediates and even complete novices can't enjoy themselves here.
Val d'Isere is home to 27,000 guest beds and some 46% of visitors are British, but it doesn't feel overwhelmingly Anglo-Saxon. An eclectic group of French, Dutch, Scandinavians and other nationalities make up the rest. The resort is about two and a half hours' drive from Geneva Airport.
Importantly there are seven different ways of feeding into the lift system and accommodation is spread along the narrow valley. The free train rouge is the ski bus that runs every few minutes during ski hours and at less frequent intervals late into the evening is more than a bus service – it's a backbone of the lift system. It is the most efficient and reliable we have ever encountered.
Getting to know the area
First up, you need to understand the lie of the land. La Daille is the first settlement that you reach as you emerge from the series of tunnels and avalanche-protection galleries at the end of the steep 32km climb up from Bourg-St-Maurice.
The resort stretches from here for 5km through the centre of Val d'Isere and on across undeveloped avalanche ground to the hamlets of Le Laisinant and Le Fornet at the foot of the Col d'Iseran. The pass is closed in winter and so there is no through traffic. The centre itself is divided into a number of separate quartiers off either side of the main road. The pistes and lifts are only on the southern side of the valley – to the right of the access road.
A history of the resort
Skiing didn't really get underway here until Frederic Petri, a doctor from Alsace, explored the area in the 1920s with his Austrian ski instructor. The first ski-lift was built in the 1930s and a cable-car followed during WW2 – for the use of German troops who came here for R&R.
At the heart of the town, a lovely 18th-century church surrounded by some impressive old honey-coloured buildings are a reminder that Val existed as an Italian and then French community long before snow turned to tourist gold in these hills.
Jean-Claude Killy's family also came from Alsace, but he grew up here. After his success at the Grenoble Olympics in 1968, international tourists began to arrive in increasing quantities.
Real change to the town came in the run-up to the 1992 Albertville Olympics. Val was the venue for the Blue Riband event, the Men's Downhill. A new village of stone-built houses grew up around the church and the front de neige. Some of the uglier architectural excesses of the 1960s were reclad.
In the years that followed, mature trees were planted on both sides of the road in the village centre. What was once an ugly duckling of a resort has been slowly transformed into – if not a swan, then a very handsome drake.
During the season there's a strictly enforced no-parking policy on the village streets. You either leave your car in an open area at La Daille or in one of the underground car parks. You won't need it during your stay.
Annual winter events
Val is the setting for a number of events each winter. Most important is the Criterium de la Premiere Neige in mid-December, a racing 'meet' that has been held here since 1955.  It is one of the starting points of the European phase of the Alpine World Cup after the men and women racers move to Europe from North America.
Apres-ski and nightlife have markedly improved over the years. By French standards it's pretty lively by night, but it can't compete with Austria.
Every resort has it negatives. Here at Welove2ski we are regularly exasperated by the cost of a decent meal or a round of drinks in Val d'Isere. Our research shows that eating out here can be more expensive than in Verbier, perceived as a much more costly holiday base.
It's a big place, so when you go make sure you arm yourself with all the information listed here.
---
---
Guide to the Mountain
In two words, it's enormous and exciting. On offer are a mouthwatering 300km of pistes, and 10,000 hectares of off-piste. To put this in perspective that's 24,710 acres – three times more than Whistler, the biggest area in North America. The lift pass covers all the lifts in Tignes as well.
Get your bearings
It's a large and complicated ski area, so take a little time to study the map and work out where the best runs are concentrated for your standard and – most importantly – how the various sectors fit together. Here we confine ourselves mainly to the Val side of the mountains. See our Tignes Guide for the rest.
The skiing is split into five different areas that can be accessed from seven different points along or off the narrow valley road. First on arrival is La Daille, with the Funival underground funicular as well as a 10-person gondola that was new for 2018/19. This replaced the old bubble up to La Folie Douce. The new one also terminates at the Folie Douce when it should ideally have continued upwards to the ridge ovelooking Tignes. But the extension was politically difficult. The line of the lift allows for this as a future development. From the centre of town, a couple of minutes' walk takes you on to the front de neige , a snow-covered open arena where the ski schools meet each morning and lifts rise up the mountains at either end.
Solaise and the women's downhill
Solaise at 2056m is the original Val ski area that was reached in the 1940s by cable-car. This has now been taken down, along with the Solaise Express chair, and replaced by a high-speed gondola, a much faster means of reaching its 2560m summit. From here the giant network of lifts and pistes reaches out in all directions.
One of the two demanding runs back down is the FIS women's downhill, built for the 2009 World Championships. When prepared for racing it's wickedly difficult, with one jump so huge that they had realign the course because the women were flying so high that they were in danger of hitting the lift cable. We advise anyone who is not a confident intermediate to return to the valley at the end of the day by the gondola.
Bellevarde and La Face
Bellevarde, which rises above the other end of the Front de Neige is Val's piece de resistance. Its 2827m summit is reached by the Olympique jumbo gondola, by a two stage-chair lift or by the Funival underground railway from La Daille.  La Face, the black run back down the front, is not for the nervous. It was built as the Men's Downhill for the 1992 Albertville Olympics and has rarely been raced since for downhill. It's east-facing, so best skied early in the day before the snow softens and it gets chopped up.  Sharp edges are essential.
Of course, you don't have to ski La Face at all. From the top there are lots of softer options that take you towards La Daille and Tignes, or back around the shoulder to Val itself.
Le Fornet, the fifth area
Le Laisinant is the first hamlet you reach on the bus heading eastwards out of the centre towards the Col d'Iseran. When the resort is at its busiest over New Year or February half-term, old Val hands head here to catch the Laisinant Express chair. From the top, you can connect with runs in the direction of Solaise or Le Fornet.
Le Fornet is the bus stop after Le Laisinant. Taking the cable-car from here is the first step on the long journey by gondola and chair up to the Pissaillas Glacier and Val's highest lift beneath the Pointe du Montet. The glacier is open for skiing in June and July during the French summer holidays and winter continues here for 12 months of the year.
This sector houses a vast array of mainly intermediate pistes and some exciting off-piste opportunities. A shortish climb from the glacier takes you up to a ridge from where you can descend off-piste all the way down a giant powder bowl to the old village of Bonneval at the head of the Maurienne Valley. It's good fun but, unless you fancy a three-hour taxi ride, the best way home is to fork out for a helicopter.
One of the beauties of the area is that the different sectors are extremely well linked. You can ski and work your way through the lifts system from Le Fornet all the way across and down to the lower Tignes village of Les Brevieres, with proper pistes all the way and very few paths.
Snow-cover is very reliable here
The Pisaillas and Grande Motte glaciers have sufficient height to ensure good ski conditions throughout the winter and this corner of the Alps is anyway one of the 'wettest'.  If you want to book here for Christmas you don't have to wait for the first winter falls before parting with your money.
But is the skiing actually any good? If you take the area as a whole, there's an awful lot of experts who will give you an emphatic 'yes'. Make no mistake: this is one of the great places to ski, not just in France but in the whole world. It's made special not just by the extent of the terrain, but also by its nature. For advanced and expert skiers especially, there's a scintillating array of runs on offer: swooping World Cup pistes, big open powder fields, tight little chutes and long off-piste itineraries.
Beginners beware
Until the advent of the new Solaise gondola in 2016/17 Val d'Isere was a poor choice for absolute beginners. You could learn here. Lots did. But, as is the case of St Anton, there are other easier places in which to progress through the early stages. But all that changed with the bold decision to reshape the top of Solaise. The summit was entirely regraded in a giant earth moving exercise to make it novice friendly, resulting in gentle and safe slopes away from through-traffic. These are served by three giant covered moving carpet lifts. There's a comfortable day lodge at the top of these three lifts where you can buy a cup of coffee for just €1.80. Picknickers are welcome and there's even a microwave for heating your packed lunch. At the foot of the nursery slope on the Val d'Isere side of Solaise the old Tete de Solaise mountain restaurant and former cable-car station has been transformed into swanky Le Refuge de Solaise, the highest hotel in the whole of France. The restaurant has a huge sun terrace.
The original nursery slope with a free chair-lift is on the front de neige in the village centre. It has some useful restaurants with sun terraces beside it for parents to sit in comfort while first turns are being achieved. There is another beginner area at La Daille.
Overall the trouble is that Val has a paucity of truly easy slopes. Their interpretation of colour grading here is different to elsewhere: for green read blue, for blue read red, for red read black, for black…read a whole hatch of butterflies in your stomach.
The home runs can be hard work
A lot of less experienced skiers come back from Val d'Isere with tales about icy pistes and crowded slopes. They'll bemoan the number of speed merchants – both skiers and snowboarders – who shot past them, almost hitting them, and destroying their rhythm or causing them to crash. They'll vow never to go back.
But they're not actually talking about the whole of the ski area. What they're describing are the home runs back into the resort. Without exception, these are hard work if you've only got two or three weeks of skiing under your belt – and they're often packed at the end of the day. But these runs are wholly unrepresentative of the rest of the piste system, which is characterised elsewhere by broad, confidence-boosting blues and reds.
So how to avoid these confidence-crushing home runs? Simple: you ride the lifts back down into the valley. Ok, so it makes for a pathetic end to the skiing day. But so what? You'll return to your chalet/apartment/hotel beaming after a great time on the slopes, rather than a quivering wreck.
Intermediates won't want to ski anywhere else
To get the most out of Val d'Isere itself, you really need to be comfortable skiing steepish runs and hungry for the chance to get off-piste too (or not that bothered about the skiing and more interested in the luxury chalets and smart hotels).
Strong intermediates will love the challenge that each day brings. Here's a sample day-out that will give you the chance to really see the kind of terrain Val has to offer before venturing further afield into all corners of Espace Killy:
Ok. You ready for this? Meet at the bottom of the Olympique gondola. Even at the busiest times you'll load without more than a few minutes' queue. At the top, clip into your bindings and head down Fontaine Froide, taking care not to crash into anyone else during the usually crowded first 10 metres. It's an easy red. At the bottom turn left and follows the blue Santons run without straying onto the adjacent black.
Watch out for the colour coding
Shortly, you'll discover what we mean about the colour coding. As you head into a blue gully that's a bit like a natural half-pipe you'll be saying to yourself: "This has to be red!" No it ain't, it's just Val d'Isere". There's precious little room to pass – or be passed – and your rhythm gets interrupted if it's crowded. So ski this first run of the day.
When the gully opens out you must stiffen the sinews and summon up the blood to schuss for the bottom and a brief uphill push to the bottom of the Solaise and a meander back to where you started.
Back up again and off towards the right. You are now about to ski a World Cup Men's Downhill. Don't worry, the first three-quarters present little problem provided you keep your speed in check. The OK is named after Henri Oreiller and Jean-Claude Killy who both knew their stuff at 80mph on 225cm planks.
A series of steep, utterly exhilarating pitches bring you down left and right to the Folie Douce, setting for apres-ski dancing later in the day if you still have the legs for it. Keep going. The last stages of the run can become confused by traffic creeping in from other runs. Keep leftish towards the end and watch out for extremely icy patches of artificial snow. 
The final pitch, marked by flailing skiers less competent than you, requires commitment. At the bottom, beside the gondola, cross the bridge and catch the train rouge ski bus to Le Laisinant. Catch the chair and traverse left down to the bottom of the gondola. Time for a hot chocolate and a comfort stop at Le Signal, one of the best restaurants – self-service and gourmet – on the mountain.
Take the Up-and-Over chair
Refreshed, take the long gondola ride up the mountain and carry on to the top of the Pisaillas glacier.  From the top, race the long run all the way back to Le Signal (you have to take a short chair off the glacier) and take the gondola back up. Filter left and board the Leissieres chair-lift. This is also known as the Up-and-Over. You don't get off at the top – not unless you are a combination of complete idiot and someone prepared to lose their lift ticket for the rest of the week or season. The lift carries on down the far side.
You are now in the Solaise sector of the ski area. Follow gently down the blue Leissieres to the start of Piste L. This is one of our favourites runs that is not usually open at the beginning of the season because it requires deep snow cover. The alternative beyond it, reached by a long path, is the more demanding red Germain Mattis Ski to the bottom. Catch the bus back to the centre of Val. Alternatively, you can branch left before the end and push your way along a path. The bus is the better option.
Piste and off-piste experts come into their own
Whether on the groomed or in the powder, wise skiers make an early start here and the rond point des neiges by the Sun Bar and the two main lifts that access Solaise and Bellevarde are busy before the 9am lift opening time. Here's a sampler itinerary for those who are confident of their turns on even the steeper pisted stuff.
Starting the day
First run of the day has to be La Face back down from the top of Bellevarde. Patrick Ortlieb of Austria was extremely rude about this men's downhill course, designed by former Swiss racer Bernhard Russi, after the race at the 1992 Winter Olympics. He said it was too fast and too technically difficult and that it should never be raced again. Quite why he was complaining was uncertain – he'd just won a gold medal. But as a downhll the course has been rarely raced since.
When not prepared for racing it's a harsh black that needs considerable concentration. It starts of gently, but just when you're starting to dismiss the hype, you hit what's known to British here as Lemmings Leap. Its steep, icy, and difficult to control your speed. The secret is not to hesitate on the lip, although you can bottle out at this stage and filter on to less demanding Joseray. Once you've mastered the Leap you again begin to think that you've cracked it, but the final third is deceptively steep and you need serious angulation to make those edges bite. Head skier's left towards the end, the snow is always better there.
Go back up the Olympique and ski Fontaine Froide to the start of the black Epaule du Charvet. This is one of those runs so extreme that it can only be groomed by a piste-basher attached to a cable and winch. It's a long, gruelling beast that quickly gets bumped up, and half-way down you may well wonder why you are there. Ski back to the main access lifts and take the Solaise Express up the other side. At the top of the Madeleine Express turn off towards the Manchet Valley down piste Arcelle.
In powder conditions the off-piste to the left of this groomed ru can be quite wonderful, although great care must be taken because of the avalanche risk. The piste is long and at a steady pitch that always seems to require a lot of energy, but the views are wonderful. Come back up on the lift and take the Glacier chair and the St Jacques Piste to the Cugnai chair for what is often a steep little mogul run.
Cruise gently down to the Dacha chair and – if you took the L last time – take the Germain Mattis run that flows away beneath it.  The initial path lulls you into a false sense of security, but it's followed by much more demanding serpentine descent through the woods. Artificial snow-cover can make it very icy and you'll need sharp edges.
Back down at the bottom, catch the bus back to the village and take the Olympique once again and cruise all the way off to your right, watching for the farthest chair-lift in sight on your left. This is the high-speed Tommeuses six-pack that brings you up to Toviere at 2704m and the link to Tignes.  Face back down toward La Daille in the valley below and cut left onto the black Trolles run which takes you down to Tignes-Le-Lac.
The last pitch of this is steep – as in 'steep' – and half-way down you must schuss for the gondola that brings you back onto Toviere. From here ski the black Rocs run and blue Creuses. You can then either cut across onto the OK or – if tired – cruise the Verte down to La Daille and catch the bus home.
A third alternative, of course, is to ride the gondola back and party the rest of the afternoon away at the Folie Douce. If you do this, make sure you hide your skis away in a spot where you – and no one else – can find them easily for the final run home. After drink has been taken, downloading on the high speed gondola is the sensible option.
Snowboarders, skiers and racers unite
They do this at the Oakley Valpark between Bellevarde and La Daille. You can reach it from the Funival and Olympique or by the Mont Blanc chair. It shares an area and a poma-lift with the permanent race-against-the-clock course here. It boasts a good range of rails and kickers for all standards.
The off-piste can be sensational – so book a local guide
Most of the skiing is above the treeline, so your options are limited on foul weather days. If treelined pistes are what you're after then check out somewhere like Les Arcs or the resorts of the Austrian Zillertal – or go to Colorado and ski Vail, Breckenridge or Aspen.
The freeriding is exceptional, but there's a lot of competition for the powder, so you have to act quickly if you want to ride the easily accessible big stuff after a big storm. Do take care – this is a genuine high alpine area and, although understandably not widely publicised, skiers die here every year in avalanches.
So if you're planning to go off-piste, read the daily MeteoFrance avalanche report, hire a guide, make sure you've got the right equipment, and go along to one of Henry's Avalanche Talks – or join one of his safety courses. Henry is the local-based expert and he could save your life.
Weather reports and equipment rental
The best place to rent equipment in town is, in our opinion, Snowberry – run by Jock and Susan Dun, who provide some of the best gear in town at decent prices. They have their Streetside shop on the main drag as well as Pisteside where the buses turn at the Ronde Pointe des Pistes. Other options include Oxygene.
Radio Val d'Isere (96.1fm), broadcast from the Tourist Office in French, English, and German is not exactly cutting edge wireless. But it gives you the latest on the weather and the lifts in English, every half-hour 8.10-10.10am.
---
---
Where to Learn
One of the chief glories of Val d'Isere is the quality of its ski schools. There are 19 of them and several are staffed by British instructors.
Given the quality of the terrain and the fact that the pockets of the resort's core clientele are deep, it's no real surprise that many of the best ski instructors in the Alps work here. For the most part they make damn sure you'll have a fantastic time whenever you book a ski lesson. This is one of the best places in the world for competent skiers to learn how to ski in all kinds of snow conditions, including bumps and powder.
The standard of ski and snowboard schools is top notch
Another attraction for beginners is the high quality of instruction in Val d'Isere. On the whole, they're a highly-motivated bunch – and there are quite a few Brits among them. Chances are you'll be in good hands if you sign up with one of them.
SKiBro, either online or as an app, is an intuitive, user-friendly platform that helps you find the most suitable instructor for your needs – for everyone from families with small children and teenagers to improving intermediates and off-piste aficionados.
Scottish-owned Progression Ski is very flexible, particularly good for both beginner and intermediate ski and snowboard instruction, and has a team of physiotherapists. The Val d'Isere branch of award-winning New Generation is another great British ski school with classes for all levels. TDC has all native English-speaking instructors and teaches skiing but not snowboarding. A branch of high end Prosneige opened in the resort in 2020 with a dozen instructors and it's own rental shop on the Front de Neige and has already developed a strong reputation.
Evolution 2 is an independent French school with an excellent reputation. The biggest ski and snowboard schools here are the ESF and Oxygene. Misty Fly is a snowboard school that now teaches skiing as well. For groups on a budget (because tuition comes as part of an overall, ultra-cheap package) try UCPA.
Make sure you book a guide for the off-piste
For private lessons to hone technique, we recommend TDC and Mountain Masters which both have good reputations. Iski Val d'Isere is a group of French instructors and guides that specialises in off-piste, and Alpine Experience is another specialist off-piste school.
Former French racer Pat Zimmer (valdisere@pureski-company.com) has been teaching here for 30 years and is still the best and safest powder guide in the business and now offering heli-skiing. Henry Off Piste is run by avalanche expert Henry Schniewind, who runs three-day powder courses for intermediates and above.
Steadily improving for kids of all ages
Val d'Isere is a good resort for older children and increasingly so for younger ones. In-resort activities have improved in recent years with the opening of the Centre Aquasportif. The 800-sq-metre aquatic centre has a 25m x 10m swimming-pool, 12m-high climbing wall, and a multi-sports hall.
Ten different ski and snowboard schools run courses for children, but we especially recommend Evolution2 and Oxygène. Progression Ski is also fast becoming one of the top schools for kids.
Go with a family operator if you're bringing the baby
A number of British tour operators run their own childcare here, Esprit and VIP. There's also a Club Med with its own programme of ski instruction and guiding. If you're new to skiing and deciding where to stay, it's worth checking these out rather than trying to organise it all yourself. For those not staying with an operator offering its own childcare, then the children's section on YSE.co.uk has some excellent tips and recommendations.
Le Village des Enfants cares for children from 18 months with a mix of play and ski lessons. Le Petit Poucet collects and delivers children from three years from wherever they are staying. British-run Jelly and Ice Cream offers the full range of private nanny services and babysitting. The other private services are Little Chicks Childcare and T4 Nannies.
---
---
Where to Stay
Most British visitors opt for chalets and these come in all variations of size, quality and price. The choice of hotels is small by comparison, ranging from cheerful chalet-hotels to five-star luxury at a formidable price. The other option is to book a self-catered apartment. Take a look at Erna Low, Ski Collection, Ski Amis and PowderBeds. Val d'Isere Agence and Mountain Rooms and Chalets are local letting agencies with privately-owned apartments on their books.
Location, location, location
Location is pretty important. Access to the piste is straightforward from every part of Val d'Isere. But this is a big, diverse and very linear ski resort – some districts are a long way from the best bars, shops and nightclubs. La Daille is a popular bed base and Le Fornet and Le Laisinant less so, but both can only be reached on the way home by bus or taxi unless you are into serious late-night road walking. If you're taking lessons it helps in the morning to be within easy reach of the ski school meeting places on the snow at Rond Point des Pistes.
The hottest hotels
These tend to be in or close to the central area – roughly defined as the stretch between the tourist office and bus station roundabouts and anywhere within a five-minute walk of Dick's Tea Bar. Until the early years of the 21st century, the hotels here had been thought of as quite staid and unexciting…until Les Barmes de l'Ours came along.
Les Barmes de l'Ours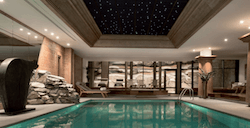 Five-star Hotel Les Barmes de l'Ours is where to stay if you're rich and famous or simply if you want to be tucked away from the hustle and bustle (it's located at the bottom of the Bellevarde Express lift). It has a wonderful spa and a Michelin-starred restaurant. Add to this an indoor swimming-pool, a fitness centre, evening entertainment, and ski-in-ski-out access.
Hotel Le Yule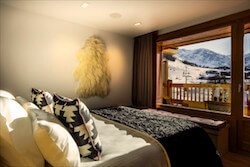 Hotel Le Yule is a 41-bedroom five-star hotel which opened in the 2016 season and is situated on the front de neige with doorstep skiing. The rooms are decked out in Scandinavian style, all with balconies overlooking the slopes. Seafood is a speciality of the hotel's Solstice restaurant, which is piste-side. Try the sea bream ceviche with coriander and lemon, or the lobster risotto.
Airelles Val d'Isere Mademoiselle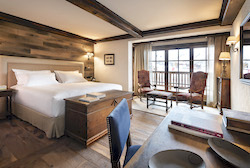 The new five-star hotel Mademoiselle is on the edge of the piste and offers ski-in ski-out access here. It has 41 rooms, including nine suites and five private penthouses, each with a dedicated butler. The hotel's post-Medieval theme takes you back in time with its large fireplaces, wide staircases, pewter chandeliers and Italian frescoes. Each room has antique furniture and suitably aged artwork. Facilities include a Guerlain Spa (the biggest in town) with a 20-metre-long swimming pool and a fitness centre complete with personal trainer. Signature treatment, Kingdom of Snow, is a face and body massage using an ancient wooden tool that is believed to have spiritual properties. Add to this some smart boutiques, an in-house hair salon, a bar and three restaurants. Kid's Kingdom has fairytale murals and a children's pool modelled on the Lascaux caves. During the school holidays a programme of activities includes magicians, dog-sled rides, ice-skating and quad-biking. At the Bernard Orcel Ski Salon, as well as equipment rental there are warm drinks, homemade cakes and cookies on offer.
Hotel Avenue Lodge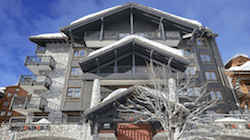 Five-star Hotel Avenue Lodge has black slate floors, black leather and cowhide chairs – and there's also an in-house Killy pro shop, hairdresser, gym, beauty salon, spa and indoor swimming-pool. The bedrooms are both comfortable and high-tech, with spacious en suite bathrooms.
Hotel Le Blizzard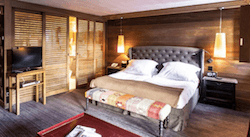 Another traditional five-star hotel is Le Blizzard, which is a mainstay of the resort. It is a good base for people with money to burn who want to be in the thick of things. There's a nice cosy bar (a good rendezvous point if you want a quiet chat – rather having to shout – over your drinks) and an excellent restaurant, but some of the bedrooms are on the small side.
Hotel Christiania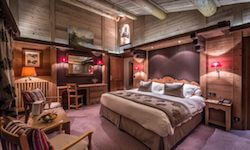 Five-star Hotel Christiania has a long-established following among British clients but, unlike most French hotels, makes it clear that pets are not welcome. The family-run hotel has a spa with indoor swimming-pool, and kids' activities are run in the evenings during school holidays.
La Savoyarde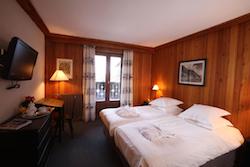 Slightly cheaper than most is three-star La Savoyarde in the centre of town. It houses a bar and restaurant, fitness room, and bedrooms feature traditional wood-panelling mixed with modern furniture. Most have a balcony overlooking the mountains. The spa offers physiotherapy, ayurvedic message and hatha yoga sessions.
La Mourra Hotel Village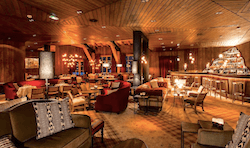 La Mourra Hotel Village is a newish five-star satellite of Hotel Le Blizzard. The ten-suite hotel and four luxury chalets are built in the style of a typical Savoyard hamlet – each using a different wood. The hotel has a spa, restaurant, and a lounge bar. Located in a peaceful setting at the entrance of the old village, the property is a short walk from the village centre with its shops and restaurants.
l'Avancher Hotel & Lodge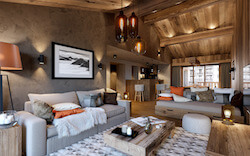 l'Avancher Hotel & Lodge is chalet-style, and it's located a five-minute walk from the centre. The hotel itself has attractive wood-clad rooms decorated in natural hues. The Lodge has a 24-hour reception, beds made on arrival, towels and linen provided, and there's breakfast at the Avancher hotel, as well as access to the hotel spa.
Le Savoie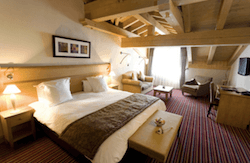 Our favourite among the chalet-hotels is Le Savoie Hotel & Spa, formerly a five-star hotel, that was taken over by the trio of Inghams, Ski Total and Esprit Ski as their first platinum hotel destination. It has a nice spa with a swimming-pool and couldn't be more central in town. There are comfortable suites and double bedrooms, making this a perfect base for families. We love the food here, too.
Chalets in the centre
Like the top hotels, lots of chalets are located between the tourist office and bus station roundabouts and anywhere within a five-minute walk of Dick's Tea Bar. Chalet-hotels – hotels that are run for the season entirely by tour operator staff on the same principle as a chalet – are becoming an increasingly popular, cheaper option.
Lhotse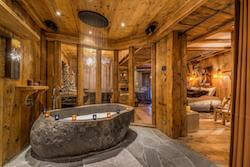 The luxury chalets close to the action are headed by Lhotse, with its vast living space, the bathtub in the master bathroom which has been hewn from a giant granite boulder, the glamorous swimming-pool and spa, and fabulous position up from the Tourist Office roundabout is almost, but not quite, the swankiest chalet in town. That prize goes to its neighbouring stablemate, Marco Polo.
Marco Polo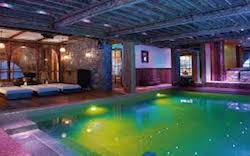 The number of uberchalets – six-star fully catered nesting places for discerning and wealthy skiers – continues to increase. But Marco Polo is still the definitive leader. The French owners spent five years scouring the Far East for fine features such as wooden temple doors and carved frescoes for it to live up to its name. Highlight is the gold-leaf pool with a giant cinema screen.
Aspen House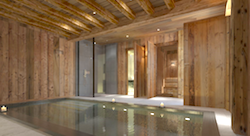 Aspen House is a is a brand new building which will open its doors for the winter of 2019-2020. It's located in the older part of town between the church and the chapel, close to the high street, and 100 metres from the piste. It has eight sophisticated suites sleeping from four to 10 people, a spa with hammam, sauna and a rather grand tiled hot tub, a reception and concierge.
La Petite Ferme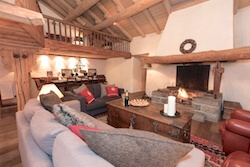 La Petite Ferme is tucked away behind the church in the very centre of Val d'Isere. The year 1762 is carved in the stone at the back of the ancient fireplace, and the chalet has lovely thick walls, an original stone floor, huge wooden beams and a vaulted living room with a mezzanine. It sleeps six to eight people in three en suite bedrooms, with a bunk-bedded room for children.
Chalet d'Isere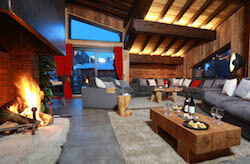 Chalet d'Isere is part of the portfolio of Val specialist, YSE. The property is conveniently located for both the skiing and the village, offering good-sized bedrooms with huge windows and balconies. The living room has acres of wood and stone, and attractively open roof timbers. There's even a lift for those who are too tired to walk very far after skiing, as well as a TV room, sauna and hot tub. YSE's 20 chalets come in all shapes and sizes, from one sleeping four to the biggest for up to 48 people.
Chalet Madeleine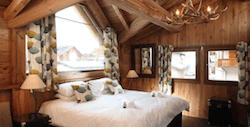 Chalet Madeleine is from operator, Skiworld, and sleeps up to 14 people and is five minutes' walk from the town centre. The property has an open fire, and a mezzanine study perched above the open-plan living and dining room. On the large first floor terrace there's a hot tub for six.
Chalet Hotel Le Val d'Isere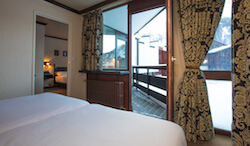 Mark Warner's Chalet Hotel Le Val d'Isere is bang in the middle of town, by the tourist office, close to the main ski lifts and ski schools. There's a cosy bar and lounge, an in-house Viva Salon, and a heated outdoor swimming-pool.
Chalet Lusitano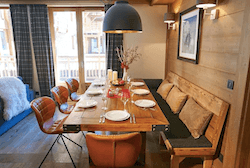 Chalet Lusitano is a contemporary chalet-apartment in a new Savoyard-style building right in the heart of the resort. Finished to the highest of standards, with fur rugs and cushions, leather armchairs, a log fire and sauna, the chalet houses up to eight people, it provides comfortable accommodation that's perfect for smaller groups or families. And if you're in a larger group of friends or families you have the option to book chalet-apartments Marwari, Nokota or Pinto which are all in the same building.
Accommodation slightly further from the centre
Chalets and hotels that are slightly removed from the middle of town won't necessarily be inconvenient for the skiing – on the contrary, they are either close to the ski bus stop or near one of the lifts. They are generally quieter, too. Some of them have a chauffeur service, taking you to and from the lifts, and others will ferry you to and from the shopping and nightlife as well.
Chalet Leon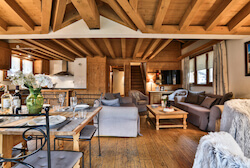 Tour operator, Alpine Elements has five new chalets in the resort, including the smart Chalet Leon , which sleeps 12 and is set virtually on the piste, its south-facing balconies giving spectacular views of the slopes. Inside, the ceilings are wood-beamed, with wooden walls and floors to match, and colours are tastefully subdued.
Le Chardon
Slightly further away in a ski-in-ski-out position above the town, Le Chardon Mountain Lodges is a collection of five top-of-the range chalets. Their flagship, Le Chardon, sleeps 20, and has the finest views in the resort up the beautiful and deserted Le Manchet valley. The chalet has comfortable bedrooms, a large living area, separate TV room and dining room, two treatment rooms, a swim-spa, two hot tubs and an in-resort chauffeur service.
Chalet La Face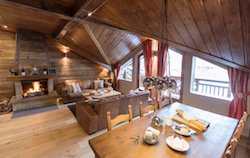 La Face is a comfortable chalet for six that is part of the Cacholet complex of six mid-range chalets built and owned by Le Ski. All these chalets in the complex share an outside hot tub. The large sitting room/dining area has a log fireplace and French windows opening onto a terrace overlooking the Col over towards Tignes. Transport is arranged to the ski hire shop, Snowberry.
La Toviere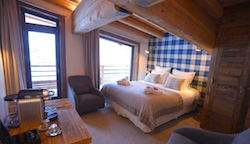 La Toviere is Neilson's new flagship for their Mountain Collection. It's situated at La Daille, 120m from the lifts and has 23 rooms and six suites. It's also got a pool, hot tub, sauna, and massage rooms.
Chalet Husky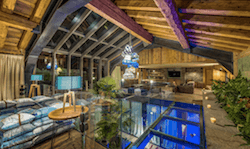 Other chalets slightly removed from the centre include Chalet Husky, which sleeps 14 and has a rather quirky interior. There's a wellness area, large pool, and a games room complete with an indoor climbing wall, archery and rifle shooting range. A daily chauffeur service runs from 8am to midnight.
Chalet Daria
Hip Hideouts have 12 luxury chalets sleeping eight to 18 people each; the company's owners live in the resort. Prime property is the beautiful Chalet Daria, with seven bedrooms on five levels, an indoor swimming-pool, a steam room and a massage room. The ski-in ski-out chalet has stone walls, reclaimed wooden beams and inspiring interiors with interesting artwork decorating the walls. There's a chauffeur service until 10pm daily.
Chalet Inoko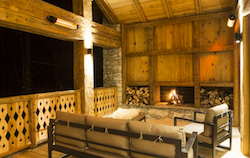 Chalet Inoko is set in a private enclave in the Petit Alaska area, a 10-minute drive from the centre of town and five minutes to the nearest lift. The large open-plan living area has a 'cathedral ceiling' and an almost entirely glass wall out to the terrace overlooking town, with large in-built hot tub. The six en suite bedrooms have been designed to be both contemporary and luxurious, one of them has a connecting area with space for an additional two people in bunk beds.
Refuge de Solaise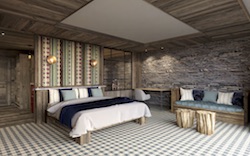 Refuge de Solaise is on the site of what was France's oldest cable-car station. The hotel has 34 rooms, three luxury apartments, and a dormitory sleeping 14. Facilities include a gourmet restaurant, a cocktail bar, a children's play area, and a spa with a 23-metre pool. The hotel is built in traditional stone, wood and slate, and is decorated in modern alpine style whilst retaining its history.
Good-value accommodation
Good news – you don't have to spend a fortune to stay in the middle of Val d'Isere. There are apartments in the centre of town, and obviously others further afield in locations like La Daille.
Residence La Daille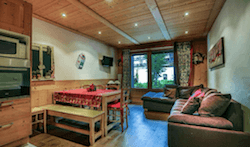 First of the cheaper accommodation in Val is Residence La Daille, which houses no-nonsense crash pads for those who want low-budget accommodation within easy reach of the main mountain access.
Residence Les Chalets de Solaise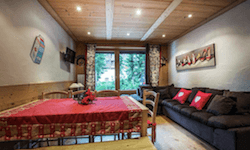 The Residence Les Chalets de Solaise is more expensive than its sister properties out in La Daille, but it's a steal by the standards of most town-centre properties. This one is just behind the roundabout in the middle of town, so if you want cheap digs close to the bars and clubs – as well as quick-ish access to the lifts – this is the place to target. Apartments vary in size, typically featuring two bedrooms, a living room, and a kitchen with a dishwasher.
UCPA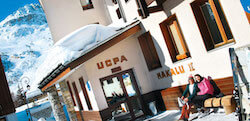 The lowest-cost place in the entire resort is in fact fairly central, 400m beyond the Tourist Office roundabout in the direction of Le Fornet. Okay, now you need to have no illusions about what you're getting into here. UCPA is the best low budget option in the Alps. Accommodation is in dorms, and included in the price is ski hire, lift pass, tuition and full-board accommodation. All you'll need to pay for is your drinks. In Val, the food is as good as you'll find in many mid-market catered chalets.


If you're booking your own accommodation and flights, rather than taking a package, you will need a transfer. That's where SnowDrone comes in. It's a transfer company actually based in the resort, offering sensibly-priced shared as well as private transfers from and to Geneva – and their vehicles have wifi. Other recommended transfer companies include Europetransfer, Alpine Cab, and Taxi Val d'Is. For more ideas on where to stay, read my post on Conde Nast Traveller.
---
---
Where to Eat
For a ski resort of such international calibre, Val d'Isere seems starved of truly great restaurants in town. Maybe it's all those excellent half-board chalets? Don't despair, though – you just need to know where to look. Dinner out is never a cheap business in any Alpine ski resort and Val is no exception. We particularly like La Baraque. This restaurant next to the Galerie des Cimes is run by a popular Val restaurateur and attracts the locals as well as international visitors. You get the warmest welcome and it serves carefully prepared food at high prices. It also has live music in the bar area.
L'Etincelle is situated on the piste at the foot of Solaise. It's both a lavish lunch and evening venue with meat grilled on an open fire and gourmet pizzas the specialities.
Other hits include Le 1789, which specialises in grilled meat cooked on an open fire; the restaurant in l'Avancher is a promising newcomer with a relaxed atmosphere; La Luge in the Blizzard Hotel vies with The Fondue Factory for title of cheesiest restaurant in town. The Fondue Factory houses a collection of more than 200 pairs of skis belonging to the owners, the Killy family, which was started in 1946 by Robert Killy. Le Lodge, next to Dick's, has classic fare – everything from pasta and steaks to inescapable cheese dishes – at moderately sensible middle-range prices. La Casserole (+33 479 41 15 71) is pretty big on fondues and is in the same vein, with prices that don't require you to take out a second mortgage.
La Taverne d'Alsace, below the three-star Hotel Kandahar, services an extraordinary number of ex-pat Alsatians (like Jean-Claude Killy) who live in Val, along with rest of us who can't survive for long without choucroûte, foie gras and other regional dishes.
Arctic Juice & Cafe dubs itself 'the World's First Mountain Energy Café' (it also has branches in Meribel and Verbier). This is the only place in the resort for people wanting healthy veggie and organic food, with dairy-free and gluten-free diets also catered for.
The top spots
At the moment La Grande Ourse is no more – or rather it still exists in name as part of the new Hotel Les Airelles Mademoiselle, which it adjoins but bears no resemblance to its former glory. Sad, because it had been a Val gastro rendezvous since 1936. It was never cheap but it was less expensive than La Table de l'Ours in the five-star Hotel Les Barmes de l'Ours. Hell, there's a lot of bears around here as well as loads of sleekly rich Parisiens! It's a bit stuffy and formal, but the food is worth the visit. The atmosphere is more Big City than ski resort – just make sure you have sufficient funds to pay the bill.
King of them all, but situated in Le Fornet, is Benoit Vidal's L'Atelier Edmond, which has two Michelin stars. Yes, it's wildly expensive, but not if you go for the menu du marche and don't splurge on the wine list. There's also a reasonably-priced adjoining bistrot with two- and three-course budget menus.
Eating on the mountain
High on the list on the Val d'Isere side of the mountain is Le Signal. Situated at the top of Le Fornet cable-car, the combination of fresh local cuisine, bright decoration and a warm welcome makes it very hard to beat. Brigitte also runs a self-service here that is not cavernous but cosy – it even has a log fire.
A handful of other establishments stand out, too. La Peau de Vache (+33 479 06 11 20) is a relative newcomer that has risen through the ranks to the point where some now consider this to be the best mountain eatery. It's half-way down La Face and can be reached by the Boulevard Express chair. Giant gourmet burgers are the house speciality.
Another good one is the little Edelweiss restaurant on the Mangard blue run, which slopes down from Le Fornet cable-car. It's rustic with a log fire and you can eat carefully prepared, unpretentious dishes in pleasant surroundings. Le Trifollet (+33 479 41 96 99), on the piste immediately above La Daille, is family-friendly.Les Tufs is located on the piste at La Daille, beside the Funival funicular station. It's a popular venue for off-piste skiers and their guides in need of serious sustenance after their morning's exertion.
One of the more recent offerings is La Cascade, at the foot of the glacier above Le Fornet. It has what local resident, John Yates-Smith describes as: "Surprisingly good food at shockingly good prices. The whole meal came to less than the wine alone would have cost in most of Val d'Isere's mountain restaurants". Les Marmottes (+33 479 06 05 08), next to the terrain park between Bellevarde and La Daille, is another excellent-value 'self'. We particularly recommend Cafe Paolo (+33 479 06 28 04), which is under new ownership. It's on the Ronde Point des Pistes, where the buses turn and serves pizzas and Italian dishes at sensible prices.
The Le Refuge de Solaise is the new on-mountain hotel which is fully open this season. Judging by its previous incarnation (ownership is unchanged) this promises to become the lunchtime hotspot.
La Folie Douce at the top station of the La Daille gondola. Similarly, waiter-service La Fruitiere, adjoining it, has great food served imaginatively in the surroundings of a distressed savoyard dairy (which it is named after). Try also the cheese room, and the giant air-conditioned wine cellar in the basement where parties share a huge table.
This setup allows parents with teenagers to enjoy a gourmet lunch whilst younger members of the group munch on steak hache next door. Money is saved and everybody gets a meal to suit their taste. Best value of all is the indoor picnic area up the mountain at the Solaise Day Lodge – it even has microwaves for warming up your food.
---
---
Where to Party
We hope someone takes the initiative about pricing here soon, before Val d'Isere loses its mojo. The apres-ski is not bad by French standards, and there are certainly a lot of bars – but it's not on the same level as St Anton, Ischgl, Verbier or Zermatt, and the clubbing is not all it's cracked up to be. Dick's Tea Bar has pretty much got the monopoly for late-night partying among the Brits, with Doudoune Club its only serious rival.
Most of the early partying happens in the famous Folie Douce at the top of La Daille gondola, which has since opened more branches in Val Thorens, Meribel, Alpe d'Huez and Megeve. Thursday and Friday afternoons are when it's at its best.
Cocorico is an apres-ski bar on the piste at the Rond Point, and has stolen some of the thunder from the Folie Douce in recent years. It has live music and attracts homeward-bound skiers. It's advantage over its much more famous rival is that you can fall out of the bar into a bus when it's time to rush home and bathe before dinner.
Down in the village, Bananas is a popular place to go.
Wine bars and hotels for cocktails
We particularly enjoy La Cave sur le Comptoir, an intimate wine bar where you can get decent coup de rouge and actually hear what your companions are saying. Le Salon des Fous, close to the Tourist Office roundabout, is a good meeting place and is always busy – you can eat here, too.  
The old standby is the bar of the Blizzard Hotel, where it's said you might run into French film stars. Then there's Le Jack lounge bar at the Aigle des Neiges hotel. A bit bling with its cow-hide seats – but it's still nice and spacious. The lounge bar in the Avenue Lodge Hotel on the high street has a cool interior and is a good place for a G&T. The bar at Les Barmes de l'Ours is a bit of a hike out from the middle of town, but a stylish place…and you might bump into the celebrities who stay here because it's more private and than the high street hotels.
Live bands and late nights
After dinner, your first stop is Victor's, which has a happy hour hour from 9pm to 11pm and is a favourite among locals. This isn't one of those sophisticated places we were talking about earlier – just really nice and buzzy, and usually not too full. Saloon is where the seasonnaires go to party. There's a DJ, live music, and a Happy Hour from 3-5pm. It's also convenient for Le Petit Danois – just across the road – which is the favourite haunt of Scandies. Blue Note is hidden behind an unremarkable door opposite the ESF office. It's ideal for a quiet drink, the best Bloody Marys in the resort and Young's London Ale.
By now, the evening should be acquiring some momentum. This is the perfect time to pop back to the Fall Line Bar. It's a bit out of the way, but popular – open from early afternoon to 1.30am. Then head for Dick's. It runs an after dinner club from 10pm before becoming a full-on nightclub from 12.30-5am.
Its late-night rival, as we said earlier, is Le Doudoune, in the basement of Cocorico on the edge of the snow at the Rond Point des Pistes. It's open until 5am with a free shuttle bus to get you home.
Val's non-ski activities include watersports at the Centre Aquasportif, which also has a spa, climbing wall and gym. There is dog-sledding, and ice-driving at the Circuit de Glace where you can learn how to control a spin on an icy mountain road at 40mph.