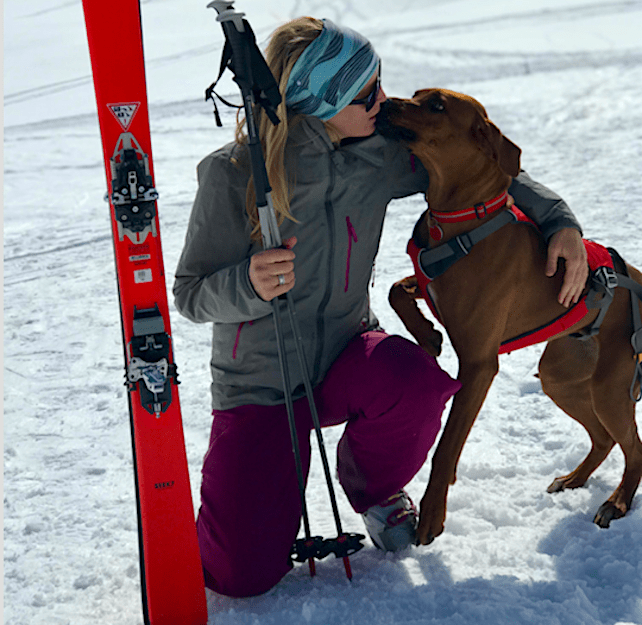 Photo: (c) Chris Moran/Intersport.
Taking the love of my life on a ski trip was a daunting but exciting prospect — getting all the right kit together, wondering how they'd behave in the chalet, making sure they had the right passport and whether I'd be able to find the right food…so much to organise, would it be worth it?
I'm not talking about my boyfriend, but my dog, Thala. She's a two-year-old Rhodesian Ridgeback, and ever since she walked through the door, I've been aching to take her to the slopes. I love off-the-beaten track skiing, more specifically ski-touring, and my dream was to tour up a sunny slope, eat lunch together sitting on my backpack before skiing down, Thala bounding beside me in the deep powder, just me and my best friend.
So this winter Thala and I moved out to live in the Haute Maurienne Vanoise, a quiet valley running parallel to the Tarentaise. While we have our own apartment here, we've been visiting chalets and hotels around the Alps and while I've been pleasantly surprised by how remarkably dog-friendly the mountains are, coping with having a dog in a ski resort is a little more complicated than it sounds. But just as rewarding.
We started our adventure on the overnight ferry from Portsmouth to Caen — Portsmouth is only an hour from my Hampshire home, so it meant Thala could sleep in the comfort of my VW Transporter overnight. Or if you book enough in advance (I didn't!) Brittany Ferries also offer pet-friendly cabins. An overnight ferry meant we could enjoy an early-morning walk and croissant when we arrived in France and Thala only had eight hours on the go, rather around 12 if we had taken the Eurotunnel.
Despite the fact she's not a "mountain dog" (Rhodesian Ridgebacks were originally bred for hunting lions), Thala absolutely loves the snow. The joy on her face as she bounded around on the white stuff in the sunshine for the first time was indescribable — I've never seen her so happy. She loves the vistas, too, regularly stopping on our walks up the mountain in the lane behind our house to gaze at the view, much as anyone of us would on our first visit to snow-capped peaks.
I had to buy her a range of coats — Ridgebacks have no undercoat so she's got almost bare skin under her armpits. She has a waterproof fleece-lined jacket and a wool rug, but our favourite by far is the wonderfully snug Powder Hound jacket from Ruffwear. It is pricey at £99.95 but provides all-over body warmth and a fantastic range of movement — plus it goes through the washing machine very well.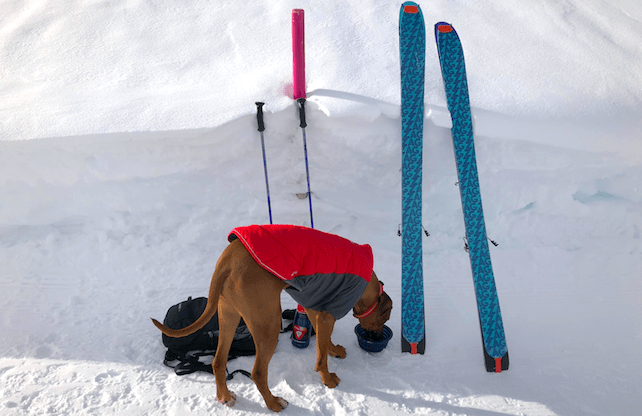 Our first go at climbing mountains together was a little more trial and error than I'd hoped. While my backpack contained a bottle of water and layers for me, I'd forgotten Thala's drinking bowl (I have some brilliant collapsible silicone bowls that come with their own zip-up carry case) so got cold hands cupping them to pour water in for her to drink from. I also forgot her coat — it was sunny when we started but an hour in, it began to snow. In my excitement to get on the slopes I forgot the one golden rule of the mountains: prepare for every eventuality and all weathers. So she ended up wearing my rather expensive Patagonia gilet to keep warm.
I had remembered poo bags, thankfully, but I lost her lead faffing about on our way up which meant I had to ski down the piste with her bounding beside my ski-boot heel, luckily with no other soul in sight due to the worsening weather.
Allowing your dog loose on the piste is an absolute no-no, and incredibly dangerous. I've heard horrid tales of skiers crashing into dogs and breaking their legs — and when she bounded at me on the first turn she caught her leg on the edge of my ski and nicked it. Ouch – but no harm done.
Over the summer I had spent more time on Thala's fitness than my own, and on hardening her pads. Last winter a husky dog handler warned me to run her on concrete/gravel surfaces during the summer to toughen up her paw pads because granular snow is incredibly abrasive. Despite the fact we regularly cycled 10km on gravel tracks around the New Forest where we live, her pads split the first time we hit the snow simply because I allowed her to run too fast.
Thala is a strong, fit dog, but the vet in the Haute Maurienne Vanoise warned me to be careful of her leg muscles and joints in deep snow — at 35kg and almost pure muscle, she's a heavy dog and not really built for the mountains. Border collies are the ideal size!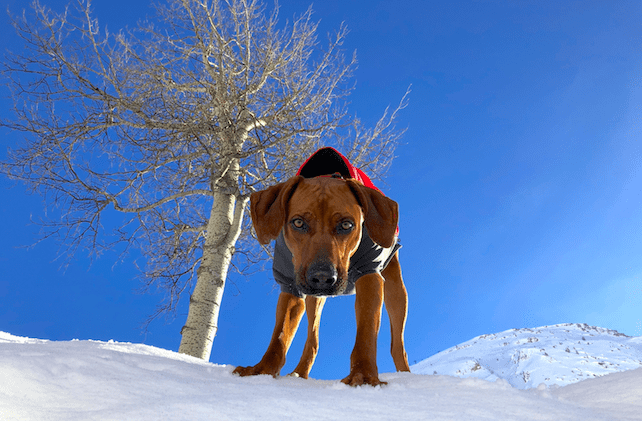 When we weren't out skiing, I'd thought she would snooze happily at home. And while she's accustomed now to my apartment, when we have visited hotels and other chalets around the Alps (including the Valsana Hotel in Arosa, Le Chardon in Val d'Isere, Ferme de Montagne in Les Gets and apartments in Chamonix and Val Cenis organized by Chamonix All Year and Peak Retreats. I was very conscious that she wouldn't be entirely comfortable in her surroundings so haven't left her for a full day.
While very well trained, I did leave her too soon after our arrival in Ferme de Montagne. As my boyfriend and I took our first sip of the welcome glass of champagne, I heard "woof, woof" coming from our room. "Where am I?" she was asking. Luckily, as the only guests, Thala joined us in the lounge for the welcome drink, but it was a timely reminder not to take her understanding for granted: it's all strange. The first time she saw a cable-car she was terrified — and she's now used to the sound of avalanche bombing. All these things we understand as skiers are so new for my dog.
I'm here for the season, and we can take our time, but I'm not sure whether I would drag my dog out to the Alps for an annual week's holiday: if you intend to ski all day, not only must you walk your woofer before you go skiing, but when you get back and just want a cup of tea and to hit the hot tub, your best friend will be there, bounding around and dying to go for a run.
As for the food? We brought our own. I've seen only basic dog food in the any of the supermarkets I've visited — and she's eating like a horse, consuming around a third more than she would at home, thanks to increased energy usage with running about and keeping warm.
I've loved travelling with her — walking Thala around the frozen lake next to the Valsana in Arosa was a simple pleasure but one I shall remember for all-time; and she's proven to be the best ice-breaker (excuse the pun). Everywhere we go, people want to talk to me about the dog bred to hunt lions. Last week we went ski-touring up the tree-lined, south-facing green home run in Aussois, the closest ski resort to our home. All the way I was stopped by skiers bidding us a good day, wanting to ask about my lion hunter and even one lady wanting to take a photograph with us.
Skiing with my dog? It's been extra hassle, but I wouldn't swap it for the world.
Also see this post on Luxury Dog-Friendly Chalets, and Welove2ski's post on Ten Tips for Taking Your Dog Skiing for more advice and, if you love dogs, here are some lovely pictures of them in the snow.