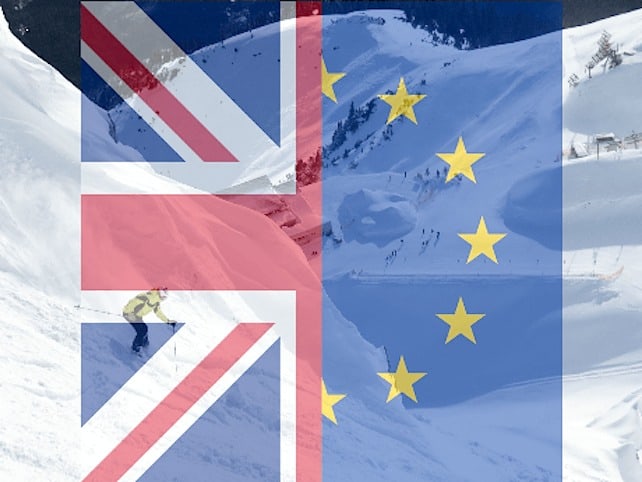 Imagine you're standing at the top of a beautiful mountain bowl after a fresh dump of snow. The sun's out, the snow's untouched, and you're just a little bit frustrated, because your guide has said it's not safe to ski there. The risk of avalanches, he says, is too great.
Then along comes a jolly blonde Brit called Boris Johnson, wearing a pair of faded 1970s salopettes and a woolly hat, who says you'll be fine. In fact, he's so sure you'll be fine he'll make a televised apology if you're caught in an avalanche.
Who do you listen to?
Would it be your guide, or Boris Johnson?
In many ways, this is the situation we find ourselves in, as we face the most important vote in Britain for 41 years. At stake is the health of Britain's economy and everything that's built on it – from the moral character of British society, to the quality of the NHS.
On one side are the Remainers, asking us to vote to stay in the EU. They're backed by organisations such as the OECD, the IMF, the Bank of England, the Treasury, 10 Nobel laureate economists, and – today, June 22 – the bosses of more than half of Britain's largest companies (as well as lots of small and medium-sized ones). You can add all of Britain's international allies to that list as well.
On the other there are those that would have us leave. They are telling us to ignore the experts. They know best, they say. They can't tell us what's going to happen when we leave, or explain which parts of the economy are going to prosper once we've gone. They can't point to a group of international businesses queuing up to invest in a Brexiting Britain. All they can offer is their gut instinct and the fact that sometimes the experts get it wrong.
Which brings us back to the mountain bowl. On the one hand there's the guide. On the other, Boris Johnson. Okay, the guide isn't infallible. But he knows a lot more about mountains than Mr Johnson. He lives amongst them, he talks to other mountain guides, he studies weather forecasts and daily updates about the quality of the snowpack. His life is in snow. If he has a gut instinct – based on his training and experience – we might be prepared to listen to him. Not Mr Johnson.
The fact that there are qualified guides in the mountains, who ski like gods, know their environment, and are armed with the latest safety equipment is one of many beautiful things about the modern world. And to their number you can add doctors, scientists, engineers, teachers, lawyers, judges, accountants, and economists. No, they don't always get it right, but their net effect has been to make people healthier, longer-living, better educated, and richer in all sorts of ways. It's been done through peer reviews, rigorous thought, a willingness to learn from experience, and lots of hard work.
By discounting the whole principle of expertise, the leavers are asking us to embrace an approach to life that's impatient, frivolous, and proud of its own ignorance. We're being asked to close our ears to reason and surrender to our emotions. Some of those emotions are pretty ugly, too.
Here at Welove2ski we won't be following the Leave campaign down the mountain, thanks very much. We'll be voting Remain. We hope you will too.