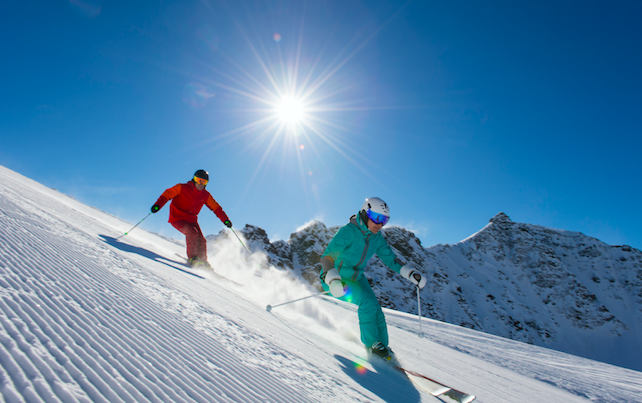 By day, Matt Carr heads up the marketing department for SkiBro, the platform that makes comparing and booking ski instructors and schools a doddle in resorts across the Alps. By the light of the moon he's an adventure ski/travel journalist. He is based in Val d'Isere, where he has worked for the company since they launched.

Many of us go skiing every year, pootle about on the same runs and don't actually get any better. But any skier can push the limit of their comfort zone, improve their technique, and enjoy more of the mountain as a result.
I asked some of our instructors for their top tips. Many of them are best tried in the company of a ski teacher, others you can do by yourself.

1.Get in shape and warm up
'It's important to prepare physically for skiing as you'll be using muscles rarely utilised in the rest of your life. I advise people to prepare a little before coming on holiday, particularly focusing on their thighs and core. Various ski fitness exercises can be found on Youtube (Check out SkiBro's Youtube channel), and yoga is great for the core – for skiing and any other activity.
'When people come to a ski resort, getting the body warmed up in the morning is a great idea – particularly if you've eaten (and drunk) a lot the evening before. A simple stretching routine gets the blood flowing and you will really notice the difference when skiing. Minor injuries as well as aches and pains harm intermediate skiers' techniques who instinctively develop bad habits to protect the painful body part. Get in shape, get warmed up and you'll notice the difference'.
Claude, independent ski instructor in Val Thorens and teaching across The 3 Valleys
2. Go out in all conditions
'Being a fair-weather skier only going out on cloudless days with the sun out – limits your potential for progression. If you are prepared to go out whatever the weather, your confidence and technique will benefit enormously. Get comfortable skiing when visibility is poor or when snow conditions are below-par and you'll notice your skiing improve when the sun does come back out and the pistes are perfectly groomed.
'The occasional lesson in these conditions are a good idea, so you can work on specific techniques to handle them, rather than fall into bad/defensive habits that skiers often revert to when conditions are poor'.
Lara, an independent ski instructor offering private lessons in Val d'Isere and Courchevel
3. Deliberately expand your comfort zone: head for the bumps
'Me and my instructors love to ski moguls, with all of our clients. If you can master bumps you can ski anything. If you stick to the smooth pistes you will be uncomfortable in any other type of run. Often our clients are scared of moguls, and it's true that they aren't easy to master, but the range of skills you learn in the bumps is like an accelerator programme for your skiing in general. You learn to make micro-adjustments all the time and to read the terrain several turns ahead, which is the key to good skiing anywhere. Next time you have a 'nothing' afternoon ahead of you and the pistes aren't great to ski, seek out some bumps and try a few laps'.
Matthew from Snow Family ski school, offering private lessons in Verbier
4. Plan your attack
'Many skiers cruise from A to B without really thinking what they're doing and get into trouble or hit a hard or icy patch. Try to spend a bit of time at the top of each run and look as far down it as you can see. Give some thought to how you are going to approach it, where you think the best snow will be and where you'll make your turns. You may notice ski instructors make it look easy, and part of their secret is an innate ability to read the slope and find the most pleasant way down. This takes some practice, and the first step is consciously planning your route down. If you're with a friend it is easier, as you can discuss it with each other'.
Gioia, instructor with Evolution ski school who provide private lessons in Zermatt
5. Venture off-piste
'Heading off-piste on a real adventure away from the crowds is not beyond an intermediate skier. The trick is choosing the right route at the right time. Many skiers think off-piste skiing is extreme, with images of deep powder snow and steep slopes. In fact, skiing spring snow (firm snow that is softened by the sun, also called corn snow) later in the season on gentle slopes is no more difficult that skiing on piste. If you time it right, the sensation is just like skiing on velvet. It's important to do this in the company of a local instructor or guide because if you time it wrong it's no fun. Too early and the snow will be very firm, too late and it will be too soft and potentially dangerous'.
Martin, instructor and guide with Skischule Arlberg who offer introduction to off-piste in St Anton

SkiBro is the platform bringing ski lesson booking into the 21st century. Don't expect lengthy email chains, awkward phone calls and transfer day booking office mayhem. Instead you'll find it easy to compare the top instructors, ski schools and guides in your resort (including instructor profile videos and client reviews to help you choose), easy online booking, English customer support 7 days/week, secure payment, free cancellation and a nifty app packed full of features on lesson-day and beyond. Also see our post on Conquering Your Ski Fears.