By day, Matt Carr heads up the marketing department for SkiBro, which helps users book their perfect ski or snowboard instructor via an easy-to-use platform online or in an App. By the light of the moon he's an adventure ski/travel journalist. He is now based in Val d'Isere, where he has worked for the company since they launched last year.
Not every day is a perfect blue sky day with beautifully groomed pistes; there are lots of hazards out there – for both adults and children. It is on these days that having the right instructor – which is to say the instructor that is best matched to your needs – can be the difference between triumph and disaster. All too often people get in a muddle either by skiing by themselves or by ending up with the wrong instructor for them. He or she might speak poor English, you might find yourself in a class of 10 or more people, or you could even end up getting lost. All if which spells mountain misery.
The right instructor can unlock mountain magic on even the most marginal days and help skiers of any level overcome any hurdle on the hill. 
Here we focus on the top 12 fears intermediate skiers often have and how the right instructor can help overcome those fears. I've asked some of SkiBro's best instructors to offer their top tips.
#1 How should I ski bumps and get down an intimidating mogul field?
https://www.youtube.com/watch?v=1ASFQRaW16g&feature=youtu.be
Moguls or bumps can cause fear to even the most experienced skier. But taking the correct approach they become easy to handle, and after a few good runs, once confidence grows, they become very enjoyable.

So I'm going to aim a bit of advice at somebody coming to terms with bumps for the very first time. Firstly allow the ski to skid, almost sideways down the hill, like a side-slippy traverse. Then say to yourself out loud: "Up the bump, around the bump". This helps with the timing of where in relation to the bump you are turning. Turn as you are skiing over the shoulder of the bump, so not right on top – and not in the gulley either. As the skis turn remember to keep them skiddy! This is the easiest method of speed control to start with.
Joe from TDC in Tignes
#2 How can I get through ice or icy patches and stay in control?
Accept that ice is ice and you are going to slide, it is pretty much only world cup athletes that are effectively able to grip on ice. Once you have accepted the fact that it will feel slippy, develop your balance, control the slide by balancing correctly over the skis, and generate the most amount of friction to slow yourself down and feel as much in control as you can.
Tactics are: look down the mountain, assess changes in the texture of the snow, smooth patches are often the icy ones, if you can choose to ski the fluffy stuff, look for changes in the snow colour, normally the natural green/blue/grey shades are icy. Don't forget to turn, it doesn't matter what is under your feet, turns generate friction and therefore will give you the feeling of being in control. Generally the ice comes out when a lot of people have skied over the same area of a piste, so look for where the snow has been pushed: it is usually towards the side of a piste.
Lara from Platinum in Courchevel and Val d'Isere-Tignes
#3 I'm scared of narrow paths and am worried about falling over the edge.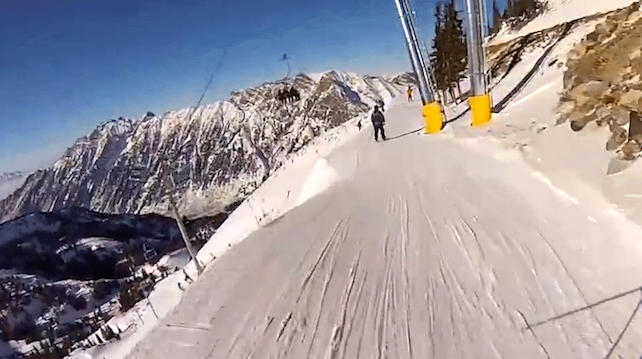 Visualise the line you want to take, give yourself enough time and be sure the slope is not too packed (otherwise wait a few minutes). In some situations our old friend the snowplough can help us, if the slope is not too steep, otherwise side-slipping can work.
Luca, Independent in Zermatt
#4 What's the best way to tackle tricky terrain like crud and breakable crust?
https://www.youtube.com/watch?v=jLVYh86aenI&feature=youtu.be
This is perhaps the hardest thing to master. Not being afraid of getting out on the slopes no matter what the weather/your mental state/fatigue levels makes you more adaptable. Learn to feel what the reaction is between snow and ski/board when you are on the piste tunes you in. Tricky terrain sometimes means you have to draw on certain parts of your skills more than others and, by experimenting and getting mileage under your skis, you will learn as you go.
Anyone who feels in control (I'm not talking about speed here), in the form of precision with their turns, stands a better chance of adapting when the terrain forces them to make changes to stay upright. Remember that skiing is an 'open environment' sport, so exposing yourself to as many 'variables' as possible within your comfort zone of speed and gradient will allow your motor skills to improve to deal with the tricky terrain as you find it.
Steve from TDC in Val d'Isere
#5 I'm frightened of getting stranded on the wrong part of the mountain near the end of the skiing day.
Plan to be back by 4pm and ski in an area that you know is close to home towards the end of the skiing day. If you are not sure of the timing, ask the ski patrol and chair-lift staff. If anything goes wrong and you miss the last lift, you should find that most resorts run free shuttles between the bases of the ski area that can take you home free of charge.
Or swerve the whole thing and hire an instructor or guide to do the thinking for you. Apart from anything else, he or she will be able to find the best spots for you in the afternoon with the least traffic – often you'll find the slopes can turn to moguls in the afternoon in many resorts, so local knowledge can be worth more later on in the day.
Matteo, Independent in Paradiski, Sainte Foy and Val d'Isere-Tignes
#6 How do I handle different types of ski-lift I have never experienced before?
Don't be afraid to ask the liftie for help. Stand, watch others from a distance for a little while before joining the queue. Finally, ask an instructor for advice. I am always happy to help out most people, even if I am not teaching them there and then, and will offer advice!
Steve from TDC in Val d'Isere
#7 How do I survive on a crowded slope and avoid being hit by another skier/snowboarder?
Ski consistently within your chosen corridor, so people above you can predict where you are going to turn, be aware of other skiers/snowboarders – snowboarders have a blind spot when turning, just like cars do when passing. You are the most important person on the slope, so ski it like you mean it – if you don't feel comfortable, then stop and wait for the right time to set off again.
Lara from Platinum in Courchevel and Val d'Isere-Tignes
First: Try to ski in quite regular turns, do not turn or stop suddenly.
 Then: Have a look uphill from time to time. Finally: Stop always on the side of the slope and never cross or stop where you can't be seen from far above.
Nency from ESS in Verbier
#8 Will I get left behind in a ski class?
Often the weaker/slower skier will wait till the rest of the group has gone. If this is you, try to go nearer the front of the group and to be one of the first skiers to go down when you are skiing individually. If this is still a problem, you should talk to your instructor about working together to find a solution, or possibly change group. A good instructor will have his or her eagle eye on everyone in a group to prevent losing any of its members!
Stuart from Ski Focus in Tignes
#9 What should I do in a white-out or bad light?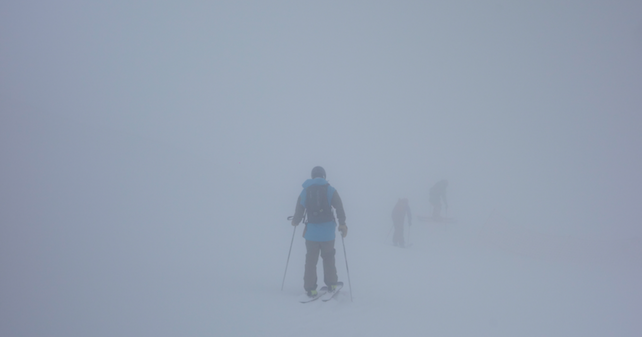 Get yourself some good goggles, and keep your joints as relaxed as possible. To cushion a sudden bump or a change of run steepness, make sure you are not leaning backwards. Anticipation and concentration are the keys.
Stephane, Independent in the Portes du Soleil
#10 Is a slope too hard for me?
The colour of run and the speed at which you descend it are perhaps the worst ways of jugging your skill level. Don't be tempted to fall into that trap. If I asked an alien, without knowing anything about skiing and snowboarding and upon visiting the mountains for the first time, who was the best skier/snowboarder…their answer (should they comprehend what I am saying / be able to reply) would probably be the person who looks the smoothest / most fluent. They would not consider speed or colour of the run to be an indicator of performance.
How often do you hear people say to an instructor: 'You make it look so easy'? Well, yes, that may be the case but it is the fundamental building blocks which are being used that is what makes it look easier. So, in a nutshell, the 'building blocks' are what makes you a good skier. Those are the things that will make the 'challenges' on the mountain easier and therefore take away the various 'fears' that you might come across.
Steve from TDC in Val d'Isere
#11 I'm feeling peer pressured into skiing runs that are too steep for my ability.
Often skiers try to ski steeper runs than their ability will allow, resulting in the skier making a big breaking plough. The key to this is to practice making round turns on flatter terrain and using the shape of the turn to control the speed, instead of the size of the plough. Once consistent, you should gradually increase the gradient, but still control the speed with the turn shape. If the plough starts getting too big again, round the turn off further for speed control and if necessary, reduce the gradient again.
Peer pressure can be a real issue, whether it is to ski faster or steeper terrain than you are comfortable with. Some tactics to incorporate can be as follows: the slower skier goes first down the run while the faster skier waits until the slower skier has stopped. This way the slower skier can go at their own pace and not feel pressured. This also allows them time to rest while they are waiting for the faster skier. Both parties can ski together at speeds that they are both happy with and will enjoy their skiing together much more.
Stuart from Ski Focus in Tignes
#12 Will I actually improve?
Instructors really do want you to improve, that's what we thrive on: sharing those awesome 'wow yes, I feel it' moments. So next time you are in a lesson, if you are working on something technical and your instructor gives you an action to incorporate in the next run…do it. I mean really do it, overdo it to the maximum. Sometimes when learning a new movement pattern, it may feel like you are doing it a lot differently, when actually there's only minimal change.
It's much easier for an instructor to stop you and say: 'Great, now try a little less', than keeping on trying to encourage you to do more in different ways. Don't be afraid of making mistakes, that's how we learn. Watch the kids….they don't worry about falling over, looking silly, making mistakes, they just get on with it. Be more kid!
Joe from TDC in Tignes

Available online and in an App, SkiBro helps users find their perfect ski or snowboard instructor, ski school class or mountain guide via an intuitive, easy to use platform. Compare profiles, which include videos and past client reviews, and book in a few easy steps. 
Long-winded email chains, transfer day booking office mayhem, awkward phone calls, language barriers and ending up with the wrong instructor for you or your kids are all a thing of the past. Private or group lessons for the little ones, teens, families, aspiring freestylers, off-piste aficionados, ski-tourers and splitboarders: SkiBro has it covered.