Ceri Tinley is the Managing Director and co-founder of Consensio – a luxury ski chalet operator renowned for its attention to detail, fabulous service and gorgeous properties in the French resorts of Val d'Isere, Courchevel, Meribel and Les Gets. She knows a great deal about the top end of the ski market, and here reviews the very best luggage for a ski trip.

Carting your kit from home, to airport, to ski resort is most the tedious part of a skiing holiday, so it's no wonder lots of us don't give our ski luggage much thought. Nor do we replace it often enough.
But I'll tell you what's more tedious: having your battered and over-stuffed suitcase burst open on the luggage carousel, spilling your underwear, socks and a questionable choice of pyjamas across the rubber for all to see. Bags matter; and having the right one for the job, with all the zips working, a tough exterior, and a really zippy pair of wheels at the bottom, can be a source of quiet satisfaction from the start of the trip to its end.
So here, to help with your next luggage update, is a selection of the latest, most eye-catching models – from bomb-proof basics to the kind of hand-crafted suitcase-de-luxe that requires not just an extra baggage allowance, but (ideally) a butler to carry it, too.
But before we get started, one point. Be clever about your cabin bag as well. It's the perfect place for your ski boots, so you don't have to jam them into your main case or (as is the case on some airlines) pay extra to put them into the hold as sports equipment. Don't buy one without making sure your boots fit inside.
Sturdiness
First and foremost, your bag needs to be tough. It will need to endure winter weather – as it sits on the tarmac waiting to go into the hold – as well as the rough touch of the baggage handler. So make sure it's built to survive bumps, scratches and the odd drop off a baggage cart: and bear in mind that pale colours and soft fabrics will show the dirt more quickly.
Style and Technology
Should you go for soft and flexible, sleek and shiny, or rough and tough? Modern design or retro style? Something offering cutting-edge technology? Those are the main choices, although there are plenty of others in between.
But even a favourite – and expensive – case can have a downside: it will hurt more if it goes missing. An innovation that deals with this is luggage that syncs with your phone so you can track where it is at all times. This type of bag can also weigh itself and charge up your phone or laptop. The all-singing all-dancing type of luggage is growing in popularity, although at the moment the bags are heavier than the equivalent hard or soft suitcase.
Size and Weight
Check the bag is light before you buy it. Otherwise, if you're flying economy, it'll be hard not to exceed airline weight restrictions (check Welove2ski's feature on airline luggage allowances for details of limits and charges).
A non-wheeled bag should ideally weigh under 2kg when it's empty, and a wheelie bag around 3.5kg. The newer it is, the more lightweight it is likely to be.
Of course, if you're travelling at the front end of the plane this is less of a concern. With Club World or First on BA, for example, you can take up to two bags weighing 32kg each. Show them your gold card, and you can take a third bag as well.
Size matters, too. If you're flying economy on BA then 90 x 75 x 43cm (208cm in total) is the maximum size. All of the bags featured below – apart from the Shelfpack – fall within these limits.
The maximum size of a handbag/laptop bag on BA is now 40 x 30 x 15cm and the size of an additional cabin bag should be no larger than 56 x 45 x 25cm. Even if you send your bag with a courier service, weight and dimensions are still taken into consideration.
Wheels or No Wheels?
Look out for bags with wheels that are silent, sturdy, and rotate 360 degrees. And then you'll need to choose between two wheels or four. Two wheels should be lighter, but four are better balanced and mean that the bag can sit upright without falling over.
Here is our pick of bags in all shapes and sizes:
Soft Bags With Wheels
These won't necessarily stop your things from getting wet when luggage is left outside in a thunderstorm. But they are more lightweight than the harder versions and you'll be able to squeeze more stuff in if needed. Make sure the bag has a good strong handle that won't break when you pull it along.


Eagle Creek Cargo Hauler Duffel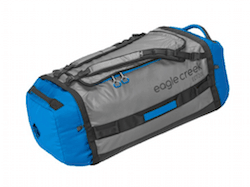 Amazingly, the 120 litre bag weighs only just over a kilogram. It's made from a durable, water-repellent coated fabric, with reinforcement on all stress points. Carry it by its removable backpack straps, padded handles, or a side-grab handle – but the downside is that there's no convenient retractable handle for pulling the bag along. The base is padded, there are ten lockable zips, and the whole thing packs down small for storage. Size: 80 x 40 x 36cm; weight: 2kg; volume: 130 L. Price: £165. Warranty: one year. Where to buy: Eagle Creek at Rohan.


Salomon Tanker 130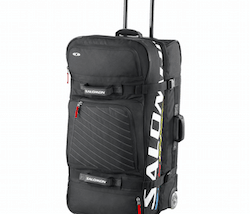 This huge, weather-resistant travel bag is extremely well organized with interior compartments and external waterproof pockets for ski boots. Inline skate wheels and padded handles make it easy to manoeuvre.
Size: 82 x 44 x 30cm (156cm total); weight: 6.23kg; volume: 115L. Price: £165. Warranty: two years. Where to buy: Salomon.


Lipault Pliable Wheeled Duffel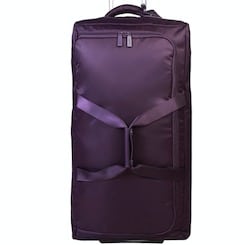 This lightweight and foldable wheeled duffel bag has plenty of room to hold all your gear and folds flat into its own case for easy storage under a bed or in a cupboard.
The collapsible two-wheeled bag comes in seven vibrant colours, is made from durable and water-resistant PVC-reinforced nylon that looks like satin, and feels very soft.
Size: 75 x 49 x 28cm (152cm total), weight: 3.1kg, volume: 102L. Price: £175. Warranty: three years. Where to buy: Lipault.


The North Face Rolling Thunder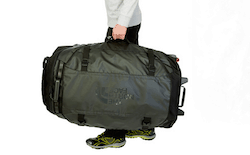 With its massive volume, the Rolling Thunder can carry enough kit for the most extended trip, and you'd be hard pushed to beat the burly nature of TNF's Base Camp Fabric used for the bag. There are lots of separate compartments, including a large main one and a separate zipped one for dirty clothing or footwear. The bag offers a choice of top, bottom and side handles. Size: 91 x 45cm x 40cm (154cm total), weight: 4.66kg, volume: 155L. Price: £270. Warranty: two years. Where to buy: The North Face.
Hard Bags
The most protective bag is strong enough for you to sit on, will last longer, is less likely to get damaged or show wear and tear. They used to be much heavier than the soft equivalent, but are now becoming more and more lightweight all the time. The shiny hard bags are arguably the most chic and, LVMH aside, are often the choice of celebrities and the style conscious.


Luggage X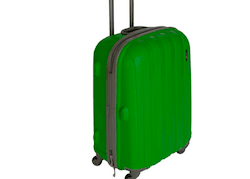 The tough durable polypropylene shell ensures that this luggage is virtually indestructible. Each of the two smaller cases will fit inside the largest case for a space saving solution. Size: large case 77 x 56 x 36cm (169cm total); mid size case 66 x 47 x 31cm (144cm total); small size 56 x 40 x 28cm (124cm total). Weight: large 4.9kg, mid 3.7kg, small 2.7kg. Volume: large 127L, mid 79L, small 50.3L. The total weight for the set of three is 11.3kg. Comes in a choice of 10 bright colours. Price: from £45 each. Warranty: one year. Where to buy: Luggage X.


Louis Vuitton Horizon 70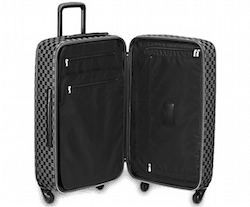 With its trunk manufacturing dating back to 1871, Louis Vuitton combines luxury with craftsmanship to provide the definitive stylish luggage.
The Horizon 70 trolley case combines traditional leather craftsmanship with innovative, modern design. Robust and ultra-mobile, it glides smoothly on its four multi-directional wheels, while its cleverly designed interior has lots of practical features.
The materials are Thermo-compressed Damier canvas with polyamide and polyurethane lining, cowhide leather trim and name tag, shiny silver or golden brass hardware. Size: 73 x 45 x 28cm (146cm total), weight: 6.1kg. Price: £2,610. Warranty: not known. Where to buy: Louis Vuitton.


Samsonite Lite Shock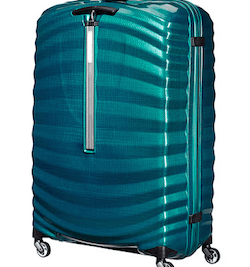 The light suitcases from Samsonite's Curv collection combine minimal weight with maximum impact resistance. This hard shell suitcase's self-reinforced organic design and ultra-light, high comfort components result in an extra lightweight luggage collection. Light-Shock remains strong without the need for a thick outer shell, thanks to the shock-absorbing design.
Curv material is known for its high energy absorption and outstanding impact, especially at low temperatures. There's a integrated lock. Size: 81 x 55 x 33cm (169cm total), weight: 2.8kg, volume: 124L. Price: £355. Warranty: ten years. Where to buy: Samsonite.


Bric's Bellagio Carry-On Trolley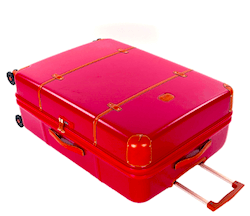 These Italian-manufactured bags have been around since the 1950s. The Bellagio model features a high-tech shell teamed with Tuscan leather inserts to give maximum resistance to shocks and scratches. This is not one of the lightest suitcases included here, but it makes up for it in extras. The lined interior is divided into two compartments: one closes with a zip and has a mesh pocket, the other has a large compartment with a zip and garment bag hook that can hold up to three hangers. There's also a lock and four swivelling wheels. Amal Clooney is a fan. Size: 82 x 56 x 30cm (168cm total), weight: 5.29kg. Price: £470. Where to buy: Bric's.
Hard-Sided Bags
More flexible than hard bags (some have extension zips to allow more space inside) – and the contents tend to stay put. These bags are usually lighter than hard bags.


Antler Large Suitcase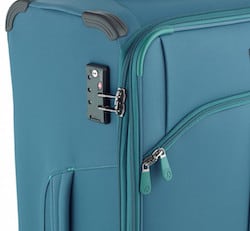 "Quite simply the lightest soft case we've ever made", says an Antler spokesperson. It's expandable, with an internal pocket and packing strap. Made from nylon, the bag has 360-degree rotating wheels and a fixed combination lock.
Size: 80 x 49 x 30cm (159cm total), weight 2.7kg, volume: 101L. Price: £219. Warranty: ten years. Where to buy: Antler.


Delsey Montsouris Waterproof Bag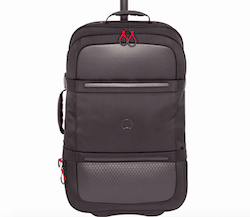 Light and functional, the expandable, mid-sized Montsouris trolley case is also very roomy with lots of interior space as well as adjustable webbing. You can also increase the size of this expandable bag any time you want.
Size: 68 x 43 x 29/33cm (140/144cm total), weight: 3.9kg. Price: £143.50. Warranty: five years. Where to buy: Delsey.


Tumi Extended Trip Case

Heavier than the other hard-sided bags featured here, this Tumi case is one of the most durable and fully functional hard-side cases made today. The bag expands by 5cm, features a spacious front pocket, and moves effortlessly on double-turning wheels. The roomy interior has two packing compartments, plus pockets for accessories. It is made from a revolutionary material created by Milliken for use in lifesaving armour, racing cars and protective gear for American footballers – so it is certainly strong.
Size: 73.5 x 51 x 38cm (162.50cm total), weight 7.62kg, volume: 91L. Price: £575. Warranty: five years. Where to buy: Tumi.
Retro Style
It's fun owning luggage that harks back to a bygone era – whether you like the image of an Edwardian old-timer or a 1930s good-timer. This is not genuine antique luggage that has been restored, but bags that have been meticulously crafted to look like they would have done back in the day when they were new.


Saddleback Leather Suitcase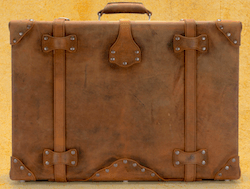 At 8kg this suitcase is not lightweight, but it is certainly beautiful. It has been constructed purposefully without wheels: "Imagine a $15,000 suit with roller skates," says the manufacturer. The hard-wearing handle is hand-sewn with boot-cord and bolted onto the case, whilst two long and solid removable exterior straps tie the suitcase closed. There are no breakable parts, such as zips or buttons. Size: 68.5 x 48 x 23cm (139.50cm total), weight: 8kg, volume: Price: US$1,379. Warranty: 100 years. Where to buy: Saddleback.


Globe-Trotter Goring Brown Trolley Case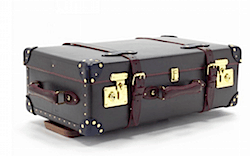 Globe-Trotter has been making suitcases since 1897, and past owners include the Queen and Winston Churchill. Part of Globe-Trotter's Goring Hotel series, this vintage-style suitcase is lined with a green and ivory silk that was originally commissioned for Lullingstone Castle in Kent. All Globe-Trotter products are handcrafted at their factory in Hertfordshire. Size: 65 x 39 x 25cm (129cm total), weight 4kg. Price: £1,860. Warranty: two years. Where to buy: Globetrotter.
Brainy Bags
These couldn't be further removed from the above retro bags if you tried. A growing number of bags can sync with your smartphone, weigh themselves, charge your phone and laptop, have interior lighting and speakers, and a GPS to track the bag as well. We can predict more and more companies will produce them from now on. Soon to come are Trunkster, Delsey Pluggage, and Andiamo iQ.


Bluesmart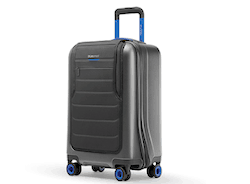 The ultimate hand-luggage has a battery which can give up to six charges to your phone or iPad. A location tracker provides distance alerts should you step too far away from your bag. There's also a digital scale, a lock that sets when you leave your bag and unlocks when you return, and you can even check your flight status. Size: 62 x 39 x 26cm (127cm total), weight: 4.26kg, volume: 34L. Price: £349.99. Warranty: one year. Where to buy: Bluesmart.


The Raden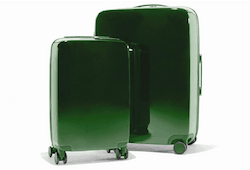 This has a durable polycarbonate shell that withstands impact but is flexible enough to prevent cracks. The Raden bag has four double-spinning Japanese wheel bases and polyurethane tyres to give a smooth ride. The ergonomic handle doubles as a scale to work out your bag's weight, Bluetooth proximity sensors mean you can always locate your bag, an integrated battery allows up to four full phone charges, and two 2.1A USB ports enable dual device charging. Size: 71 x 53 x 33cm / 56 x 36 x 20cm (157cm/112cm total), weight: 3.4kg/5kg, volume 35L/106.7L. Price: At the moment they're not shipping to Europe, but if you're going to the USA you can pick one up for $395 (£280) in the larger size, $295 (£209) for the smaller one, $595 (£408) for the set of two. Warranty: two years for the case, one year for the electronics. Where to buy: Raden.
Holdalls and Duffle Bags
Theses are the most lightweight of all – due to having no wheels – but you have to carry not pull them along. These means you'll need to look for bags with sturdy but comfortable straps. Duffel bags are the most flexible for squeezing into a small space, can be taken as hand luggage, or put inside another bag as spare luggage when you know you might be shopping in the resort!


Helly Hansen Duffel Bag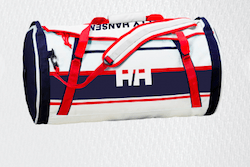 This sporty bag is really versatile in that it converts from an ordinary duffel bag into a comfortable rucksack for travelling. It's made from a smooth but tough fabric that's water resistant, has an external zipped pocket, carry straps and removable padded shoulder straps. Volume: 90L, and in a choice of 10 jewel colours and four sizes. Size: 80 x 46 x 37 (163cm total); weight: 4.4kg. Price: £90. Warranty: one year. Where to buy: Helly Hansen.


Mulberry Small Clipper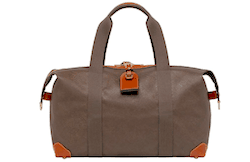 Nothing says classic Mulberry like their new Scotchgrain luggage collection. Its distinctive pebble grain finish is accented by a smooth leather trim in a contrasting colour. Travel pieces should be built to last and, in our experience, this is the case with Mulberry. The timeless travel bag has two short handles and a detachable shoulder strap; it also comes in medium and large sizes. Size: 45 x 32 x 21cm (98cm total); weight: 1.32kg; volume 30L. Price: £550. Warranty: one year. Where to buy: Mulberry.


Bottega Veneta Large Duffel Bag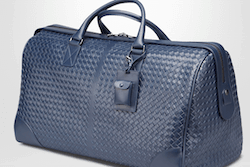 Constructed in the company's signature calfskin, this elegant duffel bag has been specifically designed for exceptional endurance and resistance to wear and tear. It comes in a combination of sheer and woven panels, with leather handles, a detachable canvas shoulder strap, has two internal pockets, a functional lock, and a leather key holder. Size: 53 x 32 x 28cm (113cm total); weight: 2kg; volume: 35L. Price: £2,595. Warranty: two years. Where to buy: Bottega Veneta.
Cabin Baggage
Instead of packing a big suitcase and checking it in at the airport, some people prefer to take luggage as carry-on/hand-luggage. Different airlines vary in the size that is acceptable, so check before you fly. It needs to be able to fit smoothly into the overhead bin.
Burton Overnight Roller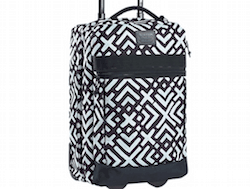 The compact weekend/cabin bag has a weight-saving design that lets you fly under the limit, yet at the same time gives you a decent amount of internal space. Mesh dividers keep different categories of clothing separated, and there's a lockable zip. The fabric is polyester-coated.
Size: 48 x 33 x 27cm (108cm total), weight: 2.3kg, volume: 41L. Price: £73.50. Warranty: one year. Where to buy: Burton.


Gucci Techno fabric wheeled carry-on suitcase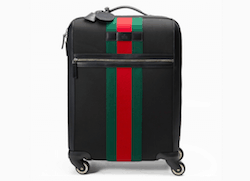 This wheeled carry-on bag comes in a techno fabric with Gucci's signature web detail. There's an id tag, lock and key holder, black nylon lining, telescopic handle, interior zip compartment with holding straps, four wheels, and a front external pocket with zip closure.
Size: 56 x 38 x 21cm (115cm total); weight: 5kg, volume: not known. Price: £1,640. Warranty: two years. Where to buy: Gucci.


Hermes Calèche-Express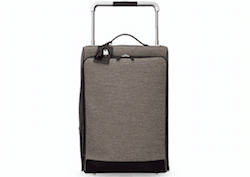 The in-flight trolley bag comes in water-resistant H Tech canvas and bull calfskin, with brushed palladium-plated silver hardware. Inside is a double compartment with zipped pockets on either side, there's a large zipped document pocket on the closure flap and two straps to hold clothing.
Size: 55 x 35 x 25cm (115cm total), weight: 3.1kg. Price: £4,360. Warranty: two years. Where to buy: Hermes.
Ski Equipment Bags
It's worth considering a double ski bag that has space for clothing as well, since some airlines, such as easyJet, offer weight-sharing or luggage-pooling. This works best if two of you are travelling together. For example, if you're travelling with a friend and choose to travel with an item of hold luggage each, together with one item of sports equipment each, say a ski bag, your total allowance is 80kg.
You can split the total weight allowance any way you choose, as long as the total weight of all the hold luggage and sports equipment doesn't exceed 80kg, and provided no single item weighs more than 32kg. You can also luggage pool on Ryanair, but not on BA.


Thule RoundTrip Boot Backpack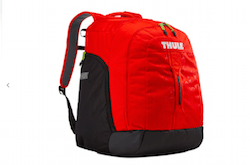 Carry your ski boots, keep goggles safe and your gear organized in this all-in-one tarpaulin/polyester backpack. A back panel flips down and doubles as a mat for changing in and out of your boots – and if you are skiing on the day of travelling home you'll be pleased to find perforations in the boot compartment, which let water escape.
At the same time, a crush-proof compartment protects your goggles, sunglasses, iPhone, electronics and other fragile items. Two large side pockets store outwear, gloves and other accessories. Size: 49 x 37 x 33cm (119cm total), weight: 1.14kg, volume: 57L. Price: £65. Warranty: two years. Where to buy: Thule.


Douchebags ski bag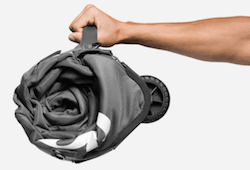 The cleverest ski and snowboard bag combines lightweight design and length-adjustability. It fits either one pair of skis, poles, boots, helmet and clothing; or two pairs of skis and clothing; or one snowboard, boots, helmet and clothing; or two snowboards, boots and clothing. It can be used at half its length and, as you can see in the picture, it compresses into almost nothing for storage. There's also a hook-up system whereby you can attach a backpack. Size: 100/205 x 38 x 18.5cm (261.5cm total); weight: 3.4kg, volume: 150L. Price: £200. Warranty: two years. Where to buy: Douchebags at Ellis Brigham.


Thule double ski roller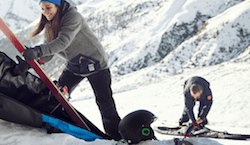 Buy one of the huge double wheelie ski bags made by Thule or Ellis Brigham. You take this as a piece of sporting equipment instead of a hold bag and carry your skis or snowboard and all your clothing in one bag. The Thule version has separate inner bags to keep clothing clean and dry, and links with the boot backpack (see above). Size: 195 x 32 x 19cm (246cm), weight: 3.62kg, volume: 119L. Price: £150. Warranty: two years. Where to buy: Thule.
Eclectic Bags
These are the unusual bags that don't fit into any one category, ranging from a space-minimising bag to one that holds an entire wardrobe.


Benga two-in-one suitcase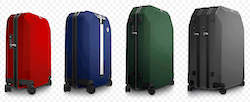 The Benga four-wheeled hard case doubles its volume by splitting into two separate two-wheeled cases. And…wait for it…the design was inspired by gorillas' bodies! It's made from 100% polycarbonate makrolon, which is very strong, with 360-degree wheels to give smooth and silent movement. Size: 54 x 38 x 20cm (112cm total), weight 3.7kg. Price: Not yet available, but it is expected to be in the region of $400 (about £275). Warranty: five years. Where to order: Benga.


Shelfpack cupboard-in-one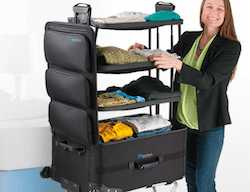 Shelfpack is an ingenious case that opens up into your very own set of four shelves and three outer pocket compartments. No unpacking will be necessary.
Size: 66 x 46 x 35.5 (218.50cm total) when closed; weight 6.57kg, volume: 115L. 107cm height when fully extended. Price: $349 (£247). Plus approximately $104 (£74) shipping to Europe. Warranty: lifetime. Where to buy: Shelfpack.


GOBAG vacuum compress bag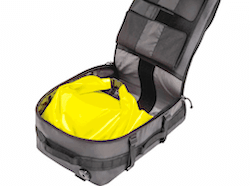 The GOBAG is a duffel bag designed to swallow up your gear and compress it so you can travel just with hand-luggage. The foam padding protects your laptop and camera, whilst the modular design means you can remove or add a laptop harness, wash bag, waist belt or shoulder straps – depending on your trip. A special feature is the waterproof Max Pack Bag, which allows you to vacuum-compress soft items, thus carry enough in a small bag for a long trip. Size: 50 x 35 x 20cm (105cm total), weight: between 1.9kg and 2.5kg depending on modules attached, volume: 35L. Price: £179. Warranty: one year. Where to buy: GOBAG.


Wolffepack swinging backpack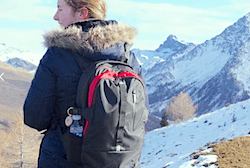 A backpack that swings round to the front when needed, without having to take it off, can be very useful on chair-lifts. It is also useful for security, and for accessing your possessions whilst travelling. Size: 45 x 28 x 14cm (87cm total) / 46 x 31 x 15cm (92cm total); weight: 1kg/1.4kg; volume: 18L or 22L – the bigger size is for travel and fits a 15" laptop inside but the smaller one is more suited for skiing. Price: £99.99. Warranty: one year. Where to buy: Wolffepack.
Where Is It?
Apart from techno bags, above, a growing number of companies keep track of your bag, including
LugLoc, Trace Me, LOC8ING, and Trackdot.


The Rimowa Electronic Tag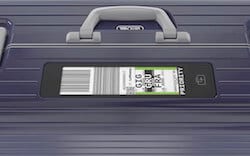 Rimowa and Lufthansa are currently testing a new electronic tag. Instead of having to check in your bag at the airport, you'll be able to download your baggage tag from your smart phone and transmit it directly to a display on your suitcase. Rimowa Electronic Tag is a small display screen that is embedded near the suitcase handle and will display the same information as a conventional bag tag. When it comes to security, your phone alone will be able to communicate with your bag.
What's Your Favourite?
Do you have a personal favourite bag you can recommend? What type of bag do you prefer to take on a ski trip? Let us know in the comments box below.