This is ski instructor Shawna Mckeown, at the top of Peak 8 in Breckenridge: borne aloft by her new fan club – Michael Mallett, Roger Ainger, and me.
Shawna's a great instructor: patient, fun-loving and mad about skiing. But despite a sun-drenched morning in her company, that's not why I'm buzzing today. No: what's really got me interested is the service, EpicMix Photo, that delivered this picture to me for free – and then allowed me to integrate it into a rather cool little collage commemorating my day.
EpicMix Photo is part of an online feature offered to all skiers and boarders in Breckenridge when they buy a lift pass (and all skiers and boarders in Vail, Beaver Creek, Keystone, Heavenly, Northstar and Kirkwood too). Called EpicMix, it allows you to track your progress round the mountain, check how much vertical you've skied, collect commemorative pins, upload your own photographs, and – as of yesterday – integrate it all, along with the professional on-mountain pix, into something called the Mountain Remix. Check out this screengrab of my first page, below.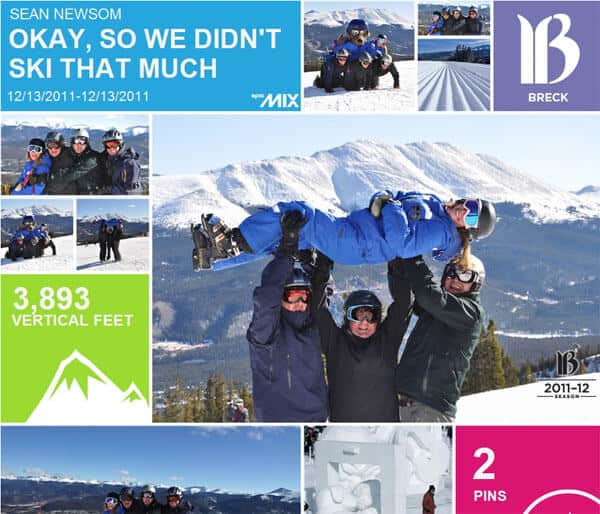 I had cynical Grumpy Old Man thoughts when I first heard about this package. Why would you want to fiddle about on your laptop on holiday – when there's so much else to do: like skiing? But now that I've tried it, I'm gripped with a child-like excitement. It's actually rather cool to be able to build a page like this. And you can do it for every day of your trip, for the entire holiday, or even for the whole ski season. In particular I can imagine families having a lot of fun when they get back home from their trips – building souvenirs of their holidays. They'll probably want to print their collages off as posters.
The only problem is that I now regret that we didn't ski harder yesterday and use the photo service more: so that I could have built a more impressive ski page. I can see it turning into obsession. (In January 2012, one group skied 50,798 vertical feet in a single day in Breckenridge's sister resort, Vail.)
The service is free. You register at epicmix.com, using the Pass Number on your plastic lift ticket, and you're away. The stats start accumulating as soon as you ski (thanks to scanners on all the lifts), and you can start being photographed on your first day, too. The snappers are waiting at the top of most lifts – they'll scan your pass before they take a shot, and you'll find the pix waiting for you once you've logged in.
No wonder the Walt Disney Company has shown interest in the project. Simply put, it's a ground-breaking idea.
(EpicMix is available to skiers in Vail, Keystone, Beaver Creak, Northstar-at-Tahoe and Heavenly, as well as Breckenridge.)
For more information about Breckenridge, check out our resort report.