In a Nutshell
Spectacular views from the top – and four casinos at the bottom adjacent to Heavenly Village with its restaurants, bars and shopping. Heavenly straddles the California-Nevada border and is unlike any other ski resort you will have been to before. The terrain suits nearly everyone – and you can explore 13 other nearby resorts in the Lake Tahoe region
Altitude: 6,255ft
Top lift: 10,067ft
Number of lifts: 28
Ski area: 4,800 acres of terrain
Adult lift pass: $366-528 for six days


Official Site |

Ski Map |

Webcam
Essential Advice for the Perfect Trip
The skiing and gambling town of South Lake Tahoe used to be famous for slow lifts and fast dealers, but all that changed when Vail Resorts bought the adjoining 50-year-old ski resort of Heavenly in 2002. 'Vail West' has been the beneficiary of several big cash injections since then – and is now part of a network of three Lake Tahoe resorts which can be skied on one lift pass. Gaming has become less and less important and it's no longer the casinos' primary revenue.
The development of Heavenly Village, around the base of the gondola, has created an identity that Heavenly previously lacked. Budget motels and T-shirt shops along the Californian end of the strip were torn down to give way to a Marriott hotel and apartment complex, as well as shops and restaurants. In fact, Heavenly Village now offers the most retail and dining choices in the Sierra.
But it's not wall-to-wall gentrification just yet. Gambling may not be as important as it was, but it is still big business here and four casinos hug the Nevada side of the stateline with California. They may be small fry next to the leviathans of Las Vegas, but they still give the ski area an unusual atmosphere. Wander into any one of them and you'll see a very different America from the one on the ski slopes above, but one advantage is that the casinos often have the lowest lodging rates.
Of course, some people will recoil from it – and if you feel strongly about gambling, stay at one of three access points to the skiing that are not near the casinos: The California Base Lodge, Boulder Lodge and Stage Coach Lodge. For example, Ridge Tahoe is a self-contained hotel resort well out of the casino zone. But for many, the weird mix of striking scenery and chance to play craps once the lifts have closed is an intoxicating one. Certainly, this has to be the world's best stag-party skiing destination. The wedding business is huge here, too.
Day-tripping to other ski resorts is obligatory
The other attraction of Heavenly is the fact it makes a good, inexpensive base for exploring the other resorts in the area. Seven – Squaw Valley, Alpine Meadows, Sierra-at-Tahoe, Kirkwood, Northstar, Diamond Peak, and Mount Rose – provide possible day trips. Two of the resorts – Kirkwood and Northstar – are also owned by Vail Resorts.
The must-skis are Squaw – which was host to the 1960 Olympics and and has some great terrain for good skiers and snowboarders, Northstar is the most upmarket resort in the Sierra – a bit like Heavenly with lots of groomed intermediate runs and some steep stuff, too. Unlike Heavenly, they have a pitchy groomer off Lookout Mountain.
There are shuttles to Kirkwood and Northstar from Heavenly Village at $40 round trip, and free shuttles operate to Sierra-at-Tahoe. Hiring a car is still the most flexible option for visiting the resorts, but the vehicle need to be 4WD with M+S (mud and snow) rated tires.
---
---
Guide to the Mountain
You won't forget the view in a hurry. Stand at the top of the Heavenly ski area and on your left yawns the vivid blue expanse of Lake Tahoe, ringed with snowy mountains (the highest peak is Mt. Whitney). On the right, at a much lower altitude is the dun-brown Nevada desert. It's very green during spring, as water leaks into the Carson Valley. Lake Tahoe itself is actually a bit deeper than the valley. We're pretty sure there's nothing else like it in the ski world: the lake never freezes and you'll never get tired of the contrast.
The skiing's pretty interesting, too, ranged over two thickly-wooded faces of the same mountain, and offers a rich mix of terrain. Intermediate trails, vicious bump runs, hidden off-piste glades, easy tree-skiing, some tough chutes and two terrain parks; you'll find them all here. It's fairly extensive too – 4,800 acres in all, making it the largest ski area in California and third largest in the USA after Park City and Vail. However, it's a long way short of North America's largest (Whistler has 8,171 acres). It's also smaller than the big Alpine areas (Val d'Isere and Tignes offer 24,000 acres of terrain).
Top-to-bottom vertical is around 3,500ft (1,067m), which is the biggest drop in the Lake Tahoe area, but less than the likes of Revelstoke, Whistler or the big Alpine resorts. For all skiers, there are three big advantages to skiing here:
1. Heavenly, like all the Tahoe resorts, is a weekend ski destination. The bulk of its business comes from San Francisco, and when the city is back at work, Monday to Friday, the slopes are all but deserted. Anyone raised on the crash-and-tangle of the Alps will think they're in heaven.

2. There are lots of other ski areas ranged round the lake, and they vastly increase the extent and variety of terrain on offer. Squaw Valley for example offers wide-open freeride slopes, and is a real boon to anybody who doesn't like off-pisting through trees. Meanwhile, Northstar offers the last word in tree-skiing down long, sustained slopes – as well as easy groomed trails. You'd be mad to come all this way and not try out at least a couple of them.

3. On most advance purchase lift tickets and passes you get the EpicMix as part of the package – free photographs of you and your friends at the top of key lifts, which you can then build into an online souvenir of your skiing day, along with your skiing stats.
The mountains here "enjoy" a maritime climate, which means periods of feast or famine when it comes to snow. The resort boasts 275 sunny days, but Lake Tahoe is famous for the monstrous Pacific storms which have been known to dump 18 foot (5.5m) of snow on the slopes in the space of ten days. And the great advantage it has over some of its Lake Tahoe rivals is that almost all the terrain is below the treeline – so when the weather closes in you can still see where you're going – and carry on skiing.
That said, whole months can also go by with barely any fresh snow at all. That's fine if you're an intermediate and plan to stay on the groomed pistes: the resort has a lot of snow-cannons. And let's not forget that a dose of brilliant sunshine is big mid-winter pick-me-up. But for freeriders who have set their hearts on knee-deep powder it can be a risky choice: unless they can book at the last minute.
Intermediates will like it best
Heavenly's groomed trails are mostly gentle, and tree lined – and perfect for once-a-winter skiers who are still mastering their parallel turns, or need a few days to warm up their legs before progressing to steeper terrain. The best of them are over on the Nevada side of the ski area, but there's also a wonderful top-of-the-world cruiser to be enjoyed at Ridge Run, over on the Californian side. On a sunny day, the lake views will blow your mind.
But after three or four days, all but the wobbliest skier will want to move on – at which point you should jump in your hire car and get day-tripping.
Not bad for beginners
Most first-times skiers make their first turns on Easy Street, a short nursery slope at the top of the main gondola by the Tamarack Lodge. Boulder Lodge has magic carpets and a slow triple-chair on all green terrain. You can also take a shuttle over from the Transit Center in Heavenly Village. Then there are plenty of easy pistes to progress to.
However, half the fun of coming to Tahoe is to put together a ski safari around the lake, and you'll be missing out if you make this your first skiing destination, and don't feel confident enough to make a tour. So check out our guide to the best resorts for beginner skiing.
Kirkwood, for example, has awesome beginner terrain at the Timber Creek area. One slow triple and one fast quad-chair. Unless it's a powder day and good skiers are out on the Palisades, there are few fast skiers ripping through it.
Advanced and expert skiers should hire a guide
Despite its reputation for easy skiing, there's some tough terrain squirrelled away in Heavenly's nooks and crannies. Most famous is Gunbarrel, the long and vicious double black-diamond bump run which plunges down towards the lake on the Californian side lake. But the toughest terrain of all is in Killebrew and Mott canyons on the Nevada side. Don't even think about skiing down either of them unless tight turns in rocky chutes are your thing. Most of the people in Mott's and Killebrew's on a powder weekend are not up to skiing them!
But generally the off-piste is widely-spaced trees, not too steep. Oh yes – and remember that in common with most North American ski resorts all 'off-piste' terrain within the ski area's boundaries is avalanche-controlled. Guides are definitely needed at Heavenly (and at Northstar) for strong skiers and snowboarders, freeriding, go-anywhere types.
At a slightly less exalted level, Heavenly is also home to some lovely gladed tree runs, hidden away from view between the groomers. Maggie's Canyon, Dipper Woods, Skiways Glades are some of the names to conjure with – but many skiers have no idea they are there – and if they do, they couldn't find them because access is often confusing. So if you luck into fresh snow, your best bet is to club together with your ski buddies and hire a guide for at least half a day. He or she is going to transform your understanding of what Heavenly has to offer. Which is exactly what happened to Welove2ski recently.
What Heavenly lacks, however, is much in the way of steep, groomed runs for expert skiers. So if there's no powder, or you don't fancy banging down bump runs all day, you might find yourself moving on to the more uniformly steep terrain at Kirkwood and Squaw Valley.
When it comes to freestyle skiing, Heavenly doesn't have the quite profile of big names like Whistler, Breckenridge or Laax. But hey, of course there are terrain parks here. And with Vail Resorts' financial muscle behind them, the shapers have created a host of great features.
There are two parks at Heavenly. Groove Park, is a beginner park near the top of the Tram on the California side. It is a terrific place to learn, practice and jib on. Access is via the Groove Chair. High Roller is an intermediate park between Sky Chair and Canyon Chair. There's also a family skicross course that allows everyone experience and enjoy the challenge. This park is a fun place to take your skills to the next level.
Don't miss the other 13 resorts
Squaw, Alpine and Kirkwood are very tough on overcast days because there are not a lot of trees, so seeing where one is going can be a challenge. These three resorts suit strong skiers and snowboarders best, too and there's not a load of skiing for intermediates at Squaw. Alpine has some fun intermediate terrain and a fast chair, Summit, to get you there. Kirkwood's intermediate chairs are fixed-grip oldies, although aggressive intermediates with good speed control skills can probably handle Zak's and Sentinel Bowl (single blacks) off Chair 6 – The Cornice.
Sierra-at-Tahoe may be a smaller regional resort, but it has some terrific intermediate terrain off the West Bowl Chair (on a fast quad) and it's a resort that's more wind-proof than the others, as many of the runs and chairs are in the lea of the main storm track from the southwest. If you are staying on the South Shore and Heavenly is closed because of wind, this is a good place to check out for this reason – there's a free shuttle.
---
---
Where to Learn
The resort owns and runs the ski school here – as is the case almost everywhere in North America. The rule of thumb is that the quality of ski instructor is high.
Bear in mind that, for adults, courses are structured very differently from those in the Alps. Most skiers (and a lot of snowboarders) come to Heavenly from northern Californian cities over the weekends. They're not in the market for a week of tuition – and so classes are sold either as half or one-day affairs. By the way, some 40% of the snow-users here are snowboarders, which is well above average for a resort.
In common with other Vail-owned resorts, Heavenly also runs an Ultimate 4 package – which is half-way between a private one-day lesson, and group lessons for first- and second-weekers. Groups are restricted to four pupils, and the idea is to learn while exploring more of the mountain. It can also include a lift ticket and rental. It's a good idea – but if there are in fact four of you in your own group, skiing at roughly the same level, it's actually significantly cheaper to hire a private instructor for the day.
Private lessons make it more likely for you to be given with a PSIA full-certified (Level III) instructor. Group and private lessons are either half day or all day. Strong skiers looking for an adventure should ask for a Level III instructor that can take them to the more hidden spots on the mountain in Mott's and Killebrew's Canyons.
By the way, if you're new to Heavenly, and in the hunt for powder – and it's snowing – it's definitely worth hiring a guide to show you where to go. It will make the difference between a day to remember, and one spent banging into trees and getting lost.
For children, multi-day ski lessons (up to five days) are available – and the price includes lift ticket, lunch, snacks and equipment. In the end, the package works out roughly the same as putting your kids through ski school in the French Alps.
---
---
Where to Stay
Much of the accommodation is in South Lake Tahoe, but gambling is no longer the top reason people come here. It's certainly not the way the casinos get their revenue any more. The rooms are usually spacious and they can be cheap, too, especially in the middle of the week.
A large number of motels in the Stateline area have been purchased by small lodging companies and turned into boutique-style properties. They aren't quaint like the European ones, but they offer some pretty good amenities. Here are a few:
The Landing Resort & Spa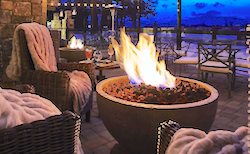 The company spent about $8 million renovating The Landing at Tahoe into a pretty chic property. It's across a small, quiet street from Lake Tahoe. They have a Mercedes shuttle, smart spa and gym, and an upscale restaurant.
The Coachman Hotel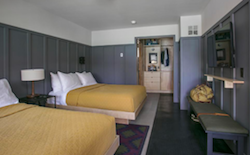 Cheaper is The Coachman Hotel. It still looks like a motel and in many ways it is, but is kitted out with Frette linens, Apple TVs, a coffee bar, and fire pits. South Tahoe Ice Arena is 3km from The Coachman, while the Heavenly gondola is five minutes' walk away.
Base Camp Hotel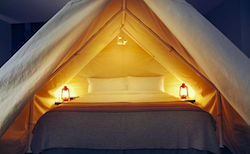 Also reasonably-priced is the Base Camp Hotel. It's another property that looks like a motel, but inside it's an 'adventure property', with some rooms featuring beds inside tents. It makes a good spot for younger skiers, with its fire pit, beer garden and roof-top hot tub. It offers (continental) breakfast.
Lake Tahoe Resort Hotel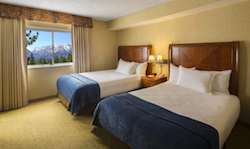 Lake Tahoe Resort Hotel is the largest full service hotel on the California side, with 400 rooms, and adjacent to Heavenly Village. Rooms are large and functional, and the suites are great for families or groups of friends as they can sleep four people without feeling overcrowded. It is across the road from Harrah's casino, and a five-minute walk to the Heavenly Village gondola.
The Lodge at Edgewood Tahoe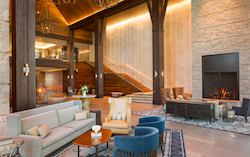 The Lodge at Edgewood is a new five-star property with architecture (lots of wood and high, beamed ceilings) and decor based on the historic lodges of the American West. It's on the banks of Lake Tahoe with a private beach, and has incredible views. Facilities include three restaurants, an attractive spa, and a shuttle-bus. It doesn't come cheap though.
The Marriott Grand Residence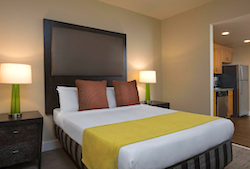 Pick of the South Lake Tahoe ski accommodation has to be the Marriott Grand Residence – in the thick of the development at the base of the gondola. There is a range of studios and apartments on offer here, each with a kitchenette – so at the very least you won't have to go out for breakfast. The casinos are a short walk away.
The Ridge Tahoe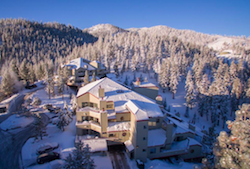 The Ridge is a private resort, club and spa located at the base of the Nevada slope and next to the Stage Coach Lodge and chair-lift – so it's ski-in ski-out. It contains hotel rooms, suites, large and well-equipped self-catering apartments, an indoor tennis court, ski shop, an outdoor swimming-pool, and has its own shuttle bus.
Harrah's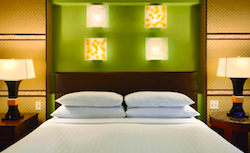 As for the casinos – well, you're staying in a vast multi-storey money-making enclave, so don't expect the Ritz. That said, the feedback is still pretty good – especially for Harrah's. Rooms are big and clean and midweek they can be cheap. The property contains a nightclub, spa and indoor swimming-pool. –
Further afield
Sometimes it's necessary to have a night's stopover on the way to or from another country or just further afield, and Reno has internal flights from major international airports like Las Vegas and San Francisco.
The Peppermill Reno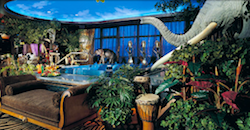 You can stay here at the Peppermill Reno, which has 1,621 rooms including a 600-room all-suite tower. There's a spa here, as well as a choice of seven restaurants and cafes. The suites include the Safari Adventure Super Suite, which has a safari-themed living room featuring a Jacuzzi surrounded by African sculptures. Above it is a dome with day, night, and star-spangled sky scenes.
The Row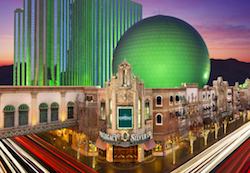 An even bigger hotel complex is The Row. It contains three properties: The Silver Legacy, Eldorado Resort Casino and Circus Circus, all of which are owned by the same company and are linked together by indoor walkways and escalators, creating a sort of city-within-a-city. Once inside it's hard to leave – because there's everything here, such as a choice of 25 eateries ranging from Mexican to Japanese, 22 bars, 11 nightspots (such as the Laugh Factory where you can watch shows in an intimate atmosphere), thousands of rooms and suites, The Silver Legacy Spa, and of course gambling for adults. In Circus Circus there are children's arcade games and, true to its name, there's even a Big Top (with performances) inside the hotel.
---
---
Where to Eat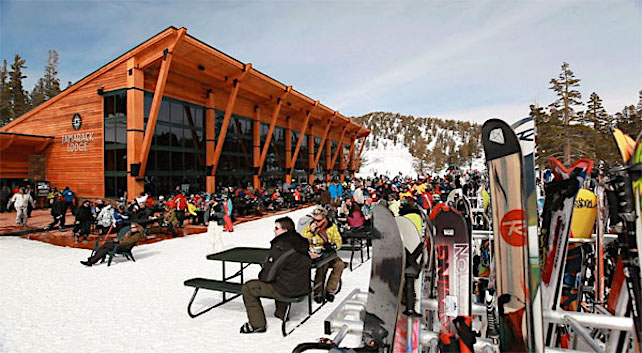 Some reporters say the mountain restaurants in Heavenly are like giant cafeterias. Well, that's true, up to a point: and if you're used to proper sit-down, Alpine-style lunches you're in for a shock. Lunch here is all about refuelling quickly, courtesy of an inexpensive burger, tacos or a wrap, and then clicking back into your skis or snowboard to make the most of the day. It's not worth trying to buck the trend by riding the gondola down to South Lake Tahoe though. It'll make a big hole in your skiing day. Much better to save your dollars for dinner.
Click here for the full range of lunching options. In our experience, there's very little to choose between them – don't build your day around one of them, just go to whichever is nearest (though the Lakeview Lodge does at least have good views of Lake Tahoe). These places are packed at weekends, but more pleasant mid-week. Tamarack Lodge at the top of the gondola is the newest lodge at Heavenly and offers the most food choices and a bar.
The California Base Lodge is the oldest of Heavenly's lodges, but offers a good variety of food choices, has a classic bar and rental shop/retail store in it. East Peak Lodge also offers a good variety of food choices and has a bar. Small lodges with limited food choices are located at Stage Coach and Boulder Chairs. Rentals are available at both as are small retail shops.
A cool spot is Booyah in the Lakeview Lodge at the top of the Tram and Gun Barrel Chair. While Lakeview Lodge serves the same faire as the other smaller lodges, Booyah serves a lot of different kinds of burgers: salmon, elk, ahi and 97 beers (to match their 97 listed runs). Two spots that are mostly outdoors are Stein's near the Patsy Chair and Sky Deck near the Sky Chair.
Save your dollars for dinner
In marked contrast to the burger-and-wrap scene on the mountain, there are some good restaurants in both the town of South Lake Tahoe, and scattered along the shores of the lake. At the base of the gondola, Fire+Ice offers a DIY stir-fry (you choose the ingredients and get one of the chefs to cook them for you, on a vast hot plate): it's fun and fresh, but it would be nice have a bit more guidance from the staff about what goes well together.
The best reasonably priced good food in Heavenly Village is at Base Camp Pizza and Azul. Owned by the same company, they feature fresh food, much of it organic.
Beyond the base area, the casinos house a wide range of restaurants at competitive prices. Some of them are old-style "eat-all-you-can" buffets: the Forest Buffet at Harrah's is a classic. But there are plenty of other options – the Sage Room Steak House at Harvey's and Ciera's Steak and Chophouse in the Montbleu are both good bets if you're feeling carnivorous.
But if you go to only one restaurant in South Lake Tahoe, Evan's American Gourmet Cafe is widely tipped as the best restaurant in town – and has been for several years. Prices are pretty reasonable too, given the quality. "Evan has been here forever. It's terrific," says a reporter. Cafe Fiore is the Italian equivalent and even smaller. Without a reservation you won't get in; the food is good though a bit pricey. There's also a Hard Rock Hotel with a good breakfast – bear in mind that many restaurants we found here don't cater to dietary requests such as dairy-free or gluten-free.
---
---
Where to Party
Heavenly's apres-ski scene went a bit Ischgl – when it launched Unbuckle (+1 530 586 7000) at the Tamarack Lodge (top of the Heavenly Village Gondola). It features discounted drinks and a DJ. The EpicMix Chix now has a family scene with karaoke.
We should point out that Heavenly is not quite a match for Ischgl's legendary party scene – or La Folie Douce in Val Thorens, or the Mooserwirt in St Anton. But at the weekends – when students and city slickers roll in from San Francisco and Sacramento – it does rock, even by Alpine standards.
Thanks to the casinos, it offers a far more diverse range of party action, too. Opal Ultralounge at the Montbleu, Vex at Harrah's are the two big nightclubs, and a lot of visitors end up at one of the bars in the casinos, too. Many of the acts playing in winter are former big names that are in the sunset of their careers; summer is the A-lister season with names like Elton John, Sting, and Aerosmith performing.
Most memorable of all, however, is playing craps with a table full of Americans. The dice-based game is almost impossible to understand, but you have to try it once!
For a quieter scene, McP's pub, on the other side of Lake Tahoe Boulevard from the base village, is a nice place for a low-key beer with friends at the end of the skiing day. Another branch is in the new construction across from the Village, with the same great food and beer. Fire+Ice at the bottom of the gondola is usually livelier, and has three outdoor firepits to gather around.
Other apres-ski activities at Tahoe include snowmobiling and sleigh rides where you can go dashing through the snow across snow-covered fields and pine forests, accompanied by draft horses. Then there's dog-sledding and ice skating. The Tubing Hill in Heavenly is great for young children and adults alike. For the ultimate thrill, and the Ridge Rider Mountain Coaster takes you through forest and natural rock formations to enjoy some beautiful views.