Ceri Tinley is the Managing Director and co-founder of Consensio – the luxury ski chalet operator renowned for its gorgeous properties in the French resorts of Val d'Isere, Courchevel, Meribel and Les Gets. She knows a thing or two about the high end of the ski market, and here guides us through the must-have high tech wearables.

A new wave of technology has hit the ski industry: and it's small enough, and light enough, to fit in your googles or slide into your ski boot. The first devices are already on the market. More will be coming on stream this winter – and they'll do everything from building your fitness to fine-tuning your ski technique.
Here, are some of the most exciting examples: and I've added in some high-tech clothing and protective gear for good measure too. I can't wait to try some of it out!
(Please note, prices were correct at the time of writing, and don't include postage or shipping.)
TRACKING
Piq Boot Robot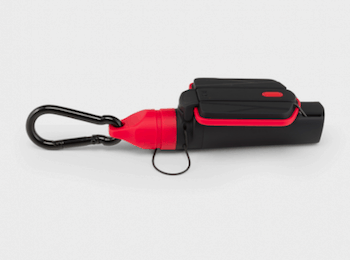 Much more than a simple tracker, you can attach the Piq Robot onto your ski boot to identify your strengths. The device then tracks the speed, force, transition and the angle of your turns, and analyses jumps – and then it rates them. Just strap the ultra-thin and waterproof sensor onto the outside of your boot and off you go… £169, further details from Piq.
Fenix 3 Smartwatch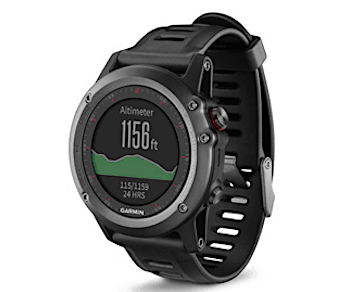 This GPS smartwatch from Garmin works for lots of different sports, but when you put it into ski/board mode it automatically tracks the runs you ski while recording speed, distance and vertical drop. It has an auto pause for when you're on the lift, you can wear it over your jacket and it can also be used as a remote control for Garmin cameras. The Fenix 3's main functions include an altimeter, barometer, compass, temperature gauge and GPS. It can also pair with your smartphone to show text messages, alerts, emails, weather and lots of other features. £429.99 from Garmin.
Madshus Empower Cross-Country Skis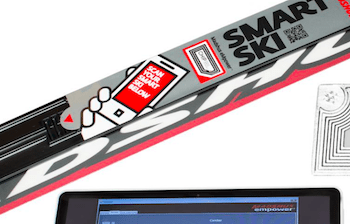 Madshus, from Norway, is changing the way cross-country skis are built and purchased. Through an embedded RFID (radio-frequency identification) chip in the ski construction, you'll get an inside look into each ski produced. The unique DNA of each one is loaded into a global digital database, allowing you to select the perfect pair of skis for your profile. The app also lets you customise your performance, manage your skis, track workouts, and engage with Madshus online. Prices and further information from Madshus.
Carv Ski Technique Analyser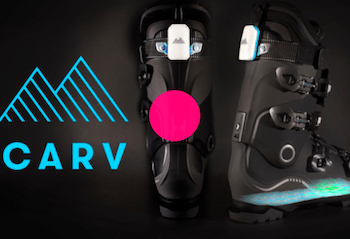 Carv is the first wearable technology that talks to you as you ski – in fact it's a bit like having your own, virtual, ski coach. Inspired by Olympic technology, it gives you the sort of feedback and knowledge that – so far – only racers have had access to.
The 2mm inserts slip into your boots a bit like heaters do in custom-moulded inserts, with a rechargeable tracker clipped onto the back of your boots. It measures your motion and pressure distribution, relaying feedback through earphones. It also connects wirelessly to your smartphone to give a choice of simple feedback or detailed analysis. It lets you compete with and challenge your friends. Freestylers can analyse their tricks and flips, too. US$299 for two trackers and two inserts from Indiegogo. The CARV tracker isn't yet available – its launch has been delayed for a year. Keep an eye on this website for news.
SAFETY
Black Diamond Halo 28 JetForce airbag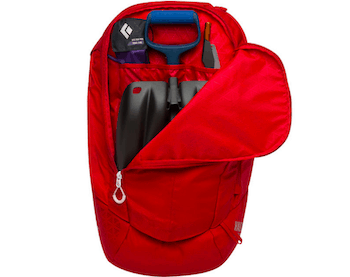 No, it's not new, but it's still one of the most innovative avalanche airbags around – using a battery-powered fan instead of the heavy gas cylinder of other bags. JetForce technology is the result of a collaboration between Black Diamond and PIEPS; it's a repackable airbag with a rechargeable electronics system that lets you practice (free of charge) and is travel-friendly. The Halo also features a dedicated avy tools pocket, helmet holder and ice-axe attachment for keeping your gear in place. From £653 at Snowcountry. More information from Black Diamond.
Inemotion Airbag Vest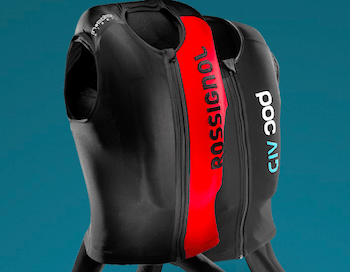 Have you ever been hit by another skier or snowboarder, or bounced down a mogul-slope on your back? If the answer's 'yes' then this could be the answer for you. IneMotion's airbag vest detects unavoidable falls and inflates in under 100 milliseconds in order to protect your hips, neck, back and vital organs before you hit the ground in a fall. It's incorporated into specialist clothing by POC and Rossignol and launches later this year. Price on application, further details available from IneMotion.
ABS Avalanche Airbag Jacket: The Jackson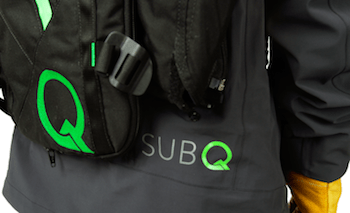 Realising the comfort limitations and restricting nature of current airbag devices, SubQ have progressed from the airbag backpack to a jacket. The Jackson is a lightweight and breathable airbag-integrated shell that lets you enjoy your sport without any restrictions, yet in the safest way possible. The airbag is removable, and if it's too warm to wear the outer shell (the complete jacket weighs 4 kilos) then you can just wear the vest and pack. Oh, and there's also a harness attachment for skis and boards to be carried on your back. This has got to be the ultimate jacket for ski-tourers – it also comes with an integrated hydration sleeve, a beacon, a smaller pack for probe and shovel, and chest pockets to carry skins. US$899, details from SubQ.
SIGHT
Abom Antifog Goggles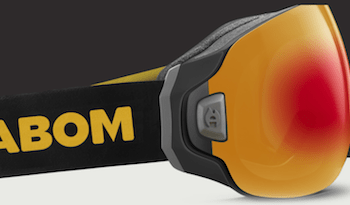 Once there were goggles with fans inside them, but now there's Abom with an invisible heat-conductive film sandwiched between the double lenses. A rechargeable battery sends a current through the film to heat the lens and keep it fog-free for up to six hours. The goggles come in eight colours and there are swappable lenses for different weather conditions. And because you're not forever wiping them, the lenses will last longer too. From US$259, information from Abom.
Dragon Alliance X1s and X1 Goggles
These goggles are for people who don't want the bother (and potential scratches) of swopping lenses whenever the weather changes. The goggles have lenses that automatically transform their tint in response to changing weather, and at the same time they'll block 100% of harmful rays. £225, from Ellis Brigham.
SOUND
Forcite Smart Skiing Helmet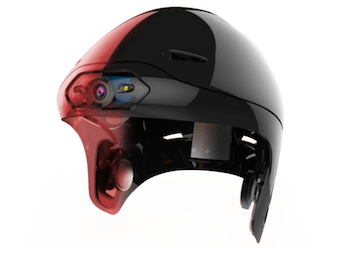 This is an all-in-one solution from Australia that incorporates myriad different devices. It has built-in GPS, 120fps action HD camera, motion-tracking sensors and 200m wireless communication mode. A long-range Bluetooth voice communication system means you can stay in touch – even in the harshest weather – without the need for mobile phone networks. Price on application and more information from Forcite.
Poc Fornix Communicator Helmet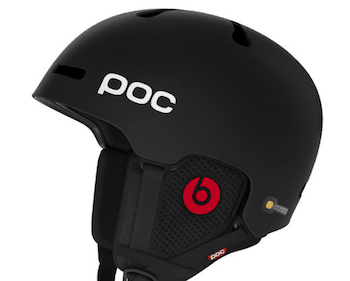 The award-winning Fornix helmet now comes complete with Beats by Dr Dre headphones built into the neckroll. There's a remote control that's compatible with most smartphones, so you can take calls, switch tunes and adjust volume. The lightweight and well-ventilated helmet maintains a high level of protection, and you can customise the fit. £149.95 at Gravity Protection.
Apple AirPods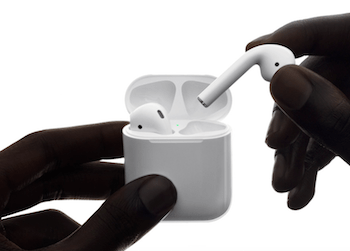 When Apple released the iPhone 7 and 7 Plus with no headphone jack, they also brought out AirPods. The Pods dangle from your ears but they won't fall out – even though nothing appears to hold them in. Place them in your ears and they'll connect instantly. Oh, and you can speak to Siri, answer your phone, and tell her to read back any texts or emails that might have come in while you were making your turns. The Pods also come with a small charging case. £159 from Apple.
Uclear HBC220FORCE Bluetooth Snowsports Audio System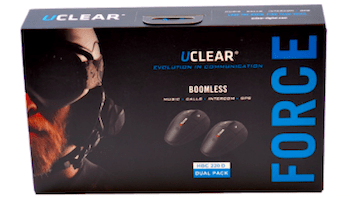 If you want to talk to your friends while you're skiing you'll need an intercom system, which is what the Bluetooth-equipped UClear HBC200FORCE is: it has a person-to-person intercom and places hands-free communication into your helmet. The company's beam-forming technology isolates your voice and eliminates background noise, so users can be heard even in the most extreme weather conditions. 339.95€ from Uclear.
Spark Glow Headphones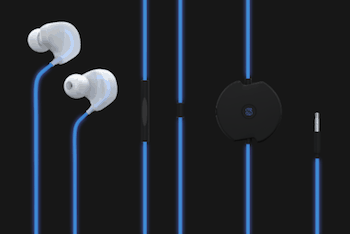 Instead of small and hidden buds, how about showing off your headphones? The electro-fluorescent headphones will certainly stand out on the slopes – with three settings: non-glow, steady glow or flashing in time to your music. They come in four colour choices, all of which show up in the dark or bad light. You can control volume, skips tracks or answer the phone – all with a simple click of the button. It has a built-in microphone too. RRP US$179, but there's a Kickstarter early bird deal if you're quick.
WARMTH
Outdoor Research Lucent Mittens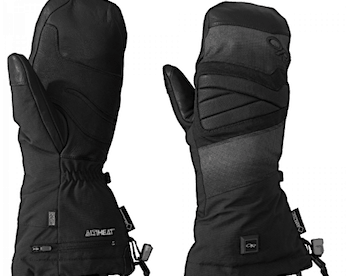 There are lots of heated gloves around, fewer heated mittens. But if you suffer from the cold, mittens are always preferable. Lucent Heated Gloves and Lucent Heated Mitts seem to provide the best staying power on the iciest days. Gore-Tex inserts make them waterproof, and other features include a fleece palm lining. One of the best features is the really long gauntlet style cuff, so no icy air can sneak in at your wrists. US$216-355 from Outdoor Research.
Hotronic S4 Footwarmer Universal Power Plus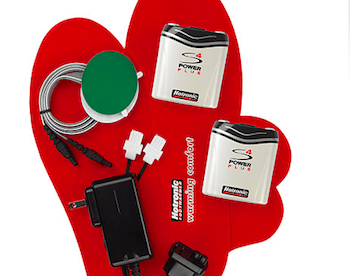 Hotronic's warmers have been around for a decade, but now the batteries have been updated to make them good enough for all-day use. They sit on the outside of your boots and attach to wires that run into heated footbed pads. £150 from Anything Technical.
Therm-ic Powersocks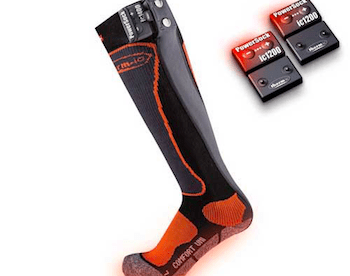 Here's another way to deal with cold feet when skiing. Therm-ic Powersocks have ultra-light batteries that provide heat for up to 14 hours, and the built-in control panel has three heat settings and is easy to use. Charging time for the batteries is no more than a couple of hours and the socks are machine washable (minus the batteries of course!) up to 30°c/86°f. £160 from Lockwoods and other good ski shops.
RECHARGE
EasyAcc all-terrain travel charger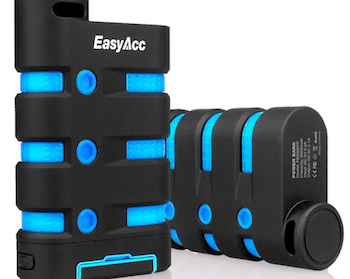 This sturdy all-weather power-bank is waterproof and shockproof, with a built-in carabiner, flashlight and handy compass all included, so it's ideal for skiers and mountaineers. It can charge almost any smart device at double the speed of plugging your device into the restaurant's wall socket at lunchtime. It can also be dropped into one meter of water (or snow) for up to 30 minutes. £39.99 from EasyAcc or Amazon.
WEAR
KYMIRA Sport Base Layer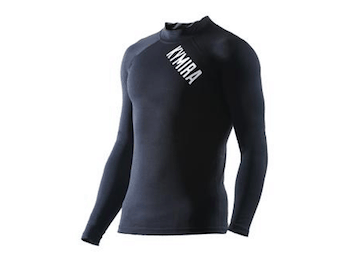 KYMIRA Sport base layers are made from a fabric that recycles your energy back into your muscles and supercharges them. KYnergy Infrared technology causes an increase in a molecule called Nitric Oxide which means that your blood vessels expand, fuelling your exercise for longer, helping your body regulate temperature better and aiding recovery. £80 each for leggings and tops, £50 for shorts, £50 for socks, all from Kymira Sport.
Helly Hansen's Elevation Shell Jacket

This jacket takes comfort and durability to new heights. It has a relaxed fit designed to work with a rucksack, and flex inserts allow extra movement when using a back protector. £350, from Helly Hansen.
Black Diamond Mission Pants with PIEPS Pocket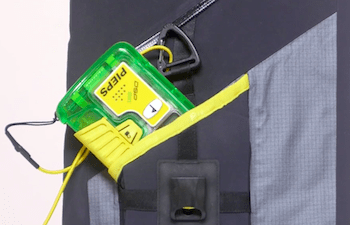 For secure avalanche beacon storage and access, the padded PIEPS Pocket™ on the right thigh features impact foam plus an internal harness for a simple alternative to chest harnesses. This means that it's easier to reach because you don't have to remove any layers to get at it. Integrated RECCO® technology also compliments your safety kit in avalanche-prone terrain. The trousers come in mustard or black, £360 from Ellis Brigham and Snow & Rock, further information from Black Diamond.