Chris Thompson has been MD of family-skiing specialist Ski Famille for 14 years. With a ski-mad 10 year-old and a fearless four year-old in the family, he knows more than most about preparing for family holidays in the mountains.
Keeping your children warm and dry on the slopes, as well when they're out and about in the ski resort, is a priority. Cosy, waterproof, comfortable clothing is essential to ensure your children get the most out of their skiing holiday and, perhaps most importantly, want to come back again! Remember: happy children = happy parents. You'll have a better holiday if they're properly dressed, too.
When it comes to buying good-value children's skiwear, it's hard to beat the high street. Trespass, Decathlon, and Sports Direct are fantastic places to look and TK Maxx in particular offers some great deals on last year's outfits – so you can get designer ski clothes at a fraction of the price.
 

If your children haven't been skiing before, get them used to the gear by playing ski-related games with them or watching YouTube videos – like this one below – of children of their age having lots of fun skiing. Also, your child will probably be thrilled to have a new ski jacket and trousers, as well as the goggles, helmet and mittens, and will love walking around in them at home.
Be sure to dress them them in comfortable clothing (T-shirts and tracksuit bottoms with a jumper or hoodie are good) for the journey, and keep their ski jacket handy, rather than packing in a suitcase, so that it can double as a pillow on the flight and transfer. The younger your child, the more likely you are to need an easily accessible spare set of clothing – ideally packed into your hand luggage.
Buy or borrow?
Borrow or hire clothing whenever possible, and always rent rather than buy skis, boots and helmet. Adult skiers will want to buy their clothing and regular skiers may choose to own a pair of boots, but with children and their pesky/costly habit of growing, borrowing from friends or family is a key money-saving tactic. If that's not possible then a good-quality rental service is a great resource. A week's hire of a ski jacket will cost a lot less than buying one. Skismart is one of the hiring specialists. 
One piece or two?
A jacket will always come in useful and trousers or salopettes can also be worn at home for winter walks, tobogganing, snowball fights and snowman-making. Choose a bright colour if you can, as you'll be able to spot your child more easily on the slopes and at ski school pick-up time.
For the youngest children, an all-in-one snowsuit is a great way to ensure they stay snug and dry whilst having fun in the snow. Over the years, I've found some great one-pieces on the high street including a dare2b snowsuit which comes in a range of designs, and a Columbia snuggly bunny all-in-one. Both are under £40.
For children over five, a separate jacket and trousers provides a more flexible option and is much easier to negotiate when it comes to bathroom and hot chocolate stops! You can mix and match designs to create your own look, or coordinate colours to give the appearance of a one-piece without any of the hassle.
Check out discount stores such as Mountain Warehouse, as well as the specialist ski shops such as Ellis Brigham and Snow + Rock. Online retailers include Littleskiers which features brands such as Columbia and Roxy; and MuddyPuddles which has its own range of children's outerwear including ski gear.
Goggles or sunglasses?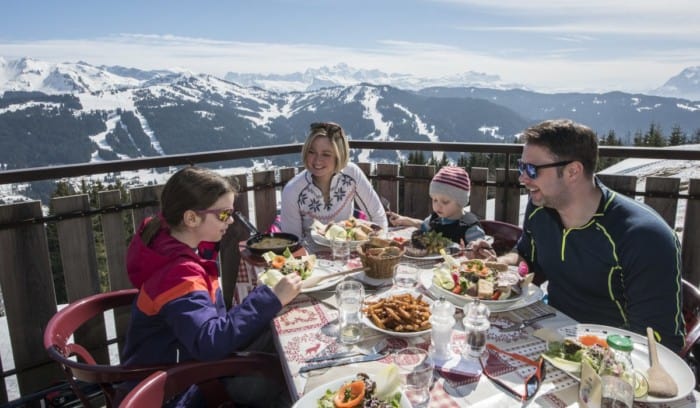 Goggles are more practical and protective than sunglasses – which won't stay on, are easily lost, and are no use if it's snowing or windy. Make sure the goggles fit over a helmet, and don't spend a fortune on them as they will eventually get scratched or break. It's worth bringing your children's sunglasses in your backpack for sunny lunchtimes.
Ski helmets
Everyone should wear a helmet when they ski, whatever their age. Don't make the mistake of thinking that beginners and small children will be better off and warmer in a woolly hat; even nursery slopes can be rock hard if they fall on their heads. You can either buy a helmet before your holiday – or they can be hired along with skis and poles in the resort. Hats are strictly for apres-ski only and never worn under a helmet. For added warmth, you can buy thin helmet liners made from a similar fabric to base layers and that fit under the helmet. Jazz up a helmet with a helmet cover from LittleSkiers – they range from koalas and bears to sharks and monsters.
Gloves or mittens?
Mittens are a lot warmer than gloves, so always buy these for younger children. For those going to ski school or kindergarten, in order to avoid loosing a glove make sure you attach them to some chord or ribbon which slots into the jacket sleeves. 
What to wear underneath
The one thing that is worth buying is a thin thermal base layer – top and bottoms – to be worn next to the skin. Ideally, get a couple of pairs so they can switch to a fresh set half way through the week: though they dry quickly on a bathroom radiator, so you can always do a mid-holiday hand-basin wash instead. If your children play football or hockey in an average British winter, you'll get lots of use from them at home. They're brilliant for rainy-day walks as well.
Unless you're skiing on a warm spring day you'll also want to add a layer of insulation between jacket and base layer (remember, in ski school, your little ones will be standing still on magic carpet lifts for long periods, so won't be generating as much of their own warmth as you do). Any old fleece will do or even a woollen jumper. There's no need to buy specialist ski clothing for this job. Just make sure they're wearing a base layer underneath.
Neckwarmer or scarf?
Neckwarmers – or neck gaiters – are made either from soft fleece, Merino wool or a breathable fabric, and they stay in place much better than a scarf. They're nice and warm, and will help stop the wind from whistling down your little one's neck and will also prevent the jacket's cold metal zip from rubbing against their chin.
Ski socks
Some people are set on the idea that really thick ski socks – or perhaps even two pairs of socks – make for warmer feet. Wrong. Modern boots are well insulated and thinner socks allow for a cushion of warm air between foot and inner boot. Your child should be able to wiggle his or her toes and not get pins and needles.
Skis, boots and poles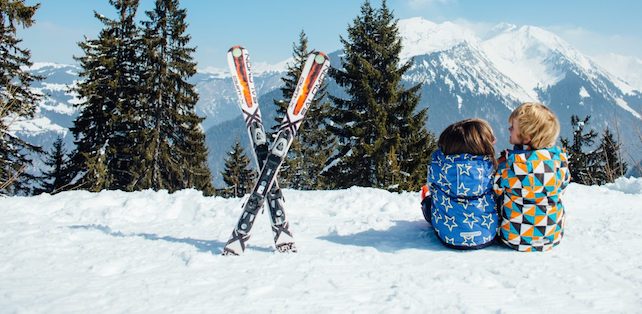 First of all, don't buy them skis, boots and poles until their feet stop growing. It's standard procedure to hire them all, in the ski resort. Complete beginners won't need poles and their instructor will tell you when they're ready to change ski length. Look at Welove2ski's rental guide for advice on how to hire skis and boots in your ski resort.
Sunscreen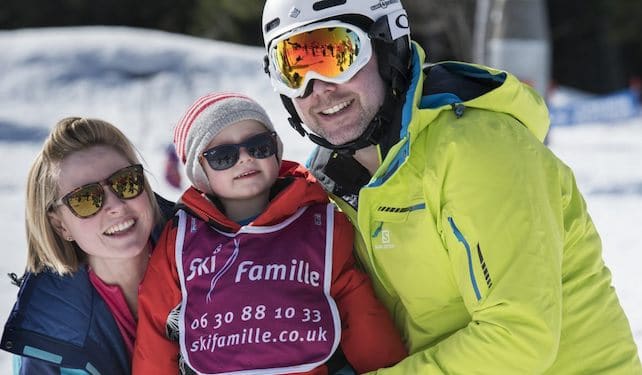 It may be winter, but the sun, at altitude, can be brutal – especially on fair or delicate skins. Buy a small tube of SPF30 to SPF50 cream for face and lips and apply before setting off in the morning. If they're at all-day ski school or kindergarten, put a tube in their pocket, too.
Apres-ski clothing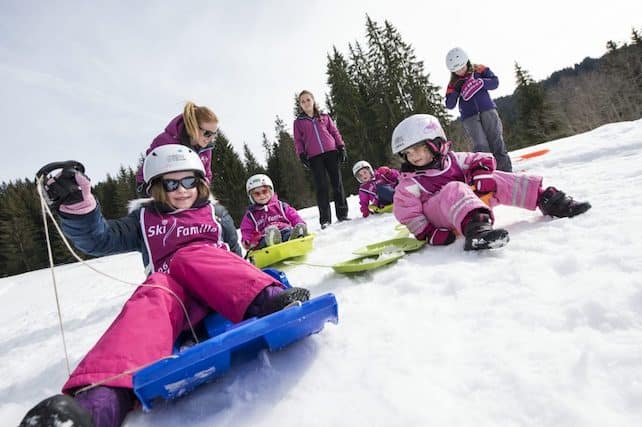 Take an extra pair of ski gloves as theirs will end up sodden, and pair of trainers, walking boots or some sturdy snow boots for wearing outside the evening, as your child may get involved in tobogganing, snowball fights, one of our snowman competitions or Marmot hunts in the woods – all of which will make them very wet. It's important they keep on their base layers for this kind of activity. If they have any cotton next to their skin – jeans, leggings, t-shirts etc – and it gets wet, they'll freeze. In fact, they might as well wear their whole ski outfit.
Make sure you bring their swimming things too, just in case you want to spend an afternoon at the resort pool or sports centre such as the Magic Pool in La Plagne, the Aquaclub in Les Menuires, or the swimming complex in Morzine.
Taking Babies
If you're bringing your baby you will need to come well prepared. They will need suitable warm clothing, ideally a one-piece snow suit, sunglasses or baby-sized goggles, and sun-block of a minimum SPF30 – or SPF50, and you'll need to pack some Calpol or similar.
Around a third of the children staying with us are aged three or under, so we provide free nappies and wipes – (just travel with what you need on the journey), travel cots, high chairs, changing mat, baby bath, steriliser, baby food, and all-terrain buggies. Bring plenty of your usual milk formula, bottles or feeder cups. Take a buggy or baby backpack for the airports. The baby packback will get lots of use for family walks in the resort: but if there's any snow on the pavements, you'll be very unlikely to use the buggy.