How do we choose the greatest female Olympian alpine skiers of all time? So many of them have excelled on the World Cup circuit, but when it came down to that single one- or two-minute lifetime performance before a global TV audience they've not been able to deliver. The real stars have won medals across as many as three successive Games. Below is our Top Dozen (in no particular order). You can also read about other famous downhill skiers here.
Janica Kostelic of Croatia
Janica Koselic stands apart as the greatest female Olympic skier with four gold medals and two silver at Salt Lake City and Turin. It's highly likely she would have added to that haul at Vancouver had she not been forced to retire through injury after no less than 10 knee and thyroid operations.
Most famous quote: "It seem the more difficult the conditions, the better I do…You live only once and therefore every moment should be used for doing what we like." Where is she now? Kostelić has been the State Secretary for Science, Education and Sports in the Croatian Government since 2016.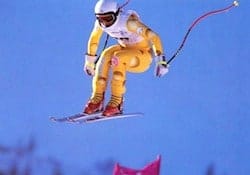 Vreni Schneider of Switzerland
Vreni Schneider won five medals including three golds at Calgary and Lillehammer. She's one of the most successful female ski racers of all time. She was named Swiss Sportswoman of the (20th) Century. Vreni is immortalised in song by UK rock band, Half Man Half Biscuit, on their 2000 album, Uffington Wassail and lyrics include 'Vreni Schneider – you're my downhill lady! Vreni Schneider you're the queen of the slopes.' She's even had a go at being a singer in her own right.
Most famous quote: "Ski racing was fun but for me the greatest thing in my life is to be at home with my children." Where is she now? She runs a ski, snowboard and racing school in her home village of Elm and also has a sports shop in the Swiss town of Glarus.
Deborah Compagnoni of Italy
Deborah Compagnoni won three golds at three Olympics. She dominated the Super-G at Albertville and the GS at both Lillehammer and Nagano. She also won silver in the Slalom in Japan. She grew up in Santa Caterina Valfurva and her family have a ski hotel that's now named after her.
Most famous quote: "I enjoyed the Super-G, the trouble is that Slalom is boring by comparison." Where is she now? She's married to Alessandro Benetton, the company chairman. They have three children and live in Ponzano, 30km north of Venice.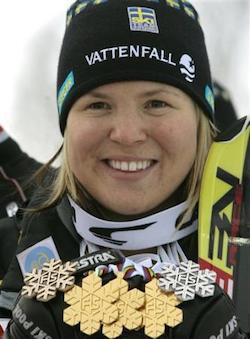 Anja Parson of Sweden
Anja Parson won gold in Slalom at Turin, Silver at Salt Lake City, along with four bronze medals in a career that spanned three Olympic Games – she also took home bronze in the Combined at Vancouver. She was born in the little village of Tarnaby, a three-lift resort with 500 inhabitants. Ingemar Stenmark was a neighbour.
Most famous quote: "I grew up in the mountains. Nature has since been my main source of energy. There, I've gathered force, and where I have found harmony when I have needed it the most."
Where is she now? After living in Monaco during her racing career, she moved back home and since 2015 has worked as a sports expert for the Sveriges Television.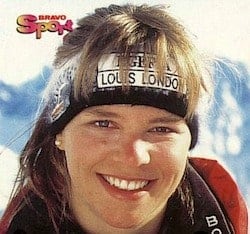 Katja Seizinger of Germany
Katja Seizinger won gold in the Downhill at both Lillehammer and Nagano where she also won gold in the Combined. She also picked up bronze in the Super-G at Albertville and bronze in the GS at Nagano.
Most famous quote: "World Cup skiing is a team sport, but when you're in the starting gate you're all alone."
Where is she now? She lives in Eberbach near Heidelberg and is chairman of a family steel empire with 3,000 employees. She's married, with three children.
Hanni Wenzel of Germany
Hanni Wenzel was born in (then) West Germany but raced for Liechtenstein where she lived from a young age. She won bronze in the Slalom at Innsbruck in 1976 and followed up with golds in Slalom and GS at Lake Placid, as well as silver in the Downhill. She married Harti Weirather, Austrian downhiller and World Cup winner who held the course record on the Hahnenkamm for ten years. If the surname isn't familiar, it should be. Their daughter Tina Weirather is a racer, too. The family has won two-thirds of all the Olympic medals ever earned by Liechtenstein's athletes, in summer or winter sports since 1936.
Most famous quote: (from Tina, not Hanni): "Being in a family of Olympians is just normal for me. I don't know it any different because I grew up like that. I don't know how it is to have other parents and that's why I don't have a problem with it."
Where is she now? She couldn't be anywhere else but watching her daughter race, anxiously. She had four ACL ruptures before her 21st birthday and injured her hand after falling at a World Cup event in Val d'Isere in December 2017.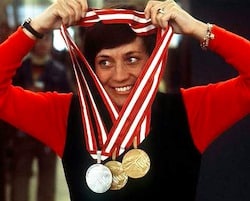 Rosi Mittermaier of Germany
Rosi Mittermaier won golds in Downhill and Slalom at Innsbruck in 1976, as well as silver in the GS. Her Downhill victory at the Games was the only one of her career. Her home town of Reit I'm Winkl in Bavaria is on the Austrian frontier and the Tiroleans can be forgiven for claiming 'Gold-Rosi' as their own when she won at Innsbruck. Rosi is also a singer – she and her younger sister Evi have recorded two albums of Bavarian folk songs. She's married to former World Cup Slalom star, Christian Neureuther, who competed in three Olympics for Germany. Their son Felix Neureuther is a World Cup skier, who has had 13 World Cup victories and 47 podiums. Unfortunately he won't be competing at PyeongChang due to tearing his cruciate ligament during training this season.
Most famous quote: "In my way and my day I was good and so too was Christian. But, edge to edge, neither of us and no one is faster than Felix."
Where is she now? She works for several charities and occasionally as a commentator for German television for major sporting events.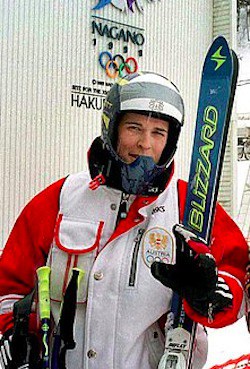 Michaela Dorfmeister of Austria
Michaela Dorfmeister won silver at Super-G in Nagano and then double gold in Downhill and Super-G at Turin. At 33, shortly before her retirement, she was the oldest competitor to win a World Cup. Dorfmeister is the only daughter of a butcher in Vienna where she lived as a child. Her talent won her a place at the Schladming ski academy where many of the country's top racers were educated.
Most famous quote: "It would be arrogant to say I knew I was going to win. I had the voices of a thousand little gnomes in my head telling me this would be my day."
Where is she now? At home with her daughter and German shepherd dog – when not working as a life coach.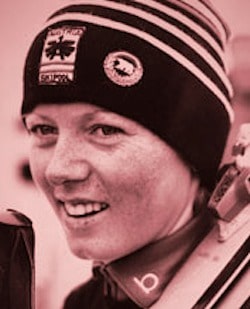 Annemarie Moser-Proell of Austria
Annemarie Moser-Proell won two silvers at Sapporo and then a glorious gold in the Downhill at Lake Placid. After her racing career she opened a popular restaurant called Weltcup-Café Annemarie in the ski resort of Kleinarl in the Salzburger Sportwelt ski region where her parents had a farm. The restaurant was decorated with her extraordinary collection of ski trophies.
Most famous quote: "Skiing has got a lot more dangerous than in our time. The speeds in the turns have become enormous. I think we have to now think very carefully about where racing is going – it's about human lives."
Where is she now: Annemarie married, had a daughter, and is now a grandmother. After the death of her husband in 2008 she sold her business and retired.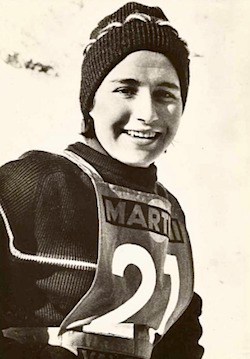 Marielle Goitschel of France
Marielle Goitschel won gold in the GS at the first Innsbruck Olympics in 1964 and silver in the Slalom. Then she gained gold in the Slalom at Grenoble four years later. She was raised in Val d'Isere, became World Champion at 16 and retired at the age of 23. Her older sister, Christine, also raced in the same era and won gold in the Slalom and GS silver at Innsbruck in 1964.
Most famous quote: "I live with my dogs and my cat. I can see the sea from my window and I watch sport on TV. What a wonderful life!"
Where is she now? She swims a lot, and works as a town councillor near Ajaccio in Corsica. She still likes to ski, despite having had a knee replacement.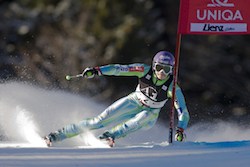 Tina Maze of Slovenia
Tina Maze is the most successful Slovenian skier in history, with a career that culminated in two gold medals at Sochi in 2014, to add to the two silvers she won at Vancouver and four world titles. Perhaps her greatest achievement was away from the Olympics in 2013 when she scored the record for the most points in a single season, among either men or women. Tina Maze specialised in all disciplines. Photo: (c) Shutterstock.
Most famous quote: "I saw being an all-rounder as different meals. One's meat, one's pasta, and one's fish. It's not just pasta."
Where is she now? She retired in 2016. In her time off from competition she qualified as a teacher, worked as an expert on TV and has published a children's book.
Lindsey Vonn of the USA
Lindsey Vonn won gold in the Downhill at Vancouver and bronze in the Super-G. Injury prevented her defending her title in Sochi where she would have been a hot favourite. She won Bronze in the Downhill at PyeongChang. She is one of only a handful of women to have won World Cup races in all five disciplines and is the most successful American skier in history.
Most famous quote: "Everything about my life seemed so perfect to people. But I struggle like everyone else." Where is she now? Lindsey Vonn won a Bronze medal at PyeongChang.
Like our male Olympians, a host of big names are missing: Mikaela Shiffrin (who won GS Gold and Silver Combined at PyeongChang), Maria Walliser, Julia Mancuso, Nancy Green, and Picabo Street…and that's just the start.
Also see our posts on The Top Male Olympic Skiers, The Best Resorts for A Winter Olympics Buzz, Sochi and PyeongChang.