In a Nutshell
LAAX is one of Switzerland's largest and most snowsure ski areas with a big vertical drop, and a good choice of hotels and mountain restaurants. The resort has been the Granddaddy of freestyle ever since the movement began in the 1980s when the first half-pipe was built here. Now every young gun worth his or her bullets wants to be seen here.
The Stats
Altitude: 1050-2050m
Lifts: 28
Top Lift: 3018m
Ski area: 220km of piste
Adult lift pass: 234-254€ for six days


Official Site |

Ski Map |

Webcam
Essential Advice for the Perfect Trip
LAAX is the marketing name for the linked ski circuit above the villages of Flims, Laax and Falera, which is regarded – glorified, even – as Europe's leading freestyle resort. It was one of the world's first ski areas to embrace the freestyle skiing and snowboarding movement and is today considered the Granddaddy of the sport.
Located in the Graubunden region, Flims Laax Falera has been a spa resort since the 1880s, and a ski resort since 1962 when the glacier above was first developed for skiing. It is made up of the separate resort of Flims Dorf, which is the most convenient, and the separate Waldhaus Flims Alpine Grand Resort & Spa. Laax is also a bus ride away from the lifts but at the base-station itself is the ski-friendly rocksresort.
LAAX has also become a serious destination for snowboarders, who congregate at Riders Hotel. With this comes all the cool eateries and an apres-ski scene that explodes at the weekend when twenty- and thirty-somethings pour in from Zurich.
Falera is a smaller and more rural community, but with a direct lift link into the ski area. A shuttle bus connects all the accommodation and base stations.
---
---
Guide to the Mountain
The skiing in Laax takes place on the 3018m Vorab Glacier and on the slopes of four other interconnected mountains. Much of it is above the tree-line and suited to skiers from beginner to advanced, but particularly intermediates in search of long cruising runs. Beginners should, however, make sure they choose their accommodation near a lift station, as the distances in the spread-out villages can be quite big. However, there is a free shuttle bus that takes you between the lift stations in the valley.
There is also plenty of steeper terrain, divided by bands of rock and steep gullies in the Siala and Cassons sectors. A long itinerary from the glacier descends 2000m to the remote hamlet of Ruschein Ladir. "The long black off the back of the little glacier at the top of the resort is superb, and there is some good ungroomed itinerary terrain" advised a reporter. Another recommends: "my favourite run has to be from La Siala at 2810m down to Flims at 1100m, a thigh-burning 12km in all – it's the longest in the resort".
Long wide trails and some steep pitches
The undulating FIS downhill course from Crap Sogn Gion down to Laax-Murschetg provides plenty of scope for boy and girl racers, but no great technical difficulty when not prepared for racing. A more challenging descent is the Platt'Alva itinerary from Nagens or the black Sattel from Vorab down to Alp Ruschein and Ladir.
We couldn't mention Laax without talking freestyle. The resort was one of the first ski areas in the world to embrace the freestyle skiing and snowboarding movement that erupted at the turn of the Millennium. It has since established itself as a superpower in its area of expertise, hosting (among others) the LAAX OPEN and The Brits (British Snowboard and Freeski Championships) each year.
It's probably worth mentioning The Brits – which Ski Sunday/High Altitude presenter Ed Leigh described as "Glastonbury meets the FA Cup on snow" – in a little more detail. If donning XL ski pants and practicing your spins in the park sounds like you, then The Brits is the event for skiers and snowboarders from the UK. The competitions are a magnificent spectacle, whilst evening entertainment in the past has featured performances by DJ act Scratch Perverts and Mercury Award Nominees The Go! Team.
Laax is a prime destination for freestylers
But back to the mountain itself. Laax boasts four terrain parks – called snowparks here. One of these is on the Vorab Glacier at 3018m, and all four centre around the mountain's freestyle hub at Crap Sogn Gion (no, we didn't make this name up: in this part of Switzerland, 'crap' means 'rock' in Switzerland's fourth language Romansch). It's more like one giant super park in our opinion, with every route away from the cafeteria at the top of the Crap Sogn Gion offering freestyle features.
A beginners' area has some smaller rails and boxes as well as a twin line of smaller kickers – and the NoName and Ils Plaun parks (the latter is next to the beginner snowpark), which between them have two half-pipes. One of these is the massive 200m super-pipe – the biggest in Europe. There are also several kicker lines and over 90 obstacles.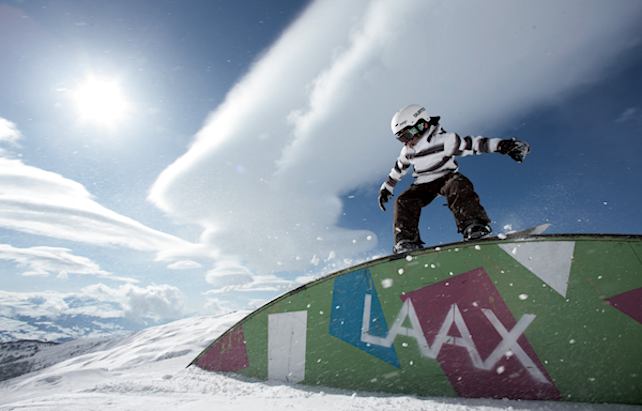 …and for snowboarders
Laax is also magnet for the snowboarding population of Zurich, who gather at the terrain parks and half-pipes at Crap Sogn Gion. Several big annual events now take place in the resort, including the LAAX OPEN and The Brits (British Freeski and Snowboard Championships).
If you're after tuition, the LAAX School has branches in Flims, Laax and Falera, and the Freestyle Academy is for those who yearn to be a cool jibber or reckless ripper and want to practice their tricks indoors on trampolines in a safe environment before trying them on the snow.
Despite its gold-plated freestyle credentials, Laax is less popular as a freeride destination. Unless you're riding with a guide, you'll find the off-piste terrain quite bland. Nevertheless, it's worth noting that Laax can get heavy snow when the rest of Switzerland is dry (because it shares in the storms from the north that dump on Austria and often miss most of the Alps). So if you're on the hunt for powder, you should always check out conditions here.
---
---
Where to Learn
The mainstream Swiss Ski Schule has branches in Flims and Falera. As far as alternative options go, there is a wide range. Action Unlimited (+41 81 936 7474), EuroBoard, EuroSki, Rock and Snow (+41 78 679 7153), Roland Tuchschmid (+41 79 742 6677), Touchdown (+41 78 830 5960), and Yetis (+41 79 635 3767). Another school in Flims Waldhaus is Mountain Fantasy. In LAAX, there's LAAX School, Skischool Montagnarda, and Adventure Sports.
The indoor freestyle academy
Aspiring acrobats who've been inspired by the likes of Bobby Brown or Shaun White – but haven't the foggiest how to get started on their freestyle career – should make the Freestyle Academy their target. It's located at the bottom of the lifts and is an indoor centre dedicated to freestyle instruction and training – very similar in style to the pioneering Woodward at Copper centre in Colorado. Amongst the features on offer are a, several skating ramps in different sizes, many different styles and sized of trampolines, a skating bowl, a vert ramp and a parkour where you can learn the art of the somersault.
The centre is open daily, and all first-timers must sign up for a one-hour introduction course before using the facilities unsupervised. It's a popular spot, especially at weekends.
A pleasant choice for a family skiing holiday
Beginners should make sure they choose their accommodation near a lift station, as the distances can be quite big.
Children who are learning to ski are taken to The Ami Sabi Snow Wonderland, which is centred around a magician called Ami Sabi. Here they will be told stories, sing songs and learn about the forest, the animals and the mountains – all of this while learning to ski. There are three Snow Wonderlands – one at each of the base stations (Flims, Laax and Falera).
LAAX has long been a stronghold of family-skiing specialist Powder Byrne. PB holidays don't come cheap, but the company knows the business of family holidays backwards and will take a lot of the hassle out of the experience.
If you're relying on locally-organised facilities, then the LAAX School runs a kindergarten for children from two years, with ski lessons from four years old – both held at Ami Sabi Snow Wonderland. Waldhaus Flims Alpine Grand Resort & Spa and Hotel Adula both run creches for their little guests. In Flims Dorf, Annina Haegler (+41 79 209 2938) runs a non-ski kindergarten.
---
---
Where to Stay
LAAX is made up of Flims Dorf, which is the most convenient, and the separate Waldhaus Flims Alpine Grand Resort & Spa, which is more isolated from the ski area. Laax is a bus ride away from the lifts, but the satellite of Laax Murschetg is built around the base-station with rocksresort at its heart.
Laax has the cutting-edge accommodation
Think Switzerland – including its resorts of LAAX – is old-school? Think again. Sure, this is an ancient country built on tradition (cuckoo clocks and trains that run like clockwork, army knives and Rosti), but with rocksresort it threw tradition out and brought uber-sleek design in. So sleek, in fact, that it helped bag the Wallpaper magazine design award for Best New Ski Resort in 2010.
rocksresort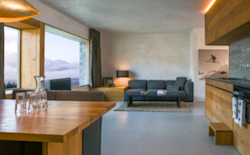 The luxury complex of rocksresort has rooms and apartments right at the base station and is made up of nine strikingly simple, sugar-cube shaped buildings, randomly scattered around a central piazza. They're a modern mix of local stone, wood and slate. The buildings contain eight shops, seven restaurants, six bars and cafés and 143 furnished apartments, part of the Design Hotels collection.
Signinahotel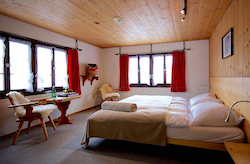 Signinahotel is perched at the end of Laax's home run. It's not new (it pre-existed the development but has been revamped and incorporated into the rocksresort) but it is rather lovely, a refreshing mix of modern and cosy, full of animal prints and furs, wood-clad ceilings and funky lighting. There's signinawellness, and you can eat Italian food at Ristorante Camino. The hotel has a Dine Around offer where you can eat in the surrounding restaurants. Dogs are welcome and are given a bowl, a blanket and treats.
Riders Hotel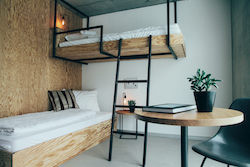 Riders Hotel is an unusual blend of cutting-edge designer hotel and backpacker hostel that hosts live music gigs, yoga, art exhibitions and has open offices that can also be used as a studio. The whole property was redesigned in 2017, with rooms sleeping up to four people. Choose your room carefully if you want an interrupted night's sleep.


Staying in traditional Flims
Hotel Posta Veglia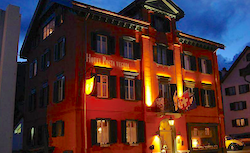 The Posta Veglia is a charming old building with just four double rooms and three junior suites. Everything is wood-panelled. The Pöstli bar is under the same roof and the local bus stop is a few meters away. Also nearby are the public indoor pool fitness centre as well, as well as the old Laax village centre.
Hotel Adula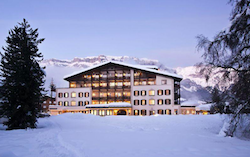 Hotel Adula is in Flims Waldhaus. Cuisine is the centre of attention at this four-star hotel, with its two restaurants. There are good children's facilities. The Wellness & spa LA MIRA features a large indoor pool, sauna facilities, an ice grotto, steam bath, outdoor heated saltwater pool, gym, massage and beauty treatments.
Waldhaus Flims Alpine Grand Resort & Spa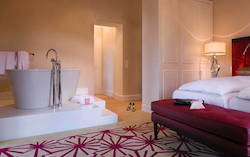 Waldhaus Flims Alpine Grand Resort & Spa is a giant five-star hotel complex set in five buildings linked by underground walkways. It has been renovated in recent years and has some very suites, including 12 Signature Suites measuring 51m²-75m² in size. There's also an excellent spa and swimming-pool.
The Hide Hotel Flims
Hide Hotel was a new slopeside hotel in 2018, located above an equally new complex housing cinema, gym, shops and eateries called Stenna Flims. The rooms are brilliantly conceived by Erik Nissen Johansen, a Norwegian artist whose designs focus on storytelling. Children will love the hotel's giant Kindercity, which includes a chocolate workshop, a dinosaur workshop, and a robotics lab.
Hotel Mira Val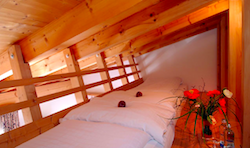 Hotel Mira Val is a quiet and cosy hotel in Flims, with comfortable rooms and set a two-minute walk from the bus stop. All rooms have a balcony, there's a TV room with a small library, a games room, and B&B is included in the price. "Nice, modern hotel with great views, friendly staff, excellent cafe, good breakfast, and good dinner on request," was one report.
Hotel La Siala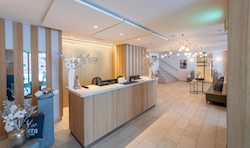 Hotel La Siala is in the farming hamlet of Falera, which is connected into LAAX ski area by chair-lift. It has cosy bedrooms and spacious apartments, spread over six buildings. In the central building you'll find the wellness area with its indoor swimming-pool, a restaurant, bar and terrace, and a large children's playroom.
Hotel FidazerHof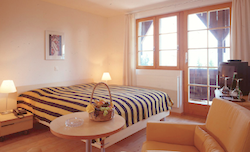 Hotel FidazerHof, in Fidaz, is quiet and bright, with spacious but minimalist-design rooms. A homely restaurant features culinary delicacies, selected wines and healthy Ayurveda cuisine. The spa, PRANA, has a sauna, and offers water-massage, Ayurveda therapies, and shiatsu massages.
---
---
Where to Eat
\
There was a time when you knew what to expect of restaurants in Swiss ski resorts like LAAX. A fire – always roaring – stuffed goats' heads adorning old wood-panelled walls, embroidered napkins and rosy-cheeked waitresses in traditional dress serving traditional dishes: Rosti, cheese fondue and Kaeseschnitte. It was all so, well, traditional. And that was just how we liked it.
And then something happened. Ski resorts got cool. Instead of chintzy restaurants, up sprung pan-Asian eateries serving noodles and cocktails, and hip cafes where people gathered in throngs for cheap pizza and DJs. It shouldn't work. But in LAAX it does. The resort is the freestyle capital of Europe and, let's face it, cool skiers belong in cool eateries. The resort does still offer a wide range of traditional Swiss and regional restaurants, though.
Caffè NoName (+41 81 927 73 44) is one of the coolest on the hill. The concept is simple: a scruffily hip mountain hut where freestylers congregate to refuel on big bowls of soup, foot-long sarnies and coffee – its latte macchiato is considered to be the best of its kind above 2000 metres. Though the nosh, really, is secondary: it is the sun-trap terrace, with its cool tunes playing over the speakers and unrivalled views of the half-pipes and snowparks around Crap Sogn Gion, they come for. On any blue sky day, from 12pm to 4pm, you are guaranteed to see a crowd of people sitting on the wall checking out the pipe action below.
Located underneath the cable-car station at Crap Masegn, where piste bashers were once kept, Das Elephant is the place for long lunches – white tablecloths, sheepskins rugs thrown over the chairs, sweeping views of the surrounding peaks and divine food. You can expect fresh oysters daily and dishes like Argentinian entrecote with ratatouille risotto and pasta with Parmesan cheese, fresh truffle oil and Grappa brandy. During the summer of 1992, an elephant made a four-day guest appearance on the Crap Sogn Gion for a circus performance as part of the Crap Art cultural event.
Eating in a tipi at almost 2000m up the mountain is what you can do at La Vacca (+41 81 927 99 62), perched at the top of the bubble from Flims. This is a super-trendy steakhouse housed in a big, white (heated) tipi decked out with proper tables, a wood floor and cow-skin throws, where diners can choose their own steak before watching it being cooked on the central grill.
Of course there are several traditional mountain restaurants in Laax such as Ustria Startgels, run by the people behind Grandi's, as well as a smattering of self-service restaurants. One of the best being Tegia Curnius (+41 81 927 99 30), with its lovely open terrace), but it's the ones breaking the mould that are leading the way
At Capalari, tucked under the cable-car station at Crap Sogn Gion, people fill its terrace, a mix of tables and cream cube sofas, perfect for supping champagne. The restaurant focuses on regional food. Check out the fried Pizokels (Swiss dumplings), served with everything from pickled cabbage and bacon to raclette cheese and apple sauce.
From mid-afternoon there's a young trendy crowd at Caffè NoName. Diners on Capalari's terrace don't seem to mind the loud music, and the kids don't seem to notice that they have onlookers. But that, in many ways, sums up LAAX. Different crowds, different styles, that exist in harmony. Everyone really is happy.
Other places to try include Ustria Naraus, Segneshutte. The latter is one of the oldest mountain huts in the region and has overnight accommodation. Tegia Larnags is another gourmet choice.
Oodles of variety in town, too
Down in Laax itself, all the eatery-action is centred around rocksresort. The nine sugar-cube-shaped buildings house eight restaurants: in Nooba (+41 81 927 99 88), with its funky purple and green lighting, diners share tables with strangers – as they would in Asia – while munching on edamame beans, spicy Pad Thai and green curries. Meanwhile in Burgers they tuck into jumbo burgers, hot dogs and fries.
But here's the twist: there is another side to Laax's foodie scene. And it is all about fine dining in very fine settings, catering to Laax's more mature clientele. Walk a few paces from Nooba and Burgers and you're at Grandi's Ustria da Vin. Ask the sommelier to help you choose a bottle of wine from the 1,200 different labels, showcased in sleek glass cabinets (it doubles as a wine shop), before taking a seat at one of the candlelit tables. The restaurant's known for its grill specialities, whipped up by the landlord, Ueli, on the open beechwood fire, as well as its raclette (go for the bread and beef option).
Then there is Mulania, a Gault-Millau awarded restaurant (+41 81 927 91 91), tucked away in a renovated wooden stable away from rocksresort with no sign, and yet tables book up weeks in advance. This is the place for seafood lovers, with exotic-sounding dishes like wasabi prawn soup, pike with champagne sauce and herb potatoes, and seafood risotto with lobster foam.
Waldhaus Flims Alpine Grand Resort & Spa houses six restaurants. Top one is Restaurant Epoca which offers gourmet dining and has been awarded 17 Gault-Millau points. The others include Pizzeria Pomodoro (+41 81 911 1062) and Pizzeria La Dolce Vita (+41 81 928 1440) also in the Waldhaus end of Flims.
Las Caglias (+41 81 911 2949), also in Waldhaus, is cutting-edge architecturally and houses a Bohemian-style restaurant serving good food at reasonable prices. La Clav is recommended in Hotel Adula. Clavau Vegl (+41 81 911 3644) in Flims Dorf, is popular with the locals and renowned for its regional specialities. Da Nus (+41 79 587 11 33) in Flims serves Grisons specialities. In Laax, Romana (+41 81 921 5055) specialises in Balkan cuisine, and Riva (+41 81 921 5353) has good cheese dishes. Casa Seeli (+41 81 921 3048), in Falera, is praised.
---
---
Where to Party
On the mountain at LAAX the partying starts at Caffè NoName (+41 81 927 73 44), a scruffily hip mountain hut that offers good cheap soups and snacks, great coffee (the tastiest on the mountain, so we're told), music and the best views of the half-pipes and snowparks around Crap Sogn Gion. Which is why it is considered the hangout for freestylers taking a break from the slopes. Live music is a speciality.
In fact, the apres-ski scene in LAAX explodes at the weekend when twenty- and thirty-somethings pour in from Zurich. A favourite is the Satellite Bar (+41 81 927 99 45 check), with a great range of drinks, good music and lots of atmosphere – it's particularly popular among boarders and freestylers. In rocksresort there's Il Pup with a modern-rustic atmosphere. In Flims Dorf, Legna Bar (+41 81 927 99 75) is the main rendezvous. Living-Ruhm Flims is less frenetic. In Waldhaus Flims there are five different bars ranging from the relaxed Segnes Winebar (+41 81 911 30 92) to the Grand Bar for everything from aperitifs to after-dinner drinks accompanied by live music. But nothing can quite compare with the Riders Hotel, where the Lobby has laid-back indie music. There's (loud) music at the downstairs Club from 5pm until around midnight, every night. At weekends, half of Zurich seems to be in there when there's live music from 9pm to 4am.