In a Nutshell
La Thuile shares its slopes with La Rosiere on the French side of the Col du Petit St Bernard. The road over the pass is closed in winter, but the ski link is easy, though potentially windy and chilly.
The Stats
Altitude: 1441m
Lifts: 38 in area
Top lift: 2800m
Ski area: 160km of piste
Adult lift pass: 228-257€ for six days


Official Site |

Ski Map |

Webcam
Essential Advice for the Perfect Trip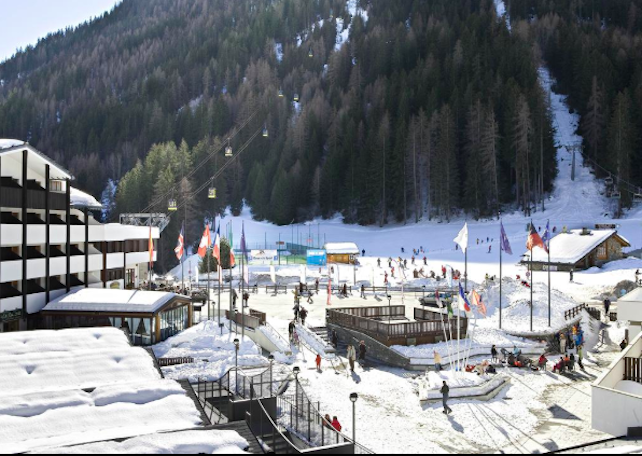 La Thuile in the Aosta Valley is a schizophrenic resort, part picturesque old village harking back to a coal mining heyday before World War 2, part Planibel Centre concrete jungle at the bottom of the lifts. The anthracite mines closed in the sixties but, until a couple of decades ago, disused mine workings dominated the valley. The comprehensive clean-up resulted in attractive restaurants and bars in the village. The resort is known for its friendly and unpretentious mountain restaurants, headed this season by the newly-converted Re delle Alpi – a former military base built in 1924 for border soldiers, which today has been completely revamped into a beautiful and peaceful hotel and restaurant.
---
Guide to the Mountain
The good news is that La Thuile's slopes are underused and underrated. Two fast-track lifts, the Les Suches cable-car and the Bosco Express chair, access the mid-mountain area, the focal point for connections to Chaz Dura, Gran Testa and Belevedere, the half-way point for La Rosiere.
Beginners have nursery slopes in the village and at Les Suches, as well as long blue cruisers to inspire confidence on the upper mountain, but downloading is essential as the return to La Thuile is strictly intermediate-plus. Intermediates will find it easy to accumulate mileage on the extensive reds and blues, especially as La Rosiere's pistes are equally user-friendly.
The Col de Forclaz area has some decent black runs with plenty of off-piste options, but the tree runs down from Les Suches – Diretta, Muret and Berthod – are the real honeypot. As always in underused resorts, snow fields that would be tracked out in Chamonix are skiable for days. Enjoy.
This is a great place for snowboarders to learn, especially as there's no need to take a drag-lift to reach a raft of carver-friendly cruisers. Experts will appreciate the challenging freeride terrain, in and out of the trees. The area is also home to two slalom stadiums, a snowpark, a boardercross slope, two fun cross areas, a secure free-rider zone, and a snowkite zone.
---
Where to Learn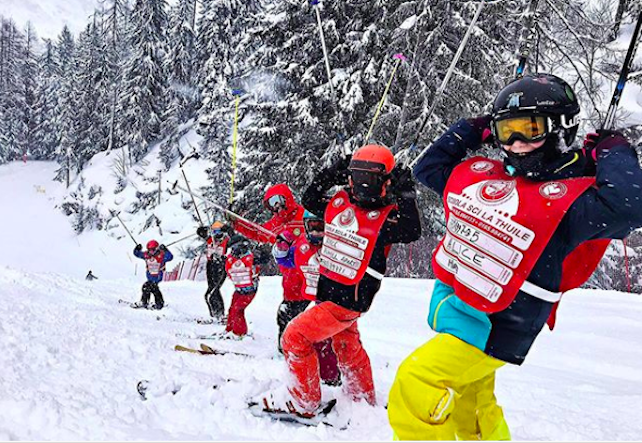 La Thuile Ski School was founded in 1964 and today has over 60 teachers, instruction in skiing, boarding, telemark, and cross-country. It has been recently improved by a second headquarters at Les Suches. Compagnie des Guides Ruitor (+39 0165 885577) has off-piste guiding and a freeride clinic, as well as guided snowshoeing and ice-climbing. Advanced and intermediate heli-skiing (+39 340 0700010) is available on the Ruitor and Miravidi Glaciers in groups of four.
Zerovertigo offers snowshoe excursions to the mines, the Mont-Blanc glacier and night hikes with dinner in a refuge every week of the season. It also organizes freeride, ski-touring, mountaineering and heli-skiing, excursions to ice waterfalls, a freeride camp for youngsters, and an international training course for ISTA off-piste skiing. Compagnie des Guides Rutor has mountain guides, hiking guides and guides for mountaineering, ski-touring, snowshoe excursions, heli-skiing, and nature trips.
Planibel (+39 0165 884541) has a free Miniclub for children aged four to 12 years: "The TH crew that ran the entertainment and children's club were amazing, my eight year old never wants to leave," said a reporter. Snowtubing Only Ski is open daily from 10.30am-12.30pm and 3.30-6.30pm. Dog-sledding is one of the non-skiing activities that families can enjoy.
---
Where to Stay
The village is divided into two: a purpose-built base with convenient but characterless slope-side accommodation, and an atmospheric old village centre. A free bus service connects the two. The accommodation in includes some attractive chalets in the ancient mining villages that were here long before this was a ski resort.
Hotel Nira Montana Lodge & Spa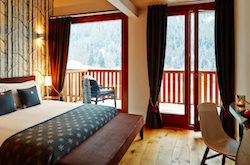 The Montana is the only five-star here. Chalet-style outside, inside the hotel is designer bliss, with spacious rooms and a natural appearance – tree themed wallpaper, tree trunk parquet and decorative ornamental deer heads to create a sensation of being in an alpine forest. Add to this lots of wood, glass, steel, and leather. There's a chic bar, and the spa has a swimming-pool complete with 'massage bubble stations'.
TH Planibel Residence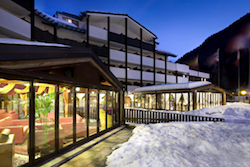 In contrast – in terms of style – is the ski-in ski-out Planibel with its 254 rooms and apartments in a vast complex at the base of the lifts. "The rooms are slightly dated," was one review, and "basic". But "Excellent food, spacious & clean rooms, friendly staff,
great for families," was another. Other pluses include two on-site swimming-pools, a kids club, theatre, restaurants and shops.
Locanda Collomb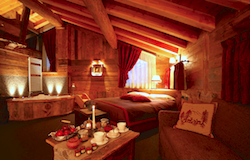 Much more visually appealing is Locanda Collomb, which is a gorgeous little place with just eight bedrooms, all of them completely different from each other, with wooden floors and beams. A couple of the en suite bathrooms have wooden bathtubs.
Le Miramonti Wellness Hotel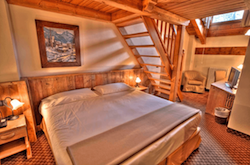 Le Miramonti is in a fine old building dating back to 1887, with gorgeous interiors featuring wood and stone walls and floors, handcrafted furniture and impressive stone fireplaces. Some rooms offer a balcony with mountain views, others are in the attic and have wooden-beamed ceilings.
Re delle Alpi Hotel & Spa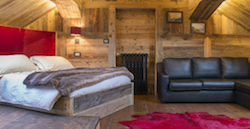 New for the 2019/20 season is Re delle Alpi. Set right on the piste at 2000 metres, the hotel can only be reached by snowmobile or snowcat. The former military base was built in 1924 for border soldiers, and today has been completely revamped into a beautiful and peaceful hotel with a spa, bar, and gourmet restaurant. The bedrooms and suites are warm, woody, and stylish.
Maison Neige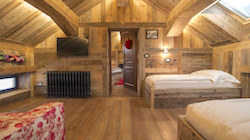 Maison de Neige used to be a military barracks in the 1920s and today is a 12-room hotel set on the slopes above La Thuile for maximum convenience, with a restaurant, fitness centre with outdoor hot tub, and a free bus service.
Chalet Eden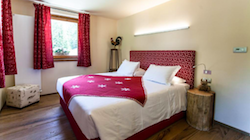 Chalet Eden is also decorated with traditional materials to maintain its charm, and its has a bio restaurant, Le Coq au Vin, that uses all organic produce. There is also wine tasting down in its old stone cellars. he property also has a new spa.
Chalet Alpina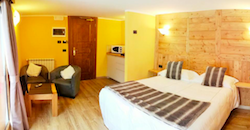 At Chalet Alpina there's a warm welcome from Eddy and Debbie Nico, respectively Italian-South African and British. The hotel has 16 rooms, is 200m (five minutes' walk) from the lifts, and has an innovative half-board plan offering dinner in local restaurants.
Hotel du Glacier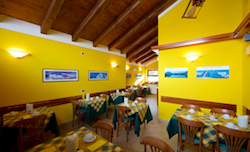 Hotel du Glacier is a family-run B&B located just outside La Thuile. It's a simple three-star with traditional decoration and furniture. The rooms have balconies and views of the Ruitor Glacier.
---
---
Where to Eat
Up the mountain, Rifugio Lo Riondet is for rustic cooking with an emphasis on cheese. Le Meleze (+39 0165 885553) is a self-service near the top gondola station. At Maison Carrel there's a warm welcome from Giorgio and Sara in a refurbished traditional chalet serving honest local dishes. It's a friendly and unpretentious place located on the lower slopes of Gran Testa. La Clotze (+39 347 907 3216) BBQ and grill is at the top of the Bosco Express chair and serves local Valdostana cooking. Bar du Lac (+39 0165 843209) is on the French border at the top of the pass. So too is Bar Ristorante San Bernardo (+39 0165 841444) with its Aosta Valley specialities, good wine list, and six double rooms for overnighters on fresh tracks missions.
Pepita Cafe (+39 0165 883047) is warmly recommended by a reporter. It features home-made pasta, grilled meats and regional specialities. La Grotta is a converted cowshed serving classic Italian food. It is reached by courtesy minibus from the foot of the pistes. New for the 2019/20 season is Re delle Alpi – a former military base. Dishes include homemade cacao tagliatelle with venison ragout and toasted hazelnuts as a starter, wild boar stew with polenta as a main course, and cream of chocolate with black cherry and a cacao meringue as a pudding.
From chocolate pizzas to donkey ravioli
In the resort, La Lisse has been going since the 70s and is known for its home-made pasta and ravioli, and has a good choice of local wines. Taverna Coppapan is a faux rustic hideaway nor far from the funivie; and there's a great welcome here and a different menu each week. The cellar house 300 wines and pizzas are cooked on a wood-burning stove. La Fordze (+39 0165 883121) is for fresh fish and Aosta Valley specialities. La Grotta (+39 0165 884474) is in a former cowshed with a beautiful vaulted roof; it serves classic Italian fare including pizzas cooked in a wood-fired oven. while La Rascard has chocolate pizza at the top of the kiddie wish-list. Le Thovex serves sophisticated Italian specialities, evenings only.
Les Granges, 3km out of town, offers fondue, bagna cauda and grilled meats. Le Coq au Vin (+39 0165 885050) is Chalet Eden's bio restaurant where ingredients from organic farms are guaranteed. According to one British regular, Stefano, the owner, serves at least one unusual dish per weekend: last time he was there, it was donkey ravioli. "Very tasty", he claimed.
Chocolat is famous for its signature chocolate tometta, plus chocolate fondue and home-made ice cream. Angela's Cafe (+39 0165 883141) has 32 choices of chocolate, 48 of tea.
Where to Party
There are amore than 20 bars to make the centre a relaxing resort in the evenings, but La Thuile is not a place for hard-core, party-goers. In La Thuile, La Cremerie (+39 0165 884207) serves smart cocktails and ice cream. La Bricole (+39 0165 884140) is La Thuile's default fun venue near the bottom of the lifts on the edge of the old town. It is an attractive complex of stone buildings converted into a restaurant specialising in game, a chic cocktail bar, and a disco pub which sometimes features live guitar music. Despite its name, the Cages aux Folles (+39 335 609 2716) was conceived as a British pub, with Guinness on tap, soft rock and premiership football on TV. The late-night alternative is the Fantasia in the Planibel.
At Pre-St-Didier the Adventure Park has bridges, zip lines and nets suspended between 20m trees, and is open all year. The QC Terme Pré-Saint-Didier are hot springs located 8km away from La Thuile, at the foot of Mont Blanc. It has treatment rooms, sauna and a Turkish bath using water pumped up from the gorge at 30-40C. Piccolo San Bernardo DMC cable-car, which transports you to Les Suches at 2200m, has the first Ski Sauna – a timber-clad cabin with a sauna inside.