In a Nutshell
Morzine is a low-lying bustling market town close to Les Gets within the giant Portes du Soleil region. In a good snow year, you'll have a ball here. In a bad year, you'd better bring your wellies.
The Stats
Altitude: 1000m
Lifts: 197
Top Lift: 2466m
Ski area: 372km of piste
Adult lift pass: 265€ for six days Portes du Soleil Skipass, 204€ for local Morzine/Les Gets pass

Official Site |

Ski Map |

Webcam
Essential Advice for the Perfect Trip
Morzine is a popular, bustling town that's easy to get to from Geneva, and sits at the heart of the massive Portes du Soleil ski area with its 194 lifts and 280 pistes. If you can make a dash here at the last minute, or for a weekend when you're sure the snow's good, you'll love it.
Resort with a history
Morzine has been a winter sports resort since before the First World War, and during the mid-1920s it established a reputation as an important international holiday centre. Wealthy guests arrived to spend the winter at the comfortable Grand Hotel, which boasted central heating and fine cuisine. They passed their days skating on the frozen lake and skiing on the rolling summer pastures of Pleney.
The first cable-car was installed in 1934, but World War II put a stop to further development. It wasn't until 1960 that the winter sports industry began to eclipse the cattle and sheep farming which, together with forestry, still forms part of the local economy.
The catalyst for this was Jean Vuarnet, a young Morzinois, who was packed off to the USA that February with the expectations of the entire town on his shoulders. He came home from the VIII Winter Olympics in Squaw Valley clutching the gold medal for the downhill.
As a reward he was given the task of creating the more snow-sure satellite of Avoriaz on the cliff top above the town and of linking this new purpose-built village and Morzine to other resorts in the region – not only in France but also across the border with Switzerland. The first link was built in 1968 and the single lift pass was introduced in 1974.
The lively town of Morzine
Not every farmer was converted to harvesting the lucrative annual snow crop, and the attractive town of Morzine continues to be what it always was – a regional agricultural centre with a life that exists outside tourism. The principal street runs from the village centre up to the foot of Le Pleney where many of the hotels are located.
The various sectors of the town, and the lift stations, are linked by a road-train and free buses, which both contribute to the rather congested streets. Morzine is linked across 1550m Pleney to the traditional dairy farming village of Les Gets, a community that dates back to the 12th century.
Morzine's low altitude means that snow-cover in the village is not always reliable. This is not the best corner of the Alps for certain snow at Christmas or Easter. Avoriaz usually has the better skiing, but even its 2466m top station is rather low. If only the mountains here were elevated by 1000m, the Portes du Soleil would be classed as one of the greatest circuits of the world.
By the muted standards of many French resorts, Morzine rocks. Most of the bars and apres-ski venues are set along the Taille de Mas du Pleney – or 'Bar Street' as it's known – between the Pleney lift and the tourist office. The town also has some excellent restaurants, and up the mountain are some lovely little huts – if only the lunch scene in other A-list French resorts was as good as this.

---
---
Guide to the Mountain
On a good day, the skiing above Morzine is superb – for all levels of skier (except freestylers). But the low altitude means it isn't guaranteed.
Morzine is part of the massive Portes du Soleil area, which straddles the Franco-Swiss border. There's something for everybody here: murderous mogul fields (for example, the Swiss Wall), long, wide cruisey pistes, big backcountry descents, and easy nursery slopes. But its low altitude can be a problem. The top of the lift system rises to only 2466m above Avoriaz, which is no guarantee of good conditions.
What's more, Morzine isn't in the best location to exploit the full potential of the area. There's plenty of skiing nearby, in a cold winter, but to really get your teeth into the Portes du Soleil circuit, you need to be in Avoriaz.
The skiing can be really memorable
So – a complete write off, then? No, of course not. There's always some skiing here – even if it means commuting up to Avoriaz. And when the snow is soft and crumbly, it can be really memorable.
Intermediates will love the sense of exploration they get from ranging across several valleys, as well as the Franco-Swiss border. They'll also like variety – a combination of open slopes, higher up, and pretty, tree-lined runs lower down. More advanced skiers will be challenged by the the Swiss Wall, as well as the steep off-piste descents from Les Haut Forts down to Les Prodains, and in the Combe d'Angolon, a spectacular powder bowl accessed from the top of the Chamossiere chair. Beginners are well-served by a happy combination of British ski schools and good nursery slopes. The only people who aren't well-catered for are freestylers. They'd be much better off staying at Avoriaz.
It's all a question of timing, really. Morzine and Les Gets can be risky options at Christmas or Easter. They make more sense for families around February half-term. Everyone else should think about coming here at the last minute, maybe for a weekend or short break, when they already know conditions are good.
Snowboarders would be better off in Avoriaz
Morzine can be a bit of a gamble, snow-wise. Its near-neighbour, Avoriaz, is the more snowsure part of the Portes du Soleil area, with some great terrain parks to boot: so why not stay there instead? Or indeed somewhere with an extra 1000m of altitude in the ski area, such as Tignes?
That said, Morzine can work well as a late-booking destination. If the Alps are having a cold snowy winter, you'll probably find accommodation here at the last minute (except during the school holidays) – which means you take advantage of good snow conditions without paying a fortune for the privilege.

---
---
Where to Learn
There's an excellent choice of ski and snowboard schools in Morzine, which includes several British ones. New Generation has a growing presence in the resort – and offers innovative clinics as well as small-group lessons and private tuition. We love their upbeat style. We've also had good experiences with Maison Sport and British Alpine Ski and Snowboarding School – or BASS. Easy2Ride Ski & Snowboard Academy has an English-speaking team and arranges tailor-made service where you can pre-book tuition, ski passes and equipment. Mint Snowboarding is a small organisation of British instructors, covering not just Morzine but also Chatel, Les Gets and Avoriaz.
The resort's ESF is recommmended: "Well organised and the level of instruction was very good". Adrenaline Morzine (+33 686 00 41 89) is an international ski school that specializes in private tuition. The Snow School offers the usual adult and child classes, but also offers freeride and freestyle sessions, slalom and boardercross.
Maison de la Montagne is the local mountain guiding company, which can organise heli-skiing days over in Italy.
A stronghold of the family skiing scene
Family-specialist, VIP Ski, has nine chalets in the resort and can arrange private nannies to come to any of them. Their chalets include Valdez Suite, which is unusual in that it has just two bedrooms – making it ideal for a family of four. L'Outa accepts little ones from three months to five years and was recommended by reporters.
The ESF provides daycare at the Piou-Piou club with ski lessons for children from three to 12 years of age. Babysitting is available through Cheeky Monkies and Jack Frost's.
British-run Morzine Kids will come to your accommodation armed with age-appropriate arts and crafts, toys and books. They can also pick up and drop off children at ski school or from easily-accessible locations on the mountain or in town.

---
---
Where to Stay
Morzine has a plentiful supply of hotels in each price bracket. "Pick your accommodation wisely though – it's true that there are many places claiming to be 'centre ville' but are miles from the slopes," warned a reporter.
Hotel Les Airelles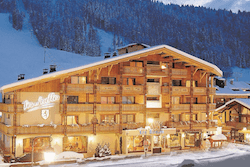 Hotel les Airelles is a four-star with comfortable bedrooms. It's very central on the tourist office square, which is great for the lifts…and the nightclubs too. Party animals will love it. Anyone who wants eight hours of sleep should book a room at the back of the hotel, away from the main street.
Hotel Le Samoyede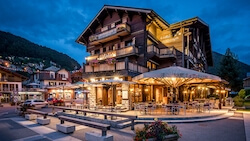 Hotel Le Samoyede has 25 rooms and the Michelin-starred L'Atelier restaurant. It is conveniently located right in front of the tourist office, 100m from Le Pleney cable-car.
Chalet George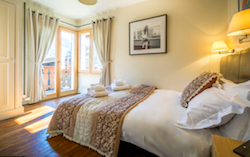 Chalet George is 240m from the lifts, built as the family home of the owners of Morzine's first hotel. Sympathetically renovated, it retains the benefits of spacious bedrooms and living areas – and of course a fabulous location. The chalet sleeps 14 and is one of seven in Morzine run by tour operator, Skiology. Although it's half board, there's also a guest kitchenette with an honesty-bar fridge, and drink making facilities.
Chalet Twenty26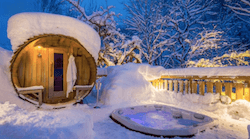 Chalet Twenty26 is a six-bedroom property situated in private grounds in an exclusive location close to the centre of Morzine and at the start of the Vallee de la Manche. The nearest lift is the Nyon cable-car 500m away. The chalet is extremely well equipped with lots of enticing extras such as a cinema and games room, a six-metre outdoor pool and a hot tub, a steam room and a wine cellar.
Chalet Kaila
Chalet-specialist VIP Ski has eight chalets in the resort, including four-bedroom Chalet Kaila, which sleeps eight to ten people. It is set in a stupendous position on a cliff, yet is only 60 steps from the Super-Morzine lift. It comes with an outdoor hot tub, sauna, and has flat-screen TVs in all the bedrooms.
The Manoir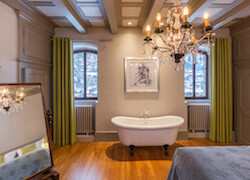 The same operator also has The Manoir, built in 1790 and home to the local Notary for two centuries. It features lovely thick walls made from of local stone and horsehair, mosaic floors, flagstone halls, towering ceilings, and the rooms are enormous. It has five en suite bedrooms (three with extra kids' beds) and sleeps 10-15 people. Last year the chalet was revamped, retaining all its historic details whilst adding modern day essentials such as walk-in showers, roll top baths, and flat-screen TVs.
Hotel le Dahu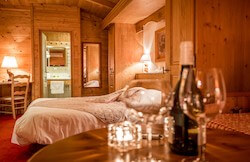 Some 400m from the shops is Hotel le Dahu, an old favourite with tastefully decorated rooms and duplex family suites, along with delicious food. The hotel has a hot tub and indoor swimming-pool, and two restaurants including the poolside Les Jardins d'Ulysse.
Apartment 6˚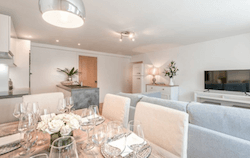 Apartment 6˚ has been beautifully renovated into a spacious and modern three-bedroom apartment with an open-plan kitchen, living and dining room – all set on one level. The property has direct ski access, via its own entrance, onto the Pleney slopes five metres from the apartment door. The bathrooms are kitted out with The White Company© luxury products, and professional standard hairdryers and hair straighteners are also provided.
Chalet Jejalp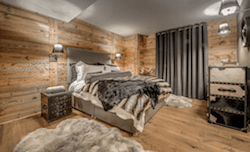 Jejalp is set in a quiet spot on the outskirts of Morzine, giving it a feeling of exclusivity. But it's not cut off, since there's a driver to whisk you to and from the lifts. The style is alpine, and at the same time light and luxurious and relaxing. The chalet has been built around a central atrium, which includes a double-height glass wine cellar spread over two floors. There's a private cinema, gym, pool table, and a large terrace. Sleeps 10 adults and 6 children.
Chalet-Hotel Fleurs des Neiges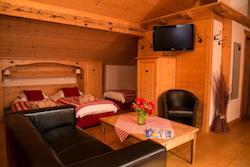 Fleur des Neiges is a small, family-run three-star, 500m from the centre and 300m from the Super Morzine cable-car. It has a heated swimming-pool, and – in keeping with the wood and checked gingham country style decoration – the restaurant serves French country cuisine. The living room features sofas and an open fireplace.
The Farmhouse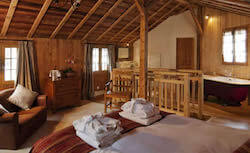 Le Mas de la Coutettaz – also known as The Farmhouse – is a restored 18th-century manor house with eight delightful bedrooms – lots of character in a quiet, rural setting. There's a morning/evening shuttle to/from the lifts.
Hotel le Bel'Alpe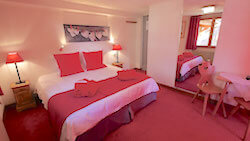 Two-star Hotel le Bel'Alpe is said to be "Welcoming and cosy, the staff polite and helpful and the food was excellent – chocolate pudding to die for". The two main lifts, towards Avoriaz and Les Gets, are five minutes' walk in ski boots.
Hotel le Tremplin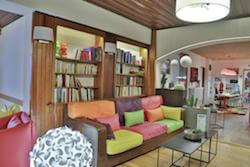 Hotel le Tremplin, built in 1936 at the foot of Le Pleney slopes, was one of the first hotels to open in the resort. It was rated: "A pleasure to stay in. Breakfast is fab with amazing coffee and croissants, meats and cheese" and was praised for its "big balcony overlooking the town. Friendly, helpful service. Great breakfast. Lively bar with music till early evening".
Hotel Neige et Roc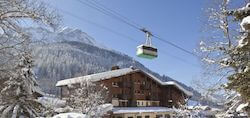 Hotel Neige Roc is the only four-star and it's up at the satellite village of Les Prodains 4km from Morzine centre (there's a free shuttle-bus). It's convenient for the cable-car to Avoriaz and sits at the bottom of a great off-piste run down from Les Hauts Forts. Les Prodains is quiet in the evenings, so this is not one for night owls.
Hotel Renardiere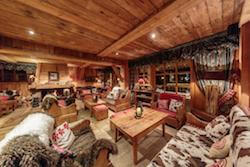 Hotel Renardière is a pleasant, family-run three-star in a central position, a short walk from the skiing, shops and nightlife. Rooms are panelled in light wood and the hotel has a solid reputation for well-presented cuisine.
L'Aiglon Morzine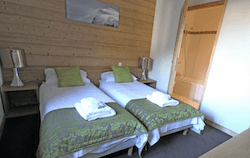 L'Aiglon de Morzine Apartments
 are a small but above-average development near the centre of town (sleeping four to ten people in each) and Le Pleney lift. The apartments themselves are spacious by French standards (so, room to swing not one, but two cats), and have upmarket furnishings and amenities, as well as a communal pool, a gym and hamam.
---
---
Where to Eat
Morzine has lots of small, romantic huts on the mountainside. If only the lunch scene in the A-list resorts was as good as this. Try La Paika, which is a wooden hut on the piste above Les Gets. Inside is a wood-burning stove and the terrace outside has prawns cooked on an outdoor grill along with steaks and chicken. Pointe de Nyon (+33 450 04 45 64) is a cosy place at the top of the Nyon cable-car with a big open fireplace, and slippers provided for guests.
Les Cretes de Zorre (+33 450 79 24 73), at Super-Morzine, which is said to be one of the best eateries in the area. The Belvedere (+33 450 79 81 52) is a welcoming mountain hut at the top of the Mont Chery cable-car – it's both a self-service restaurant and waiter-service venue. La Grand Ourse (+33 679 42 58 86) is up Mont Chery cable-car and the Grand Ourse chair-lift. Speciality is lobster tartiflette and lots of other fabulous dishes. Le Vaffieu (+33 450 79 09 43) is a great place for lunch near the Belvedere chair-lift. It has a good sun terrace and offers particularly delicious tartes.
La Grenouille du Marais (+33 450 79 24 39) is at the top of the Super Morzine lift, in a lovely building. It serves traditional dishes and there's outdoor grill, too. Aubergerade, in the hotel of the same name at the bottom of the Pleney cable-car, has a lovely big sun terrace.
Chez Nannon is a tiny romantic hut on a blue run beneath the Pointe de Nyon; everything here is cooked on a wood-burning stove and the croque monsieur is said to be second to none. Les 2 Criquets (+33 450 79 74 16 80), at Le Grand Pre, offers traditional cooking and Savoyard specialities such as tartiflette. Le Nabor (+33 450 79 02 03) at Le Pleney, has an eclectic menu with everything from fois gras to vegetarian cooking. Les Mouilles (+33 609 95 81 19), in the same area, specializes in bread and cheese recipes. Changabang (+33 450 38 42 53), at the top of Les Prodains cable-car in Avoriaz, has reasonably-priced burgers and wraps.
Morzine is very, very strong on Savoyard specialities
In town, L'Etale (+33 450 79 09 29) serves regional cuisine like raclette and fondue in a mountain ambience. 
La Grange is also strong on heart-warming mountain specialities.
 Le Matafan (+33 450 79 27 79) is another Savoyard specialist, serving matafan (potato cake) and wild-mushroom or goat-cheese croutes among its menu choices.
Le Mas de la Coutettaz – also known as The Farmhouse – provides chalet-style communal dining in a centuries-old dining room. 
La Combe a Zore (+33 450 79 15 06) has highly-rated pizzas and grills and is a good place for groups. The Rhodos (+33 450 79 19 85) is a restaurant and apres-ski bar serving gourmet burgers.
L'Atelier in the Michelin-starred Hotel Le Samoyède is in a class of its own. Specialities include lobster and ginger ravioli with shellfish coulis, and a pudding of Caraibe chocolate biscuit. Les Jardins d'Ulysse in Hotel les Airelles goes in for fish and shellfish – including fresh oysters from Brittany.
 
In the mid-range there's La Rotonde (+33 450 79 16 30) is run by the team who started L'Etale (+33 450 79 09 29), which is another great place to eat. They have a large menu including all-you-can-eat raclette, fondue, and pierrade. Le Ferme de la Frutiere is where to go for a cheese fix – they keep their cows on a farm in a nearby hamlet, make the cheese in the shop next door and age it in the cellar beneath the restaurant. For budget eating try Mamas for fast food made with fresh ingredients.
As a contrast, Morzine does have one place that offers vegan and veggie options available. The Satellite Cafe (+33 966 842336) serves breakfast, lunch, early dinner, and cakes. Vegan choices are marked, and plant milk alternatives are available for coffee and smoothies.

---
---
Where to Party
"Morzine is not a stupidly priced resort and the nightlife is great," said a reporter. Most of the resort's apres is set along the lively Taille de Mas du Pleney – or 'Bar Street' as it's known – between the Pleney lift and the tourist office.
The Wine Bar at the Chaudanne restaurant is a smart place that houses thousands of bottles of wine and has a tapas menu. The Bec Jaune is British-owned and brews all of its beer in-house. It also offers food, sourcing most of it from local producers. The Dixie Bar (+33 450 79 27 83), near the Place de l'Eglise, is popular after the lifts close, and boasts three bars – British, Irish and Spanish. Near the tourist office, the Cavern Bar (+33 450 74 22 79) has a young and funky feel – though it fills with football-crazy Brits whenever there's a big match on the TV. Cafe Chaud (+33 450 79 03 31) starts the evening as a bar and restaurant before turning into a music venue later in the evening. Other apres-ski venues include Le Coyote bar (+33 450 79 09 93) and Le Tremplin bar.
DJs and dance floors
Le Garage (+33 450 79 25 18) has live music and DJs. Tibetan Cafe – also known as The Boudha Cafe – is a good place for people-watching. L'Opera Discoteque (+33 450 79 16 65) has cages for guests, set above the dance floor. Le Paradis is the other nightclub of choice.
Basscamp Music Festival is Morzine's electronic music and snowboarding festival, taking place in April. It is five days of music, a fancy-dress street party, and international DJs in half a dozen different bars across town. On the mountain, there are celebrations in the terrain park with big air, boardercross and rail jams. At the end of March, Rock the Pistes Festival puts on free gigs around the Portes du Soleil area.
Families in particular will welcome the big indoor Parc des Dereches leisure centre with three swimming-pools and an aqua gym, spa and ice-skating rinks.

See also our feature on 7 Reasons to Visit Morzine.