In a Nutshell
The highest, most snowsure resort in the giant Portes du Soleil ski area, Avoriaz has a kooky charm – and a superb array of terrain parks. It's a great destination in a good snow year: much less so when the snow's thin on the lower slopes.
The Stats
Altitude: 1800m
Lifts: 219
Top Lift: 2225m
Ski area: 650km
Adult lift pass: 265€ for six days


Official Site |

Ski Map |

Webcam
Essential Advice for the Perfect Trip
Avoriaz is part of the Portes du Soleil – a trans-frontier alliance of a dozen ski villages in France and Switzerland, south of Lac Leman. It's a vast and endlessly-varied playground, boasting 197 ski lifts, 650km of pistes, 10 terrain parks and oodles of off-piste in between. And it would be one of the world's greatest ski areas if only it were a little higher.
Problem is, the highest lift in the Portes du Soleil tops out a 2466m, and many of the slopes are below 2000m. Several of the resort towns and villages are down at 1000m. That compares unfavourably with the A-list ski areas such as the Espace Killy and the Three Valleys – and it makes much of the skiing here vulnerable to the sudden thaws that can hit the Alps, even in January.
That doesn't mean the lower slopes are snowless very often. Batteries of snow-cannons making the stuff artificially see to that. But it does mean snow quality is more variable than you'll find in the likes of Val d'Isere, Courchevel or Val Thorens, with more icy mornings and more slushy afternoons on the pistes.
Still, the terrain is very good here – and the snowfall average for the highest slopes is one of the best in France (around eight metres a season – significantly higher than Val d'Isere, for example). Prices are noticeably lower than in some of its rivals, too. In a good, cold winter, you can have a blast here.
Avoriaz is not your average ski resort
Set at the top of a great cliff, in a high-ish mountain bowl, Avoriaz has always been one of the most forward-looking ski resorts in the Alps. Designed to be car-free, it's based around a series of high-rise buildings that are linked by boulevard-style pistes on the outside, and stairs, lifts and covered walkways within. Most of the accommodation is in self-catering apartments, and some of it is brand-new. Nearly all of it is ski-in, ski-out.
It's not just the look of the place that's futuristic. Avoriaz has also had an open mind when it comes to the latest trends and was one of the early Alpine capitals of snowboarding. It built its first terrain park and half-pipe back in 1993. Ever since, it's been a big supporter of freestylers, whether on one plank or two, and these days boasts three parks and a super-pipe, as well as a ground-breaking Stash forest park.
All of these add up to the reason why it's such a big hit with young Brits, Swedes, Belgians and Dutch. And while it can't match the likes of Val Thorens for apres-ski, it can still rock at night.
Anyone for a cute little ski village with a bit of history and a rough-hewn Alpine atmosphere should give it a wide berth. And we'd strongly advise against skiing here in a snow-drought or a warm spring. Not only will you find lots of the lower pistes closed, you'll also find everyone from the lower villages congregating around Avoriaz, which can be unacceptably over-crowded as a result. But if you're looking for convenience, spirit, skiing variety, and – above all – terrain parks, put it somewhere near the top of your hit-list.
---
---
Guide to the Mountain
Avoriaz is suited to all levels of skier and rider – with the possible exception of beginners. They will find the nursery slopes rather small, and the swirling crowds around them intimidating. A resort such as Alpe d'Huez or Morzine will suit them much better.
In a good snow year, when the lower slopes of the Portes du Soleil area (such as in Morzine and Les Gets) are covered, and the snow is soft, cold and grippy, intermediates will have a ball – because they can explore the full extent of this vast area, rather than endlessly repeating the same slopes. Although it is worth pointing out that the pistes in the immediate area, are also very good – especially in the Hauts Forts sector (which is where you'll find the best-quality snow).
It's a vast and varied playground
One thing to be wary of is "the circuit" – trying to ski round the whole of the Portes du Soleil in a day. As with Sella Ronda in Italy, completing a tour of the principal resorts in a single day restricts the amount of time actually skiing, with most of your day taken up riding lifts (a basic circuit requires riding 26 of the blighters). It makes more sense to explore one sector of the area at a time – deciding on where you want to go and the quickest way of getting there. One of the best areas to explore is Les Crosets, across the border in Switzerland. You'll need to ride the chair-lift downhill to get there – thus avoiding The Swiss Wall. But once you arrive you'll find lots of wide, north-facing pistes which hold their snow well.
Border controls are unusual, but not unheard of. We strongly advise you to carry your passport as well as both euros and Swiss francs. If you or one of your party has an accident along the way, you could be stranded in another country.
Bear in mind that when snow cover is poor, you'll be restricted to skiing the slopes immediately around Avoriaz. In theory, that's fine, but the problem comes when everyone migrates up from Morzine and other surrounding lower-altitude resorts. It can be very crowded as a result.
Try one of the classic mogul slopes of the Alps
Provided the snow's good, advanced skiers will like it here too. There are some classic challenges here – notably the long and testing black that descends from Le Plan Brazy following the line of the FIS downhill course to Les Prodains. And The Swiss Wall (more correctly known as La Chavanette) which has a reputation as one of the most difficult descents marked as a black run on any piste map. In reality its bark is usually much worse than its bite, although the toxicity is dependent on the quality of the snow.
For anyone making their first turns on powder, there are plenty of bits and bobs to nibble at around the edges of the pistes (though there's a lot of competition for these after snowfalls). More expert skiers will want to hire a guide and get exploring – there are for example some wonderful steep runs from the Hauts Forts sector down to Les Prodains (linked to Avoriaz by cable-car). When the snow's good, there are plenty more awesome runs besides.
Finally the freestyle terrain here is superb. Avoriaz has definitely got its mojo back in this respect, and is, arguably, the best freestyle destination in the Alps.
A snowboarding stronghold
Avoriaz has a half-pipe, three terrain parks (the first was built in 1993): La Chapelle park is for beginners and intermediates, the challenging Arare is in the Hauts-Forts sector, and Trashers is for kids. Then there's the innovative Stash – in association with Burton snowboards – a 1.3km, all-natural freestyle slope. Best of all, for the average freestyler, it also has a big air bag in La Chapelle, a giant plastic pillow you can throw yourself onto. What's not to love about that?
But if the snow is good, then you need to ditch the tricks and get freeriding. Bear in mind that some of the best runs are through the trees, so you don't want to wait till the skies clear to try them. Hire a guide, make sure he or she equips you with transceivers, shovels and probes, and get riding while the snow is still falling, and everyone else is indoors.
The Snowcross is the name given to selected ungroomed slopes that are surveyed by ski patrollers, who ensure safety by artificially setting off avalanches and fencing off any dangerous areas. For example, Les Crozats is a big wild area that starts from the Hauts Forts and joins the world cup downhill run down to Prodains, from where you can return to Avoriaz by the Prodains cable-car. Le Pschott is a natural bumpy run under the Brochaux chair-lift, consisting of several successive natural canyons.
---
---
Where to Learn
Avoriaz has a good mix of ski schools, and an especially enlightened attitude towards the teaching of children. SKiBro, either online or as an app, is an intuitive, user-friendly platform that helps you find the most suitable instructor for your needs – for everyone from families with small children and teenagers to improving intermediates and off-piste aficionados.
The British-run Avoriaz Alpine Ski and Snowboarding School is a long-established presence here, and over the years, we've been been impressed by their upbeat and painstaking approach. More recently, top-notch British ski school New Generation has started operating in the Portes du Soleil. Its main base is down in the Morzine, but it's offering private lessons in Avoriaz too. Take a couple of these, and they'll make a big difference to the way you ski.
Among the French schools here are Evolution 2 Ecole de Ski et d'Aventure which received favourable comments from reporters, and the ESF. Both schools also teach snowboarding.
A lot going for it for families
Avoriaz has a lot going for it – it's car-free, all the accommodation is ski-in ski-out, and it's home to a highly-rated Village des Enfants/Village Snowboard, which cares for children from three years of age, using methods developed by the celebrated French ski champion, Annie Famose. It has over 100 instructors and supervisors working during peak periods. It even has an Ecole des Parents which offers lessons for six parents at a time and that fit in with the childcare hours and meeting places.
"I just can't imagine a better family resort," said a visitor. There is now a family-friendly British tour operator here, VIP Ski. And it's also worth bearing in mind that another outfit, Family Ski Company has a big operation down in Ardent, a quiet, cute and small village within the Portes du Soleil lift system.
Hot on the heels of Stash is Lil-Stash for snowboarders – but little ones. It's located in the Proclou area and is a succession of modules made from both snow and wood. There's mini boarder-cross, a snake run, kicker size XS, woops, an area for slides and boxes, 'the snow land area' for making turns, a wooden bridge, and an area in the forest.
Meanwhile, P'tits Loups creche cares for non-skiing children from three months to five years.
Dogs, igloos and camp fires
Other activities for families in the resort include special dog-sledding trips for children. These are 10 minutes long and are available for children aged between nine months and 10 years of age. You can also have a 'trapper evening' in an igloo or teepee, reached by a 60-minute snowshoe trip. You then have a traditional mountain meal around a camp fire in the open air.
---
Where to Stay
Most visitors to Avoriaz stay in apartments. The majority are small, basic and cheap, although a few have been attractively refurbished. As nearly all the skiing is from your door, location is unimportant. The apartments have been designed with skiing convenience in mind: so you won't need to walk for miles in ski boots. The resort is car-free too, so children are safe to run around outside. There is also smattering of chalets here, run by British tour operators, and one exceptional hotel.
Residence L'Amara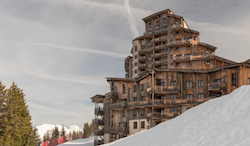 In terms of build quality, the best ski apartments are the ones at l'Amara, at the entrance to the resort. They're ski-in ski-out, and are a long way from the rabbit hutches we used to know in French ski resorts. We're talking spa and indoor heated swimming-pool, as well as yummy fresh bread and pastry delivery for breakfast each morning. It's placed somewhere between basic and luxury, but certainly on the higher end of the scale. The building itself resembles something of an Alpine modern art sculpture.
Residence Saskia Falaise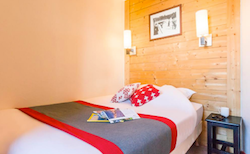 Nearby, Residence Saskia Falaise is another imaginatively-shaped block of apartments, located right on the slopes. It's been recently refurbished so has a modern and stylish interior. The apartments are well equipped, warm, clean and cosy with lovely Alpine touches in the woodwork, art, and furnishings. Sometimes prices are discounted here during quiet weeks – and weekend-only rentals are on offer, too.
Residence Les Fontaines Blanches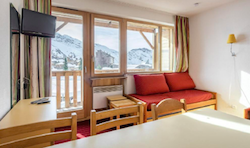 Residence Les Fontaines Blanches is another rung down the accommodation ladder. It's cheap and central: right in the middle of the resort, opposite the tourist office and close to the resort's kindergarten. A ski equipment rental service is available at the apartments, but just don't expect lots of extra space or cutting-edge decor.
Hotel Les Dromonts
Don't want to cook for yourself? Then there are several options, the most luxurious of which is Hotel Les Dromonts – owned by hotelier extraordinaire Jocelyn Sibuet. It's a kooky place – a funky throwback to the heydays of Catherine Deneuve, when Avoriaz was one of the most fashionable resorts in the Alps. It houses Les Enfants Terribles restaurant and has oodles of retro-chic – the interior a mix of whacky curves and angles, secret spaces, and roaring log fires. Staying there is like having a walk-on part in a Francois Truffaut movie – with magnificent food to eat at the end of each day's filming.
Chalet Kobuk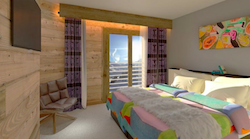 Chalet Kobuk is located on the piste at 1850m altitude, a lift ride from the centre of the resort and the Aquariaz water park, and a stone's throw from the piste-side bars and ski school meeting place. It sleeps eight to ten people across three floors, and is ideal for families because it has two separate living areas: there's an open-plan living/dining area and a mezzanine.
Chalets Ossetra and Beluga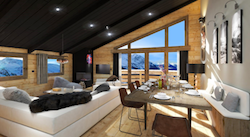 If you're craving a chalet experience, check out VIP's adjoining chalets Ossetra and Beluga – both are a few metres from the top of the Prodains lift, ski school meeting point and piste-side bars and restaurants. Beluga has five bedrooms and Ossetra three – all of them very light with huge windows. We love their cosy but cool ambience, and the morning wake-up tea in bed!
Chalet Marie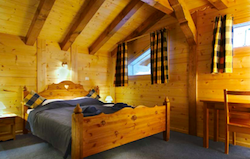 Ski Total's Chalet Marie is ski-in ski-out with seven wood-panelled bedrooms, all en suite, and an open fire in the living-cum-dining room. There are wonderful views from the balcony across the resort and valley. It's gorgeously decorated in Savoyard style, with high beamed ceilings and a crackling log fire.
Chalet Alaya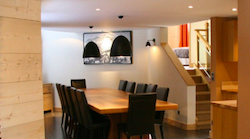 Also worth checking out is Alaya, which is a free-standing chalet conveniently located right next door to the children's village. It is self-catered, with flat-screen TVs in all of the seven bedrooms, a beautiful living area with an open fireplace, and a home cinema.
No 1 & 2 Penthouse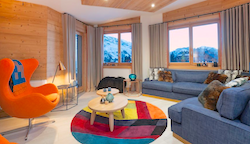 No 1 Penthouse is a stylish penthouse apartment sleeping up to seven people. It has gorgeous views, flat-screen TVs, a log fire and plush furnishings. The smaller No 2 Penthouse is entirely separate, sleeps four in two bedrooms, with an open-plan living/dining area and a contemporary fireplace. All of them have chalet catering.

Another option is to stay down at the bottom of the Prodains cable-car. This is where some of Avoriaz's best off-piste runs end up – though staying down here will add an extra lift to your itinerary every morning when you're getting up the mountain.
Chalet-Hotel Neige et Roc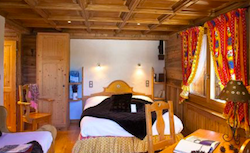 At Les Prodains, Chalet-Hotel Neige et Roc, originally a farmhouse in 1905, has 30 'mountain-themed' rooms with lots of wood and pretty fabrics. It's wonderfully traditional and embodies an authentic mountain spirit in the way it looks and is run. It houses a good restaurant serving 'country-fresh cuisine'. The owners also rent out a second, tiny chalet sleeping two to three people.
---
---
Where to Eat
Avoriaz doesn't really come close to its neighbour, Morzine, when it comes to eating out – but you can still find some good places if you know where to look. Most of the lunch-time venues double as evening ones.
The main self-service mountain restaurants are prone to overcrowding during high season or when snow-cover is poor elsewhere. It pays to avoid those close to the French-Swiss border, as they tend to be some of the most overpriced. Seek out instead one of the authentic mountain huts. Coquoz (+41 24 479 1255) at Planachaux has a circular open fireplace and good food. The goat-farming hamlet of Les Lindarets has a number of enticing eateries including La Cremaillere (+33 450 74 11 68). L'Abricotine – a mountain refuge in a lovely setting at Les Brochaux, and Les Cretes de Zorre (+33 450 79 24 73), are also recommended. Le Petit Lindaret (+33 450 74 21 69) has a lot of charm.
Opening for the 2018/19 season on the site of the former Chez L'Envers restaurant is the Folie Douce, which will house a self-service restaurant called La Petite Cuisine, and La Frutiere restaurant.
A good choice of eateries in town
Despite its low-fi, unassuming image, Avoriaz has a good choice of resort restaurants – a reflection of the fact that most people stay in self-catering apartments, and don't want to cook every night of their trip. Les Enfants Terribles in Hotel Les Dromonts is the must-eat destination for foodies. Le Bistro (+33 450 74 14 08), opposite Le Village des Enfants, is also good but expensive. La Reserve (+33 450 74 02 01) is an upmarket place with wonderful lamb dishes and a good wine list; it's not cheap either.
Chez Flo is recommended for its generous pasta, meat and fish dishes. Les Intrets (+33 450 74 15 45) is an old favourite that's said to be 'wonderful' by a visitor, and Creperie a La Duchess Anne (+33 450 74 12 50) is particularly good for families. L'Igloo (+33 450 73 99 15) is British-run, with a varied menu from pizza to local specialities. Chalet-Hotel Neige-Roc was built as a farmhouse in 1905 and has a good restaurant serving 'country-fresh cuisine'. La Reserve (+33 450 74 02 01) has a good menu but is expensive.
---
---
Where to Party
Nightlife in Avoriaz is nothing compared with the likes of Val Thorens and Val d'Isere. But it has its moments. Several bars are open until late, but there is only one nightclub as such. The resort is popular with Danes and Swedes, which always adds to the interest. Le Yeti (+33 450 74 12 78) is a popular apres-ski bar with live music, where people like to go and relax on the sun terrace. Shooters (+33 450 74 07 22) is a cool bar that attracts a young crowd. But this winter a brand new Folie Douce opens on the piste, which will certainly add to the apres-ski.
The Place is a stronghold for Scandy-types, and has live music. It doesn't get busy till late. Le Globe Trotters Cafe (+33 450 74 06 21) is a popular international pub with live music. It also serves gourmet crepes. Le Tavaillon bar/pub (+33 450 74 14 18) attracts predominantly young British customers. The Wild Horse Saloon (+33 450 74 72 29) has a good bar menu that includes Mexican dishes, and plays live music. Make sure you try one of their Wild Horse Jaegerbombs.
Le Yak (+33 450 49 51 66) is the only real nightclub in Avoriaz – playing house music and open until 5am. The other late-night spots are Le Choucas and Le Fantastique (+33 450 74 09 15) for its cocktails. If you're after something a bit more laid back and, well, grown-up, then head to Hotel Les Dromonts.
The Great Outdoors Music Festival takes place in Avoriaz at the end of March. It features artists of the French and international pop/rock scene, with free concerts which you can access with your lift pass. A skating rink at the heart of the pedestrianised resort is floodlit until 8pm each day and has a terrace for spectators.
Aquariaz is the resort's indoor water park. It features lush vegetation and rocks: a river with a variable gentle current, a slidewinder (a kind of aquatic half-pipe), a water playhouse, a paddling pool, a large pool with climbing walls, massage benches and an open-air spa heated to 34 degrees.
Avoriaz is offering eFatBike this winter. The eFatbike is an electrically assisted bike with oversized wheels for a good grip on the snow. The activity is being offered twice a week as an apres activity in the eFatbike initiation zone, allowing everyone to try the electric bike on snow, on a specially smoothed area. The MTB school MCF offers eFatBike outings including Full-Moon outings and Evolution 2 has eFatBike outings during the day and evening.