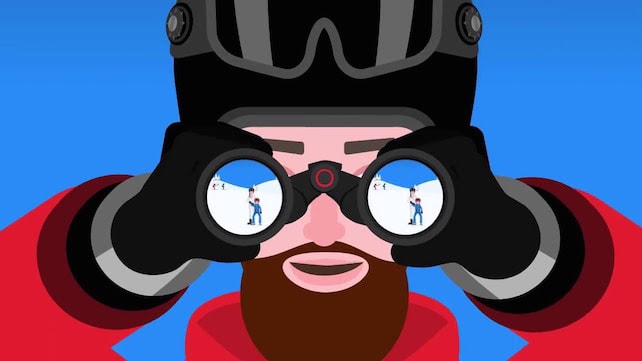 Nick Robinson is a former member of the British Ski Team and a ski instructor. He's also the co-founder of maisonsport.com: an online service designed to make booking private ski lessons in France quick and simple. You search for your instructor by resort and by availability: and the listings include the instructor's own pitch for business in his/her preferred language, as well as the price per hour. Once the lesson's over you can review your experience, too.
Here, Nick considers nine reasons why skiing with an instructor makes for a better day.
Of course there's one very obvious reason why you need a ski instructor. You're going to improve: and nothing in skiing is more fun than mastering a new skill, or learning how to tackle tougher terrain. Your self-confidence is going to soar.
But there's more to it than that. Skiing with an instructor makes for a smoother, hassle-free day, and unlocks your ski resort in a way no piste map can. Here's how.
1. Better Technique Means Fresher Legs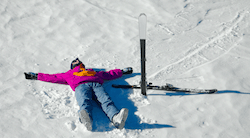 Let's face it. Few skiers have the time or inclination to get properly fit for skiing before their holiday. And even if they do, poor technique often means they waste their energy in the first couple of hours – skidding sideways down the mountain with their thigh muscles in lockdown, or wrestling their body around like they're dancing the tango. By lunchtime, their legs have turned to spaghetti (laced with lactic acid rather than Bolognaise), and a three-hour lunch becomes a necessity.
At whatever level you're skiing, better technique almost always means more precise and economical skiing. So you'll keep going for longer, and you'll keep improving for longer too. Photo: © Peter Gudella/Shutterstock.
2. Avoid The Lift Queues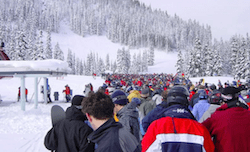 Priorité, priorité! That's the name of the game. When the crowds roll in on high season dates – particularly over New Year and the French and British February school holidays – the canny skier books lessons. Ski teachers in France (and some other countries) can use a separate lift lane to fast-forward their clients to the front on busy days, often saving an hour a day of ankle-to-ankle queue battles with determined fellow skiers. Photo: © Maison Sport.
3. Enjoy Bad-Weather Days
The white stuff on the ground that we love so much on a bluebird day has to come from somewhere. Of course, this means that for a substantial part on the time the sky is either thinking of snowing or unleashing flakes the size of dinner plates.
In both cases visibility is going to be bad and this means that unless your technique is tip-top you're going to struggle. So book yourself a lesson, and follow the tracks of your instructor. That way you can see what kind of bumps and niggles in the terrain lie ahead – before you hit them. It'll keep your technique in good order when most people are skiing at a snail's pace, terrified of what's coming next.
What's more, at the end of the day you won't end up in the wrong valley, because you missed your turning in the whiteout. Photo: © Shutterstock.
4. Make the Day More Social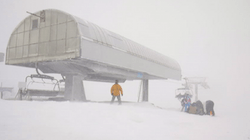 Sharing the experience is all part of the fun – and hiring a ski instructor will make a big difference to the social dynamic of the day. The benefit is obvious if you're a solo skier because, well, solo skiing sucks. But families and groups usually have much more upbeat day with an instructor, too. Sometimes it becomes life-changing. Falling in love with your ski teacher is the ultimate ski holiday cliché. But it happens. Half the ones I know met their partners at work. Photo: © Tracy J Anderson/Shutterstock.
5. Find The Best Snow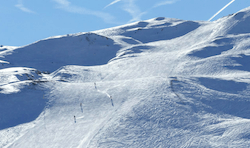 You've come for the snow, so finding the best of it each day – regardless of what the weather has thrown at you – should be an essential part of your holiday. For most of us this means getting expert help.
If you want to go off-piste you'll need a properly trained and equipped guide who can find you the best powder in the area – even if it hasn't snowed for days. If you want to stick to the pistes, you want someone who knows which runs have been groomed and when, which turn to ice by midday, and which are best holding their snow. Photo: © YSE Ski.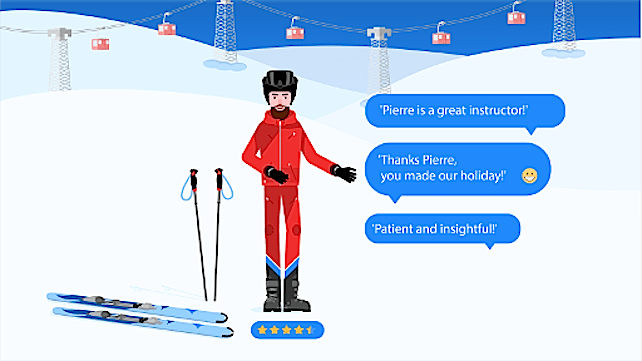 6. Have a Good Lunch
Lunch, for many skiers, is an essential component of the skiing day. Maybe you want an authentic cheese fondue or tartiflette in a wayside mountain hut, or maybe you want a five-course banquet in a Michelin-starred restaurant. Ski instructors know exactly where to go and can often, through local contacts, secure the table that you cannot.
Most importantly, for the full blown lunch, they know the exact cut-off point if you want to avoid a long taxi drive back to the chalet – the moment when you have to forego the last glass of genepi, pay the bill, and hit the last lift home. Photo: © Andy Parant/OT Val d'Isere.
7. Stop Struggling With Your Skis and Boots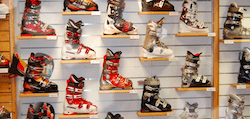 Do you know your Din setting or what width under foot is the kind of ski that suits your style? Sadly, the level of expertise in ski rental shops – with a few very notable exceptions – is abysmal. Finding your way through the maze of equipment requires expert help. You need someone who will give you the best advice.
An instructor will be able to advise you honestly on what should work best for you. Sometimes simply changing your skis or boots can make all the difference. Photo: © OT Courchevel.
8. Become a Property Expert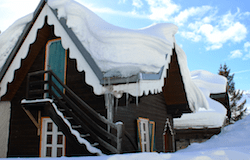 Locals like your ski teacher are generally in the know about all the newest properties for sale, or to rent in the resort for your future trips, so ask your instructor for the low down on the best deals, and avoid the estate agents.
Photo: © JY Kutter/OT Val d'Isere.
9. Learn About The Mountain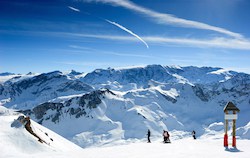 All ski resorts are the same, right? Wrong. But you won't fully understand that until you've spent a day with a guide or an instructor, chatting on the chair-lift and discovering its secret spots. Did Prince Harry come here at New Year? What's the difference between the snow on a north-facing slope and a south-facing one? Can you really make ointment out of marmots?
The list of potential subjects up for discussion is endless, and while not every instructor is a natural botanist or historian, they will be brimming with information that'll add an extra dimension to your skiing. Photo: © Dmitry Naumov/Shutterstock.
Have Your Say
Have you had any especially good or bad experiences with ski instructors or guides that you'd like to tell people about? Or perhaps you've a favourite teacher you want to recommend? If so, why not share your thoughts in the comments box below?