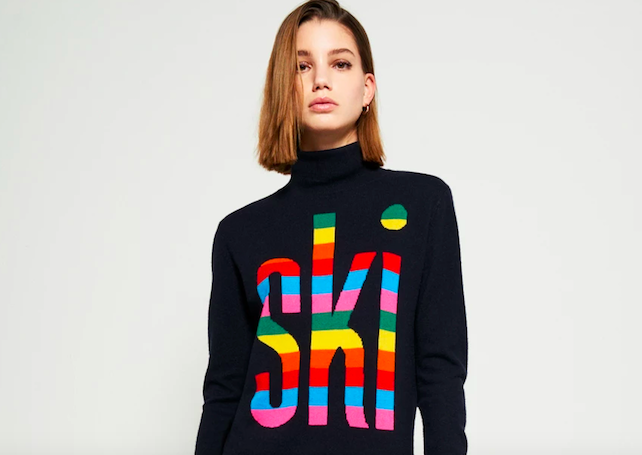 Wondering what to get your skiing friends and family this Christmas? Here's our guide to festive shopping for skiers and snowboarders young and old, ranging from stocking fillers to something a lot bigger…
Rudolf Ski Socks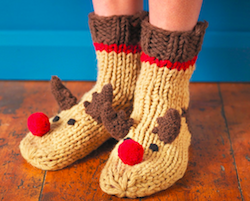 These cute Rudolph socks add to the Christmas atmosphere while keeping your feet nice and toasty. The socks are made with a 100% wool outer, and are handmade in a fair trade environment with a portion of the sales donated to Net4Kids – a charity that helps to give underprivileged children a good education. £16.95, in sizes 4-7, from Natural Collection.
Dramatic Candles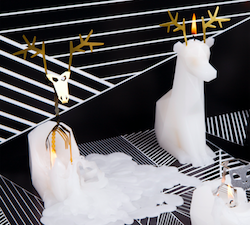 Spread the festive mood with a great centrepiece for your Christmas table or sideboard. Instead of melting into pool of wax, as the Dyri reindeer candle burns it provides a theatrical experience from start to finish – revealing a golden skeleton. The Pyropets range also consists of a further seven different creatures: Kisa (cat), Bíbi (bird), Hoppa (rabbit), Ugla (owl), Einar (unicorn), Dreki (dragon) and Voffi (dog). Available in burgundy, white and blue. £27 each from 54Celsius.
Space-Saving Shampoo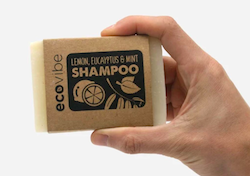 Wanting to cut down on luggage when travelling? These take up a lot less space than the average shampoo bottle and will help you make small switches to reduce plastic consumption. Lemon, Eucalyptus & Mint Shampoo is very different to solid shampoo and takes a while to adjust, as your scalp and hair are used to harsher chemicals in shampoo which strip your hair and scalp of protective oils. But once you hair adjusts you probably won't want to return. £4.85, from ecovibe.
Skier Wrap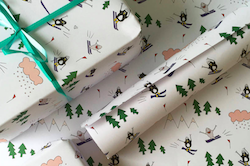 Penguin And Shark Go Skiing is fun illustrated wrapping paper, uncoated and made from 100% recycled paper. Watch how the shark skis down – knife and fork in hand, trying to catch a penguin for his supper. But he won't catch one – the penguin's much too fast. £2.50 a sheet from Not On The High Street.
Outdoor Lights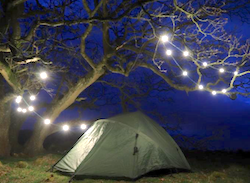 Luci String is an innovative design with 10 pairs of LED lights on a 18ft string, giving up to 150 lumens of light. This produces a gentle surround light (with no shadows or spotlights) and lasts up to 20 hours on a single charge (solar or USB). It's ideal for any outdoor space that needs lighting up. £39.95 from First Ascent.
Mountain T-Shirt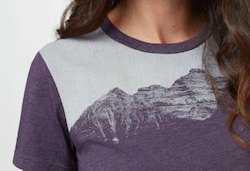 The lightweight short-sleeved Juniper women's T-shirt is made from TreeBlend fabric (45% recycled Polyester, 30% TENCEL™ Lyocell, 25% organic cotton). You simply wash it cold then hang it out to dry. It's soft and comfortable. £27.96, in heather or pale grey, from tentree.
Travelling Washing Bag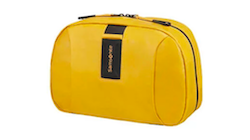 Paradiver Light is now lighter than before and comes with a fresh new look that stays true to the iconic original, while updated with a new sporty colour palette. The size is 20 x 28 x 10cm, and volume 6.5 litres. It comes in yellow, jeans blue, or black, £42, from Samsonite.
Face Smoothie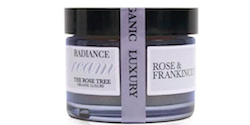 The cold and dry mountain air, and lots of sun, is not the best thing for your skin, so you can help it recover with Radiance Cream with Rose & Frankincense. The rich and silky facial cream is packed full of nourishing ingredients to leave skin hydrated and plumped up. It's suitable for all skin types. £27.50 for 50ml size, from The Rose Tree.
Vintage Wall Art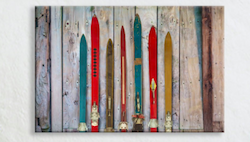 Decorate your home or office with wall art – either for home or office. This image of vintage wooden skis is printed on hand-stretched canvas on 3.8cm (1.5″) deep wood stretcher bars, with hanging hardware included. £48.96 from LabsCanvas at Etsy
Skiing Skin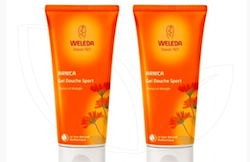 Weleda makes a range of skin and body care products that are ideal for skiers and snowboarders. There's Arnica Cream, pictured here, Skin Food for moisturising in cold weather, Foot Balm for apres your ski boots, Edelweiss Sunscreen Lotion, Lip Balm and Calendula Weather Protection Cream. They start from £4.95 from Weleda and independent health stores.
Ski Bottle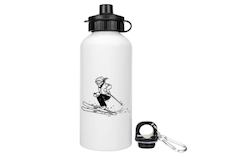 Be environmentally-friendly with Azeeda skier refillable and reusable drinks bottle. It holds 600ml of liquid, measures 210mm high, and comes with two interchangeable lids – a sports sucker cap and a screw top with carabiner clip. Every bottle is made from high quality aluminium, making it lightweight and durable. £14.99 from Amazon.
Christmas Beanie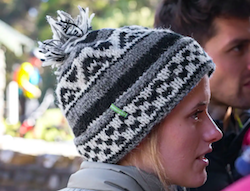 The Khusi Beanie is much more than a hat. Each beanie is hand-knitted in Nepal and helps to improve the lives of the knitters – who value their independence, their community and the chance to use their traditional craft. It comes in grey/white/black, navy/white/burgundy, and dark olive/ginger spice, £19.99 from Kathmandu.
Mountain Tote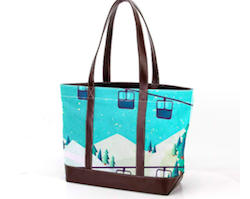 The colourful tote bag with a snowy mountain and gondola print is suitable for carrying everything from a 12.5 inch laptop, to shopping, school books, or A4 files. It's made from high-density cotton canvas, with a soft lining and smooth zippers. The strap and bottom is made from leather, and it closes with a zip. £37.99 from
Amazon.
Viking Style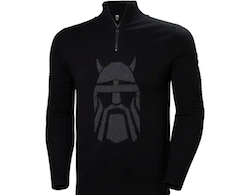 This men's Hod Knit ski sweater comes in a soft merino wool blend, in black with Viking image on the front. It's a something of a throwback to the ski racing style of an earlier era. £140, also comes in plain red or navy, from Helly Hansen.
Night Night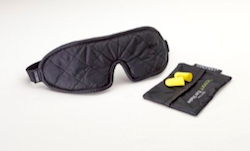 Cocoon Eye Shades Deluxe are made from soft microfibre and Ripstop nylon, giving superb comfort during travelling. Also great if you're sleeping in a room where the curtains or blinds aren't dark enough. The Deluxe Eyeshades are styled like sunglasses and are 3D shaped to keep the fabric comfortably away from the eyes, resulting in an excellent night's sleep however bright the light is. £9.95 from First Ascent.
Panda Eyes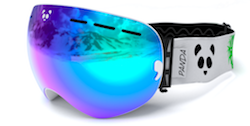 Panda Optics has launched a new children's specific ski goggle with the same kind of quality and styling as the adult collections. The Panda Cub range comes in two colour options, white and blue. Both come as standard with a smoke UV400+ anti-fog lens, with the option of a polarised blue mirror lens and low light lens. £54 from Panda Optics.
Colourful Bobble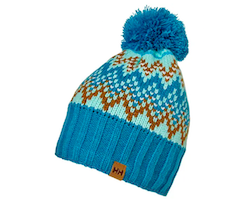 Powder beanie in blue tint, is very warm and fleecy inside, with a removable pompom. £25, also in navy/coral mix, from Helly Hansen.
Apres-Ski Sweater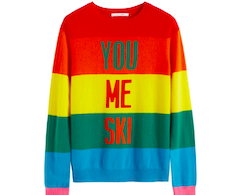 Chinti & Parker's Rainbow Cashmere Ski Sweaters come in various colours and designs (see main picture for another of the designs). Great for the slopes and – in particular – apres-ski, these rainbow-hued striped sweaters will brighten any cold-weather look. Knitted from wool, with a touch of cashmere for extra softness, the classic fit style will keep you warm all day long. £250 from Chinti & Parker.
Banana Booty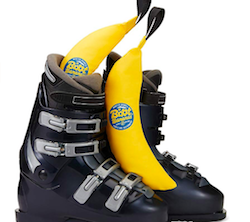 These boot dryers are for skiing, snowboarding, cycling, and golf – in fact, any sport where you might end up with wet feet. It dries without heat, removing the risk of damage to your footwear, something that's important for custom-moulded boots. They're designed to absorb moisture and dry footwear in four to six hours. £26 a pair from Amazon.
Light The Way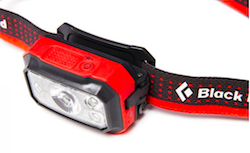 Black Diamond Spot 325 head torch will help you find your way back to the chalet after a late night out. It has now improved its optical efficiency for a brighter light that also saves power, and the casing is redesigned in a more compact design. There's red night vision to help with evening navigation, and PowerTap technology allows instant transitioning between full and dimmed power. It also has an IPX8 waterproof rating. £39.99 from
Black Diamond.