Nick Morgan, founder of Huddersfield-based chalet specialist, Le Ski, knows his right hand from his left. After 34 years in the business and on the mountain, he ought to. Nick was just 21 when he took a healthy slice of down-to-earth Yorkshire common sense to the chalet market in Courchevel, La Tania, and Val d'Isere.
Interested in what to wear skiing – read our guide here.
We've all done it: left our favourite gloves in the chalet, the bubble or a restaurant. And, without them, skiing just one run – even on a spring day – can be pretty miserable. That's one reason why I now always carry a spare pair of ski gloves with me. And then there's that moment when the one of the kids looks at you and says: "You have got my gloves haven't you, Dad?"
You can get perfectly usable ski kit at all sorts of outlets nowadays, making the sport more accessible – which is fantastic. But one thing you shouldn't skimp on is a decent pair of ski gloves. Cold hands will quickly drain the pleasure from your skiing day, and will affect your concentration, too. After all, who can think about the next turn when they're dreaming of a hot chocolate with rum in the nearest mountain restaurant?
Personally I use two types, depending on the weather. For all the high Alpine mid-winter days I use a pair of Hestra leather gloves I call my 'Spocks' – they are mittens with one (index) finger. They're extremely warm and weatherproof, but the extra finger means you can do your zip up or adjust your goggles even in the most horrible conditions.
In warmer parts of the season and for skinning I use an ancient and exhausted pair of Black Diamonds. They're really comfortable in athletic conditions. They're not so good when they get wet, but at least they don't get overheated and sticky.
We once skinned to the top of a 4000 metre col high above Zermatt where I planted my poles in the snow, put my Black Diamonds on the grips as usual and proceeded to take off my skins. I turned round to see one pole slowly fall over in the wind and return 50 vertical metres back down the steep mountain we'd just skinned up! Oh how we laughed?! Well my friends did anyway…
Anyway, whether you're beginner or a weathered skier or boarder, you'll find that a good pair of ski gloves or mittens is one of the most essential pieces of kit in your mountain wardrobe.
Gloves need to be waterproof, able to withstand some very hard use on the slopes and, at the same time, they've got to keep your fingers nice and warm.
Apart from getting the right hand gear, there are other things you can do to fight the elements. If your core temperature is comfortable, it follows that your extremities will stay warmer, too.
Wear a down jacket or a technical mid-layer and base layer, do some warm-up exercises when you start skiing, stop off in a restaurant for a hot drink when you're cold, tuck your hands under your armpits to warm them on a lift, swing your arms at the top before setting off, and never hold the metal bar on a chair-lift as it will only make your hands colder.
It's perfectly possible to get frostbite from skiing in inappropriate gloves, so it's important to get it right. This is what you need to look out for: warmth, breathability, waterproofness, good linings, decent cuffs, supple materials, and
dexterity for your hands.
Which are best: gloves or mittens?
Gloves make it easier to do up and undo zips, get things out of your pockets and so on. They are much more flexible than mittens.
Whilst mittens were once sneered at by serious skiers who considered them only suitable for children and beginners, all this has changed.
Everyone now agrees that they are the warmest hand wear you can buy, particularly for people going off-piste or to ultra-cold climates such as North America's east coast – but they offer less dexterity.
Which is best: leather or an artificial fabric?
Leather is more breathable than an artificial fabric, but the downside is that it takes longer to dry out when soaking wet. Leather is also more durable, but it can harden with age (or on a radiator, see below). Apart from Gore-Tex®, other artificial fabrics include DRILITE® which is a robust, durable and breathable 3-layer laminate shell fabric used by Mountain Equipment in its gloves.
Norrona and Burton both make gloves from lovely soft leather. Black Diamond Men's Crew Gore-Tex Gloves have goatskin palms, Helly Hansen uses pigskin, whilst 10 Peaks makes gloves and mittens incorporating buffalo leather.
Recycled fabrics
Picture is the leader in organic, recycled materials for ski wear. Its gloves feature an eco-friendly durable water repellent and Thinsulate insulation. The fabric is 64% recycled polyester.
Picture's designers aim to recover all production off-cuts and raw materials, integrating them into the linings of their ski jackets.
The best insulation and membranes
GORE-TEX® membrane is integrated between the shell and the lining, making a glove waterproof, windproof and very breathable. Hands stay warm and are protected against harsh weather conditions.
Lots of different insulation fabrics exist, with the leader being PrimaLoft® which is a combination of water-repellent goose down and hydrophobic fibers. It offers the lightweight warmth and comfort of ordinary goose down, but with great wet-weather thermal performance and a faster drying time.
Eider and Salomon both use this type of insulation. EnduraLoft® is another soft, high-loft insulation that is lightweight and recovers well after being compressed.
Waterproofing and drying gloves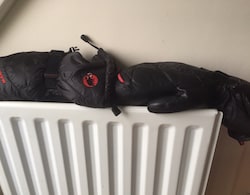 Most gloves have an inner waterproof membrane. This allows more breathability, but it means that when the glove gets wet the insulation around the fingers soaks up water, not actually permeating the membrane, but cooling the hands by making them wet.
Never dry leather gloves palms-down on a radiator overnight – the leather could go hard and lose its suppleness. The same applies to leather in a washing machine. Read the label before attempting to wash or dry any ski gloves or mittens.
Are you an innie or an outie?
Gloves or mittens should ideally have long, wide cuffs, to make getting the ends of your jacket sleeves inside easy. Gloves with tight cuffs that are meant to go inside rather than outside your jacket are fiddly to put on, and will expose your arms to the snow if you fall.
The opposing view is that a glove cuff that fits snugly, closing with Velcro, toggle cords or similar, won't allow a gap between your jacket cuff and the gloves and therefore any draft.
Adjustable wristbands are far better than elastic ones, and some modern gloves now have safety loops so you won't loose them if falling in deep snow – or whilst taking a photo from the chair-lift.
Is it worth buying glove liners?
Glove liners come in silk or an artificial fabric: Kombi even produces a PrimaLoft® liner. These are basically thermal gloves that you can wear under your ordinary gloves or mittens.
Liners make getting gloves on and off easier and, even though they help you keep warm, they actually help prevent your hands from getting sweaty. They also give you the option to remove your outer gloves to fiddle with your phone or camera, without having to bare your skin.
If you need to be able to text or manage your music regularly on the slopes, you might like to consider liners or undergloves that have 'touch pads'. Both Dakine and Decathlon make these.
Professional photographers and video-makers should opt for something like the Chaos CTR Mistral Pro Stretch gloves, which are designed for snowshoeing and hiking, but work well for those who want to keep warm yet require plenty of flexibility.
Size doesn't matter
Yes, it does.
Glove-sizing charts vary from country to country and from brand to brand. However, the main measurement is the circumference of you hand across the widest part – just above the 'V' at the base of the thumb. Medium for a woman is 6.5-7.5 inches and for a man 7.5-8.5 inches. Most brands offer extra small to extra large, but the actual size of these classifications may vary considerably.
Sufficient finger length is extremely important – and not only for warmth. Ski gloves take a daily battering from lifts and poles. Make sure that the material at the 'bottom of the 'V' between index finger and thumb rests on the skin and is not too taught. If the material 'lifts at all when you firmly link the Vs on both hands, then the seams here won't last the test of time. Within a season, you'll be reaching for the duct tape.
Which brand is best?
It all comes down to personal choice and price. In general, with a few silly haute couture exceptions, you get what you pay for. Gloves for adults range from about £15 (TK Maxx and Trespass. You pay a sizzling premium for heated gloves (see below).
Spend as much as you can sensibly afford and explore the market. Companies like The North Face, Helly Hansen and Scott produce good value technical gloves. Flylow is the glove of choice for a lot of North American ski patrollers – they produce good-value gloves that are warm and waterproof. They have been hand-treated with Sno-Seal beeswax for waterproofing.
Beginners won't want to go for the most expensive gloves on their first trip, so they would be best off buying mittens and separate liners (see below).
Why are most gloves black?
It used to be that all men's gloves were black and women's were either black or white. White is impractical so, unless you are lucky enough to own several pairs of gloves or are not actually going to ski, then steer clear.
The majority of gloves and mittens still come in black – because it's a colour that doesn't show the dirt and it goes with all colours of ski clothing. You can now buy gloves in most colours, although black, sometimes mixed with natural leather, are often the more technical models. Increasingly, though, you can buy gloves to match your ski jacket.
Added extras
In wet conditions, two-part mittens are a good idea as you can dry the shells quickly and swap the fleece liners for dry ones. The Level Women's Matrix Glove has a removable fleece inner glove. And…wait for it…a nose wipe.
So do Eider, and also 10 Peaks gloves and mittens. The latter also incorporates a goggle wipe and – best of all – a C-ZIP, which is a zip that runs across the top of the gloves, allowing you to easily slip your hands in and out of them without having to take your gloves off altogether. This minimises the risk of losing one when you text from the chair-lift.
Then there are the hybrids, like the ones I have. These are three-finger gloves (sometimes known as lobster mitts) that fall somewhere between gloves and mittens. They give you more dexterity, since not only your thumbs but also your index fingers are separate.
Keeping children's hands warm
The same applies in warmth for children as for adults, although small children should go always wear mittens and never gloves.
These need to have ribbons attached so that they can be threaded through the arms of their jacket. It lessens the likelihood of losing a glove on the slopes or at the kindergarten.
It is worth bringing a spare pair in case the first one gets soaking wet whilst building snowmen, tobogganing and, of course, skiing. Wet gloves won't always dry out overnight.
Different gloves for cross-country
These are generally thinner and less padded than ordinary ski gloves, as you tend to heat up a lot more on a cross-country track and you are unlikely to be going on a chair or drag-lift up into exposed areas.
Ergo Grip Active from Hestra is a popular glove for cross-country skiing – it doesn't have any waterproof membrane on the palms, but the leather is breathable and waterproof.
Is it worth paying extra for heated gloves?
Yes, is the answer if you really feel the cold – such as people with Reynaulds Phenomenon – or 'white finger' – which affects the blood supply to the extremities and causes the blood vessels to go into temporary spasm.
Expect to spend around £200-250 (236-295€) for a pair of heated gloves or mittens. You can recharge the batteries by plugging them in overnight.
They vary in terms of how long the batteries last whilst out on the slopes in severely cold temperatures, so you should consider taking an extra pair of mittens in your backpack…just in case the batteries die during the day.
Kombi makes the Radiator glove, and others include Hestra Power Heater gloves, and Therm-ic Heated gloves. Stores such as Ellis Brigham often stock ranges of them, too.
What to do with your old gloves
Don't throw your old gloves away if you're likely to drive to the Alps or get involved in snowman building or snowball fights with your children!
When driving to a resort and putting on snow-chains you'll need ski gloves that you're not going to need to wear on the slopes, as they will end up wet and oil-stained.
If all else fails, stick them on a scarecrow. I once knew a hard-drinking ski host (not at Le Ski!) who, whenever it snowed in the springtime, dug into his rucksack held together by duct tape and produced a pair of canary yellow Marigold washing-up gloves. In wet blizzard conditions he swore by them. Waterproofing was never in doubt and warmth was clearly not an issue – I suspect his veins were blood-free.

For more information on accessories, see our features on ski goggles, helmets and socks.
Do you have any favourite gloves or mittens?
We'd be interested to hear any personal recommendations. Let us know in the comments box below.