Wondering what to get your skiing friends or family this Christmas? Here's our guide to festive shopping for skiers and snowboarders young and older.
Wise Men's SatNav

Trakdot's luggage tracking device is an ingenious way to make sure your luggage gets to where you're going and offers invaluable peace of mind. Once the device is registered on the Trakdot website and placed inside a checked bag, it will deliver location information directly to the user's mobile phone or SMS device via text or email. An additional app alerts passengers as their baggage approaches on the carousel, making it easier than ever for them to find their bag. £44.99 plus an annual service fee of £13.65; for stockists visit Trakdot.
Follow that Star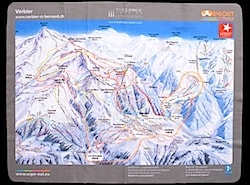 You can wipe your goggles clean and at the same time avoid getting lost with the Wipeout lens cloth that doubles as a full-size piste map. It's printed on a microfibre material and the number of maps grows each year. At the moment there's a choice of over 100 ski resorts on 30 maps – from Val d'Isere to Vallnord. One percent of Wipeout's profits goes towards Mountain Riders, an organisation that assesses and educates ski resorts on eco-friendliness. £8.49, from Wipe-Out.




Camel Pack


If you're driving out to the Alps for the festive celebrations you'll need a streamlined roofbox that won't slow you down or significantly increase either wind noise or fuel costs. The Thule Excellence XT offers 520 litres of space and is long enough (at 218cm) to hold even race skis. £1100, visit Thule for a list of dealers, which includes Halfords.
Travelling Onwards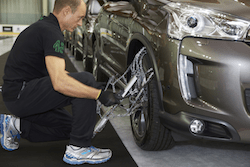 Attaching snow chains is never fun, especially on a mountain road at night in a blizzard. Thule Easy-fit cost a lot more than the standard ones, but are worth every penny. Each chain takes just 12 seconds to fit. Easy-fit even has an entry in the Guinness Book of Records – 12 people fitted 81 chains in one minute. Importantly, no physical strength is required. £260, visit Thule for a list of dealers, which includes Halfords.

In Clear Sight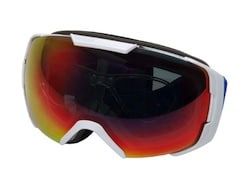 Glasses wearers among you may have suffered the discomfort of wearing an oversized pair of goggles on top of glasses, which never really fit. Or perhaps you've tried some of other prescription goggles of the past with flimsy inserts that easily fall out? Now there's something new that actually works.
Sportviz has introduced a stylish ski mask that comes with a snap-in prescription lens or 'Inzert' that matches the wearer's exact prescription – including bifocal and varifocal. The lightweight and aerodynamic mask looks like ordinary goggles from the outside and guarantees warmth and comfort. As an added bonus, the Inzert can be used inside any Sportviz mask, including the Aquaviz swim and snorkel masks. The Inzert costs from £25 and the mask from £44.95. For further information visit Sportviz.
Vision of the Future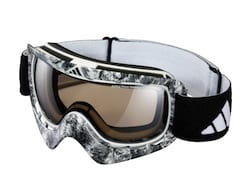 The ID2 is a new goggle from Adidas equipped with lots of innovations including a ClimaCool™ ventilation system that guarantees clear vision in any weather. They come in a dozen different colours – from yellow and red to purple and black. There is a choice of four different lenses, too, which suit a variety of weather conditions. £140, visit Adidas Eyewear for stockists.




White Gold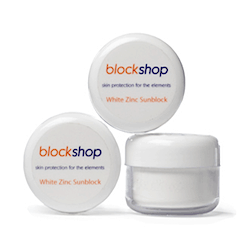 As experienced skiers know, you need a sunscreen of SPF 30 or higher, which should be applied before going out and reapplied regularly. Blockshop sells a range of creams and lip balms with added moisturisers.
Their own brand, White Zinc, comes in a three-pack and provides protection for those extra-sun-sensitive areas like lips, ears and nose. The colour is visible on your skin and the pocket-sized balm is non-greasy and Paraben free. £12.99, from Blockshop.




Frankincense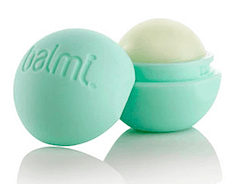 Your lips need to be protected against the elements and The Balmi Lip Balm has been designed to not only provide moisturiser for your lips but also offers SPF 15 and UVA protection. The essential accessory comes in mint or raspberry colourways. £4.99 from Snow+Rock branches.



Myrrh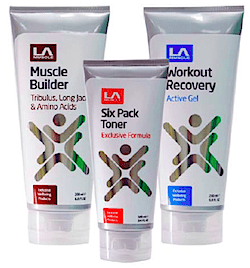 Workout Recovery Active Gel is a cooling gel that targets the muscles to help your repair post-exercise. The powerful herbs and Amino Acids work immediately after every application, increasing the blood flow, with nutrients and oxygen gearing you up for the next day's skiing.
You can also add to it Muscle Builder and Six-Pack Toner, if you should so wish. £29.99 each, stockists from LA Muscle.






Wrapped Up Warm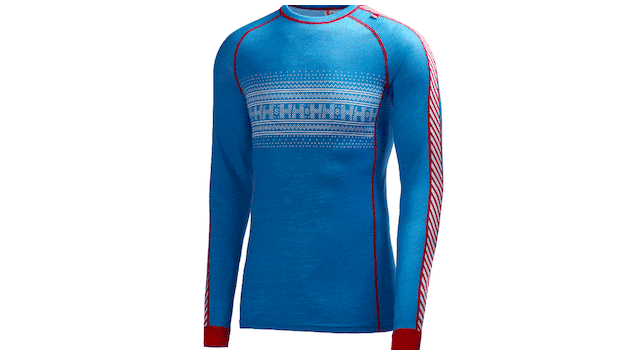 Warm Helly Hansen Ice Crew men's long-sleeve base layer is one of the best of its type on the market.
This men's base layer top is one of the best wool base layers on the market. The unique LIFA® fibre technology and premium merino wool exterior provide great insulation and moisture-wicking properties to keep you warm and dry on the slopes.
It stays dry next to the skin, and is warm and non-itchy. £55 for the top (matching long johns also available); visit Helly Hansen for stockists.







While Shepherds Watched…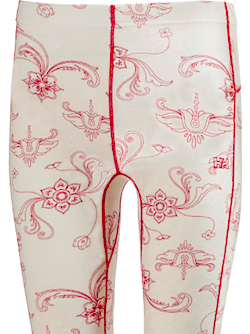 These Helly Hansen Warm Pant base layer long johns for women are one of the best wool base layers on the market. Instead of having to wear dull navy or white, it comes in a variety of colours and patterns.
The LIFA® fibre technology and merino wool exterior provide excellent insulation and moisture-wicking properties to keep you warm and dry even on the coldest days.
Like the men's base layer featured above, it remains dry next to the skin, is warm and non-itchy. £55 for the long johns (matching top also available); for stockists visit Helly Hansen.






…their Socks by Night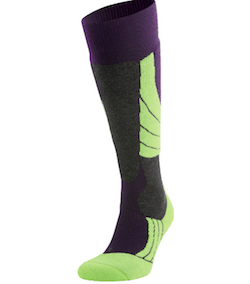 Falke ESS ski and boarding socks protect against heat loss, and absorb strain to the foot with protective cushioning on the shin, calf, ankle, instep and achillies tendon. There's also a built-in anti wrinkle system to prevent pressure and rubbing from ski boots.
The socks come in a choice of different thicknesses and there's no excuse for wearing for boring old grey socks, with the choice of 11 colours. £20, visit Falke ESS for stockists.






Little Donkey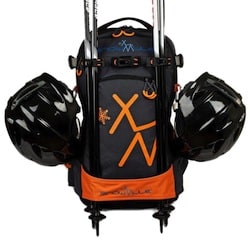 Snowmule is an innovative product that was invented to overcome all the problems of taking children skiing. No longer will you have to tow children with your ski pole, push them on the flat or walk while carrying all that ski gear. Snowmule does it all for you – it can pull up to two children along on the bag's self-retracting handles. (45kg max weight per handle.) It can carry two pairs of children's skis and poles on the bag clips – keeping your and your children's hands free on the ski bus or walking to the slopes. Loops with carabiners attach to helmets and gloves, and there are three pockets for goggles, keys and other valuables. The 25 litre version is £95 and the 15 litre £79. Go to Snow Mule for stockists.
Little Lamb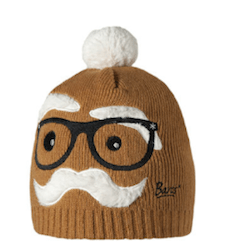 The Walter Beanie is a fun and stylish hat to keep your kids warm on the slopes. The hat has funky fur as a moustache and eyebrows to bring it to life.
It's made from 100% polyacrylics, with a warm fleece lining. The beanie is one size (approx. 53-58cm). £22.99, from Snow+Rock branches.




A Yak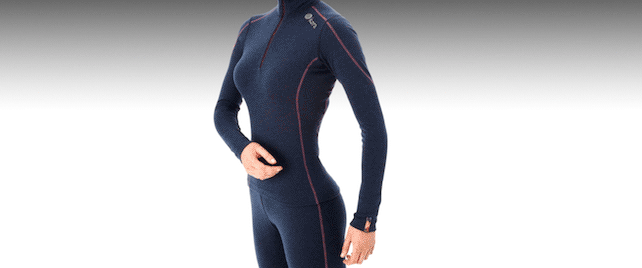 Yak's hair is coarse; nomads use it for tents, ropes and carpets. Yak's wool, on the other hand, is an inner layer of fine wool that the animal grows to insulate against it the cold – and it is very soft. kora™ has used it to develop a fabric called Hima-Layer™ using 100% yak wool.
It's extremely soft and 40% warmer than merino wool, weight for weight. It wicks efficiently, is warm, light and breathable. ShoLa 230 zip, £105; ShoLa 230 leggings (both come in men and women's sizes) £95. Stockist details from kora™.




and Finally…a Pelican?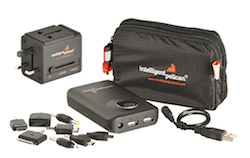 Intelligent Pelican is one of most user-friendly World Travel Charger kits we've seen. There are two components that come in two mini zip-up canvas bags: a universal adaptor and an external charger. The former works in 150 countries – it has two USB outlets so you can charge it directly when you have electricity. It can also be used to power up the charger when it has run out. The external charger comes with nine attachments to fit any mobile, camera battery device, iPad or Kindle. It provides six hours of power and is re-chargeable, so when out of juice a connection to the universal adaptor will allow it to be re-charged. The kit is priced at £45 and available through Intelligent Pelican.