Wondering what to get your skiing friends and family this Christmas? Here's our guide to festive shopping for skiers and snowboarders young and old, ranging from stocking fillers to something a lot bigger…
Christmas Gift Bag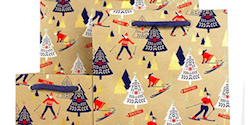 Now you can ski-theme your wrapping as well as what's inside the package. These hand screen-printed bags come in three sizes and are made from recycled paper, using ink and glitter to give them vivid colour. The handles are made from hand-dyed cotton for a luxurious feel and durability. Each bag has a base to strengthen it, so it can manage those heavier gifts. The biggest bag measures 25 x 10 x 30cm and costs £3.95 from Amazon.
Clever Snowflake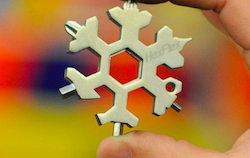 The HexFlex Multitool packs all the tools you need on the mountain into one gadget weighing 65 grams and measuring 5cm in diameter. A lot tougher than your average snowflake, it has an incredible 15 tools – and, since there aren't any moving parts, you won't even have to take off your gloves. Off the piste, HexFlex Multitool comes in just as handy, with a range of screwdriver and spanner heads. Not to mention a bottle opener. £22.99 from The Foundry.
Christmas Organic Foot Care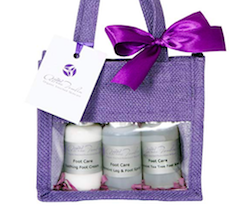 Here's the best apres-ski activity for tired feet, with a tea tree foot spray, foot cream, and foot soak – all in a reusable eco-friendly bag. The products are enriched with aloe vera, coconut oil, olive oil and shea butter, and infused with peppermint and tea tree essential oils. Suitable for all skin types, they're 100% paraben and sulphate free. £21.95 from Amazon.
Icebreaker Baselayer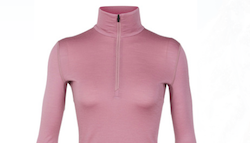 Icebreaker have updated their popular 200 Oasis Half Zip baselayer, to give you even more comfort. Made from 100% merino wool, it's warm, breathable and odour resistant, with a half-zip. A versatile choice, it can be worn for hiking, skiing, or backpacking. I've tried one myself for dog-walking at home on a winter's day and it's certainly very snug. Available in navy or opal (pictured here), it costs £79.99 from Ellis Brigham.
Unicorn Helmet Cover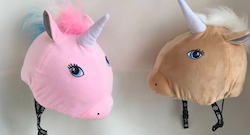 These unicorn-themed reflective hats fit over a ski helmet, and are suitable for all sizes of helmet (even adults') and it could even help you spot your child on the slopes. There are 16 designs in the range including bunny, cat, puppy, panda, ladybird, shark, sheep, fox, owl, pony, and dinosaur. The price is £30, and it can also be personalised with a name embroidered on the side for an additional £10. Not on The High Street.
Gondola Pop Up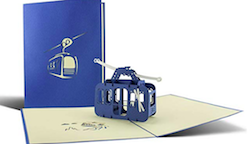 The laser- and hand-crafted pop up card unfolds and opens out in the middle, making a card that's just that little bit different from the rest. There's no text on – or inside – the card, so it's something you can give all year round and not just for Christmas. It's made from fine Italian paper, measures 15 x 21cm and comes with a matching envelope. £7 from Amazon.
Mini Me Googles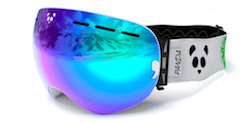 Panda Optics now has a children's ski goggle collection, using the same kind of quality and styling as the adult collection. They come in two colour options: white and blue, with a smoke UV400+ lens, with the option of a polarised blue mirror lens and low light lens. The Cub is designed as a scaled-down replica with all the benefits and features of the Diablo goggle, with a non-polarised lens to keep the price down. As kids sometimes throw and drop their goggles, the goggle strap is fixed to make it much more durable. £54.00, from Panda Optics.
Skier's Pencil Case/Makeup Bag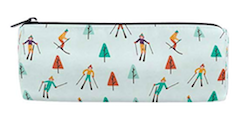 The cylindrical-shaped pen bag has a zipped closure so you can store a good quantity of pens, crayons and pencils. The ski-patterned case is not only good for storing pens, but is also great for keeping make up in. It costs £5.99 from Amazon.
Colourful Beanie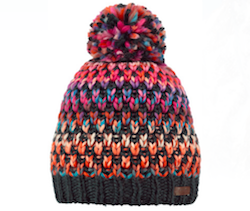 Barts Nicole Beanie uses space-dyed yarn, giving a lovely multiple coloured effect. It has a super soft teddy fleece band lining and a medium pom pom. £26.99, from Ellis Brigham.
Odd Socks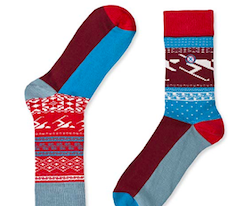 A totally unique pair of odd socks by ODSX featuring two separate Christmas patterns in one pair of odd socks.
The socks feature a contrast toe, heel, cuff and pattern, and are made from 80% Cotton, 17% Polyamide & 3% Elastane. Sizes 7-11.5, £7.99 from Amazon.
Hybrid Insulator Jacket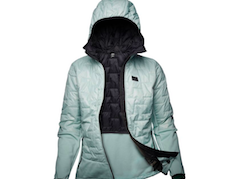 Stay warm without the bulk and weight with the new Lifaloft™ insulated womens' hybrid jacket. Can be worn to layer up under a shell or used as a stand-alone jacket. It's a lightweight windproof, water resistant and PFC free fabric that's a must-have travel piece. The fibre doesn't absorbs water and has water repellency that's ideal for year-around adventures in any conditions and keeps you warm even when you're wet. It's pictured here in women's Blue Haze, but available in four colours for men and women. £160 from Helly Hansen.
Weird and Wonderful Sleep Masks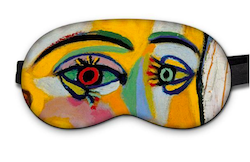 Inspired by portraits by Van Gogh, Picasso, Rembrandt and da Vinci and based on the faintly disturbing idea that museum paintings stay awake long after the gallery lights are switched off, these soft satin masks are perfect for grabbing forty winks whilst travelling. Designs include The Incredible Hulk, Marilyn Monroe, Batman, Darth Vader, Mona Lisa, and The Queen. The Art of Sleeping Eye Masks, £15.99 from The Fowndry
LEGO Ski Lift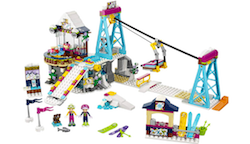 Build your own ski lift – this Lego set features a lift with winch function, a ski slope with a slide function, a mountain restaurant, climbing wall, bear cub cave, equipment hire stand and a trail map stand. £58.92 from Amazon.
Leopard Ski Socks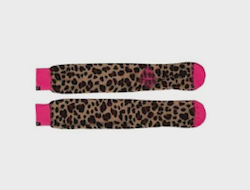 Marylin ski socks by Protest come in a lovely jaquard knitted leopard print with a bright pink toe and cuff. They're made from a mix of polyester, polyamide and elastane, to keep your feet warm and dry on the slopes. £10.99 from Protest.
Water for your Backpack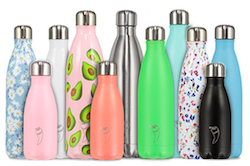 Chilly's Bottles are leak-proof and use double-walled vacuum insulation, which means that liquids can be kept hot for 24 hours of cold for 12 – no matter what the outside temperature is. They are made from stainless steel, are BPA-free, and the design is lightweight – perfect for skiing and travelling. They come in 29 colours/patterns and three sizes: 260ml, 500ml and 750ml. £15-£48.92, from Amazon.
Bat Mittens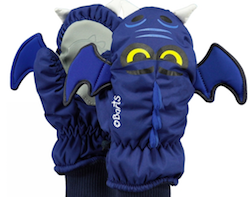 The Nylon mitts are made from water resistant material and come in the shape of either bats (pictured here) or bees. The lining is from soft material and the wrist is knitted. The mitts have a useful 'don't lose me' cord, which is ideal for ski kindergarten. £22.99 from Snow & Rock.
Skiweb Ski Carrier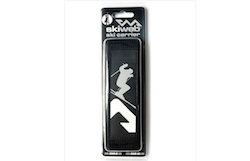 This is for people who hate carrying their skis! Skiweb transports skis and poles with a D loop, making it easier to keep them in place. You simply wrap your skis and poles together, using the easy loop and fix. It folds up to a compact size of 14cm x 4cm when not in use, and is easy to carry in your pocket or backpack when skiing. Suitable for adults and children from 10 years old. £14, from Amazon.