What makes the difference between a good day on the mountain and a bad day? No, it's not necessarily the weather or even the snow conditions. They are important of course, but for me – and countless other cold feet sufferers – it's how warm you are.
I once sat on a broken-down chair-lift for an hour in high winds and sub-zero temperatures on the Tignes glacier in early December. After a while, all feeling went from my feet and when I got back to the hotel and gingerly took off my ski boots, I discovered the early stages of frostbite.
When my toes started to thaw I was in such throbbing agony that I thought I might faint. Since then my feet have remained ultra-sensitive to the cold, which I'm sure sounds familiar to a lot of skiers and snowboarders.
"If your boots fit properly your feet won't get cold," is what the ski boot fitters tell you. Yes, true for many people. Not for me or for others who have either experienced frostbite or have poor circulation. It's a constant battle to keep the feeling in our toes when temperatures drop. Here are some tips that might just help: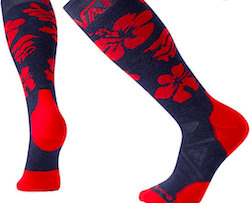 Get Some Decent Socks
Ski socks are padded in various places – including the shin and Achilles tendon areas – and should protect your feet from pressure points and rubbing inside the boots. You'll need socks that are specially manufactured for skiing or snowboarding and nothing else. Normal socks and even sports socks are not OK. The socks need to be able to quickly transport the moisture away from your skin, so they should be made from wool, bamboo or mixed with an artificial fibre (see below). Feet that can breath won't get wet and therefore stay much warmer.
Thick socks keep you warmer: true or false? False. Thin socks allow a micro-cushion of warm air to be trapped between your foot and the liner. Thick socks also seriously interfere with your skiing. When you tell your legs to turn, you don't want a pause in the transfer of energy while your sock compresses again the boot! Racers wear the thinnest of socks – or no socks at all.
Always try new or rental ski boots on with your own ski socks to make sure they fit comfortably. Make sure your socks aren't too tight around the top as that can cut off circulation at the top. Cut your toenails before your ski trip! And never ever wear two pairs of socks, which will certainly restrict the circulation. As Henrik Enarsson of Skistar at Are in the Arctic Circle says:
"Too many layers of socks would lead to tighter boots which in its turn leads to cold toes. But this is not the whole truth; cold feet could also mean that your boots are too big". He adds: "If your boots are too big you will keep pinching your toes and tightening your feet and thereby hampering the blood circulation. It is essential to find boots that fit well…"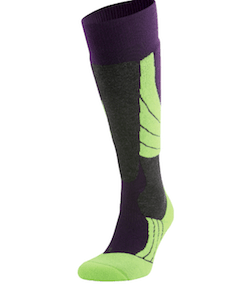 Know Your Fibres
Merino is fine, non-itchy wool that allows good insulation and softness. Manufacturers such as Falke, bridgedale and Smartwool combine it with technical fibres in its ski socks.
Bamboo is a natural, sustainable fibre which neutralises odour and is remarkably breathable. Le Bent bamboo-mix socks are available from Snow Inn.
Silver can be used in conjunction with other materials. It keeps the heat in and the smell out. X-Socks are made from a fabric that includes thousands of loops of pure silver; we've tested them ourselves and they'll certainly keep your feet warm and smell-free.
Artificial/technical fibres rapidly transport moisture away from the skin. Polyamide and polypropylene are frequently used and they wick away moisture to keep your feet dry. Remember, cotton absorbs moisture so does not wick well. Ultrathin socks are designed for skiers wanting high performance. The thinness of the fibre and mesh together with the semi-synthetic materials provide comfort and, combined with a top-of-the-range boot system (insole and liner), these socks should make it feel like you are skiing in bare feet.
Cashmere is the creme-de-la-creme of any socks, and certainly ski socks. The Falke SK2 knee-high socks (seen above) are actually 37% cashmere blended with other fabrics, but that makes them feel particularly soft to the touch and provides good thermal insulation.
Compression socks increase your circulation and assist your veins in getting the blood from your legs back to your heart. They give you more energy, reduce tiredness and muscle soreness and minimise swelling, helping you to recover quickly. Sockwell's Ski Medium is made of merino wool, alpaca and bamboo.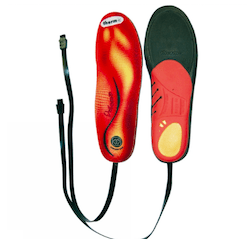 Splash Out on Boot Heaters…
Since I discovered boot heaters I can't imagine skiing without them. They used to cost a small fortune but these days they're much more affordable. They're also more reliable then they used to be, too. The three main brands are Therm-ic, Sidas and Hotronics, and all come complete with rechargeable batteries you clip onto the outside of your ski boots.
The batteries should last all day unless you have them on the very hottest setting. If you remember to switch them off at lunchtime you'll save on power. Get a specialist boot fitter to insert them into your boots – they go in the space between the liner and the shell or, if you have footbeds, they can be threaded through them.
The Conform'able Volcano Thermic, pictured here, is an off-the-shelf supportive insole from Sidas that has Thermic heating elements pre-wired into it and requires no moulding. Available at Snow+Rock and other good ski retailers.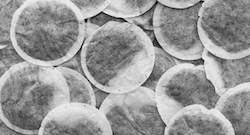 …Or Should You Try Disposable Warmers?
You've seen and possibly used those throw-away handwarmers that look a bit like tea bags? You squeeze them to get the heat going and they can become very hot indeed. They work well inside gloves and mittens and it's easy to pack a few pairs in your luggage. Well, boot warmers are the same idea – but bigger. Personally, I don't see how to fit them in ski boots and remain comfortable, but I am told by one person that they place them on the top of their socks, behind the toes where there seems to be space…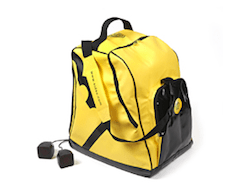 Use a Boot Dryer or Hotdryer Bag
It is enormously important to dry out your boots at the end of the skiing day. If they feel at all wet, remove the liners and sit them next to or under (but never on) the radiator. You can store your boots overnight on boot driers – if your chalet, hotel or apartment has them. It makes a big difference putting on toasty warm boots first thing in the morning.
Just to make sure you have a boot dryer to hand, you can even buy your own and plug it into a socket in your hotel room. Hotronic Snapdry dries and pre-warms footwear and gloves in 60 minutes – and minimises bacteria.
Remember that you can't put ski boots that have mouldable liners onto a boot heater with a 'high' setting – or they will re-mould overnight!
Alternatively the Hotdryer Boot Bag, pictured here, is a light boot warming bag that comes with a hotdryer, which you can use to in the car or in the chalet. To use it you plug in the hotdryer and two blowers automatically puff hot air into the bottom of your boots. Details from Sidas Sport.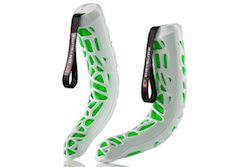 What About an Eco Dryer?
Drysure Extreme is an eco-friendly boot drier and is said to dry footwear 12 times faster than traditional air-drying (we haven't tried it ourselves yet). There's no need for batteries or electricity and they can be reused multiple times, so is great for the environment too. There's a second design available for running shoes, cycling shoes, golf shoes, and walking boots.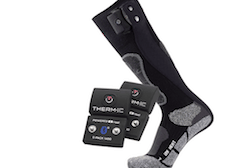 Try Heated Socks
Therm-ic Powersocks Heat Uni+ have a lightweight, rechargeable battery that you can take off for washing your socks. There's a choice of either standard or Bluetooth batteries. Make sure your socks are pulled up as high as possible so that the batteries are not inside the boots (uncomfortable!).


If you have any other ideas for keeping your feet warm, please share them with us! Also see our features on buying the perfect ski jacket (women), features every ski jacket needs (men and women), and ski base layers.