What's the best all-mountain ski of 2015-16? Right now, consensus seems to be forming around the Pinnacle 95, the all-new, all-terrain ski from Seattle-based K2. But it's not for the reasons you might expect.
Yes, this is a ski that can take you anywhere. It'll hold its edge on hard-packed pistes, as well as floating on powder and staying stable in chopped-up crud. But what's got the testers buzzing this time round is a rather less technical concept: fun.
"When we saw the Pinnacle 95 at the trade shows last winter, it went straight on our list of must-tries," says Steve Wells, Ski Hardwear Buyer at UK ski emporium Ellis Brigham. "We did wonder if it might be a bit soft: but when we actually got to ski it, at the SIGB test in Kuhtai, we were blown away by how playful it was. Especially in powder and choppy snow."
What's impressed Wells & Co is the fact that a ski as light as the Pinnacle 95 can also be stable, fast, and responsive. "It feels totally at home in soft snow," he says, "and yet it's unusually nimble and easy to turn. In fact it's balanced and stable in all kinds of conditions, but you don't feel you need to go at Mach3 before the ski starts to respond. If you want to change course, you can. It feels almost instantaneous."
The Ellis Brigham test team aren't the only ones who are using the f-word. "Just good fun", is how EpicTV reviewer Dave Searle describes them. Meanwhile, Fall Line ski magazine has just announced that the K2 Pinnacle 95 is its all-mountain ski of the year.
"High-speed, deep-powder experts – who ski off-piste almost continuously – will want something a bit wider and stiffer than this," says Wells, "such as the Line Mordecai or Armada Invictus 108Ti." He also stresses that this is not a ski for anyone who likes to stick to the pistes. "But if I was going a trip and planning to ski all over the mountain, on a mixed bag bag of snow, this is the ski I'd take with me."
Here are the secrets of the K2 Pinnacle 95's success.
1. There's a clever mix of high-grade foam, wood and metal in the core
Generally, hard-core skiers don't much like the use of foam in skis. One ski-construction blogger even calls the foam cores used at the cheaper end of the market "shitfoam". But as he goes on to explain, "Not all foams are created equal". Some are much stronger and more resilient: and it's into this category that K2's "aerospace-grade composite" falls. It's used in conjunction with metal laminate and wood in the Pinnacle 95. Together, the wood and metal reinforce the edges of the skis, and give them their springiness (aka "pop"), while the foam keeps them extraordinarily light. The lightness is especially noticeable at the tips and tails, and is one of the reasons they're so easy to turn (the long, tapered shape of the tips and tails is another).
This K2 video includes a good explanation of how the skis are put together.
2. It's fat enough for powder: but not too fat


The Pinnacle 95 has a fat tip (132mm), broad tail (115cm), and should be skied at a longer length than a regular piste ski. So it has plenty of surface area, and lots of float when it's taken into powder. But look at the waisted shape. The 184cm ski has a turn radius of 17m, which is only 4m more than some World Cup slalom skis.
Under the boot it's "only" 95mm wide too, so it doesn't take as much work to get it up on its edges as some all-mountain skis (such as the Rossignol Soul 7, which is 106mm under the boot). In other words, it'll ski well on-piste, as well as off (though of course it could never match a specialist carving ski for edge-to-edge responsiveness and grip).
3. The all-terrain rocker works both on and off piste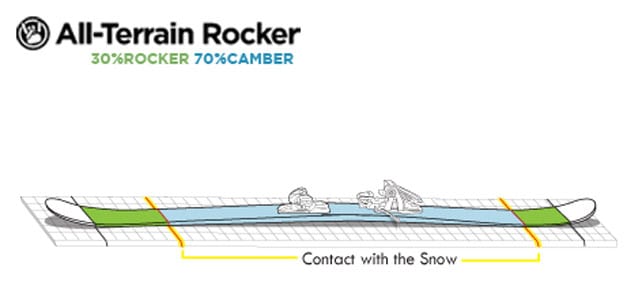 "Rocker" refers to the rocking-chair shape of modern, deep-snow skis, when seen side-on. It's a shape which helps the skis float over powder, and keeps the weight of the skier off the tips and tails – making them easier to turn. It helps prevent nose-diving too. However, the Pinnacle's shape also incorporates old-school, piste-friendly camber in its middle section, which helps the edges to connect with groomed snow. There's a good explanation of rocker and camber here.
4. The rocker also means you can use a longer ski than normal
Check out the photo above. Note how the much of the tips and tails of the ski are not making contact with the snow, as the skier carves his turn on the piste.
This is down to the rockered shape. It means that – whatever kind of snow you're on – the Pinnacle feels shorter than it really is. You won't feel like you've strapped on a pair of dreadnoughts that are impossible to turn.
So a 6ft skier, who might usually be on a pair of 174cm on-piste carvers, can happily use a 184cm pair of Pinnacles, and get the benefit of the extra surface area in deep powder.
With Ellis Brigham, a pair of K2 Pinnacle 95s, without bindings, costs £400.