Dave Whitlow knows a thing or two about ski trousers. For nearly thirty years, he's been buying them in for ski outfitters Ellis Brigham. In that time, he's seen fashions go from "from skinny to baggy to skinny again, two or three times". He's also seen significant improvements in the quality of fabrics and cut.
Here are his tips on how to buy the perfect pair of ski trousers – whether you're heading for the nursery slopes or plunging off-piste.
Ski trousers, ski pants, salopettes: call them what you will. But please, take them seriously. They're an important piece of ski kit, and when it comes to buying a new pair, you should give them the time, and the budget, they deserve. Here are 11 key questions to ask the next time you go shopping.
1. Do they fit?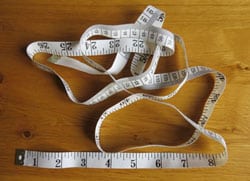 Sorry to state the blindingly obvious: but it needs to be done in this age of internet shopping. You're not buying a book or a piece of music. You're buying trousers, which you're going to wear in a demanding environment: sometimes frigid, sometimes windy, sometimes wet – and occasionally all three at once.
You're going to be flexing and unflexing your knees continuously, too. So your trousers need to fit you properly – and the easiest way to be sure of that is to go into a shop and try on lots of different pairs.
Pick a store which stocks a wide range of specialist brands – The North Face, Salomon, Schöffel, Norrona, Black Diamond, Arc'teryx, Helly Hansen, Kjus, Peak Performance and the like – and when you get there, talk to the staff, tell them what your budget is, and be honest about your skiing ability. They'll have already sussed out your body shape, and will guide you to a basic selection. But after that, you've got to get into the changing room, and see what works.
Remember, unisex trousers just won't do. The cut of women's and men's trousers varies – in general women have larger hips and smaller waists, so ski trousers are designed to allow for this.
Don't worry if your size isn't "regular". For example, piste skiers with shorter-than-average legs will like the Salomon Brilliant pant, which has a very clean finish to the bottom of the leg, and can be taken up by a good four inches to give a customised fit. Meanwhile, stouter skiers should try ski trousers from upmarket brands such as Spyder and Killy, which can be worn both on the waist, or below it.
2. How waterproof and breathable are they?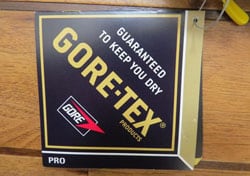 Even if you're not planning to wade through deep snow on a backcountry hike, you will need trousers which have a fairly high degree of water resistance and breathability. After all, you don't want a wet bum from sitting on chair-lift, or rivulets of sweat running down your leg because your perspiration can't evaporate.
Many (but not all) manufacturers measure water resistance in thousands of millimetres, and breathability in thousands of grams (here's a good explanation of what these numbers mean). To be on the safe side you should buy trousers waterproof to 10,000mm, with a breathability rating of 10,000 grams (often abbreviated to 10k/10k).
Anyone who's planning to do a lot of off-piste skiing, or ski touring, should look for a higher rating – 20k/20k, or more. You should also consider higher ratings if you're planning to go skiing in a mountain range with a humid maritime climate or in the spring. There's nothing like a warm slushy day in Easter (or rain at resort level) to push a pair of ski trousers beyond its limits.
Gore-Tex is still regarded as the leading manufacturer of waterproof and breathable membranes, and many of the best ski pants use it. eVent has its devotees, too – although some find it too breathable. Consult this buyers' guide to waterproof fabric for more.
But whatever you buy, make sure its seams are taped, because the stitching goes right through the fabric, and offers water a free ride onto your skin. Taping is the simplest way to keep it out.
3. Do they have kick patches?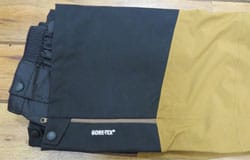 Skis have sharp edges, and unless your trousers have panels of hard-wearing fabric at the bottom of the cuffs, on the inside of the legs, they will – eventually – be cut to ribbons.
Some upmarket brands have concealed kick patches, but for the most part they're mounted on the outside of the fabric, and the more focused on off-piste skiing or ski-touring a pair of trousers is, the bigger the kick patches are likely to be.
The most hard-wearing are not simply stitched on, but laminated onto the fabric underneath.
4. How hard-wearing is the rest of the fabric?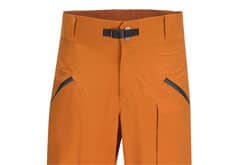 If you enjoy skiing the pistes and have only one holiday a year, you don't need a heavy-duty fabric. But anyone planning to head out into rougher terrain, or who skis a lot, needs to take the issue of durability seriously. Look for thicker threads in the weave of the fabric, and a higher denier count (although this figure isn't always given).
The Gore-Tex Pro label is a good indication of toughness, because the company requires manufacturers to provide a minimum denier count of 40 (40d). Some companies go much further than that. Black Diamond's Mission Pro pants, pictured left, are 150 denier (150d).
5. Do I need insulation?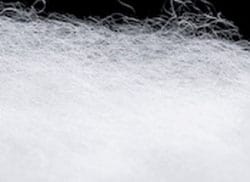 The rule of thumb is that beginners, piste skiers and occasional off-pisters need some insulation in their trousers. It really helps on those long chair-lift rides, or if you're standing around in a ski lesson.
Don't worry that you're going to look like the Michelin man. You won't. Modern insulating materials (such as Thinsulate, left) are both thin and flexible, and ski trousers are cut, and sized, to take account of it.
But anyone who goes ski touring, or regularly hikes to off-piste routes, would be mad to wear insulated trousers. Not only will they get too hot. A well-cut shell fabric, with no padding, is lighter and will give you greater freedom of movement
6. Do I need vents?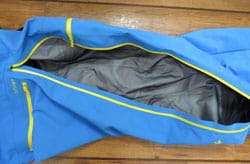 Beginners and intermediates on a mid-winter ski trip can do without them. But once you get more active you can quickly work up a sweat – especially when the sun comes out. If you're a spring skier they're essential, as they are for ski tourers, and off-pisters.
Most vents are on the outside of the thigh, and don't go below the knee. However, Norrona's Lofoten Pro Pants – aimed at backcountry skiers – have full-length double zips for maximum ventilation on long hikes.
7. Shall I wear braces?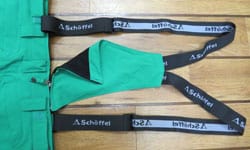 Many high-end ski trousers give you the choice, with zip-in, zip-out braces. Whether you use them or not is – for most skiers – a matter of personal preference.
The fact is, anyone with a well-defined waist won't usualy need more than a belt to keep their ski pants up. But for those with a bit of tummy they're a really good idea.
Backcountry skiers like them too, especially if they have bib, which helps keep them dry and warm when they weather's wild or they're in deep snow.
8. Is the waist adjustable?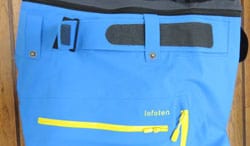 These days, any decent pair of ski trousers will have Velcro tabs on the waist band to allow you to fine-tune the fit.
Obviously, this feature is less important if you're wearing braces to keep your trousers up. But it's worth having, because the tabs will allow you to position your pants exactly where you want them – either on the waist, or below it.
9. Skinny or baggy?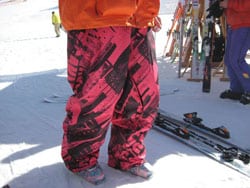 This is largely a matter of taste. Take, for example, freestyle skiers in the terrain park. For years, the style has been baggy: but lately some of the edgier guys are wearing trousers that look like super-skinny jeans.
A lot of piste skiers prefer a slimmer look, too. But if you do go down the skinny route, you'll need a well-cut pair of trousers with a good four-way stretch fabric to cope with the stresses and strains your movement creates.
Most off-pisters and ski-tourers prefer a looser fit, which offers more freedom of movement. Once again, the higher-end trousers tend to have a more "engineered" cut, designed to work with a skier's typical patterns of movement.
Personally, I prefer a relaxed but not baggy look. The North Face NFZ pants, are a good example. They're made with a two-layer Gore-Tex fabric and a wicking lining, and the fit on them is really nice. They sit either just above the hips or on the hips, and they've got quite a bit of engineered articulation in the cut, so they hang well when you're in a skiing position. They're quite accommodating in the waist, too, so they'll suit lots of different shapes and sizes.
10. Colourful, or sombre?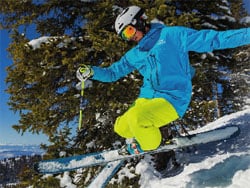 Many skiers buy darker, more sombre ski jackets – because they want to use them back home, and canary yellow is a weird look in the car park of your local supermarket. But unless you're a coarse fisherman or run a market stall, you probably won't be wearing your ski trousers away from the slopes.
So for many, it's a chance to get colourful. Just bear in mind that colourful trousers will show the dirt more quickly, so you'll need to wash them more often.
Oh yes, and think twice if you're going to buy patterned pants. They were all the rage a few years ago amongst the Russians. It wasn't a good look…
11. What shall I wear underneath?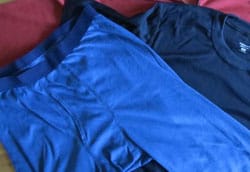 Finally, don't forget the base layer which goes underneath. A good base layer is the foundation for any successful ski outfit, and provides an extra defence against dampness. If water does get in, the fabric wicks it away from your skin, helping to keep you dry and (as result) warm. The less waterproof your trousers are, the more essential it is.
If your trousers are insulated you won't need more than a lightweight base layer, but if you're wearing an uninsulated shell, consider a medium weight fabric. Either way, make sure your base layer has a slick finish. Base layers with a fleecier finish don't slide so easily under shell fabrics, and can restrict your freedom of movement.
Check out our ski clothing section for more advice on what to wear – including 10 Features Every Ski Jacket Needs and 7 Steps to Buying the Perfect Ski Jacket.