These days there's an app for everything, and skiing is no exception. We've got apps for teaching us how to ski, apps for helping us how to plan a trip, and apps for tracking our speed. Just about every ski resort on the planet has its own app too – offering real-time information about piste-grooming and open lifts, as well as on-piste itineraries for different levels of skier.
Here, I've picked out seven of the most interesting. But before I get started, I should say all apps that track your speed should come with a health warning. Recently, some doctors in the Alps have noticed a rise in ski injuries that seem to have been caused by people trying to beat their own speed, or someone else's.
It's also worth bearing in mind that – according to Swiss insurers SUVA – a skier going at 44mph will travel nearly 60ft before they even begin to react to a change in circumstances. By which time they may already be sandwiched to the side of a tree.
Right. That's the warning. Now it's time to get busy with your smartphone…
FATMAP Ski
Plan, record and share your ski trips with detailed 3D ski maps – we found that most of the major resorts are covered here. FATMAP Ski is a useful toolkit for skiing both on and off-piste, all in one app. Emergency numbers for piste patrol and mountain rescue are given for each resort.
You may also be tempted to upgrade to Premium (£9.99 for two weeks) which gives you avalanche zones, gradients and a lot more. Compatible with iPhone, iPad and iPod touch.
Winter Survival Kit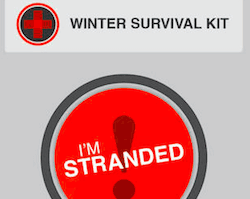 Safety is paramount when driving out to the Alps or across the Rockies and the Winter Survival Kit app enables you to store contact details and insurance policy numbers, but the most important aspect is the way the app works out your location and will contact emergency services for you if you become stranded.
Hopefully you'll never need to use this app but if you do, it may just save your life. Available for Android and iOS.
Ski School Beginners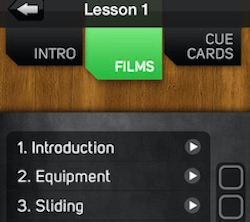 If you are looking to develop your skills, Ski School Beginners app provides a range of video tutorials that will allow you to develop the best techniques and practices.
The video content is well produced and should help you feel at ease when looking to improve your skiing skills. It costs £3.99 and is available for Android and iOS.
pandaHAUS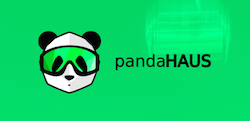 Powered by Olympic Medalist Jan Hudec who saw a gap in the market for a social media network dedicated solely to skiing, pandaHAUS has features that encourage the global ski and snowboard community to connect, communicate, educate, and share their passion for powder. Available for Android and iOS.
Ski & Snow Report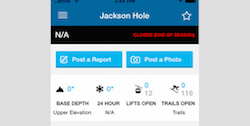 The Ski & Snow Report app provides up-to-the minute information in respect to weather and snow for a wide variety of destinations and ski resorts.
With five-day forecasts and detailed statistics relating to depth of snow and trail information, this is an app that allows you to plan ahead or find the most effective route for your skiing fun. The app connects to social media allowing you to follow the leading ski resorts and share information with friends. Available for iOS, Windows and Android.
Edge Ski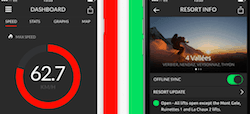 Edge provides real-time lift information, tracking, maps and resort info for 20 major resorts worldwide. There's also access to localised weather and snow forecast information. It's all compressed so that you use as little of your data as possible. Compatible with iPhone, iPad, and iPod touch.
CARV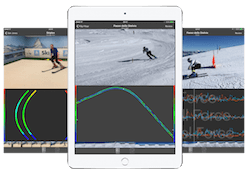 Inspired by Olympic technology, Carv gives you access to the feedback and knowledge that only elite skiers have had access to so far. It measures your motion and pressure distribution and relays feedback through your earphones in real-time.
Carv connects wirelessly to your smartphone via a downloaded app to give simple, actionable feedback to casual skiers and detailed metrics and analysis for advanced and professional skiers. It lets you train, compete and challenge other people with its detailed metrics, and helps you improve your skiing with technique analysis. Launching in November 2016, this app will be iOS and Android compatible.


…and here are two that also measure your speed. They do however also tell you how far you've skied each day and the vertical drop you've tackled, but you have been warned!
Ski Tracks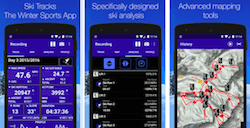 Ski Tracks is a popular logging and tracking app that utilises the GPS of your phone to record your skiing session. Metrics collected by the app includes maximum speed, average speed, total distance travelled and the angle of the slopes. It is possible to store and log this information into separate runs and even place it onto a map. Available for iOS and Android.
Winter Sports Tracker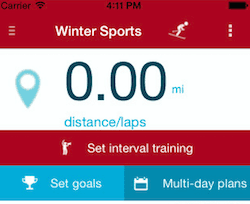 If you are looking for information regarding your skiing performance presented in the clearest possible way, Winter Sports Tracker is the app that could suit your needs. Information relating to your runs, speed and achievements are presented in easy-to-read charts.
A benefit of this app is being able to share your statistics – an easy-to-use feature that will ensure you and your friends can connect easily. The app has been approved by the Professional Ski Instructors of America and American Association of Snowboard Instructors. Available for Windows, iOS and Android.
Tell us what you think
Are there any good apps you feel should have been included here? Do you think that some people ski more recklessly these days because they're trying to beat their personal best speed – or a friend's speed – on an app?