If you're heading to the mountains this winter you might be interested to see what others before you used to wear, ski on, and travel in. It's all changed a lot since skiing first started as a winter holiday in the 1890s. Some ski fashions lasted just a short time, some a bit longer, and some never really took off at all. But they were all fun.
Outfits that today you might think look ridiculous, were once considered to be chic and practical. For ski style has been heavily influenced by warmth, comfort, and price. And on the slopes, who could imagine travelling uphill on a single chair-lift or a gondola that looked like an egg? Or how about wearing pink Moonboots for apres-ski and Bigfoot to go downhill?


Here are a few of the oddest fads and fashions seen on and off the slopes through the years. The video above shows what skiing was like in the 1980s, with its two-seater chair-lifts, voluminous ski suits, straight skis, and not a helmet in sight.
1. Long thick skirts for women – turn of the 19th/20th century
These were followed by short skirts in the 1930s. Made from gaberdine, tweed, wool and other non-waterproof or wind-proof materials. Men wore knickerbockers with extra long and thick socks, all from the same fabrics as the womens' ski clothing.
2. Skis that were taller than people – 1950s to 1970s
"Stretch your hand above your head," the ski shops used to say, "and that's how long your skis should be". Pre-1950s, they were made from hickory. The poles – then called 'ski sticks' – had huge baskets made from wood and leather, with points as lethal as steel arrows.


These were soon followed by thin straight skis – not quite as long – and made from metal, followed by a fibreglass-wood mix. The shape didn't change until 1993. Watch this video above, made in 1981, and you'll see the dying embers of straight skis; woolly hats or headbands were always worn and legs were still together – although not as tightly glued as they were in the 60s and 70s.
3. Chair-lifts for one – 1930s onwards
First there were single chairs – Niseko in Japan still has one, pictured here. It made for a cold and lonely ascent, often without a safety bar. If you were lucky you'd come across a double-chair and could then ride the lift with a friend. But triples, foursomes, six- and eight-packs came much much later. The world's first chair-lifts built for skiing were at Sun Valley in Idaho in 1936 and 1937, and were owned by the Union Pacific Railroad.
4. Egg-shaped gondolas – 1950s to 1980s
They weren't known as gondolas or telecabines in the 60s, 70s or even 80s. Instead they were called eggs, bubbles, or yogurt pots – depending on their shape. The smallest would seat two and the largest four, with skis held precariously on the outside in small metal containers. The first ski cable-car in France opened in 1942 in Val d'Isere, the first T-bar in 1934 in Davos, and the first gondola built for skiing was at Wildcat Mountain in New Hampshire, where it operated from 1957 until 1999 and seated two passengers.
5. Puffy all-in-one ski suits – 1980s
Ski suits of the 80s featured garish colour-block patterns, some in dayglo yellow and pink, and others even had works of art painted on them. They may have looked padded, but fabrics back then weren't warm or technical. It's come full circle, though, with a current trend for retro ski clothing that's either been dug out of the loft or freshly manufactured today by companies like OOSC (as seen in the video). You're quite likely to see them worn on university ski trips and during carnival week.
6. Monoskiing – 1980s
If you never tried it at the time, you must wonder what it felt like to be strapped tightly into parallel ski bindings on a single board, with your body facing forwards. It pre-dated snowboarding and the later sport bore very little resemblence to it. When monoskiing, your legs were forced together and you used the same method as a typical skier of the day when you 'Wedelled' down the slopes.
7. Bigfoot and snowblades – 1990s
The people in this video can do it pretty well but in the 1990s groups of youths, more often than not the worse for wear, would rent Bigfoot or snowblades for one day during their week-long holiday and give it a go.
8. Novelty ski hats – 1990s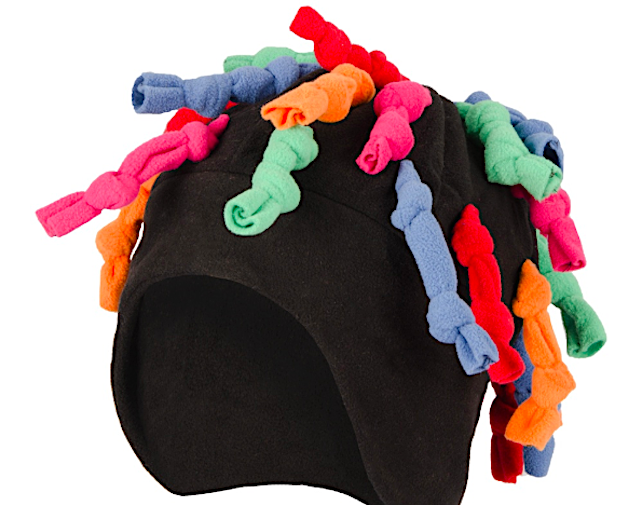 These were especially popular in the 1990s and, yes, there are still people who bring them out on their annual ski holiday. In fact, you can buy them on Amazon and Etsy today. They range from hats with multi-coloured spaghetti growing out of the top, to knitted hats-with-beards that make it look like you have an octopus on your face.
9. Panda eyes – 1970s onwards
Goggle marks that leave a big white area on the top half of your face and a deep brown below used to be the way of showing your friends that you had been on a ski holiday. But it actually says that you spent too long in the sun without sufficient sun cream! We've heard about a recent fad for getting a spray tan whilst wearing goggles – to make it look like you've been on a ski holiday when…actually…you haven't.
10. Pink Moon Boots – 1980s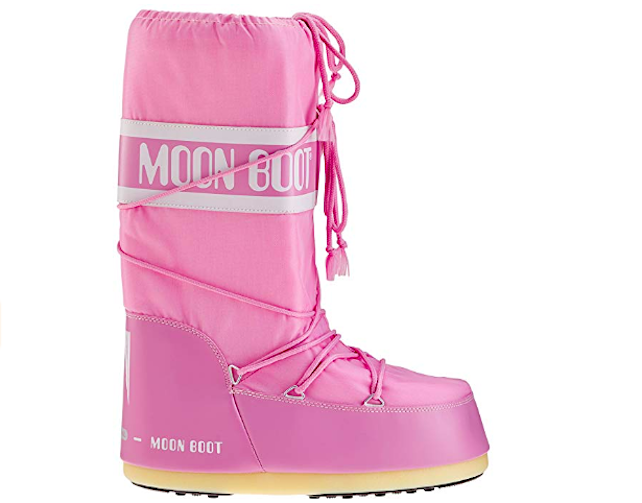 History has it that in the 1980s a London ski shop so massively over-ordered Moon Boots…in the colour pink and in every possible size (men's included), that this contributed to the shop's downfall. We don't know whether this is actually true but, whilst the shop might not have survived, Moon Boots have.
11. Snowboard pants at half mast – 1990s
Many a snowboarder used to wear his pants really low – it was pretty much de rigeur to have boxer shorts peaking out of the top. Sometimes they were worn so low that they actually hindered the sport, as seen in this video. Skiers considered this look unattractive and, fortunately, snowboarders today wear trousers that fit more like their jeans.