The mountain regions of the world are not normally prolific when it comes to wine production. But the Italian Dolomites are different. Take a ski holiday there, in a resort such as Corvara or San Cassiano, and as soon as you crack open a wine list, you'll be confronted with a battery of local vintages. Unless you're a proper Dolomites aficionado you probably won't recognize a single name. Some of the grape varieties will be new too. But don't let that put you off. Ask for a little help from the sommelier or rifugio owner, and you'll quickly discover how good they are.
The secret? Running along the western edge of this spectacular region is the Adige Valley. Long, broad and deep, it sits – in places – beneath towering cliffs and is wine-friendly in all sorts of ways. The summer days are hot, the nights cool, and the rich alluvial soils reflect the ever-changing geology of the region. The result is a flourishing wine industry of great variety and vigour. You'll find award-winning vineyards both in the valley itself and along many of its higher offshoots.
Here, sommelier Andrè Senoner picks seven of his favourite wines from the Südtirol/Alto Adige, at the northern end of valley. A three-time finalist at the Italian Sommelier Championships, Andrè was the first Italian to win the Pinot Noir Master, in 2021, and was also Sommelier at the three Michelin-starred St Hubertus restaurant. You'll find all the wines available in the Alta Badia. But for a proper treat, join him on one of his upcoming Sommelier on the Slopes tours. If all you know of ski-holiday wines are the usual big-name regions of France, it'll be a revelation.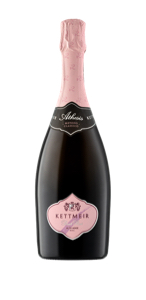 Producer: Kettmeir
Athesis Brut Rosé
70% Pinot Noir and 30% Chardonnary
We taste the Athesis Brut Rosé on the Sommelier on the Slopes tour. It's a twice-fermented sparkling wine of great personality, energy and intensity: made with grapes from the Buchholz area and the village of Magrè/Magreid. You'll smell cherries and raspberries, and taste biscuits, butter and brioche. At times, there's a background of aromatic herbs, hazelnuts and toasted almonds too. This is a wine that's irresistible on its own – whether in in the sunshine or at a hotel bar, waiting for dinner. But if you'd like to pair it with food, try it with some Alto Adige speck (smoked ham) or Stelvio cheese and horseradish cream.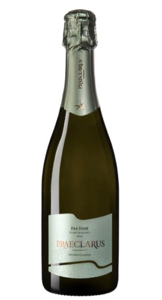 Producer: St.Paul's
Praeclarus Pas Dose (Brut Nature) 2014
100% Chardonnay
This is another of our Sommelier on the Slopes wines, which is bottled after a five-year maturation on the lees. The grapes are from the oldest and sunniest vineyards at Appiano/Eppan, near Bolzano – grown on slopes a little above the valley floor, in soils rich in porphyry and limestone. I love the complexity of its aroma – hinting at citrus, apple, papaya and pineapple, then almond paste and dry pastries. It has a lovely, enveloping softness too: nicely balanced against its fresh, savory finish.
The wine goes really well with local char tartare and vegetable carpaccio. But best of all is to share it with friends, on a terrace surrounded by the Dolomites. They'll give you something beautiful to look at while you all fall silent for a moment, and let the flavours unfurl.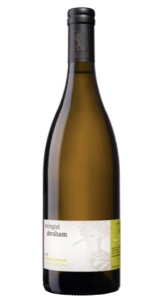 Weingut Abraham
Vom Muschelkalk Pinot Blanc 2020
100% Pinot Blanc
Another wine produced from the porphyry and limestone soils of Appiano/Eppan, this Pinot Blanc comes from the estate's highest vineyards and spends nine months in oak barrels. Swirl it in the glass, and breathe in deeply. Straight away, you'll get a rich, overlapping sense of cedar, mandarin peel and fresh apricots, followed by chamomile and broom, and a final zesty touch of pine resin. It's a fulsome, fresh and energetic wine, but well-mannered too.
Drink it with Schluzkrapfen (local tortelli pasta) filled with ricotta cheese and spinach.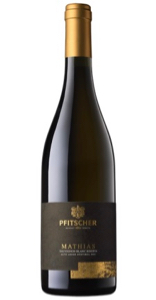 Producer: Pfitscher
Mathias Riserva Sauvignon Blanc 2019
100% Sauvignon Blanc
What an irresistible aroma! You get a sudden hit of peach mixed with ripe fruits such as lemon and dried apricot; followed by alpine herbs and a faint whiff of sulphurous stone. The grapes comes from a steep, high vineyard at Fiè allo Sciliar, near Alpe di Siusi, that's rich in quartz and schist. So this is a proper mountain wine, but one that's fresh and elegant with a delicious minerality.
This is an excellent vintage, given the wine is still young and lively. It really showcases the flavor of the grape, without influence from wood barrels. Drink it on its own – or try it with Porcini mushroom dumplings on a Trentino Parmesan crème brulée.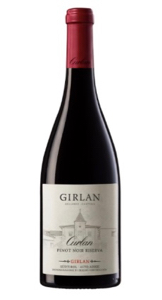 Producer: Girlan
Curlan Riserva Pinot Noir 2018
100% Pinot Noir (here called Blauburgunder grape)
Consider this a "birthday treat" bottle. It comes from one of the most important cellars in the Südtirol, which has been busy exploring the potential of Pinot Noir wines. This version comes from soils rich in porphory and limestone at Girlan, near Bolzano. Warm it in a glass and its bouquet magically opens. The main notes are red berried fruits such as raspberries and strawberries. Then aromatic herbs arrive: rosemary, mint, followed by cocoa and lapsang suchong tea.
It's a soft, voluminous and warm wine to drink: elegant, full bodied and with a medium persistence which hints at Mediterranean herbs and – at the very end – peppery spices. I'd try it with a beetroot risotto, beef tartare and cabbage espuma.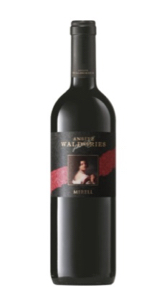 Producer: Ansitz Waldgries
Lagrein Riserva Mirell 2018
100% Lagrein (a native grape of the Südtirol and Trentino)
Here's another birthday bottle: and a chance to taste our local grape, Lagrein, at its best. Produced in Gries, north of Bolzano, it spends two years in big oak barrels, and has a wonderfully dense, ruby-red colour. You'll think of black and red fruits when first you smell it, followed by traces of tobacco and vanilla. Take a sip, and you'll taste traces of chocolate too, with a slightly balsamic finish. It's a straightforward and delicious wine: a little wild and rustic perhaps, but then so are parts of the Südtirol! And it works a treat with a fillet of local vension, served with a hollandaise sauce.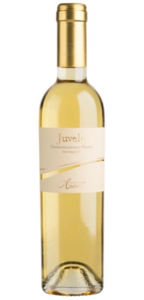 Producer: Kellerei Andrian
Gewrüztarminer Juwelo Passito (Late Harvest) 2018
100% Gewrüztarminer
There's an explosion of complexity when you first smell this Gewrüztarminer, which also features on my Sommelier on the Slopes tour. White pepper, quince, sultanas, hazelnuts, tangerine, they're all there. So too a hint of honey and cinnamon. Then, in the mouth, flavours of dates and mandarin emerge. It's a refined and elegant wine – not too sweet and with a persistent freshness. Ideally, you should try it with apple crescent rolls and lemon ice-cream: but it will provide the perfect finish to almost any meal.