In a Nutshell
It's not just doorstep access to the spectacular Sella Ronda that makes Corvara such an attractive option for intermediates. It's the lure of the ego-boosting slopes (and superb mountain restaurants) on the Pralongià plateau, too.
The Stats
Altitude: 1580m
Lifts: 53
Top lift: 2778m
Ski area: 130km of piste locally (part of a wider 500km network of interlinked lifts and pistes)
Adult lift pass: €272-339 for six days


Official Site |

Ski Map |

Webcam
Book a winter holiday in Corvara, in the Alta Badia, and you get not one but two skiing treats.
First is immediate access to the most spectacular on-piste ski circuit we know, the Sella Ronda. This circulr tour of lifts and pistes girdles the Sella massif in the Italian Dolomites: a flat-topped, sheer-sided citadel of rock that's magnificent from every angle. The circuit can be tackled by reasonably fit and confident intermediate skiers in three hours (five hours when lifts are busy), and can be skied both clockwise and anti-clockwise. If you've got the legs for an extra adventure, you can explore the surrounding valleys too.
Second are the links up onto the broad and undulating Pralongià plateau. Here, a network of mostly blue-rated pistes explores its pretty, forested slopes, and serves up a never-ending feast of Dolomite views. Speaking of feasts, there's some fantastic eating to be done up here too, in mountain restaurants such as Club Moritzino and Rifugio Ütia de Bioch. Collaborations with local celebrity chefs add to the gastronomic interest, as do the uncommonly good wines of the Adige valley which are served there. The region's tourist authority even organises occasional guided sommelier tours of the slopes.
Sounds like a recipe for a memorable holiday? If you're primarily a piste skier, with an appetite for good food and jaw-dropping scenery, and you plan to ski before the end of March, then the answer is a big fat yes.
Neighbouring Colfosco is the lower-priced option
Less than a mile of open country separates Corvara from its near-neighbour Colfosco, but the two villages are quite different. Colfosco is smaller and quieter than Corvara, and the price of its acccommodation generally cheaper. Admittedly, it's not as convenient a launch-pad for the pistes and mountain restaurants of the Pralongià plateau. But it is still plugged into the Sella Ronda circuit, and it does have its own little cul-de-sac of pistes as well – in the Edelweiss valley – which runs back through the village. So it offers a lot of accommodation which is very-nearly ski-in, ski-out.
A short guide to the skiing at Corvara and Colfosco
As part of the Dolomiti Superski area, Corvara and its neighbour Colfosco offer a mind-boggling 1200km of lift-serviced pistes with a single lift pass. Admittedly not all of this skiing is properly-interlinked. To reach several of the area's satellite resorts you'll need to catch bus, rather than jumping on a gondola or a chair lift. But that's a minor issue if you're staying at one of these two Alta Badia villages, because they both sit on the Sella Ronda – the focal point of the entire area.
Here, about 500km of seamless skiing awaits, and allows you not just to circle the Sella massif and explore the broad, ego-boosting Pralongià plateau, but spin off the Sella Ronda into other valleys and onto other massifs that lead off the circuit like the spokes of a wheel. Arabba is the most easily accessible, but it's worth pushing on to both the Val di Fassa and the Val Gardena. Both are home to some cracking pistes.
One of the world's great intermediate playgrounds
With so much skiing at your fingertips, it's difficult to know where to start – but we'd recommend warming up for a day or two on the gentle pistes that lie between Corvara and San Cassiano, and only then moving onto the celebrated Sella Ronda circuit. This girdles the fortress-like Sella massif with 20 lifts and 25km of pistes, and is not difficult. The pistes are mostly blues and easy reds, and although you'll find the odd challenging pitch, anyone who can ski parallel can manage it. (The anti-clockwise circuit is marginally easier). Importantly, you want to have your ski legs back before you commit to it.
Once you've completed those two challenges, there are several more areas of lovely intermediate-level skiing to tackle. Chief amongst these are the Belvedere and Col Rodella sectors immediately above Canazei, on the far side of the Sella massif; and the swooping and surprisingly unscary Saslong World Cup downhill race course above Val Gardena: the scene of Britain's best ever result in a World Cub downhill race.
Mind you, with so many delicious mountain restaurants on offer on the Pralongià plateau immediately next door, you might find yourself skiing closer to home.
Top-quality snow-making
One thing to bear in mind about the Dolomites is the climate. It's sunnier than almost every other part of the Alps: so you've got a better chance of skiing in crystal-clear light, and enjoying your lunches on a sundeck too.
But it is also drier. As a result, the resorts of the Dolomiti Superski area have developed one of the best snow-making systems in the world. Even when Mother Nature has failed to deliver, the region's snow cannons can lay a skiing surface 40m wide and 40cm deep over large sections of its pistes. In fact, at the start of the 2016-7 ski season, 900km of piste were opened in the midst of the worst snow drought in the Dolomites for 20 years. Actually, sunny and low-humidity days (followed by cold nights) make the snow-cannons' job easier. So in mid-winter even if the surrounding slopes are bone dry, you'll still be skiing broad, deep snow.
The climate is however less helpful in spring, once air temperatures warm up. The local Pralongiá pistes are quite low (at around 2000m), so you will find slushy afternoon snow a problem on sunny pistes in April – unless the conditions are unusually wintry.
Steeper slopes if you know where to look
By no means all of the skiing near Corvara is easy. Those looking for tougher challenges will enjoy the steeper runs above Arabba, as well as the scintillating, hell-for-leather black valley runs dotted around the Dolomiti Superski area. Star of the local scene is the Gran Risa descent which turns into a World Cup Giant Slalom race course each winter. Once the racers have moved on, and the specially-prepared, rock-hard racing surface has softened a bit, this is magnificent descent; as is the former race course that drops down to Alba from Ciampac, near Canazei. Another favourite black run is the sweeping Cir near Selva Gardena.
Here's the great Marco Odermatt skiing the Gran Risa in December 2021.
https://www.youtube.com/watch?v=ZqQGdwGEAGU
Meanwhile, anyone wanting to explore the quieter corners of the region, should tackle either one of the Alta Badia's two special itineraries. The Lagazuoi Skitour is the longer. It takes you up to the very edge of Cortina d'Ampezzo's ski area, and finishes with a rope tow to Armentarola, near San Cassiano, behind a horse-drawn sleigh. The second takes you to the eye-wateringly pretty church at La Crusc.
The dry climate limits the number of powder days. But when it does snow…
As we've said, the Dolomites have a relatively dry climate, compared with the northern and western Alps. So don't count on being able to ski the famous canali (couloirs) of the Sella massif. These are properly challenging descents – down steep and narrow rocky chutes – and need very particular snow conditions. Most famous of these descents is the Val Mezdí, reached by a 45-minute walk before skiing down through the rocks and coming out on the piste near Colfosco.
But within this overall picture, bear in mind that snowy weather patterns do sometimes establish themselves over the Dolomites: especially when low-pressure systems form over the Gulf of Genoa in the Mediterranean, move north, and then roll along the Italian side of the Alps. When they do, they quite often repeat themselves, and a pattern sets in. At moments like this, the snow can get very deep, very quickly, and expert skiers should be ready to pounce to take advantage of it. Check out the footage from the back end of this early edition of Salomon FreeskiTV to see just how exhilarating these conditions can be.
---
---
Where to Stay in Corvara and Colfosco
Corvara is the largest village in the Alta Badia region, with some extremely high quality hotels and apartments. Five of them – La Perla, Berghotel Ladinia, Posta Zirm, Hotel Arlara, and Hotel Costes – are ski-in ski-out. Neighbouring Colfosco is the highest mountain village of Alta Badia and the lower cost option, although it now has a five-star hotel as well.
La Perla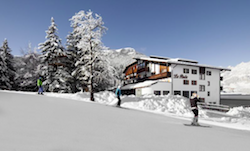 La Perla is home to a restaurant presided over by young chef, Simone Cantafio (formerly at Toya restaurant on the island of Hokkaido in Japan), and a sensational, if eccentric cellar. The service is painstaking and highly-rated – the owners are collectors of the eclectic. The walls are adorned with carved angels, oriental rugs warm the terracotta floors, and the upholstery is sumptuous.
Hotel Posta Zirm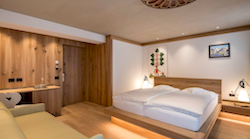 Hotel Posta Zirm is something of a hub at the top end of the resort, with a spacious accommodation wing. "The dinner was well worth the cost as it was unending and delicious," said one Tripadvisor reporter. "One of the best spas I've seen at a ski resort," said another. The hotel has a very good Attic Suite built on two floors with a generously sized living area and bathroom below and a double bedroom above – a good choice for families.
Hotel Col Alto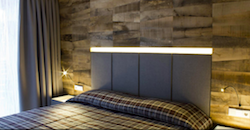 Hotel Col Alto is another recommended place to stay, in the sector of town close to the bridge. The restaurant serves Sudtirol specialities as well as Mediterranean favourites, international classics and its own creative recipes. All dishes are prepared using locally-sourced ingredients.
Hotel Sassongher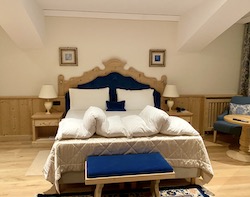 Family-run Hotel Sassongher is a five-star across the bridge and above the centre of both village and lifts, which means it's in a peaceful position with lovely views. The hotel's two minibuses go backwards and forwards all day, taking skiers to and from the hotel, lifts and shops. It is traditional building with the main part dating back to 1933, with large bedrooms and suites. Inside is a fabulous restaurant, a quaint Stube, a children's playroom, and a good spa. The outdoor hot tub offer gorgeous views over the resort, and there's even a helicopter landing pad.
Sporthotel Panorama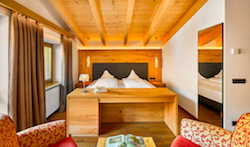 Family-run Sporthotel Panorama is another hotel with a well-known dining room, Stüa Ladina. It offers creative cooking: 'regional, international and modern cuisine, light and nutritious at the same time.' Other in-hotel extras include a reading lounge and a pastry shop.
Hotel Marmolada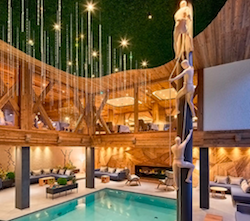 Hotel Marmolada is centrally located in town and has recently received a complete revamp with 21 renovated rooms, a new restaurant and wine cellar, new natural stone swimming-pool and spa area. The use of interesting local wood and fabrics in neutral colours, give the rooms a warm and welcoming ambiance.
La Tambra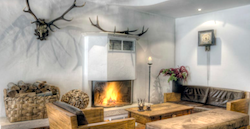 Three-star La Tambra has simpler rooms but contains an excellent restaurant known for its wild game, fish, and barbecued meat from ancient Ladin and Mediterranean recipes. The spa offers yoga sessions.
Villa Tony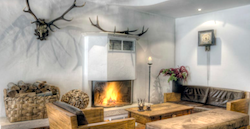 Three-star Villa Tony is right in the centre and close to both of the gondolas for good mountain access. The hotel is attractively wood-clad on the outside, while inside the rooms and suites are furnished in Alpine style using natural materials. There is a restaurant, lounge/bar and a mini spa.
Romantik Hotel Cappella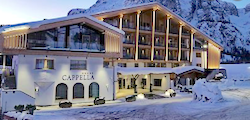 Hotel Cappella has recently revamped all of its rooms and consequently has been upgraded to five-star – Colfosco's first. It is located on the slopes in Colfosco, and combines Alpine design with modern architecture and a unique collection of contemporary art. It has an outdoor swimming-pool facing the Val Mezdí.
Kolfuschgerhof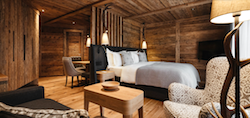 Kolfuschgerhof in Colfosco has been partly renewed with the addition of a great outdoor spa with an outdoor swimming-pool, saunas and relaxation room with views to the Val Mezdì. The owners also have Chalet Rönn near their hotel, which can be rented by a group or family who can take advantage of the hotel's half board and spa.
Hotel Gran Ciasa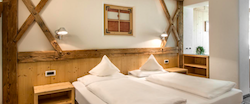 Hotel Gran Ciasa is a well-maintained three-star in Colfosco. It has modern bedrooms, bar-bistro, a children's playroom, and a spa with indoor swimming-pool.
Villa al Sole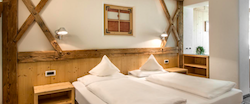 Villa al Sole contains modern Tirolean-style apartments in Corvara, with an optional breakfast service, private chef and transfers. The nine apartments vary in size from studios with kitchenette to three bedrooms with fireplace, kitchen, ski room, and direct access to the slopes.
Chalet 4 Sorus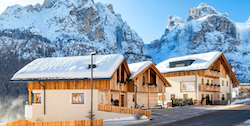 Chalet 4 Sorus and La Villetta are two new chalets and an apartment house that are convenient for the Corvara slopes and lifts.
---
---
Ski Schools in Corvara and Colfosco
Corvara's ski school is based in the centre of town – with the nursery slopes just outside, underneath the Boe gondola. From here, beginners will soon be able to manage the easy slopes back into the resort. We have particularly favourable reports about the ski school lessons for beginners.
Both of the local schools, Corvara-Ladinia and Colfosco have good reputations, though they're more used to teaching Italians and Germans/Austrians than Brits. As well as the usual ski and snowboard classes, others include freeride, race technique, ski-touring and heli-skiing on the Marmolada glacier. When you book, make sure you're not going to be marooned in a class where English is only spoken as an afterthought. One way to make sure the lesson is in English is to book a private lesson – and the great thing about Corvara is that the prices are remarkably cheap – a fraction of the cost in an A-list French resort.
Children are catered for – from four years old
The ski school's Skikinderland cares for children from three years of age. British families will also be interested in the programme run in the neighbouring resort of San Cassiano, by the family-holidays specialist, Powder Byrne, for ages four to 14 years.
One of the best places for families to stay is Hotel Posta Zirm. It has a good Attic Suite built on two floors with a generously-sized living area and bathroom below and a double bedroom above.
---
---
The best restaurants in Corvara and Colfosco
Fancy spending a couple of sunlit afternoons relaxing on a restaurant terrace? With sensational scenery to accompany your meal? Then you've come to the right place. There are only a handful of resorts (Zermatt, Courmayeur, St Moritz) that can match the Alta Badia for the quality of its lunchtime scene.
One of the great long-lunch destinations
First stop has to be Club Moritzino on the Piz La Ila slopes immediately above La Villa. Seafood is the speciality – which is a little surprising, perhaps, at 2077m: but they love to cook it, and present it with real flair (the picture above was taken half-way through a meal here). You'll feel like film star by the time it comes to click back into your skis – which is appropriate because it's a favourite with Italian 'slebs.
Other great lunch spots in the area include the terrace at Hotel Ciasa Salares in the village of Armentarola, and Malga Saraghes, above San Cassiano, which has outstanding homemade pasta.
Closer to Corvara and reachable for beginners is the Rifugio Edelweiss which has excellent, good value food and a lovely sun terrace. The Edelweiss can be reached by snowcat for dinner on some evenings. Also try the Capanna Nera/Neger Hütte at the bottom of the Pralongia piste, or Baita La Marmotta and Punta Trieste, on the pistes above it (one of the great things about the paper version of the Alta Badia piste map is that it includes all the names of the mountain restaurants). Piz Boé Alpine Lounge, in the Boé mountain hut, has a gourmet restaurant called Kelina with a great view to the Sassongher mountain. Mesoles, near Colfosco, is also recommended.
Innovative chefs are the stars of A Taste for Skiing, the culinary initiative on the slopes of Alta Badia. The cooks, who take part are each brought together with a partner hut for which they create a dish that is offered to skiers. The participating chefs are all young, dynamic cooks with a sustainable approach to food and drink. Sommelier on the Slopes is another event on Alta Badia's slopes, where skiing is combined with sampling of the area's finest wines in various participating ski huts.
Sublime resort restaurants, too
La Stua de Michil (+39 0471 831000) is the restaurant in the fabulous Hotel La Perla. The sixteenth-century Stüa dl'Jagher in Hotel Sassongher has the atmosphere of a hunting lodge. Bookings for both of these are essential.
La Tambra specializes in both Mediterranean and local Ladin cuisine. Hotel Alisander is renowned for fresh fish and game. Stüa Ladina (+39 0471 836083) in Sporthotel Panorama provides local cuisine in rustic surroundings. Fornella (+39 0471 836103) has a sun terrace and serves tasty pizzas. L'Ostí is a new restaurant in Corvara.
---
---
Après-Ski in Corvara and Colfosco
Corvara is the biggest and liveliest of the six Alta Badia resorts, a rather strung-out village with pockets of bars, shops and restaurants. At weekends (and also on Thursdays at L'Murin), Grillkeller Adler (+39 0471 836422) can be lively. The piano bars in Hotel Sassongher, La Perla, and Table are more sophisticated.
The other non-skiing activities in Corvara are ice skating, winter hiking, snowshoeing, cross-country skiing, and bouldering.
---
---