Searching for a new ski jacket? Then be sure it has all the technical features you need, before you part with your hard-earned cash. After all, you're going to be wearing it in some of the harshest environments you've ever faced. You don't want to find it lacking when you're stuck on a chair-lift in a blizzard.
Here, I've outlined the 10 most important things to look for: and to do so, I've had a little help from Are in Sweden. This cute little mountain town is the Swedish capital of skiing, and it's been the birthplace of several ski-clothing brands, including Peak Performance and Elevenate. Needless to say, the locals spend a lot of time outdoors: so they know a thing or two about what works – and what doesn't – in a high-quality ski jacket.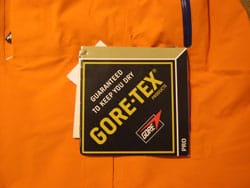 1. A waterproof, breathable fabric
You need a fabric that keeps the snow and rain out, and lets your sweat escape too. Gore-Tex is still the industry leader in this respect: a membrane which is sandwiched between an outer and inner layer of fabric, and has over 1.4 billion pores per square centimetre.
Gore-Tex isn't essential, though – there's a growing range of waterproof and breathable membranes available which do the job almost as well. Look for fabrics waterproof to 16,000-20,000mm which have a breathability rating of 10,000-15,000grams. There's a great guide to what these ratings mean at Evo.com.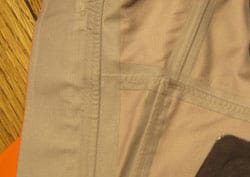 2.Taped seams
There's no hope your ski jacket will be waterproof unless it's got taped seams. Why not? Because the stitching in a seam goes right through the waterproof membrane and offers the perfect entry-point for water. Pictured, left, are the taped seams on Peak Performance's top-of-the-range Heli Alpine jacket.
Speaking of weak points in your jacket, remember that the main zip at the front of the jacket will let in moisture too, unless you've got some kind of covering for it. A fabric flap held in place by Velcro fastenings is best.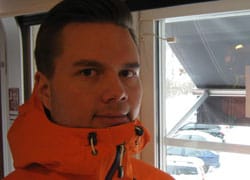 3. A high collar
I've spent many a chair-lift ride on windy, sub-zero days wishing the collar on my ski jacket was higher. High collars can be pulled up over your  chin, lips and even the tip of your nose to keep the wind off. If it's properly Arctic, then you should probably invest in a neoprene facemask, too, but it's great to have the extra protection offered by a good ski jacket.
If the jacket has a hood, make sure there are drawstrings which let you tighten the collar independently of it. Otherwise, the hood acts like a wind funnel, gathering any gusts and channeling them around your neck. Yuck.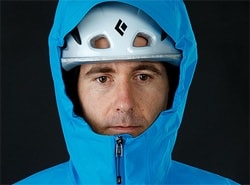 4. A hood that fits over your helmet
All sensible skiers wear helmets these days (read our ski helmets feature for more on that): and all sensible ski jacket manufacturers make jackets that fit over the top of ski helmets – like this Alpha SL jacket from Arctyerx. Otherwise, what's the point?
However, most skiers never wear a hood while they're actually skiing – because it restricts their movement and messes with their peripheral vision. Personally, I'd love to be able to wear mine more often on chair-lifts – if I could. But I'm always too preoccupied holding on to my ski poles and rucksack to be able to pull it up.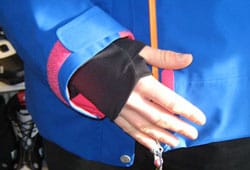 5. Extra-long sleeves and/or snow-cuffs
You don't want snow up your sleeves, and there are two ways the design of a ski jacket can help you avoid the problem. The first, is if the sleeves are extra long (for example, the sleeves on some jackets come right up to your knuckles). The second is by the inclusion of stretchy inner cuffs which hook over your thumb. Not only do these stop the snow from finding a way in, they are also prevent your sleeves riding up your arms.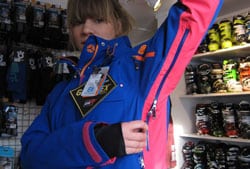 6. Underarm ventilation zips
You're on a mountain in winter. There's a thick blanket of snow on the ground. By rights, you shouldn't be overheating.
But it happens all the time to skiers. Whether you're skiing hard, or hiking to an off-piste route, or just out on a mild and sunny spring day, you'll often find yourself ready to boil. That's when big underarm vents can help. (And so too a double zip at the front of the jacket.)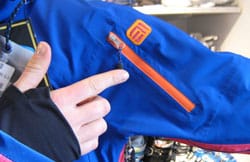 7. A lift-pass pocket on your left arm
Most lift passes are electronic these days; and in the Alps most of these are controlled by sensors which are on the left-hand side of the gates that let you onto the lifts. So, it makes sense to store your lift pass in a pocket on your left sleeve. On your lower arm, just above the wrist, is the most sensible position (so you can wave it around if the sensor is a bit slow on the uptake), although some are on the upper arm.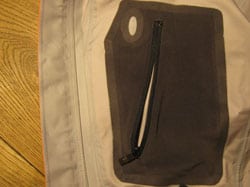 8. An inside pocket for your phone
Snow is cunning stuff: it'll worm its way in through the smallest opening. Wipe out on a powder day, and – even if your pockets are only slightly unzipped – you'll find them soaking wet when you get back to your chalet.
This is bad news for mobile phones – and the only safe place to keep one is in an inside pocket. This should be entirely on the inside of the jacket's waterproof/breathable membrane, with a zipped closure to keep the phone in place. Anything less than that risks disaster.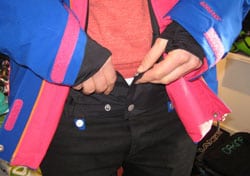 9. A snow skirt
Anyone who skis powder needs a jacket with a snow skirt – which fastens over your hips, underneath the jacket, to stop snow getting up inside and making your base layer wet. You'll be particularly thankful for it if you wipe out in deep snow.
The posh ones are detachable, because the extra fabric in a snow skirt can be a bit of a pain if you're wearing your jacket to hike or bike in the spring, autumn or summer.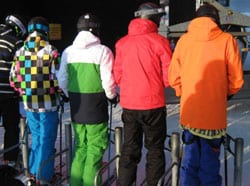 10. A colour you can live with
The bright colours that have dominated ski fashion for the past few years look fabulous on the slopes. But you may feel ridiculous in them if you're popping out for a pint in your local. If you ski a lot, and want a jacket which you'll only wear on the slopes, then that's not a problem.
But many people are looking for a garment that will also serve them when they're fell-walking, mountain-biking, or nipping out to the shops in the rain. In which case, it may be worth considering black…