It's not easy working out what to pack for a skiing holiday. But we know a few things about it. We've been packing for the slopes for many years and fly to the Alps most weeks during the winter.
Beating the 20kg (or 15kg) airline luggage allowance limit takes a bit of planning. But it does help if you've got a toasty warm bed waiting for you at the other end.
So here is our ski trip packing list of 18 top tips every skier should have at the ready when packing, whether you're preparing for a school trip, New Year ski holiday or half term family break.
1. Bring LOTS of socks and undies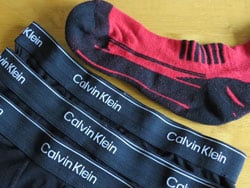 There's no greater luxury on a ski holiday than to get out of the shower at the end of the day, and put on a fresh and really comfy pair of undies. So take as many pairs as you can. Ideally, that means one pair for each day of the trip plus a couple of spares.
Socks are important too – especially the ones you wear in your ski boots. Most people swear by specialist skiing socks, although some find they can get away with well-fitting, everyday socks in their boots. Either way, you need lots of pairs, and that's especially true if you plan to hire ski boots, because the liners may have already been home to many other pairs of feet.
Ideally, you want a pair of socks for every day of the trip, plus a couple of spares, although you can get away with a three if you take travel wash (see below).
2. And at least two sets of ski base layers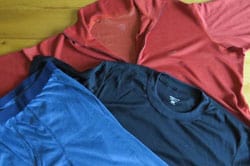 A good ski base layer – a long-sleeved top plus long-john style pants – is the foundation of every good ski outfit. If yours is made from man-made fibres you need at least two pairs: one to wear and one to wash, as these garments are notoriously whiffy after a couple of days.
If you can't be bothered with washing, three pairs will just about see you through a normal week.
Wool-based base layers, such as those made by Ice Breaker, get less whiffy, but aren't quite as good at keeping you dry. You might just get away with one pair over the course of a week: but you're better off with two.
3. Travel wash if you don't want to smell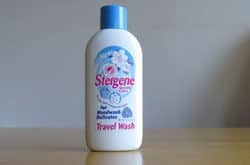 In VIP chalets, the staff are always happy to stick a load of washing on to help guests out. But if access to a washing machine is more limited, then you'll need a tube of this – especially if you're packing light, and cutting back on socks and underwear. Yes, 20 minutes spent crouching over a sink, scrubbing your pants and socks at the end of the day is not exactly living the wintersports dream. But the alternative – clothing so smelly it could probably walk to the boot room on its own – is far worse.
In fact, take a tube anyway; because there's always the danger someone else in your party will think it's okay to dry out their sweaty ski socks on the radiators at the end of the skiing day. In which case, you can lend them the means to wash them. Or threaten to take the offending articles outside and burn them instead…
4. Pack sunscreen and lippy to avoid drying out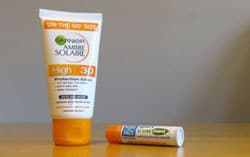 Of course, you can buy sunscreen and lip balm when get to your ski resort. But why pay €9 or €10 for a 50ml tube when you can buy four times that quantity at half the price back home?
Don't for one moment imagine you can do without it: unless you want skin the colour of beetroot. It may be winter, but up in the mountains the atmosphere is thinner, and the effect of any sunshine in magnified by the reflective power of the snow.
Lip balm is important too – because lips dry out very quickly in the dry mountain air.
5. Then there's your toiletries (and a few extras)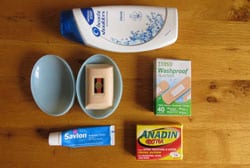 On top of your toothbrush, and all the usual tubes and ointments, you should take a something for headaches and colds, and the odd plaster too.
Most hotels and chalets supply free shower gel, shampoo and body lotion, but you might prefer to bring your favourite brands from home – and this is essential if you're staying in budget accommodation, as soap supplies are often pretty rudimentary, or non-existent.
6. And all your ski gear, of course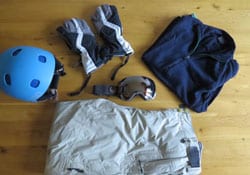 Check out Welove2ski's introduction to ski clothing for a complete guide to the basic building blocks of a ski outfit.
But in essence you'll need to pack: thermal layers (fleeces or thin lambswool jumpers you can wear on top of one another to keep warm), waterproof but breathable ski trousers, ski gloves, goggles, sun glasses (optional), your ski helmet, ski boots (if you've got your own), and any other protective gear or knee braces, if required. Also, don't forget your avalanche safety gear if you're planning to ski off-piste.
7. But not your ski jacket – you'll be wearing that on the plane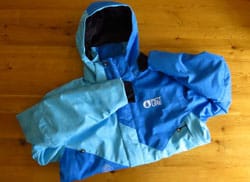 If you're flying, then you can help to keep your baggage weight down by wearing your ski jacket onto the plane.
It looks a bit naff in the departure lounge, but who cares when you've got all those useful pockets in which to store wallet, phone, boarding passes and passport? It's also fun to watch as everyone else goes diving into the bottom of their suitcases once you emerge from the airport into the brisk Alpine air.
8. You'll be wearing your walking boots, too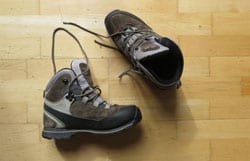 It's best to take a pair of walking boots as your general-purpose footwear, in case it snows heavily while you're in the mountains. Believe me – your battered Converse All Stars really aren't up to the job, and if it's icy they could be seriously dangerous.
But again: don't pack them in your suitcase if you're flying. Wear them onto the plane.
9. Pack fewer ordinary clothes than normal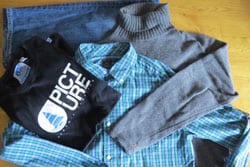 Think about it. If the holiday goes well, you'll be in your ski clothing every day from first thing in the morning, to 4pm in the afternoon – maybe 7pm if you find the right apres-ski bar. So you'll only be wearing ordinary clothing for a fraction of the normal time.
Pack one spare pair of trousers, no more than a couple of jumpers, and a few t-shirts and tops. And leave the glad rags at home. After all, you'll be in a ski resort. A shirt and jeans is as smart as it ever gets.
10. But do bring your PJs and slippers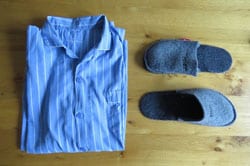 Pyjamas are a great lightweight luxury: not just for you, but for your room mate too – if you're sharing with a friend. They'll help you save on underwear, too (see above).
Slippers are another treat – especially if you're going on a chalet holiday, because you'll be asked to leave your shoes at the front door.
11. You'll need a beanie hat (but not for skiing)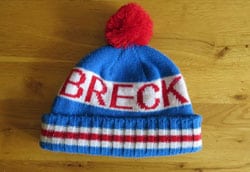 We think ski helmets are essential headwear for skiers – and so does just about every pro in the business.
But what about when you're going out for dinner, drinks, tobogganing or even a snowball fight? Don't forget your bobble hat if you want to keep your ears warm…
12. Your swimmers are handy if there's a hot tub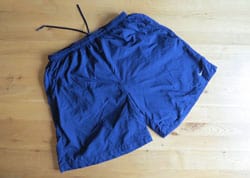 Swimming is a great way to stretch your muscles after a day's skiing, and if you've got children there's no better way to fill the time between the end of ski school and supper.
Even if your accommodation doesn't have a pool, your ski resort may have a big communal one. So check what's on offer before you go – keep an eye out for hot tubs too – and take your bathers if there's the chance of a dip.
13. A flask will save you £££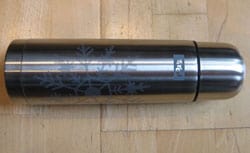 Stopping in a mountain restaurant for a hot chocolate or a coffee is one of the great pleasures of a day on the slopes: not least because it gives people a chance to catch their breath after the first turns of the morning.
But if you want to save yourself from the steady drip-drip of on-mountain expenditure, why not fill a flask and have a piste-side cuppa in the sunshine instead?
14. Plug adapters: the gadget everyone forgets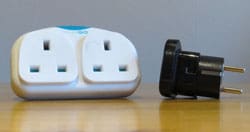 On every group ski trip, there's always someone who spends every evening asking to borrow an adaptor so he can charge his phone – don't be that guy.
If you don't already have an adaptor of your own, you can pick them up at the airport, on the ferry or before you get to the entrance of the Channel Tunnel. Spend some extra cash and you can even get one that will cover you all over the world.
15. Roll your clothes, don't fold them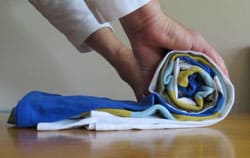 So, having covered pretty much everything you need to bring, how do you fit it all in your bag?
We suggest you start by rolling rather than folding your clothing. Doing so will compress your gear whilst making it easier to stack and pack into a tiny section of your bag or suitcase. This can save oodles of space in your suitcase, allowing you to fill in gaps between certain items to take full advantage of the space.
16. Fill your helmet with fragile items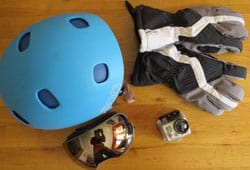 Your helmet is a good place to store your goggles and your GoPro, provided your goggles have some kind of protective covering, and your GoPro is in its case. Put some gloves on top to cushion any impacts.
Don't pack ordinary digital cameras this way (the display screens have a nasty habit of cracking in transit), nor goggles with fancy iridium coatings, which are very vulnerable to scratching. Pack them in their hard protective cases instead.
17. Put some heavy stuff in your rucksack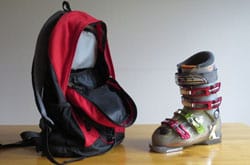 If you're flying, ski boots will take a big bite out of your baggage weight allowance. So how about carrying one of them in your rucksack as carry-on baggage?
Admittedly both probably won't go, and most specialist ski boot bags are too deep to qualify as cabin baggage on many airlines in any case. However, boot bags and skis travel free on Swiss – so consider them as your airline of choice. Pack a t-shirt and a fresh pair of underwear in there too, in case your flight is delayed.
18. Use plastic bags for waterproofing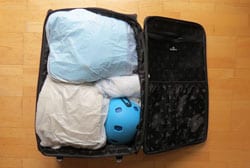 It's winter. There's a good chance it will be raining (or snowing, hopefully) when your suitcase is sitting on the runway being loaded on or off the plane.
And the thing about water is: it's wet, and has a nasty habit of finding its way through zips. Pack plastic bags around your clothing inside your suitcase to keep them dry. This also doubles as a handy method for compartmentalising you thermals, underwear, t-shirts, and so on.
19. Don't forget these essentials (bonus)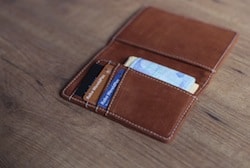 Looks like we forgot a few things – lucky we have you guys, isn't it? Ben Corbey reminded us that foreign currency is a must – go to a Travelex (or better yet, your local Post Office) before you leave home to avoid those murderous airport exchange rates.
Meanwhile, Kate Mann recommends Compeed Blister Plasters to alleviate any ski boot soreness (then again, maybe it's time you took a long, hard look at your ski boot liners?).
Oh yeah, and don't forget your wallet including passport, credit, debit and EHIC cards (while it is available), plus some proof of a quality ski insurance policy – thanks to you, Paul Braiden!
Anything missing?
With any luck, that covers everything you should you pack for a ski holiday, plus some handy pro tips too. Getting it right will make all the difference to your skiing comfort.
Why not bookmark this page so you can come straight back to it before you next head to the Alps? And if you think it's missing something, please add your suggestions in the comments box below. If they're good, we'll include them in the list with full credit given to you. Happy packing!