Other Mountain Sports

70%
In a Nutshell
Innsbruck's gorgeous buildings and medieval streets have a busy, lively atmosphere. The Nordkette mountain railway is open, if you fancy some high-altitude hiking or biking, and there's summer skiing on the nearby Stubai Glacier.
The Stats
Altitude: 574m
Summer lifts: available in 7 areas
Walking trails: 1220km
Cycle paths: 90km city cycle lanes, 115km MTB trails


Official Site
Essential Advice for the Perfect Holiday
For a destination that's internationally renowned for its skiing – Innsbruck hosted the Winter Olympics in 1964 and again in 1976 – this may come as a bit of a surprise. The 800-year old city with its charming medieval centre on the banks of the River Inn actually attracts more visitors in summer than it does during the ski season. But then with an average daily high of 25°C and seven hours' of sunshine throughout July and August, it's easy to see why. Salopettes and ski boots give way to shorts and sandals and the temperature is perfect for sightseeing in a city with so much to see and do.
Innsbruck Airport, with high mountains on either side of it, is located on the western edge of the city and offers international flights, short transfers, and good rail connections make this a great destination for the eco-conscious traveller.
The riverside path along the Inn features running and walking trails, circular cycle routes, table tennis tables, a slack-line park and an urban gym, as well as benches, playgrounds and open spaces for relaxing. There are inlets on both sides of the river where you can enjoy barbecues.
The all-inclusive Innsbruck Card makes everything easy, allowing free (or discounted) access to the ski lifts that are open in summer for hikers and cyclists, as well as to the many museums and attractions in town.
Days Out in the City of Innsbruck
Innsbruck has a lot to offer beyond the slopes, and for even the most committed sports enthusiast it would be a serious mistake not to add some sightseeing to your list of must-dos. The Goldenes Dachl ('Golden Roof') in the middle of the Old Town is covered in gold leaf and is probably the highlight. Emperor Maximilian commissioned the gilding of the 2,657 roof shingles at the start of the 16th century, and the building was created for him to oversee the hustle and bustle of his city and to watch jousting tournaments.
Then there are the state apartments of the Kaiserliche Hofburg (Imperial Court Fortress) – once depicted in watercolour by Albrecht Dürer. Add to this various Gothic confections and two interesting museums. The Volkskunst Museum features folk art, such as handcarved sleighs and carnival masks.
Ambras castle houses the Habsburg portrait gallery on three floors with more than 200 portraits, among them the most valuable works of artists such as Lukas Cranach, Anton Mor, Titian, van Dyck and Velásquez. It also has a collection of medieval armour and artefacts.
Meanwhile, the Ferdinandeum is one of the best regional art museums in Europe and includes paintings by Gustav Klimt and Oskar Kokoschka, as well as the Tirol's own Albin Egger-Lienz. There's also a fine collection of Dutch still life from the 17th century.
Innsbruck's icon, The Bergisel ski jump, is a great place from which to view the city. It dates back to 1925 but was rebuilt in 2002 to a design by Iraqi-British architect Zaha Hadid. You don't have to climb the 455 steps up from the stadium – go by funicular and lift! From the top you can't help but wonder how the jumpers ever pluck up the courage to launch themselves down the runway. Your eyes – and no doubt theirs – can't help but focus on the ornate cemetery that lies just beyond the landing area. The stadium has over 28,000 spectator seats and a restaurant with a viewing platform offering a 360° panorama of the city.
The Sightseer is a hop-on hop-off bus going to all of the sights and attractions in Innsbruck. It's particularly good for reaching places that are not that easy to get to on foot, such as Ambras Castle, the Bergisel Ski Jump, the Tirol Panorama Museum, and the Alpine Zoo.
Small shops line the medieval streets, selling clothing, locally produced food and drink, and souvenirs. The Town Hall Galleries and Kaufhaus Tyrol are the modern shopping centres.
---
---
Walking In and Around Innsbruck
There are seven themed walks to explore in Innsbruck itself with topics including 'On the trails of the Habsburgs', modern architecture and 'Alpine-Urban'. The aim is to take visitors to lesser-known parts of the city and off the beaten track. On Friday evenings there's a free (with Welcome Card) guided lantern-lit hike. You can also walk along easy paths that have little altitude change, with 16 'culinary stations' en route ranging from farms to farm shops selling local produce.
There's a free guided hiking programme (with the Welcome Card) on weekdays from the beginning of June to the end of October, accompanied by qualified mountain and hiking guides from the Alpine School Innsbruck (ASI).
Nordkette path of perspectives, above Innsbruck, is an easy walk – taking a maximum of one hour.Innsbruck Trek is a seven-day hiking tour around Innsbruck, guided or self-guided, with two difficulty levels. Your luggage is transported for you to the three- or four-star hotels en route.
The modern Nordkette funicular takes you up from the city centre in eight minutes, with a stop for the Alpine Zoo. From there, you cross Hermann-Buhl-Platz square and continue to the lift that goes up to the Seegrube at 1905m. You can then go up to the Hafelekar at 2300m, which offers some impressive panoramic views and alpine surroundings.
About 30 minutes' drive from Innsbruck is the lovely walking area of the Mieminger Plateau. It overlooks the Inn valley and has – according to statistics – the most sunshine in the Tirol. The Zirbenweg/stone pine tree path around the village of Igls (above Innsbruck) is easy, and takes about two to three hours to complete.
The Innsbruck area's Nordic Walking Park has a 110km trail network with varying degrees of difficulty from beginner up to Nordic pro. For general hiking tips in the Innsbruck region click here. 
---
---
Mountain Biking and Road Cycling
The Tirol has over 900km of signposted road cycling routes through some gorgeous valleys. Not least in the Innsbruck area, which has some excellent trails with views over the city and some gorgeous alpine scenery. There are quaint mountain huts where you can stop off to eat or have a drink. There's also a 'cycle and savour' route that runs alongside the river Inn to the west of Innsbruck, with a focus on tasting local produce.
For a bike tour around Innsbruck itself you can register and rent at City Bike terminal, via the nextbike App or on +43 512 908069. E-bike rental and charging stations make it even easier. Click here for general cycling tips throughout the Innsbruck region. 
For something a lot longer, the Inn Cycle Path follows alongside the river through Innsbruck and stretches a total 520km, following the river from its source in the Engadine in Switzerland until it meets the Danube in Germany. It is ranked among Europe's longest and most scenic cycle routes.
The mountain biking trails range from easy to difficult, with jumps and obstacles. Then there's the new BikePark in the village of Mutters with four trails, two lifts, and a biking centre. The 4.3km Nordkette Single Trail, above Innsbruck, is one of the steepest, longest and most difficult downhill mountain-bike trails in Europe, with breathtaking views of the city below.
Crankworx was born in Whistler in Canada in 2004 and has evolved into an international festival series. The Crankworx World Tour brings together the best mountain bike athletes in a variety of disciplines. Crankworx Innsbruck launched in June 2017, becoming the first European Crankworx location outside of France. The festival takes place at BikePark Innsbruck with events that include Slopestyle, Pumptrack, Whip-Off, Dual Speed, Dual Slalom, Style and Downhill. There are also races for amateurs, Kidsworx contests for young riders, and celebrations of mountain bike culture.
---
---
Innsbruck's Other Activities
The Art Nouveau Hallenbad Amraser Strasse is a recently-renovated indoor swimming-pool in the centre of Innsbruck, housing a sports pool, children's pool and a beginners' pool. There's also a roof terrace and a spa. Located close to the Olympiahalle, the Tivoli is the city's only public open-air swimming-pool – in fact the centre comprises five pools, one of them with a diving platform and 70m water slide. The children's area features a pool with slide and water cannons.
If you follow the river downstream from the city, you can stroll through the trees to Innsbruck's Baggersee swimming lake; admission is free after 6pm. For relaxing off the beaten track, you can also visit the Lanser See (alpine lake) in the village of Lans. You can get there by bus, or by following the forest trail that leads past Ambras Castle. The Sill Gorge is a short walk from Innsbruck.
The section of the Inn river between the Imster Schlucht canyon and the village of Roppen is the prime wildwater sports location in the Tirol. The fast-flowing nature of the water here makes it ideal for rafting and kayaking. Most of the trips offered by local rafting centres lead along the 14km stretch of river to the village of Haiming, which is accessible from May until mid-October and is also suitable for beginners.
The village of Mutters is home to the Baumelhauser, an area of linked treehouses from which children and adults can reach observation decks to enjoy some magnificent views. An exercise park is set next to the children's area, with fun activities to help train motor skills, mobility and agility. Mutters also features mountain carting – downhill three-wheelers which you drive at a wicked speed down a 5km course.
Swarkovski Crystal World is located at Wattens (there's a regular shuttle here from the city centre) and here you will find the world's largest selection of Swarovski jewellery, accessories and figurines. There's an in-house bar with snacks, the Chambers of Wonder crystal rooms to explore, and expansive gardens featuring a giant's face carved into the hillside, a playground, open-air movies and yoga classes.
---
---
Climbing in Innsbruck
Qualified guides and coaches at the local climbing schools will share their expertise with amateur climbers, including safety measures, climbing techniques and how to correctly analyse rock formations. The experts know all of the tours, walls and gorges in the local area. KI climbing paradise (Innsbruck Climbing Centre) is one of the world's largest climbing centres. Over 6000m2 of climbing surface accommodates all three disciplines of climbing (lead, boulder, speed).
The centre houses climbing routes for all standards, a small gym, a kids' area, beginners' area, a rental equipment shop, and a bar. The bouldering area has colour-coded routes as well as training areas where you can make up your own. The climbing centre is used for training and competition by the Austrian National Team.
---
---
Where to Play Golf Close To Innsbruck
The Meiminger Sonnenplateau has 27 holes of golf, open from March to November. The 18-hole course has fantastic panoramic views. The new Par 72 championship course, designed by golf architect Keith Preston, has wide fairways amid the pine forest. The 9-hole Park course, which opened in 2001, also has great views across the Inn Valley to Innsbruck and westwards to the Ötztal and Lechtal Alps. It is ideal for beginners and those with less time on their hands. There's also an on-site driving range.
Located close to Innsbruck, the 9-hole golf course in Lans has gently rolling terrain set between fir, deciduous and fruit trees, making this an easy yet interesting golf course. Its clubhouse restaurant serves Italian dishes with a focus on Neapolitan cuisine.
---
---
Where to Stay
The free Welcome Card is available for all lengths of stay and includes free public transport in Innsbruck. From three nights onwards it also gives free travel on the Oberperfuss/Rangger Köpfl cable-cars.
Europa-Tyrol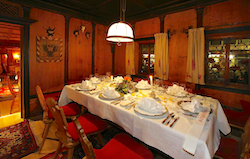 The city's best hotel is Europa-Tyrol the only five-star in Innsbruck. It's opposite the main railway station, the service is courteous, but formal, the decor a bit dated in places, but the rooms are quiet and comfortable, and the wood-panelled Stübli-style restaurant is excellent. Most nights you'll find plenty of locals in there having a celebration, as well as hotel guests.
aDLERS Hotel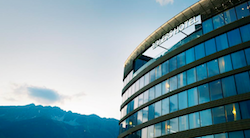 aDLERS Hotel is 14 storeys high and Innsbruck's tallest hotel – with a roof-top terrace and an impressive restaurant on the 12th floor. The 11th floor spa has a Finnish sauna, a bio sauna with mountain views, a steam bath, an infrared cabin, and massages are on offer too. Bike friendly.
Hotel Schwarzer Adler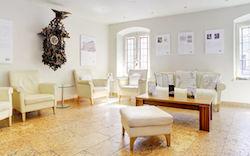 The Adlers' sister hotel, the Hotel Schwarzer Adler, is pastel pink on the outside and has recently-refurbished rooms. Suites are themed – Versace, Tirol, Kaiser Maximilian. Dating from 1511, the boutique hotel has been run by the Ultsch family for five generations. Hotel Schwarzer Adler's individually furnished rooms are spacious, and the spa area is decorated in Swarovski style. The roof-top terrace has fantastic views, and you can book a private dinner in one of the old gondolas. Bike friendly.
Goldener Adler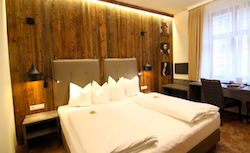 Guests at the four-star Goldener Adler include Mozart, Wagner, Goethe, Camus and Sartre. The hotel is located in the historic and pedestrianised core of the city, a short walk from The Imperial Palace, the Hofkirche church and the Nordkette's mountain railway. The bedrooms are a clever mix of traditional materials and modernity; the deluxe doubles in particular are lovely.
The Penz Hotel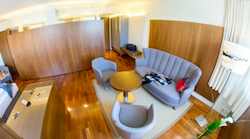 The Penz Hotel is part of the glass-walled town hall and has 360 degree views. On the fifth floor is the American Bar as well as a breakfast restaurant on the roof. Here you can admire the spectacular view while enjoying your delicious breakfast consisting of exotic fruits, sparkling wine, salmon and other tasty specialities.
Hotel Weisses Kreuz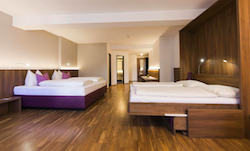 Hotel Weisses Kreuz is a 500-year-old hotel in the historic core of the city and is where Mozart stayed as a child in 1769. It has a cosy, traditional atmosphere and The Imperial Palace is a short walk from the property. "Historical hotel in a beautiful part of the city with great views, very friendly staff, clean, good wifi, great location, close to all places of interest," said a reporter.
Hotel Stern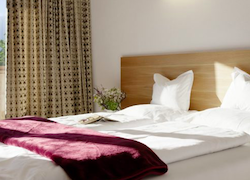 Three-star-plus Hotel Stern is on the Meiminger Plaeau near Innsbruck. It has programmes for children of all ages, and holds weekly events including a herb tour and fruit-picking both followed by appropriate cooking classes. The hotel also offers a night in a hay barn, has an outdoor dining area under the shade of 100-year old chestnut trees, and holds traditional folk music evenings. 
Alpenresort Schwarz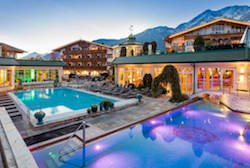 The five-star Alpenresort Schwarz has a spa and seven indoor and outdoor pools. Its right by the golf course, too. Yoga, Nordic walking and fitboxing are just a few of the classes on offer here.
Bergland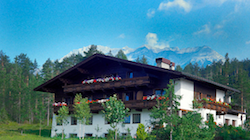 The four-star Bergland has an indoor swimming-pool and wellness facilities. A range of baths are offered in the spa, including a Lemon Balm Bath to aid sleep, Lavender Bath – for relaxing, Hay Flowers and Herbs Bath for regeneration, and a fango bath of ground rock flour or salt slush.
Bio-hotel Holzleiten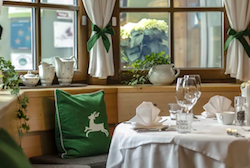 Another four-star is Bio-hotel Holzleiten is a unique wellness hotel offering everything 100% organic. It has an outdoor pool and bathing pond. The restaurant has an organic certificate from Austria Bio Garantie, and chef Kurt Regensburger pay particular attention to the taste of fresh produce.
Kaysers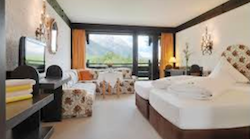 Then there's the four-star Kaysers, which is a golf and tennis hotel with three indoor courts, two outdoor clay courts and a location that's close to the 27-hole-golf course. There are 40 rooms and maisonette-suites, a large garden, and a wellness centre. The restaurant offers breakfast and dinner, plus a 'lunch corner' where you can prepare your own lunch box to take away.

Staying in the middle of Innsbruck is the best option if you want the classic Innsbruck experience. But there are of course plenty of hotels outside town. For example, Igls is perched just above the city centre at 870m, with Innsbruck is 15 minutes away by local bus. Given it's so close to the city, it's remarkably quiet and villagey, and has some good hotels. There are tennis courts and golf courses nearby.
Sporthotel Igls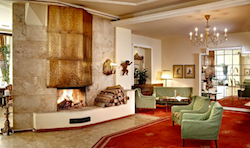 Sporthotel Igls is known for its food, made from seasonal produce from nearby organic farms. Dating from 1889, this chalet-style hotel offers panoramic views over Innsbruck, a private golf course, and a large spa area with indoor pool. Guests can rent bicycles and benefit from six free guided hiking tours per week.
Bon Alpina
Bon Alpina. There's an indoor pool and a heated outdoor pool with a sunbathing lawn, as well as sauna, steam room and fitness facilities. The restaurant features a traditional Tirolean lounge, and a children's playroom.

You can even go summer skiing from Innsbruck. The Stubai Glacier is the nearest place for this.
Relais & Chateaux Spa Hotel Jagdhof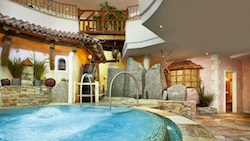 Beneath the Stubai glacier, the five-star Relais & Chateaux Hotel Jagdhof in Neustift is the place to stay for proper luxury with a Tirolean flavour. There's a large spa area of over more than 3000m² and features 20 different facilities, including holistic beauty treatments. Awarded 2 toques by Gault Millau, the gourmet restaurant offers cuisine that includes game from the hotel's own hunting grounds, and a wide selection of fine wines. Between May 25 and October 15 rates include the Stubai Super Summer Card, which comprises free public transport to and from Innsbruck, access to public swimming pools and cable-cars, and a summer toboggan run.
---
---
Where to Eat
One of the great things about the Innsbruck region is how cheap the mountain food is. The city needs its locals to keep coming back, so they won't if you charge rip-off prices.
The dinner options include the Das Schindler, which occupies a pared-back, open-plan room with big-window views of the city centre. Local-sourced food is its speciality, all the way from pikeperch and watercress soup to homemade raspberry sorbet.
Another gastronomic highlight is Alfred Miller's Schoneck, a 10-minute taxi ride from the city centre at the bottom of the Nordkette. You choose from just two set menus and the style is a blend of local dishes and international cuisine. The building itself was renovated in keeping with its history and you eat either on the wooden veranda, in the cosy Stuberl or the wine cellar.
Another typical Austrian eatery is Gasthof Weißes Rössl. For Austrian/European cuisine try Restaurant 1809. Up on Nordkette is Restaurant Seegrube, serving Austrian cuisine.
For Austrian/German cuisine, try Fischerhäusl. Meanwhile both the Stiftskeller and Theresienbräu are good for traditional pub grub (and beer, of course).
Die Pizzerei has Italian cuisine – and a wood fired pizza oven. Meanwhile, Himal specialises in Nepalese cuisine, and Machete Burrito Kartell serves Mexican cuisine. Die Wilderin is also recommended.
Café Central is a traditional Austrian coffee house – the perfect place for coffee and cake after lunch.
---
---
Innsbruck's Bars and Clubs
The city abounds with bars and clubs, many of them aimed at the large student population. Theresienbrau is a brewery which also serves good, hearty food, while Moustache is a lively bar with a warren of little rooms – one of which features live music.
At the Dom Bar vaulted ceilings and antiques mix with modern furniture. Meanwhile, Machete is a burrito restaurant in the middle of town that's as much a place to go for a drink as it is for eating. Kater Noster serves coffee with snacks during the day and in the evening it's a cutting-edge bar with a large function area in the basement. Events that take place here range from concerts to art exhibitions, pop-up shops and film screenings.
If it's a night of exotic cocktails you're after, then the bar at Das Schindler restaurant is the place. By the way, don't leave the city without trying a Hugo (pronounced 'ugo'), the essential Tirolean cocktail. It was invented in the area and is a bit like a Mojito and shares similar ingredients, such as lime and mint.

Also see our winter resort report for more information on Innsbruck and the surrounding area.
---
---