It isn't often that you find yourself with a chance of skiing in Iceland, but there's one brilliant way to do it: use this wonderfully raw and beautiful island – roughly the size of Portugal or Hungary – as a stepping stone between Europe and North America, flying with Icelandair. That way you can spend a couple of days (with no extra charge for flights) skiing in Iceland or just seeing some of the many impressive sights, and then press on to ski the Rockies.
Rather like the Red Knot, a migratory sandpiper (possibly named after King Canute) that drops into Iceland on its way from Europe to North America, Icelandair operates Boeing 757s all the way to such destinations as Vancouver, Edmonton, Seattle, Denver, Toronto, Washington D.C, Orlando New York and Boston via Reykjavik. The airline even names its fleet after volcanoes. And its in-flight magazine is called Icelandair Stopover.
Iceland with its myriad volcanoes, geysers and hot springs is still very much a work in progress, and has been described as "a geologically teenaged island". You could also say that tourism, which has largely rescued the country from its financial woes of a decade or so ago, is also still in its infancy. So much so that a feature in a local newspaper when I was skiing there agonised about trying to keep a balance between the exponential growth of tourism and preserving the enthrallingly wild natural splendour of the island.


In spite of its location close to the Arctic Circle, Iceland has mild, coastal climate, thanks to the Gulf Stream. The weather is also affected by the East Greenland polar current curving south-eastwards round the north and east coasts. But the weather can be very unpredictable and often changes in an instant.
Yet more and more visitors are experiencing Iceland's celebrated wild side, including heli-skiing – which is what attracted me on my recent visit. Helicopters provide a useful and quick means of getting around, and also offer dramatic mountain vistas en route. There's heli whale watching, heli geothermal tours, heli waterfalls, heli fire and ice (landing on a glacier), heli craters, a heli glacier lagoon expedition, heli quad biking, heli ice-caving and even a heli happy hour – a scenic round trip to a nearby mountain where you land and enjoy a bottle of sparkling wine.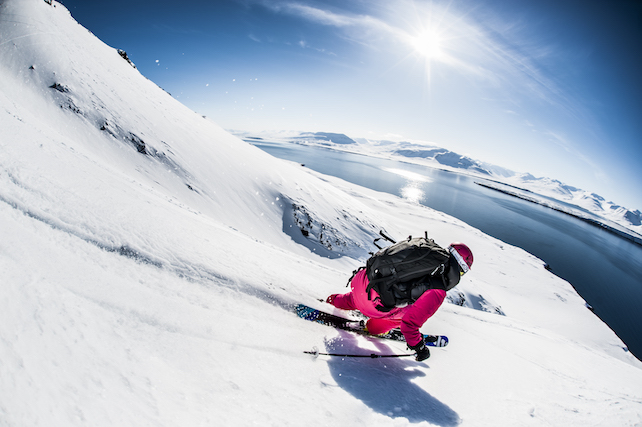 Many of the early Apollo astronauts visited Iceland for training purposes because of its moon-like features – and the island has also provided dramatic locations for a plethora of films including Batman Begins, the Bond movies A View To A Kill and Die Another Day, Tomb Raider, Game Of Thrones, Star Wars, Star Trek, as well as TV series such as Trapped and Fast And Furious.
To reach Iceland's best in-resort skiing you need to fly on from your original landfall at Kevlavik, near Reykjavik, to the principal northern town of Akureyri (population circa 18,000), the hub for five small ski areas available on one '5X5' pass. Hlíðarfjall – just under four miles from town – is the largest, with 16km of slopes and a vertical drop of 474m. Using Akureyri as your base, the furthest (Tindastóll – Sauðárkrókur) is 117km and the nearest, apart from Akureyri's own local ski area of Hlíðarfjall, is Dalvik – 39km out of town. For winter 2018-19 there will be a new chair-lift in Hlíðarfjall with some additional slopes and a new drag-lift at the Sauðárkrókur ski area.
But it still has to be said: Iceland's ski areas are definitely on the small side. By way of contrast, for skiers and snowboarders who want more terrain and more excitement, Iceland has some superb heli-skiing and cat-skiing. With heli-skiing in the Alps largely limited to Italy and Switzerland, it's readily available here. Arctic Heli Skiing, at the end of the Skíðadalur Valley in the Troll Peninsula, 20km or so from the fishing port of Dalvik, has 4000 square kilometres of terrain at its disposal, with countless potential 'first descents'. Iceland by definition is full of runs that have never been skied – not because they are necessarily particularly challenging but because until heli-skiing started here around a decade ago, much of the terrain would be too remote to reach easily.
The runs we skied from our Écureuil (Squirrel) helicopter were unexpectedly impressive – as good as anything I've experienced in Canada. The snow was so good that during each descent we careered fairly effortlessly for perhaps a hundred turns at a time before pausing for breath, helped along by the relatively low altitude. We even managed a 'first descent' of 762 vertical metres.
Four or six-day heli-skiing packages with Arctic Heliskiing can be booked through the UK-based heli-ski tour operator, Elemental Adventure. Price for four days £7,070, seven days £10,140 – both including daily guided heli-skiing, full board accommodation, airport transfers, ski and safety equipment.
Arnie Wilson stayed at the Icelandair Hotel Akureyri and flew with Icelandair, which has 18 destinations to North America and 26 to Europe. Also see our feature on Exotic ski resorts you might not have been to yet.

An added extra!
Don't miss what in Iceland's polite society is known as the Phallological Museum (Icelandic: Hið Íslenzka Reðasafn) in Reykjavík. In fact – and there's no way round this – it's the world's largest display of penises and penile parts. The collection has no fewer than 280 specimens from 93 species of animals. The lion's share come from whales – 55 of them. Next on the list are 36 seal penises – and 118 from various land mammals. Rather endearingly, these are said to include penises from Huldufólk (Icelandic elves) and trolls. Inevitably, the museum caused so much interest that there was bound to be a human contribution sooner or later. In July 2011, the museum was presented with its first human penis – pickled in a jar of formalin. Three other men, it seems, have promised to add theirs to the collection. Meanwhile the museum continues to search for "a younger and a bigger and better one".