In a Nutshell
The non-mainstream resort has long been the reserve of serious skiers looking for steep pistes and challenging freeride. All this is changing fast, with 1.8CHF billion being invested in the village and slopes as they double in size, a new intermediate ski area on the sunny side of the mountain with links to Sedrun this year and to Disentis next season.
The Stats
Altitude: 1447m
Lifts: 33
Top Lift: 2961m
Ski area: 180km of piste
Adult lift pass: from CHF328 for six days


Official Site |

Ski Map |

Webcam
Essential Advice for the Perfect Trip
Andermatt used to have a low profile as an international ski resort, but all that is now changing. Until recently this isolated ski village in the Urseren Valley, a 90-minute drive from Zurich, was famed for little else but its iconic 2963m peak, the Gemsstock that guards the Gotthard Pass. The peak is home to a handful of notoriously challenging runs and wickedly demanding off-piste. The trouble was that such expert appeal is limited to only 3% of skiers, hardly the ideal figure for attracting mass tourism. The majority of Swiss visitors used the village as a glorious car park, before boarding a mountain train to reach the more sedate charms of the skiing on the far side of the Oberalp Pass in Sedrun and Disentis.
Until the 1980s Andermatt's economy was almost entirely dependent on the presence of the Swiss Army which had huge barracks here, housing thousands of National Service soldiers for annual training. Without this income and only limited tourism from skiing, it was hard see how village could survive.
However, in 2005, an Egyptian businessman decided to invest CHF1.8 billion in turning the village into a year-round resort on a scale never before seen in the Alps. His plans included 800 hotel rooms, and an 18-hole championship golf course. Initially, the plan got a lukewarm response from the traditional and devout villagers who found it hard to comprehend what they could possibly have in common with a Middle-Eastern millionaire.
But Samih Sawiris, the entrepreneur behind the giant El Gouna resort on the Red Sea, was not easily dissuaded and invited them all to listen to what he had to say at a meeting he convene in the village. To their astonishment, he turned out to be a Christian, who addressed them in fluent German. Some 98% backed the plan immediately.
What was a small village with attractive cobblestone streets and a smattering of hotels, bars, shops and one small supermarket, is now set to double in size, building on the former army shooting range. The Egyptian investment has had a knock-on effect: Gotthard Railways have now invested CHF8 million in rebuilding the railway station to include a shopping centre inside and apartments above.
The station stands in what will become the village centre, with the old buildings on one side and the newer ones on the other. The brand new Gütsch-Express gondola is located near the station and takes you swiftly up into the intermediate area linking with Sedrun. A shuttle also operates every 15 minutes from the rail station to the Gemsstock cable-car base.
For the present, getting around the resort is an irritating business with no direct bus running between the newer part of town and the Gemsstock. Buses are overcrowded and while the locals may know the geography, visitors are confused by an absence of village signage and clarity about the bus service. But the whole project is still a work in progress and no doubt this will change.
The championship golf course and the first nine new buildings are already in place, with a lot more to be added over the next few years. However Andermatt has already achieved international recognition as a major revamped ski destination.
---
---
Guide to the Mountain
The SkiArena Andermatt-Sedrun area opened in December 2018 with 120km of linked, mainly intermediate, skiing with 22 lifts. It begins – from Andermatt – with a ride up the sleek Gütsch-Express. For 2019/20 a new lift will extend the area to Disentis and add a further ten lifts and an extra 60km of slopes, along with an (easy) freeride area at Dadens/Lai Aly.
It's worth noting that the lifts at the Sedrun/Disentis end of the ski area are considerably older than the ones at the Andermatt end. While lacking in serious challenge, sunny slopes provide flattering family mileage for all levels against a magnificent mountain backdrop.
The separate north-facing Gemsstock is an altogether more demanding proposition – and is not for the faint-hearted. For the moment, it is still served by an elderly two-stage cable-car that takes you up to the top of the Guschengletscher at 2963m.
Updating the lift (it's on the masterplan) is no simple matter. Any increase in its limited capacity would mean developing a host of new pistes. Purists want to leave the iconic ski area just the way it is, and it's easy to see why: linger after the arrival of your cable-car and you have a whole glorious piste to yourself.
From the top there are two long and challenging black runs back down to town, including one named after village hero Bernhard Russi who won downhill gold at the Sapporo Winter Olympics in 1972 and silver behind Frank Klammer four years later at Innsbruck. Since then, as chairman of the FIS Alpine Committee, he's designed every Olympic downhill course.
After a new snowfall there is off-piste to be enjoyed right next to the pistes. But it's the rugged freeride and ski-touring opportunities with a local guide that are legion. In fact, as Bernhard himself says, "it's the best heli-skiing you'll ever ski without a helicopter".
Routes include one from the St Anna Glacier through the Felsental, which end up in the village of Hospental. From here a free bus takes you back to Andermatt. There is skiing on Gemsstock, as well as ski-touring, from November to May.
Andermatt's lift pass and day tickets are revolutionary in that the price goes up and down according to popularity – rather like easyJet (and similar) flights. It's not just one price for low season and another for peak periods. Instead, a day ticket on a poor weather Wednesday will drop in price, whilst the same ticket on a sunny Saturday will cost over three times more.
---
---
Where to Learn
Swiss Snow Sports School Andermatt-Sedrun (red uniforms) is the main learning academy here, along with Alpine Sports (blue). Mammut Alpine School, Montanara, Peak Dreams, Alpina Sport and Andermatt Guides all provide mountain guiding.
Children from four and a half years can take lessons with the Snowsports School, who also offer special events ranging from treasure hunts on snow to sledding at Nätschen. Paradies Kita offers individual full or half-day care for children from three months to 12 years, and is open from 7am to 6pm. Matti Kids Arena is a nursery slope with large play area and two magic carpet lifts at the Gütsch-Express gondola half-way station.
---
---
Where to Stay
Choose between staying in the old part of town, to one side of the railway station, or the newly constructed addition on the other. The new village is a 10-minute walk from the old and currently has nine buildings, but will have 42 when complete. Buildings are set around a central piazza with – so far – a restaurant with bakery, the Mammut Imholz ski shop, and a boutique selling Swiss Army knives and luggage.
Apartments and free-standing chalets are for sale here – an attractive prospect for foreign buyers who face no freehold ownership restrictions. Two more hotels are also due to be built; one is a family hotel that will feature an in-house cinema and childcare, and the longest water-slide in Europe – in the reception area. A big water park is also in the pipeline,
The Chedi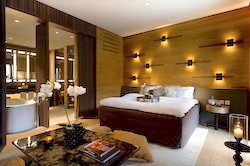 This is where Alps meets Asia – The Chedi is a gorgeous five-star hotel with apartments, all designed to blend seamlessly into the mountain environment and provide a calming experience. The living area has a high-ceiling but doesn't give the impression of being a cavernous space, being cleverly structured with dividing panels, pillars, screens, fireplaces, plants, and sofas as vast as king-sized beds. A highlight is the gorgeous 35-metre swimming-pool, part-hidden behind a sea of bamboo. Bedrooms and suites have wooden floors and walls, leather sofas, huge works of art, bathrooms of granite and black marble. We rate this as one of the finest ski hotels in the world. The only downside is that the public spaces are a bit dark, but this gives the hotel its atmosphere.
Radisson Blu Hotel Reussen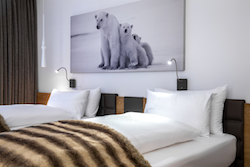 The prime hotel (in fact the only one completed so far) at the newer end of the village is the four-star Hotel Reussen, with large rooms, the Spun Restaurant, a spa with sauna, steam room, 12 treatment rooms, and a 25-metre indoor swimming-pool – all of them open to the public and not just hotel guests. The modern hotel has everything you'd need, including a minibus to take you to the station and the Gütsch-Express gondola base. You'll have to take a further bus to reach the Gemsstock cable-car.
River House Boutique Hotel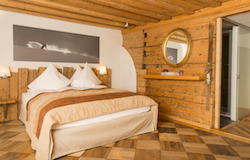 The River House has an eco-friendly design and is convenient for both the Gemsstock cable-car and the Gütsch-Express gondola for Nätsch-Gütsch. Rooms in this 280-year-old building are individually decorated with traditional wooden furniture and floors. The bar serves home-made dishes and local specialties, whilst the breakfast buffet includes fresh breads and regional produce. 
Hotel Sonne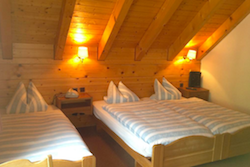 Hotel Sonne is in a lovely old wooden building two minutes' walk from the Gemsstock cable-car and is known for its fondue, which is also served outside on the terrace on sunny days. "Enjoyed being in traditional hotel vs. modern. Breakfast was yummy," said a reporter. There's an in-house sauna.
Hotel Schweizerhof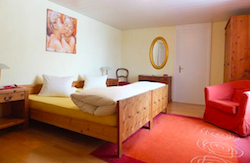 The family-run Schweizerhof is close to the train station and features a rustic-style restaurant serving barbecue specialities, Italian cuisine and fondue dishes. "A stunning old chalet hotel with the kind of warm feeling only ancient wood panelling can bring," was one report.
Hotel 3 Konige & Post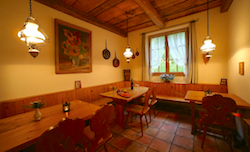 The best thing about the 3 Konige is its lovely position by the bridge across the Reuss River, half-way between the Gemsstock and the railway station. It is a traditional hotel with simple alpine-style rooms. There's in in-house wellness centre with a hot tub, sauna and steam room.
---
---
Where to Eat
Many of the mountain restaurants come under the resort-owned umbrella of Mountain Food, which specialises in local produce. Two of these are Restaurant Gummel (+41 58 200 69 20) located by the mid-station at Gemsstock and set on three storeys (each with different menus) with a terrace on top. At the mid-station of the Gütsch-Express gondola there's Matti (+41 58 200 69 15), a family restaurant with a sun terrace outside and playroom inside. It's the ideal place for parents to relax whilst their children play.
It's worth noting that the Gotthard region, where Andermatt is located, is sometimes known as 'The Water Castle of Europe'. Some 7% of all of Europe's drinking water originates here from four major rivers (the Rhone, Rhine, Reuss and Ticino) that have their sources nearby. Water plays a theme here, with the resort-owned restaurants offering drinking water (including the fizzy kind) free of charge – and plastic bottles and cups are banned.
In the old part of town there's Toutoune (Mediterranean-Middle Eastern), which is highly recommended by reporters on TripAdvisor: "We had a variety of food ranging from Mediterranean hummus to mussels and local game meat. Everything was very good quality and service was also very friendly." Spycher is a popular meeting place for locals, serving pizzas and pasta, as well as the Grison speciality of Capuns (Spätzle dough with pieces of dried meat, rolled in a chard leaf). Baeren is a restaurant with rooms, and features eclectic dishes such as fish carpaccio, pumpkin tarte tatin, guinea fowl salad, as well as a few vegan and vegetarian options.
For something really special, go to The Chedi where the main restaurant has a glass 'cheeses tower' and four show kitchens serving four different types of cuisine from around the world (international, Swiss, Italian and Asian), and a separate Japanese Restaurant features a tempura and sushi bar.
In the Radisson Blue try Spun, which is inspired by Swiss chalet style and atmosphere. The restaurant blends the best flavour and ingredients of the region, combining Swiss and Italian cuisine. Across the road from the hotel in the modern piazza is Biselli (+41 58 200 69 05), which is a cool venue with stripped wooden floors, serving lunch, dinner, breakfast and brunch, and some of the biggest Wienerschnitzels we're ever eaten! It also houses a small bakery and essentials food shop.
---
---
Where to Party
Apres ski starts in the Himalaya Bar (+41 41 887 17 53) half-way up the Gütsch-Express gondola, and the Biber Bar at the base. Alternatively, you can hop on the Apres Ski Train between Disentis and Andermatt in either direction. During the day it becomes the Coffee Train.
In the village there's Spycher restaurant's Apres Ski Bar, open from 4pm each day. Pinte Pub and Club attracts a young crowd, with a basement club that's open until 5am. Schlusslbar (+41 41 887 09 98) is another young place, playing techno music and open during high season. Alte Apotek in The River House is a cool whisky bar that attracts an older clientele. Ecoteca 1620 (+41 41 888 00 39) is a wine br.
For a sophisticated – and expensive – evening, The Chedi bar has 700 different bottles of spirits, 111 whiskys, 100 sakis (the biggest collection in Europe), 50 gins and 42 rums. The star drink, a 1949 Ette Zuger Kirsch, will set you back CHF4,900. More reasonable is The Kaizen (hot plum sake with whisky, honey liqueur, apple juice and a home-made mint syrup), which is to die for.
Other activities in the resort include tobogganing, which is popular here and you're likely to see large groups of children on sleds in the middle of the piste. Local guide, Bänz Simmen, will take you on an hour-long walking tour showing and telling you about the area's fascinating history.
Find out more about Andermatt on the Action Packed Travel podcast.