Whatever you want, they've got it. Luxury slopeside condos, cute B&Bs, private home rentals, mid-priced hotels, Brit-friendly catered chalets…Breckenridge has an unusually wide range of accommodation for a ski resort – and all are, by Alpine standards, pretty well-kept and roomy. They come in a wide range of prices too – which is typical of Breckenridge. You don't have to be loaded to ski here.
But the best places to stay in Breckenridge have one other key advantage – location. All of those we've picked below are either close to the slopes, or near the apres-ski action on Main Street. All are well-served by shuttle buses. And none is set in one of those far-flung Breckenridge suburbs which can catch out unsuspecting accommodation-hunters. Check into any of them, and you'll get a great taste of what this fun-loving mountain town has to offer.
First of all, here's the video tour we shot recently, presented by local pro-snowboarder Lesley Glenn.
Interested? Here's more info on our pick of the six best places to stay in Breckenridge.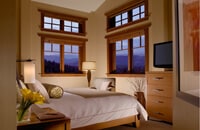 Location, location, location.
If all you want to do is ski, ski, ski, this is the spot – right next to the hub of lifts and pistes at the bottom of Peak 8. These luxury condos (self-catering apartments in Brit-speak) are big, and very well-equipped, and there's a pool and bowling alley in the basement. They do superb breakfasts down at the Ski Hill Grill too.
The only drawback is that you can't walk from here to the bars on Main Street – but there is a free shuttle down into town. All the same, nightowls will be happier nearer Main Street.
Best for: single-minded skiers with a generous holiday budget; and families – who'll love the bowling alley and pool, as well as the no-hassle access to the slopes.
Further information: oneskihill.rockresorts.com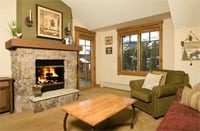 A canny compromise.
Mountain Thunder Lodge offers spacious condos which are half the price of One Ski Hill Place. It's not slopeside – but the location is still good. The town gondola, up to Peak 7 and 8, is nearby: to reach it, you either take a free shuttle or hoof it across the road and a car park (about 6 minutes in ski boots). To get down again, ski a long easy piste which snakes down through the second homes of Ski Hill from Peak 8.
What's more, it's only two blocks' walk from the bars and restaurants of Main Street.
Inside, it's not quite as glossy as One Ski Hill, but nearly as roomy. Welove2ski stayed here on our last stay in Breck and loved it.
Best for: anyone who wants a bit of space, and to go out at night on Main Street.
Further information: breckresorts.com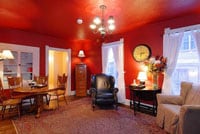 Upmarket, characterful – and enormous.
Just supposing you had 20-odd friends planning to ski Breck, as well as exploring the bars and restaurants when the lifts shut. Where would you stay? The Four Peaks. This rambling, beautifully-restored Victorian house sleeps up to 26, and is set in the heart of Breckenridge's historic district. It's a block from Main Street, and the ski shuttle runs outside, or it's a 300 yard walk to the nearest lift. The price per night is steep ($1250 a night in January) – but split between 20? Not so much…
Best for: family gatherings, college reunions.
Further information: yourbreckrental.com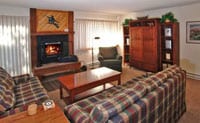 Convenient condos at the bottom of the Four O'Clock piste.
81 individually-decorated condos in 15 different buildings, set between Main Street and the Snowflake Chairlift. You can walk between the two, or take the free shuttle bus. What's more, a long easy piste (Four O'Clock) runs behind the development on its way down from Peak 8.
Inside, the condos are roomy and characterful, and they're cheaper than Mountain Thunder Lodge to boot.
Best for: family groups or friends.
Further information: pineridge.com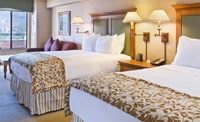 BIG bedrooms and a great location.
This used to be the Great Divide Lodge, and the rooms have just been refurbished. The ones containing two queen-sized beds in particular are enormous. Okay, so the exterior is pretty charmless, but prices are very reasonable and all you have to do to reach the slopes is walk across a car park.
Best for: anyone who hates of cooking for themselves on holiday.
Further information: doubletree1.hilton.com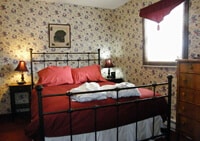 Friendly, British-owned B&B close to Main Street.
This laid-back B&B puts you in the heart of the historic district, and offers bunk rooms, family rooms and even a suite. Breakfast is included in the price, and if you take one of the family rooms (which sleep four) you'll be paying roughly £25 a night per person to stay here. So, not exactly expensive then…
Best for: anyone on a budget.
Further information: fireside.com