Summer skiing is amazing.
It can mean a week of this…
…on the other side of the planet.

But summer skiing can also mean this…
Plus some of this…
And this…
Oh yes – and some of this, of course…
But not too much, we hope, of this…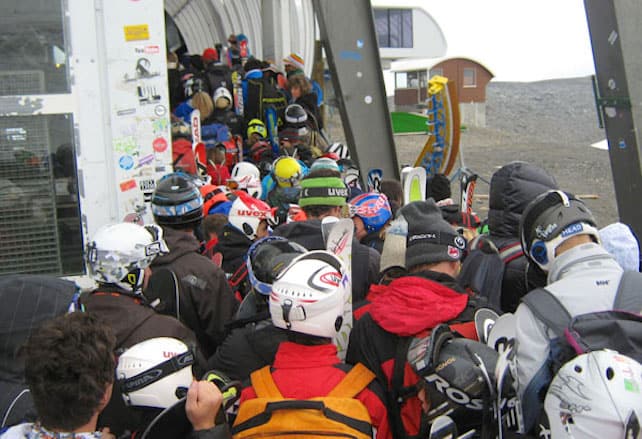 In fact, there's an eye-popping range of summer skiing experiences on offer around the world, from the exoticism of the Andes, to the rootsy, laid-back club fields and ski resorts of New Zealand – as well as the weird and wonderful mix of glaciers and vivid green meadows that's a feature of summer in the Alps.
Here, to help you decide which to go for, is our guide to the best resorts for summer skiing, on both the top and the bottom half of our dear old planet.


Northern Hemisphere
1. Hintertux, Austria: The Steepest Lift-Serviced Alpine Glacier

If you want to know why so many ski teams train at Hintertux in the off season, you only need look at the picture, above. This is where you'll find the steepest lift-serviced glacier skiing in the Alps, and some of the surest snow. The gate-skiing takes place to the left of the drag lifts you can see here: to join in, sign up for a race-training camp. In spring and autumn, the rails and kickers of the Betterpark are a big draw, too. This year the park is expected to stay open till early June.
When: 365 days a year. Bear in mind however, that in a hot summer the snow does get grey and thin in August. May-July and mid-September onwards are best for a trip.
Where to stay: at the relaxed and friendly Hintertuxerhof. But if you're looking for a more balanced mix of summer activities and skiing target the resort of Mayrhofen, lower down the valley.
Further information: hintertuxergletscher.at
2. Les Deux Alpes, France: King of The Alpine Freestyle Scene
…and the Prettiest of The Glacier Resorts

For freestylers, the vast terrain park above Les Deux Alpes makes it an essential stop on the summer skiing circuit – whether they're training for competitions, or trying to land their first jump. In summer, 17 lifts operate on the 19 hectares of piste.
There are fringe benefits too: lower down the mountain, there's a vibrant mountain-biking scene, as well as gentler pursuits such as tennis, swimming, trampolining and e-biking. The resort's Outdoor Festival (June 21-23) gets the ball rolling with the chance to try a whole range of activities from golf to slacklining (walking across a piece of webbing suspended between two points, like a tightrope).
When: June 22-August 25. As with all glacier ski resorts, it's best to go in late June or early July, when the snow's still in decent shape.
Where to stay: at the three-star Souleil'Or, which has its own small pool. Tour operator Peak Retreats also features Les Deux Alpes in its programme of Alpine summer holidays.
Further information: les2alpes.com
3. Tignes, France: Great British Tuition
…and an Adrenalin-Tinged Atmosphere

None of the glacier skiing areas is very big – and you'll get bored in half a day if you all do is scoot about on your own. So, to make the trip worthwhile, sign up for some tuition, too. Snoworks offers one of the most comprehensive programmes of summer training camps aimed at British skiers, and Tignes is its base.
Okay, so Tignes lacks a little of the bucolic charm of Les Deux Alpes, but there's 20km of terrain, the tuition is first-rate – and there's no shortage of ways to test yourself when you get down off the snow (though you'll have to hire your own helicopter if you want to try the kind of high-diving shown in the picture above). The My Tignes card gives you free access to a range of activities as well as discounts on the rest.
When: June 22 to August 5. Bear in mind that the Grande Motte cable car will be closed all summer, so it will take longer to get up to the higher pistes.
Where to stay: at Hotel Lo Terrachu in Tignes-le-Lac. It's not too convenient for the lifts, but this where the Snoworks video analysis takes place. It's also handy for Tignes' superb indoor pool and weights room. Peak Retreats and Erna Low feature Tignes in their programme of Alpine summer holidays.
Further information: tignes.net


4. Cervinia, Italy: Wozzify Your Ski Technique
Warren Smith is something of a ski guru amongst the Brits: his teaching style is a tad unorthodox, but if you stick with it, it will do wonders for your technique. His five-day summer skiing camps are running from June 30-August 30 this summer in Cervinia and anyone who feels his or her skiing is stuck in a rut should consider following him there. (Nearly all of the 23km of skiing, by the way, is on the Theodul glacier on the Swiss side of the border, above Zermatt.)
When: Cervinia's summer season runs from June 29 to September 8.
Where to stay: at the three-star Mon Reve, which is where video analysis of the day's skiing takes place on Monday and Thursday evenings.
Further information: cervinia.it
Southern Hemisphere
1. The Wanaka Resorts, New Zealand: Snowfall, Terrain…
…and Half-Pipes

As you'll see, from our guide to the best places to ski in New Zealand, there's a lot of skiing in NZ – and a lot of rootsy, edge-of-the-world atmosphere, too. But you don't want to limit yourself to club fields and nutcracker rope tows. Balance your backwoods experience with some modern infrastructure by targeting the Wanaka resorts of Treble Cone and Cardrona.
The former is the biggest South Island ski area (550 hectares) with some of the longest vertical and one of the highest snowfall averages (5.5m a season). The latter has 345 hectares of trails and is home to lots of easy-going trails – and a vast, Olympic-sized half-pipe. Use both to slake your skiing thirst before setting off on a proper road trip.
When: Cardrona's season should run from June 16-October 7, and Treble Cone's from June 27 to September 23.
Where to stay: at the swanky Oakridge Resort in Wanaka. For flights-and-accommodation packages try Air New Zealand Holidays.
Further information: cardrona.com and treblecone.com
2. Portillo, Chile: Spectacular Off-Piste Skiing…
…and Only One Hotel

It's not so much a ski resort as a vast, private ski club. Portillo lies 160km north-east of Santiago on the border with Argentina and is famous for big off-piste descents, visiting Americans (including the US ski team) – and its policy of only selling only 450 lift tickets a day. That's how many guest beds there are in the resort (in one hotel and two cheaper lodges): so if you want to be sure of skiing it, you need to book a week-long accommodation-food-and-lift-pass package.
Lift queues are unheard of – and the scenery is magnificent. Snowfall averages about 6m a season, but in common with all Andean resorts, mighty Pacific storms alternate with long dry spells – and the resort opens late and closes early when Mother Nature doesn't cooperate.
When: June 22-October 5.
Where to stay: at the big yellow Hotel Portillo. 
Further information: skiportillo.com.
3. Valle Nevado, Chile: The Three Valleys of The Andes
Valle Nevado is just 46km from Santiago, and is linked to two other ski resorts, El Colorado and La Parva. A total of 2,300 hectares (about 5,700 acres) of lift-serviced terrain is on offer in this Chilean version of the Three Valleys – a modest ski area by Alpine standards, but big for the southern hemisphere.  
Snowfall averages 7m a season, and the lifts rise to a lofty 3,670m, so the area keeps its cover well. But don't expect guaranteed powder – the maritime climate is a bit all-or-nothing when it comes to the white stuff.
As far as the skiing goes, there's something for everyone here. Intermediates will like the gentle pitch of most of the pistes, freestylers have one of the best terrain parks in South America to play on, and experts who want to try the cheap heli-skiing (by Alpine and North American standards), can sample 40,000 hectares of unchartered terrain nearby.
When: June 8-October 6.
Where to stay: at the ski-in, ski-out Valle Nevado Hotel. 
Further information: vallenevado.com.
4. Las Lenas, Argentina: The Best Lift-Serviced Off-Piste in the Andes
This is the place to target if you fancy 50-degree rocky chutes and fab powder bowls: provided you pack a philosophical attitude with your ski boots. As in Valle Nevado, above, this isn't a place of endless powder days, and much of the best skiing centres around a single lift, which is vulnerable to wind closure (there are 14 lifts in all).
If there is enough stable snow (and the key Marte chair-lift is running), then strong skiers and riders are in for the finest off-piste feast in the Southern Hemisphere. If there isn't then – well, they may wonder whether the 90-minute flight from Buenos Aires to Malargue, followed by a one-hour bus transfer, was worth the effort.
When: June 16-October 7 (projected dates).
Where to stay: the Virgo Hotel is the class act in town. 
Further information: laslenas.com.
5. Gran Catedral (Bariloche): for Plenty of Snow…

San Carlos de Bariloche, in Patagonia, is home to Gran Catedral – Argentina's oldest and most famous ski resort – better known as Bariloche. It is a large, attractive resort not far from the Chilean border, with 40 modern lifts, 120km of piste, a vertical drop of 1100m and the largest snowmaking system in South America. The area provides intermediate slopes with high-speed cruising and abundant off-piste.
When: June 23-October 7.
Where to stay: Hotels include the four-star Hotel Nevada, and Hotel Edelweiss. Audley Travel offer tailor-made tours to Bariloche.
Further information: Gran Catedral (Bariloche).
6. Mount Cook, New Zealand: Heli-Skiing and Ski-Touring Heaven

Stunning views come as standard in the Aoraki/Mount Cook National Park – where there are no ski-lifts, and access is by helicopter or fixed-wing plane. A lot of ski-touring goes on here too: but this is not an experts-only area. Wilderness Heliskiing operates within the park boundaries.
Also try a Ski the Tasman package aimed at athletic intermediates, which (weather permitting) gives them a chance to make turns on NZ's longest glacier.
When: the heli season runs from July 1-September 30.
Where to stay: if you're heli-skiing, you've probably got a healthy holiday budget: in which case the upmarket Hermitage Hotel is the perfect base. STA Travel can tailor-make Kiwi skiing trips which include both flights and accommodation.
Further information: Alpine Guides (Aoraki) Ltd.
For more off-season inspiration, check out our summer in the mountains section. We also have cracking guides to where to skiin New Zealand, the best mountain biking resorts, cycling to get fit for skiing, and high altitude golf.
And whatever you do, make sure you maintain your ski fitness this summer!