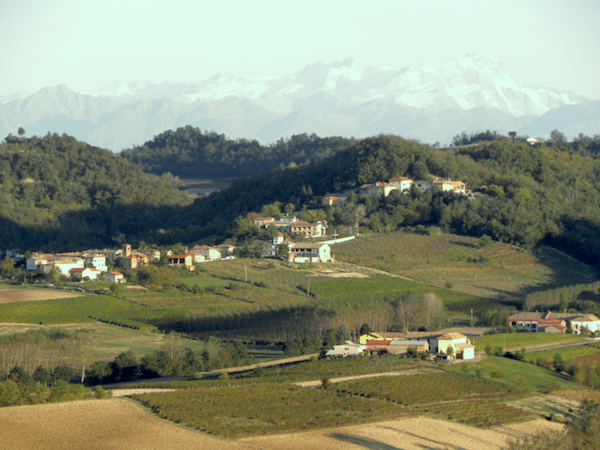 What do you do in the in-between times, when there's no snow on the ground, but you want to stay fit for skiing – or perhaps even improve your level of fitness? Two of us went to Piedmont a few summers ago to cycle and get in shape for the coming winter. But in the gastro heartland of Italy, we bit off more than we could chew.
We'd picked a week-long self-guided bike tour that was billed as 'easy to moderate.' But as the Turin region is home to Sestriere, Sauze d'Oulx and the rest of the Milky Way, we shouldn't have been surprised to find it mountainous. Piedmont is, after all, the foothills of the Alps.
Our journey started and ended in the ancient town of Alessandria – with nights in Asti, Alba and Casale Monferrato. All four are major wine centres and Alba is home of the white truffle. It features on every menu.
Our luggage was transported – very efficiently – from hotel to hotel for us. True, you could cycle at your own pace, which in our case was pretty erratic. But as for stopping wherever you like…Italy appeared to be closed.
Either because of the summer heatwave or because of the local economy, the remote villages and small towns through which we cycled were firmly shuttered against the midday sun and any visitors. On the plus side, we threaded our way through gorgeous scenery and felt immersed in the real Italy and its countryside in a way I've never been before.
What you get, which you don't when whizzing along by car, is a close-up of village life, the sounds and smells, gardens of fabulous flowers, even rural farm aromas. As well as cycling beside steeply terraced vineyards we also rode along bumpy farm tracks on the banks of River Po.
The ride turned out to be a treasure hunt, not only for finding the route, but also our hotel at the end of each long day. It was not unusual to go wrong by 10km. On a day of 50-65km and at temperatures of 38-40 degrees C with little shade, that's quite a big deal. Anyway, if you are thinking of cycling as a way to maintain or improve your fitness level for skiing, here are 11 tips we learned along the way:
1. Carry lots of water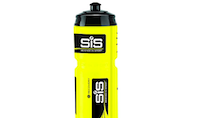 This is even more important for cycling that skiing, although you'll need hydration then, too. Take more then you think you could possibly need. Three litres per person is a heavy weight to carry, but necessary if there's an absence of refilling points along the way. You don't need to spend much on the actual bottles, but make sure they are lightweight and that your bike has a water bottle cage or holder.
2. Mind your bum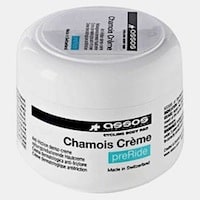 You get what you pay for, so buy the best padded Lycra shorts you can afford. Assos, Mavic and Pearl Izumi are three top brands. Don't forget to buy the essential Chamois Creme by Assos. A bit like baby's nappy rash cream, it lubricates the area and reduces skin friction. Don't skimp on preventative measures below the waist – or you won't be able to sit down on the first evening, let alone ride your bike in comfort on day two. None of this is a problem in skiing – although novice snowboarders tend to get bruised bums and benefit from padding!
3. Get a cycle computer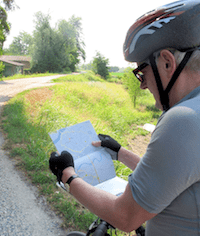 "The maps and route notes make navigation a breeze," said the brochure. No they did not. Don't get lumbered with a useless map. Buy a specialist cycle computer incorporating a sat nav, with European maps on it, and the whole trip will be a lot easier. Garmin is recommended and various models can be bought from Amazon and good cycle stores everywhere.
4. Say no to sweaty hands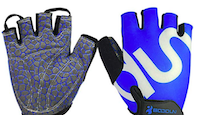 Fingerless cycle gloves are well worth having. They stop hot and sweaty hands slipping around on the handlebars, gears and – most importantly – the brakes. They also help prevent rubbing and blisters.
5. Check your brakes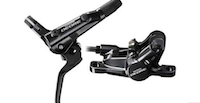 For reasons known only to them, the Italians traditionally reverse the standard front/back brake positions. But that said, there is no set rule in the world today, so if you are renting a bike pay particular attention. On our trip, instinctive reaction on a downhill from an unaware Norwegian earned him an ambulance and unpleasant facial injuries. Photo: Evans Cycles.
6. Buy cycle tops that breathe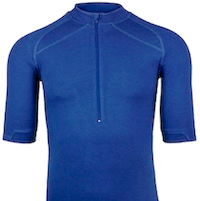 We wore BAM organic bamboo tops and they were brilliant. Never once did we feel or look sweaty, even in the highest temperatures. The fabric is three to four times more absorbent than cotton, and any moisture evaporates. It's more pleasant than wearing artificial fabrics and remains cool in the heat, yet warm in colder temperatures. We knew all about BAM from the winter, as they make excellent skiing thermals, too. Check out their website for the full range.
7. Have a good sole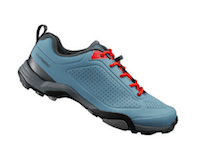 Footwear, as we know from skiing, is important to get right. Don't make the mistake of wearing flip-flops or sandals for cycling. You need a shoe with a fairly rigid sole to keep control of the pedals, and for comfort. You can wear anything from decent trainers to walking boots or specialist cycling shoes. Pictured here: Shimano touring shoes.
8. Get a decent bike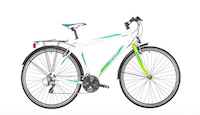 You can hire a bike locally but, if you are ultra keen, you could always bring your own. On flights, bikes are treated a bit like skis or snowboards. Personally I prefer a sportive model, which is a longer-distance road bike, although a hybrid is better for tackling the dirt tracks.
9. Get fit before you go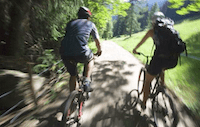 Yes, we saw this as a way for getting fit for skiing, but perhaps it's really the other way around! We found our week a lot harder than skiing, but only prepared for it by going on a few gentle rides at home. Start with short ones and add to them – in distance and difficulty. We had no idea how hot it would be in northern Italy. Hills-plus-heat equals near exhaustion. Photo: OT Chamonix.
10. Don't give up
Choose the right tour for your standard, but even if the one you've chosen proves to be out of your comfort zone…keep going. Easier said than done maybe, but do not stop in the sun. Wheeling your bike uphill, which we resorted to on the steepest hills, is a lot more tiring then riding in the lowest gear. Similarly, taking your skis off and walking down a tricky slope is a lot tougher than skiing it!
11. Try to relax afterwards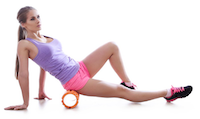 Try foam rolling – they are painful but great for getting the knots out of your legs at the end of a hard ride. Rollers come different lengths, and range in hardness, too. The longer ones are great for massaging the back as well, but if you want a portable roller, then it make sense to go for a small one.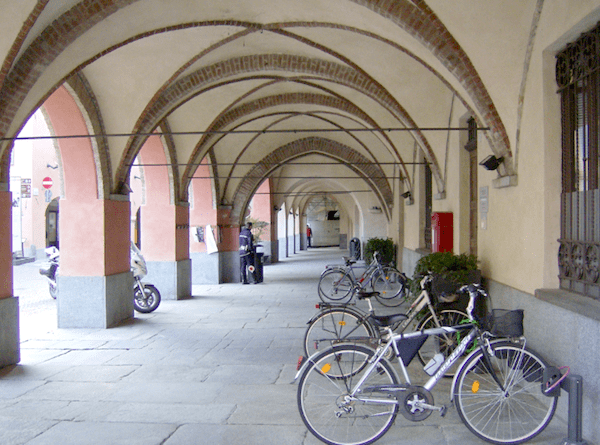 After our week's cycle holiday – organised by Freedom Treks – we are now completely hooked! For other summer biking see our features on top alpine spots for easy cycling and where to go mountain biking.