In a Nutshell
The former party capital of the Alps has now transformed into a pleasant family resort. It has some of the best piste skiing in Italy and some excellent eating opportunities both on and off the mountain.
The Stats
Altitude: 1509m
Lifts: 175 in Milky Way ski area
Top Lift: 2823m
Ski area: 400km of piste
Adult lift pass: 136-196€ for six days


Official Site |

Sauze d'Oulx Ski Map |

Sauze d'Oulx Webcam
Essential Advice for the Perfect Trip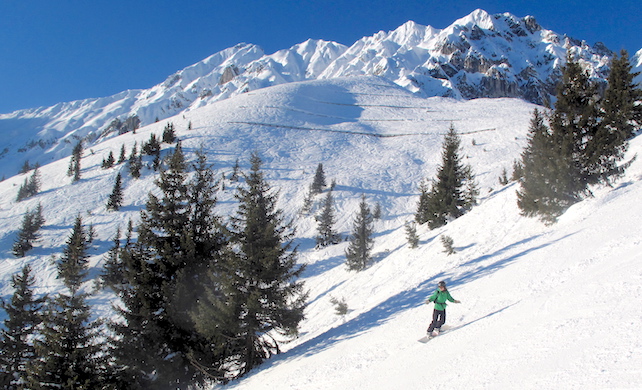 Nearly 40 years ago Sauze d'Oulx had the reputation as a Magaluf on ice, with its pub crawls more popular than skiing. By 3pm daily the streets were sticky with lager and its hardcore British lads and ladettes never made it onto the piste before noon, if at all.
But Sauze has long since cleaned up its act and somehow transformed itself into the charming Italian mountain village that it once was and now is again. Sure, you can still go clubbing, but the primary reason for coming here is for the skiing – 400km of rolling pistes that link to Sansicario, Sestriere, Montgenevre and the rest of the Milky Way. The pleasant family resort has arguably the best piste skiing in Italy and some excellent eating opportunities both on and off the mountain
Sauze d'Oulx was the venue for the freestyle competitions during the Turin 2006 Winter Olympics, which meant that the roads and much of the area's infrastructure were improved. The excellent access road means that it now takes one hour door-to-door from Turin airport to the resort.
Sauze's slopes – even in high season – are never impossibly over-crowded. You'll queue for a maximum of ten minutes at the hub access points, but will then find yourself on blissfully empty pistes once you are the out of the main resort and headed towards the smaller and lesser-known villages.
Sauze is definitely not the best place for to learn to ski and it's a complete no-no for families with babies and small children. Ski school classes begin at five years old and there is neither creche nor kindergarten on offer here.
You won't find better value for money anywhere else in the Alps
Sauze's main attraction is the prices. This is the polar opposite of places like Val d'Isere and Courchevel. Consequently, choosing where to eat is tricky – purely because there is so much choice and everything is such good value. The resort has a good mix of bars and restaurants. The newer part of town has the more affordable pubs and bars, contrasting with the Old Town's wine bars and gourmet restaurants.
As a leftover from the bad old days of the '70s and '80s, British-style pubs do still exist and as soon as you finish skiing and hit the main piazza, you can't avoid the touting for business cries in the piazza by bar staff – offering unbelievable deals. Happy hours are rife. However, this doesn't appear to attract the flanks of youths it might, and the bars are populated by all ages.
Non-ski activities range from boar-spotting to shopping
The apres-ski menu ranges from bar tours to snowmobiling and a torchlight descent. Snowshoe excursions take place among the woods, where you can spot deer – but watch out for wild boar.
The major British tour operators here offer day trips from the resort to watch Juventus, Inter Milan and AC Milan football matches in nearby Turin. The shops are surprisingly good for such a relatively small resort, and there's a weekly market selling a wide range of local products.
The choice is limited when it comes to finding somewhere to stay that is anything more than a pretty basic three-star. Sauze doesn't have any rental chalets, the apartments are pretty basic and the hotels are a mixed lot. Consider staying B&B at one of the baita (converted cowsheds) or in a simple hotel. With restaurants this good it seems a crime to be stuck on hotel half board all week.
So easy to get to, you could come here for a weekend break
One of the best things about Sauze is the ease of access. It's exactly one hour's drive from Turin airport, making this a great resort for short breaks. You can also get here overnight by Eurostar, followed by a sleeper to Modane, then the local train to Oulx, and a connecting bus to Sauze. The fact that it's on the border with France (at Montgenevre) makes for an interesting duo-cultural visit.
---
---
Guide to the Mountain
Sauze d'Oulx is part of the vast Via Lattea – or Milky Way – ski area that straddles the border with France midway between Briancon and Turin. With 400km of runs and 72 lifts in total, it's an excellent playground for high-mileage intermediates.
Seven resorts share the ski area: Sauze d'Oulx, Sestriere, and Montgenevre (in France) are much the best known. Then there are Sansicario, Cesana, Claviere, Pragelato. They are all linked, but with lots of bottlenecks and annoying dead-ends. Skiing here is a bit like playing snakes and ladders on snow: the ladders vary dramatically from drag-lifts and archaic double-chairs to six-packs and modern gondolas. The snakes are invariably impressive downhill slithers with modern grooming and often with hi-tech artificial snow back-up.
Allow yourself enough time to get around
Big though the region is, links from one part of the ski area to another are tenuous. For example, to get from Sauze to Sestriere, it's best to download by gondola – at least for the final descent. At the end of the day you have to retrace the same route. You can travel all the way from Sauze to Sansicario, Cesana, Claviere, and on across the French frontier to Montgenevre. It's a great day out, but at the end of it you must make sure to allow yourself enough time to retrace your steps.
However, there are moderately well-advanced plans in the pipeline to link Sauze via Pragelato into a ski circuit with Sestriere. Building the link lifts will cost Sauze 1.2 million euros and Pragelato 2.4 million euros. Sauze has already re-aligned a couple of chair-lifts on the western side of its ski area in preparation. But, in true Italian style, negotiations seem to be taking forever. Meanwhile the lifts in the sector beneath Moncrons are not operating at present.
For snowboarders, the best resort in this corner of Italy is Bardonecchia, which isn't linked but houses the half-pipe from the Turin Olympics. Much closer is Sestriere with a snowpark that is well-equipped with rails, boxes, fun-boxes, kickers, wall-rides and twist-jumps. Sauze has a basic terrain park up at Sportinia.
Arguably the best intermediate piste skiing in Italy
For intermediates especially, there's a vast choice of runs on offer, and you could ski a different part of the area each day. The Women's Olympic downhill run – number 79 on the map – from Monte Fraiteve to Sansicario is wide, fast, and one of the longest in the Milky Way. Over in Sestriere, the red runs in the Amphiteatro bowl and the blacks at the top of Sises (including the men's World Cup downhill course) and Motta above Sestriere are all recommended. The area certainly vies with Cervinia to offer the best intermediate piste skiing in Italy.
It is quite possible to learn to ski in Sauze d'Oulx, but there are better places. Much of the skiing is above the treeline, so visibility can be limited at times, although there are treelined pistes in and around Sauze's ski hub at Sportinia, which offer shelter in poor conditions.
To go off-piste you have to be prepared
There's a huge choice of off-piste options including Mount Sises, with easy from Valle Ripa and Vallone del Chisonetto slopes. Guides are available through the ski schools, and there is ski mountaineering with local guides. But Piedmont now has stringent rules that have to be obeyed. Cops on skis patrol the slopes, ready to slap an on-the-spot fine on any perpetrators.
This is Italy. No one, including the police, seem to be absolutely clear on the finer detail. But basically it is illegal to leave a groomed run unless you're fully geared up – and that includes those enticing stretches of powder between the pistes. To make a single turn in the deep you must be wearing a functioning bleeper and each person in the group must have a probe and shovel.
Oh, and if you're under 18 and not wearing a helmet – on- or off-piste, the same fine applies. The local Piedmont government has passed a law making this mandatory.
Yes, you can heli-ski and cat-ski here
As well as making panoramic flights by helicopter, there's some great off-piste skiing in the area, accompanied by mountain guides. Heli-skiing is available in the Upper Susa Valley – one of the few places in the Alps with drops of between 700 and 1600m. Pure Ski is the recommended company to go with and they also offer guiding without the helicopter. Powdercatski opens up off-piste action by snowcat in places that are inaccessible by lift.
---
---
Where to Learn
You can certainly come to Sauze d'Oulx as a beginner, but there are better places to learn. This is primarily an intermediate's resort with loads of fast, wide pistes. The village has four ski and snowboard schools: The Sportinia (the red school), Sauze Project (the green school, Ski School Vialattea (the blue ski school) and Snowboard Snowmaxx. The Sportinia is the original one here, set up in 1937.
Standards of tuition can be quite mixed, so viewers recommend trying to hire one of the younger teachers and specifying a good standard of spoken English. You can recognize the instructors by the colour of their clothing – and the fact that in a resort where 80% of skiers wear helmets the instructors invariably do not. Oh well, that's Italy. Private lessons are some of the best value we've found anywhere – at €36 per hour one-to-one – less if you share.
The nursery slope is at the foot of the Clotes chair-lift, and from there beginners advance to the Sportinia plateau, which is reached by chair from the resort.
If you decide you don't like the sport there's not much else to do
The problem with going to a resort as a beginner is what if you find you don't like the sport, or perhaps don't want to do it every day? Other places, such as Zermatt, Chamonix, Megeve and many of the Swiss and Austrian villages, have life going on in them during the skiing day. Others – like Sauze – will be all but deserted until after skiing.
There are a few options, such as snowshoeing in the woods. Otherwise you could spend time at one of the hotel spas or make a day trip to Turin to shop or watch a football match.
The major drawbacks for families in Sauze is that there isn't a kindergarden or creche of any form. The reason for this is common to the majority of Italian resorts. Italians families tend to travel with la nona – granny – in tow. La nona normally takes care of the little ones, so why would they possibly need a creche? Ski school caters for children from five years old – however it is possible to find a child-minder or babysitter through the tourist office.
---
---
Where to Stay
Sauze d'Oulx is a small but spread-out resort with the mountain access lift at one end, a busy main square in the centre and some lovely old streets running off it. By far the most attractive part is the Old Town with its cobbled streets and an early 16th-century church. This is the area frequented by Italians from Turin and Milan, many of whom are weekenders who own chalets on the outskirts of the village.
The main piazza and surrounding streets are more modern, full of hotels that attract mainly British visitors. This is also the hub of the nightlife and where to find the small supermarket and the rental shops. From here, getting to the lifts involves a short uphill walk, but there is a regular shuttle bus and many of the hotels run their own minibus service to and from the slopes.
Ski-in, ski-out (almost) from the end of town
The second area to stay is at the base of the lifts, slightly out of the centre, but you can ski virtually back to your door at the end of the day. From here it's a chair-lift ride up to Sportinia and the hub of the Sauze ski area.
Hotel Stella Alpina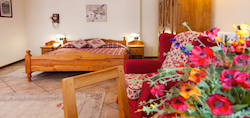 At the bottom of the Clotes home run is the convenient Stella Alpina hotel. This three-star hotel offers both half and full board. It's family run and everything about it is thoroughly alpine. Rooms are surprisingly spacious – all adorned with traditional touches. The Via Lattea ski-lift is just minutes from this property so it's a really convenient spot.
Hotel Hermitage
Also close to the foot of the sloped is three-star Hotel Hermitage (+39 0122 881572), with 26 pleasant wood-panelled bedrooms and a dining room with frescoed walls. It is popular with tour opertors, has brilliant access to skiing and our favourite thing about it is its snow terrace with lovely views.
Appartamenti Genevris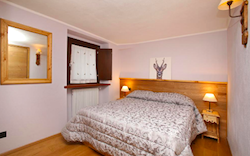 The Genevris apartments are right in the centre of the resort, about five minutes from the Clotes lift. Each apartment simple but tastefully decorated, with wooden floors, flat-screen TVs and fully equipped kitchens. There is an in-house restaurant, which serves Italian cuisine.
Grand Hotel Besson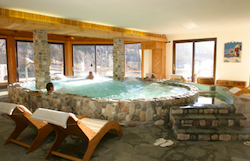 Our favourite hotel in the resort is Grand Hotel Besson. It has 44 rooms – larger than most, is at the edge of the Old Town, has a wine bar with live music, a cava offering wine tasting, a swimming-pool and spa. It's elegant and luxurious, but not even slightly pretentious. It's warm, comfortable and the ideal cosy spot to unwind post slopes.
Grand Hotel La Torre Spa & Restaurant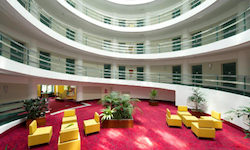 Next down the line is Grand Hotel La Torre, a weirdly-shaped circular white tower with no stairs – rooms are set on a spiral corridor that runs from top to bottom. It's quirky yet slightly unsettling, and looks like something out of a Wes Anderson film. It has a cavernous sitting area and dining room that look as though they were last updated in the 1970s, but the bedrooms are sufficiently comfortable. Next door is a spa, which appears to be part of the hotel but isn't – so you have to pay an entry fee.
Hotel Assieta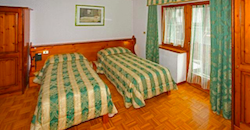 Hotel Assietta is located about 100 metres from the Via Lattea lift."Location was great, friendly staff. The restaurant was very good, excellent food and wine," said a reporter. The decor of some of the bedrooms is quite unusual, with slices of tree trunk stuck to a textured glass wall. The property contains a pizzeria and bar.
Relais des Alpes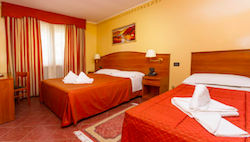 Relais des Alpes Hotel is located in the centre of Sauze, 200 metres from the ski-lifts. Its no-frills bedrooms include some with two double beds or four singles. The restaurant serves local and international cuisine, including homemade cakes, and the wellness centre has a Jacuzzi and sauna, with beauty treatments are also available.
Places to stay on high
If you're searching for somewhere quirky and completely different to stay, then look no further than these two. You'll need to be aware that they are located up the mountain, so they are best suited as an add-on to your holiday for a night or two.
Chalet Il Capricorno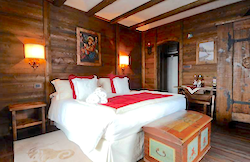 Up the mountain, you can stay the night in the cosy Il Capricorno which has excellent food. The chalet centres around the sitting room with its comfortable armchairs, handmade pine furniture, wooden fixtures and fittings – all of it lending a retro look. The ten bedrooms rooms are each named after a sign of the zodiac, and are comfortable and peaceful.
L'Hotel Ciao Pais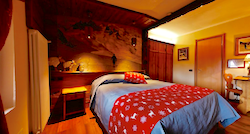 If you fancy an up-the-mountain experience, the wonderful Ciao Pais, tucked away at the side of a piste, has welcoming and feeding travellers since 1931. Today it is run by current owners Mirko and Giusy and remains a cosy and romantic spot to rest for the night, with breathtaking views and bespoke Alpine decor. The food is delicious, too.
Cobblestone streets and loads of atmosphere in the Old Town
Our favourite area is the Old Town, with its attractive cobblestone streets, the best restaurants, friendly wine bars and useful little home decorating shops. Some of the nicest B&Bs are located here. They are simple but set amid lovely surroundings and the most enticing restaurants.
Chalet Faure & Spa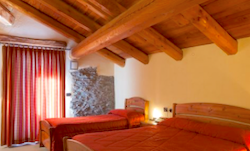 The best is Chalet Faure, found in the beautiful old town area. This is not so much a chalet as a B&B inside a renovated 18th-century building. It has 11 en-suite rooms (doubles, triples and quadruples), all individually decorated in a no-frills yet comfortable style. The interior has a rustic mountain atmosphere with lots of wood and stone, retaining the original design of the artisans who created the building many years ago.
Hotel Gran Trun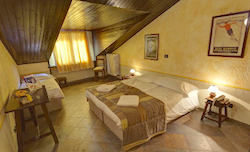 Another B&B is Grand Trun – a former rustic farmhouse that has managed to retain all its charm. It's quaint, rocks an extremely laid back atmosphere, and is right in the old town. It's perfectly clean and renowned for its friendly staff.  It has a pub with live music on the ground floor and there are wine-tasting evenings held here.
---
---
Where to Eat
The Dolomites are renowned for their mountain restaurants, but over in the Italian Alps, Sauze d'Oulx has always kept pretty quiet about it. We hear a lot about the nightlife, but what most people don't realise is that there is a plethora of really excellent village and on-mountain eateries here – many of which every bit as good as in the Dolomites.
Fabulous pizzas and gourmet hideaways in the woods
Sauze d'Oulx has a dozen of its own mountain restaurants, with a cluster of establishments around the Sportinia hub. This area seems to attract the majority of Sauze's visitors at lunchtime and can be busy. Eateries that stand out are the Hotel Monte Triplex (+39 0122 858015) for its fabulous pizzas – big enough for two and freshly made while you wait, and the architect-designed Capanna Mulino (+39 333 691453) which has its own scaled-down model on display in the Guggenheim museum in New York. Rocce Nere has table-service grills ranging from burgers to Argentinean sirloin steak.
Further afield are some truly charming restaurants. A favourite of ours, huddled in the woods above Sauze d'Oulx, is Ciao Pais, with traditional local dishes to eat including fabulous antipasti starters such as chestnuts in balsamic vinegar and warm red peppers in bagna cauda (meaning 'hot bath' – of olive oil, with garlic cloves and anchovies). Order a selection to share instead of a main course. It's open for lunch and in the evening, with seven bedrooms for those who want to stay the night.
On the home run is the Michelin-starred restaurant Naskira in Il Capricorno, which as sleek and stylish as you'd expect to find in Courchevel – but without the sky-high prices to match. A friendly little place is Ristorante Bar Clotes (+39 349 775 8947), on the final stretch of the home run, where – if you stop for a Bombardino at around 4pm – they'll give you free sandwiches and anything else leftover from lunchtime. The prices are some of the best in an already very reasonable resort: 1€ for a coffee and 6€ for a bowl of pasta.
Further away on the Milky Way circuit are countless restaurants – varying from cafeterias to cosy little cabins such as the lovely log cabin Raggio di Sole (+39 0122 76982) on the Anfiteatro slopes of Sestriere, Soleil Boeuf (+39 0122 811224) above Sansicario, and the bright yellow Tana della Volpe, which is a restaurant with nine rooms on the men's downhill above Sestriere.
Avoid half board and head out
Hotel half-board food often leaves a lot to be desired, although the more expensive establishments tend to have buffets with quite a lot of choice. Overall, wholesale package holiday prices have not much fat on them these days. As a result, hoteliers spend as little as possible on your dinner. Your best bet is either to self-cater or stay B&B. By French resort standards it's ridiculously cheap to eat out.
Assietta is a modern restaurant on the main square, serving good honest pizzas and pasta. Sugo's, in the old town, is a typical spaghetteria with good pasta but variable service and The Godfather (+39 0122 85029) is one of the many pizzerias – and it's open until late at night. Del Borgo (+39 0122 850329) has 40 different varieties of pizza cooked in a traditional wood-burning oven. Pizzeria La Griglia (+39 0122 850344) has a wood-burning stove and fine pizzas. Il Cantun del Barbabuc (+39 0122 858593) is also recommended.
Gorgeous little restaurants tucked away in the Old Town
The restaurants in the old town are, on the whole, more upmarket than in the streets around the main piazza. One is Del Falco, owned by a British couple – she's the chef and he's the maitre d' – and they serve some truly delectable dishes. Similarly, L'Ortiche is British-owned and run, with excellent home cooking. Il Cantun del Barbaduc (+39 0122 858593) offers ten-course meals and a good wine list. L'Orto del Frate (+39 0122 858078) serves Savoie food. Yes, that's Savoie in France. Expect to eat fondue, raclette, pierrade and tartiflette here. La Griglia (+39 0122 850344) is a traditional pizzeria with a wood-burning stove and lots of atmosphere. The lively Paddy McGinty's pub has a small restaurant called Rosie's (+39 0122 850785). Up the mountain, Il Capricorno is open for dinner, and has rooms in case you want to stay over.
---
---
Where to Party
The nightlife in Sauze d'Oulx is some of the least expensive you'll find anywhere in the Alps. It's lively, though not raucous like it used to be in its heyday of the 70s and 80s. There is live music at a different bar every evening, and almost everywhere has an apres-ski happy hour where you can buy-four-Red-Bulls-get-one-free, four-beers-get-one-free, and other similar deals.
Before leaving the slopes there's live music on the terrace at Capanna Mulino (+39 333 691453) in the Sportinia area. Then the first place you'll see when heading down the home run is the Village Cafe (+39 0122 858660), the biggest bar in the resort just by the slopes at Clotes. The New Scotch Pub (+39 0122 850785) is in the Stella Alpina hotel right by the slopes. Next in line is Ghost BAr (+39 339 4481912), which also serves snacks. Then there's the typically Irish, Paddy McGinty's (+39 0122 850785), which has green-panelled walls. The Derby Bar (+39 0122 850176) has a laid-back ambience, log fire, and sofas to lounge in. Queen's Lounge in Relais des Alpes Hotel is a cosy pub-style place.
Quieter venues are Caffe della Seggovia, a wine bar popular with the locals, and Bar Assietta, which is good for a relaxing drink. Miravallino (+39 0122 858585) is the original bar and today is a bar-cum-tea room serving apres-ski cocktails, snacks and crepes. Enoteca Il Lampione is an attractive wine bar underneath Chalet Faure, which is inside a converted barn in Sauze d'Oulx Old Town – they hold everything here from wine tastings to live music evenings.
Later on there's Moncrons (+39 0122 858051) next to the Derby; it's British-run and has quiz nights and cocktails. Another place for cocktails is Bar Mira. For live music go to Osteria dei Vagabondi from 11pm onwards. For a party atmosphere, the late-night spots include Schuss (+39 0122 850194) which has DJs.