Keeping fit between ski seasons is so important and what better way then to head to the Alps for some easy cycling? Here we list our top six road bike tours for people who haven't done much – or any – cycling at altitude before. Road cycling tours allow you to appreciate the scenery, combining exercise with fun and not forgetting some good food en route.
Follow the River Inn Cycle Path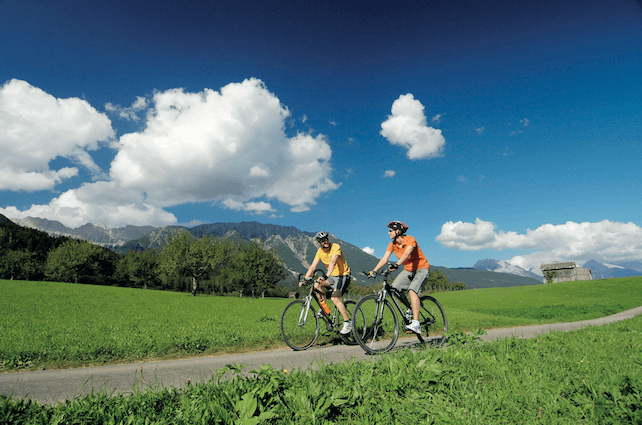 The Austrian Tirol has over 900km of signposted cycle paths and road cycling routes along some gorgeous valleys. The three main long-distance routes include the classic 520km Inn Cycle Path, which is ranked among Europe's longest and most scenic cycle routes. It follows the River Inn from its source on the Maloja Pass in Switzerland, travels through Tirol and on to Passau in Germany. The 230km-long Tirol section passes romantic castles and picturesque towns. After a few small inclines at the beginning, the path follows well-signposted and predominantly traffic-free routes along the river.
Alternatively, there's a five-day/four-night trip goes from Innsbruck to Kufstein, over approximately 107km with 25km to 45km. The route is mostly flat and during this tour you will be able to try the typical Tirolean inns – serving delicacies such as traditional cheese, good Schnapps with crispy bread, and delicious local bacon. Stay: Before you set off, a night to relax at Adlers Hotel in the centre of Innsbruck, will give you some extra oomph. It is 14 storeys high and Innsbruck's tallest hotel, with a roof-top terrace and an impressive restaurant on the 12th floor. It also has a good spa.
Tour Around Lake Annecy
Families are catered for with a cycle path that runs all the way from Annecy to Albertville along the old railway lines. This delightful route winds along the entire length of the lake and has direct access to the beaches at Marquisats and Sevrier. Stay: Le Palazzo contains apartments with flat-screen TVs and fully-equipped kitchens. Fishing is possible in the surrounding area.
Pedal Italy's South Tyrol
The dramatic river valleys of Italy's South Tyrol provide some easy cycling routes with a mountainous backdrop, and this is also an area famed for its excellent food and drink. The local wines are Vernatsch, Lagrein and Gewürztraminer, and you can accompany them with traditional snacks such as roasted sweet chestnuts and smoked raw ham. This is a self-guided hotel-to-hotel cycling trip, with luggage transported, leisurely cycling on well-signed cycle tracks surrounded by spectacular scenery. Stay: Inntravel will arrange the whole trip for you.
Ride Kitzbuhel's 1200km of paths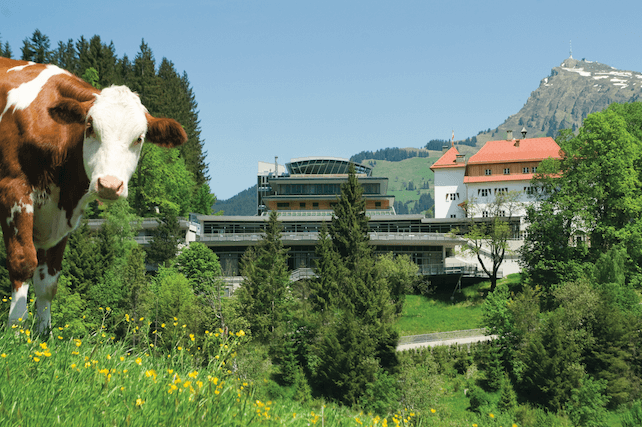 A trip in and around the beautiful ski town of Kitzbuhel includes varied terrain to suit all abilities for road biking and mountain biking, and the resort and surrounding area offer 1200km of paths including plenty that are tucked away from the traffic. It's a great way of keeping fit! Stay: Hotel Maria Theresia has a newly-built spa and its interior blends old with new. It's set outside the Kitzbuhel's pedestrian centre, but is a short walk away from the shops and restaurants.
Explore the Shores of Lake Constance
Lake Constance is bordered by three countries – the 270km shoreline is shared between Germany, Austria and Switzerland – and there are some lovely views from the German shore across to the Swiss Alps. The six-night, self-guided cycling tour explores 140km of the eastern shores of Lake Constance in Germany.
The trip is based on gentle, leisurely cycling and it also explores the historic town of Constance, Meersburg with its castle and vineyards, and the village of Lindau with its cobbled streets and harbour. Stay: For information on this seven-day trip visit Freedom Treks.
Go for Gruyeres, Gstaad and The Bernese Oberland
A cycle tour based out of Interlaken, close to some remarkable mountain scenery. In the Bernese Oberland you will see amazing sights from your bike or through the window of your train. You also take in Zermatt and the Matterhorn, and Murren with the spectacular cable-car to the summit of the Schilthorn – of James Bond fame. Stay: Book the week-long trip through Freewheel Holidays.
Touring Lake Geneva
Le Tour du Leman is a 180km cycling track around Lake Geneva, which officially opens on June 6 and can be completed in three or four days. A third of the circuit is in the Savoie Mont Blanc region and the tour is linked with the Via Rhona circuit, which is a cycling itinerary going all the way from Lake Geneva to the Mediterranean Sea. Stay: the five-night self-guided Via Rhona tour with 42-68km of cycling per day and accommodation in two- and three-star hotels en route can be booked through Cyclomundo.

For more on cycling holidays see these other features:
Cycling to Get Fit for Skiing, A Glimpse of Biking Paradise and Where to Go Mountain Biking.
For other summer activities in the Alps see The Best Resorts for Summer Skiing, Six Ways to Fill the Gap Between Ski Seasons, Why You Deserve A Summer or Autumn Holiday in the SkiWelt, Where to Play High Altitude Golf, Hiking in the Mountains, and A Big Alpine Adventure.