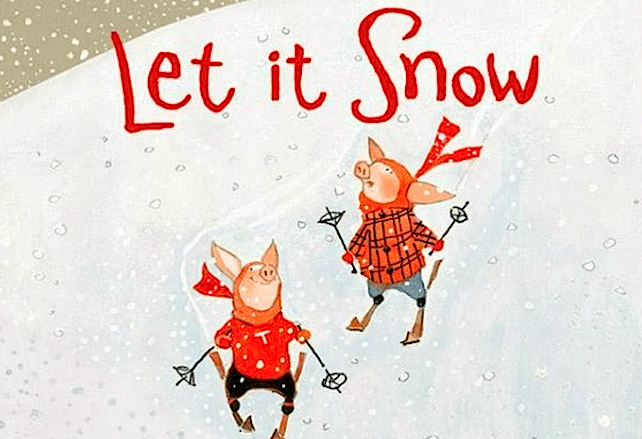 Perhaps it's your child's first ever ski holiday? Or maybe they're so keen after last year that they're impatient to get back onto the snow again? Whatever the reason, you'll be counting the days until your next ski trip, so one of these books about skiing is bound to help while away the time for children (and their parents). Here are 12 skiing-themed books for young children, which could easily find their way into a Christmas stocking on under the tree.
These books can be bought from Amazon, Waterstones, the Book Depository and a range of other booksellers.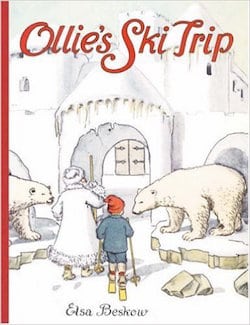 Ollie's Ski Trip
by Elsa Beskow
Six-year-old Ollie is given his first pair of real skis. As soon as the snow begins to fall he heads off into the woods and meets Jack Frost, who shoos away Mrs Thaw.
Jack Frost takes him on an adventure to the palace of King Winter and Ollie has a wonderful time in a huge snowball fight. But will Mrs Thaw return too soon for Ollie to enjoy the snow?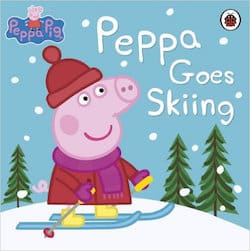 Peppa Goes Skiing
Ladybird
Peppa and her friends are learning how to ski with Madame Gazelle, the skiing world champion. But when Mummy Pig goes on the adult slope, she ends up skiing all the way down the mountain. Will Mummy Pig win Madame Gazelle's world championship cup?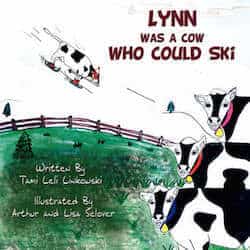 Lynn Was a Cow Who Could Ski
by Tami Leli Linkowski
Can cows ski? Of course not – nobody has ever seen a skiing cow. Lynn, however, is not like other cows. She is not happy just hanging around the farm all day…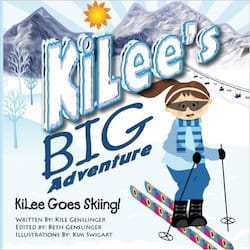 KiLee goes skiing
by Kile S Genslinger
One of a series of books offering inspirational stories to young children about overcoming fears and achieving goals through perseverance.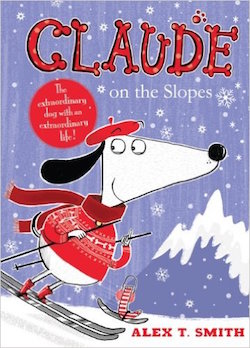 Claude on the Slopes
by Alex T Smith
On a winter's day, Claude goes from throwing snowballs and making snowmen to causing an all-out avalanche. Claude was selected for the Waterstone's Children's Book Prize.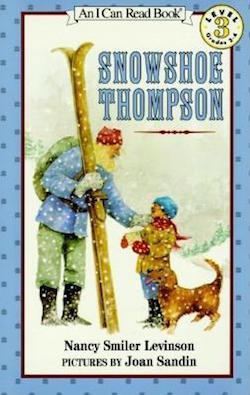 Snowshoe Thompson
by Nancy Smiler Levinson
Danny wishes his dad would come home from Nevada for Christmas and writes him a letter to tell him so. When snow cuts off the mail until spring, only postman John Thompson can get through the Sierra Nevada Mountains to deliver his letter.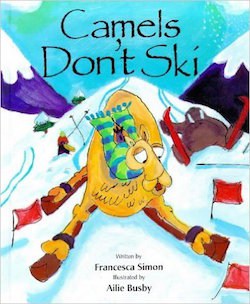 Camels Don't Ski
by Francesca Simon
Calamity the camel has had enough of the hot dusty desert and all her heavy work, so she drops what she's doing and heads off on a skiing holiday. But is there really such a thing as a cold weather camel?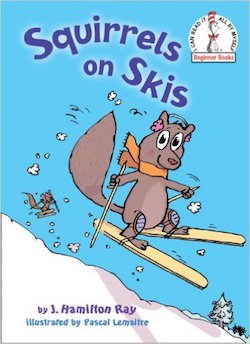 Squirrels on Skis
by J Hamilton Ray
First there was one, and then there were two. Three more came gliding from under the trees. They were squirrels on skis! Below lay the town, snow-covered and still. Not a sound could be heard. All was silent, until…eighty-five squirrels came by, and more on the way.
The townsfolk are not amused. Can reporter Sally Sue Breeze find out where the squirrels are getting their skis from – and make them stop skiing long enough to eat lunch – before pest-control guy Stanley Powers sucks them up in his vacuum device?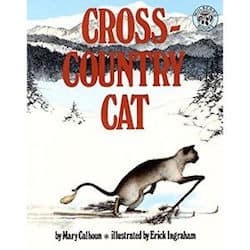 Cross-Country Cat
by Mary Calhoun
When he becomes lost in the mountains, a cat with the unusual ability of walking on two legs finds his way home on cross-country skis.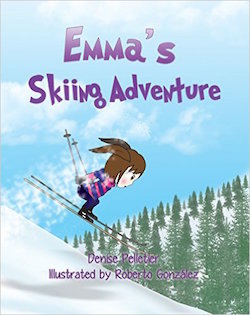 Emma's Skiing Adventure
by Denise Pelletier

Emma takes the reader on a journey down the mountain, where she collides with two rabbits. After the accident, they share an important message with her about wearing a helmet while skiing and snowboarding.
Emma's Skiing Adventure weaves a short yet compelling story, mixed with a bit of humour, to make this message approachable for young children.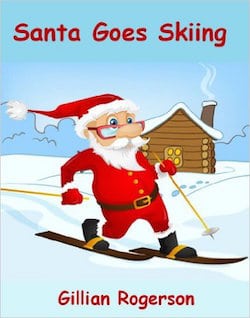 Santa Goes Skiing
by Gillian Rogerson
Santa chuckles when he thinks about the time he went skiing with Mrs Santa. Mrs Santa doesn't chuckle, she remembers all the people that Santa nearly knocked over…Santa decides to try skiing again. Sylvie, the elf, and Rudolph go with him. Will Santa be any good at skiing? Or will he need to warn everyone to keep out of his way?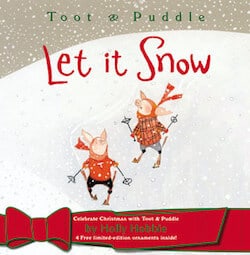 Toot & Puddle: Let It Snow
by Holly Hobbie
The is the last book in the series with a Christmas story about the gift of friendship. With a nod to previous books in the Toot & Puddle series, Holly Hobbie shows readers the best present for a best friend.
For more ideas, also see our feature on 21 Unmissable Christmas gifts.