Chris Thompson has been MD of family-skiing specialist Ski Famille for 13 years and first got involved with the business over 21 years ago. With a ski-mad nine year old and a fearless toddler in the family, he knows more than most about preparing for a family holiday in the mountains.

So you're planning to take the kids skiing, and your eye has fallen on the biggest interlinked ski areas in France – the 3 Valleys, Paradiski and the Portes du Soleil. But you now you're stumped. They all have their virtues: but which, you wonder, would work best for you own family's ski holiday?
Ski Famille has bases in all three areas – La Plagne in Paradiski, Les Menuires in the 3 Valleys, and Les Gets in the Portes du Soleil – so it's a question we get asked all the time. Here are some of the key pros and cons to consider.
Paradiski (La Plagne1800)
Best for: families who want to ski together, and clock up the mileage on super easy pistes. Expert Mums and Dads. Anyone who wants lots of off-slope activities.
FOR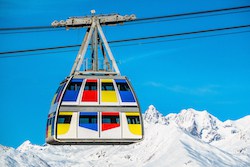 The large intermediate ski area of 383km is made even better by the double-decker Vanoise Express link across from the La Plagne part of the ski area to Les Arcs. This probably won't affect the little ones, but it's a huge benefit to parents and older children who want to put some miles beneath their feet on the (mainly easy) slopes each day.
Photo: © Savoie-mont-blanc.com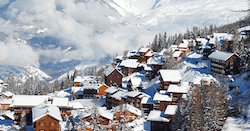 Rather than being concentrated in a single centre, La Plagne's accommodation is scattered across the mountain in ten different villages. Some of them – such as Aime 2000 and Bellecote are not very Alpine-looking. Others are lower down and based around older villages. La Plagne 1800, pictured here, has a good choice of accommodation close to the slopes, much of it ski-in ski-out.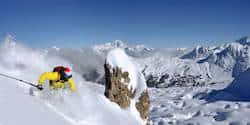 The high altitude up to 3417m on the Bellecote glacier means there is snow-sure skiing. This season it will be open until as late as April 22. There's some excellent freeriding, too, which might please those expert parents, especially if you are lucky enough to have good snow and cold weather. Make sure you have a guide if you're planning to ski off-piste here. Photo: © P.Royer/OT La Plagne.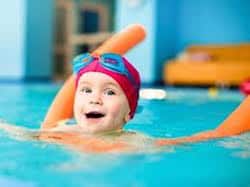 Plenty of non-ski activities such as the bob run keep everyone happy after skiing finishes for the day. There are three different bobs to try – a bob raft (for ages 14 and upwards), speed luge and bob racing (both for ages 16 and up). There's also a giant zip-wire at Belle Plagne. Some gentler options would be husky sleigh rides, swimming at Piscine Bellecote, tobogganing in Colorado Park, or visiting the Igloo Village at Le Dou du Praz (reached by free shuttle bus).
Photo: © OT La Plagne.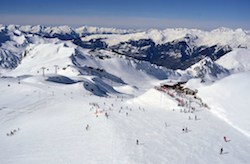 Lift investment has been impressive in recent years and there is now a really modern infrastructure, which means you won't be stuck in queues. There are a number of ski pass options and they can be confusing. La Plagne (225km pistes) – includes La Plagne, Montachavin, Les Coches and one day whole Paradiski area. Paradiski Illimité (425km pistes) – covers the whole Paradiski area including La Plagne, Les Arcs, Plan Peisey, and Vallandry. Photo: © P.Royer/OT La Plagne.
AGAINST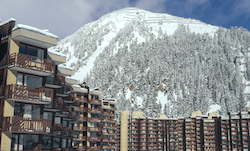 La Plagne sometimes has a bit of an image problem. People in their 30s and 40s have memories of school trips staying in concrete blocks with a flaky lift infrastructure…but the accommodation quality has improved dramatically in recent years, with Plagne 1800, Belle Plagne and some of the other villages actually looking very pretty. Seen here – Plagne Bellecote, which is not very Alpine looking. Photo: © OT La Plagne.
3 Valleys (Les Menuires)
Best for: first-time kids, intermediate Mums and Dads, families who love swimming after a day on the slopes.
FOR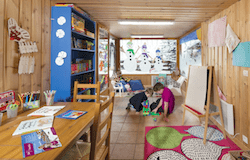 The purpose-built resort of Le Menuires offers families a wide range of facilities and amenities. The picturesque 'Belle-Menuires' satellite villages of Les Bruyères and Reberty 2000 both have a large choice of family-friendly accommodation, all of it within easy walking distance of the pistes and ski schools and much of it conveniently ski-in ski-out.
The creche in Chalet Katie 1. Photo: © Ski Famille.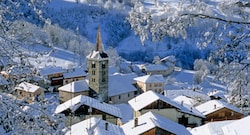 In my opinion Les Menuires has the best location of all the resorts in the area. You will have instant access to the 3 Valleys and its high, snow-sure ski area – with Meribel and Courchevel in one direction, Val Thorens in the other, and pretty St Martin de Belleville (pictured here) nearby.
Photo: © 3vallees.com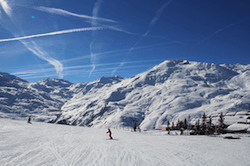 The massive 495km of varied terrain suits all abilities, from complete beginners to seasoned skiers and snowboarders. If you stay somewhere with in-chalet childcare you won't have to drop the little ones off at the creche before heading out to the slopes yourself. There are ski school meeting points in both the satellite villages of Les Bruyères and Reberty 2000.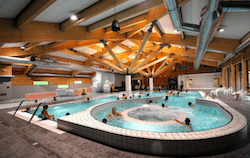 The resort has some great facilities for families with young children including the new Aquafun pool and Wellness Centre in Les Bruyères, an indoor sports centre, and dog-sledding. There's also the Speed Mountain toboggan run for children aged five years and over, and – for the littlest ones – the Ice Castle in La Croisette where children can explore the ice structure, play together and toboggan on tiny sledges.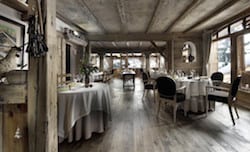 And as for parents…you'd probably like to have some time to yourselves, so don't forget to pay a visit to the many excellent restaurants. La Bouitte is in the hamlet of St Marcel, Jean Sulpice in Val Thorens, Chez Pépé Nicolas can only be reached on piste, as can Le Chalet de la Marine. The latter is a gorgeous wooden Savoyarde chalet on the Dalles piste. It has a big open fireplace and cosy sheepskin rugs. Photo: © La Bouitte.
AGAINST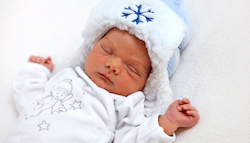 Les Menuires is not ideal for little ones under 12 months of age: it can be extremely cold here and babies can be a bit uncomfortable at altitudes of 2000m+. If you do bring them, make sure they are well hydrated at all times.
Photo: © Photobac/Shutterstock.
Portes du Soleil (Les Gets)
Best for: anyone in the market for old-school Alpine charm, gastronomes, kids who get car sick easily and don't enjoy long transfers.
FOR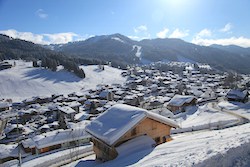 Les Gets is a laid-back and family-friendly village with oodles of character – an attractive mix of old Savoyard chalets and more modern wooden-and-stone ones built in keeping with their lovely alpine surroundings. A number of British tour operators specialising in family skiing holidays have chalets in the resort, and there are several child-friendly hotels. Make sure you choose a ski school, such as 360 International which we use, whose instructors have a high standard of spoken English.

There are lots of other activities are on offer here, such as cross-country skiing and ski-joring (for ages eight and above), which is where you ski whilst being pulled along behind a horse. For something really exciting, you can fly above Les Gets in a hot-air balloon.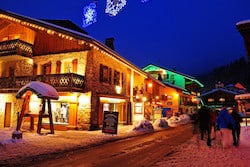 There's a superb choice of restaurants, on and off the mountain, such as La Paika and La Grande Ourse. However, Les Gets has a quiet nightlife, and there is not a lot going on here for partygoers, who would be better off staying in neighbouring Morzine. The village itself has a good selection of bars for that well-earned beer or cocktail in the evening.
Photo: © OT Les Gets.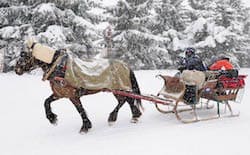 It's a blissfully short airport transfer from Geneva, just over an hour long. This is a real benefit for families with small children who would otherwise get easily bored on the journey. Remember to bring plenty of things to do, such as colouring books, and small toys that fit inside a backpack. A snack and cold drink for the transfer is always welcome.
Photo: © Ski Famille.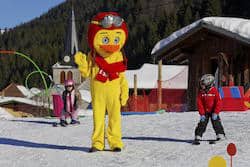 The vast and varied 372km ski area is geared to all levels – from the easy pistes around Lets Gets, to some challenging terrain from Avoriaz down towards Morzine and into Switzerland. The children's ski area is kitted out to look like an American-Indian village, complete with real teepees, with organised treasure hunts and even a war-paint workshop.
Photo: © G.Place/OT Les Gets.
AGAINST
The lack of altitude (the village is at 1000m) is a problem if winter gets off to a slow start (as was the case in 2014 and 2015), or there's a mild spring. But remember, Les Gets' smooth and grassy slopes don't need much snow cover to create sumptuous pistes.
Photo: © OT Les Gets.
Make Your Mind Up Time
If it's the first time you've taken your family skiing then make sure you have a look at my feature, How to Make the First Holiday a Success. Let us know which of the above ski areas you prefer – and why – in the comments box below…