Whatever are you going to get your skiing friends or family this Christmas? You can stop worrying now! Here's our guide to festive shopping for skiers and snowboarders of all ages…with prices ranging from 99p to £150.
We've listed everything in price order, from cheapest to most expensive. The prices below are in pounds, with an approximate conversion to euros at the time of writing.
Value Hand Warmers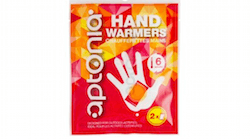 No skier or snowboarder can afford to be without a few pairs of these – keep a spare set in your pocket or backpack and squeeze them when your fingers need some extra warmth. They look like teabags and will last most of a cold day on the mountain. Aptonia Hand Warmers, 99p (1.28€) per pair from Decathlon.
Pocket-Sized Ski Wax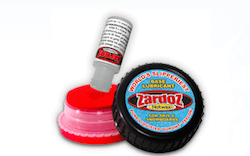 This is a great little product to carry around for easy application up the mountain. Just dampen the end and rub it on your ski bases for a speedy run down the slopes. It's extremely useful on artificial and wet snow, too. Zardoz Rub On Wax, £11 (16€) from Ellis Brigham.
Dangling Skiers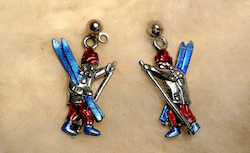 These skier girl earrings are hand-made to order – also available from the same artist are chair-lift, snowflake, gondola and cable-car earrings. The lightweight metal has an antiqued silver finish and comes either with wires or hypo allergenic posts, or on clips for non-pierced ears. Skier Girl Earrings by Jan Hall Designs at Etsy, £6.47 (9€), but as these are made in the USA you'll pay an extra £4.43 (6€) if you're shipping them to Europe.
Spyder Hands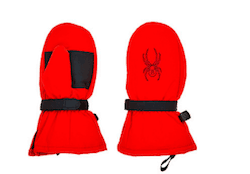 Keep your little ones cosy and dry on the slopes (or at home) with these fun ski mittens. They have velcro fastenings and adjustable wrist straps, a waterproof membrane and ThermaWeb insulation. Best of all…they're washable. Spyder Red Mittens, £12.99 (19€) from TK Maxx.
Fleecy Hoody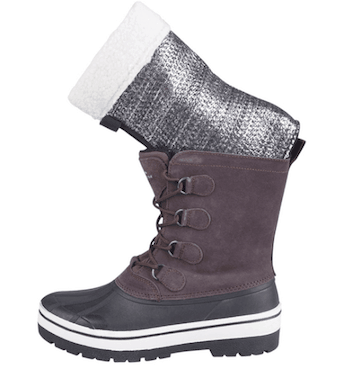 Made from soft breathable cotton, the snowboarder design hoody is perfect for apres-ski. Warm and comfortable, the hoodie has an inner fleece, ribbed hem and cuffs and a handy kangaroo pocket. Snowboarder Fur Lined Kids Hoody, in a choice of red or navy, £14.99 (21€) – reduced from £29.99 (43€) at Mountain Warehouse.
Christmas Lights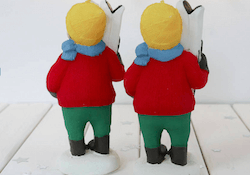 Get in the mood for skiing with a candle made to look like a vintage skier. It is 17cm tall and the burning time is about 16 hours…that is, if you can bring yourself to light it. Vintage Ski Candle by Bonnie and Bell, £15 (21€) from Not on the High Street.
Slopestyle Socks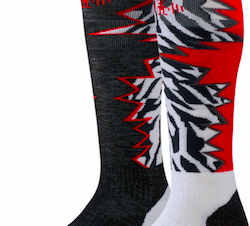 These brightly-coloured socks are a bit different from your plain old ski sock. There are four 1980s-style designs in the range and they are made from 63% Merino wool. Slopestyle socks from SmartWool, £21.99-£22.99 (31-33€) at Blues The Ski Shop in Glasgow, Snow & Rock and Nevisport branches, The SnowDome.
Colourful Cap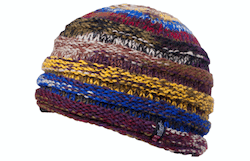 Rimjhim means 'colourful' in Nepalese and these knitted items are all unique piece of wearable art. They are hand-knitted using the remaining yarn after knitting other hats in small women's co-ops in the city of Bhaktapu, outside Kathmandu. This 100% lambswool hat is lined with Polarfleece® for itch-free warmth. A portion of the profits are donated to the Paldorje Education fund – set up by Sherpa Adventure Gear. Sherpa Rimjhim Hat, £23 (33€), from Sherpa Adventure Gear and Ellis Brigham.
Watch Your Back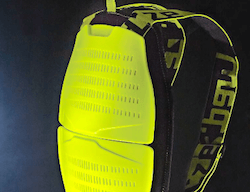 Enjoy doing tricks in the park? Or perhaps it's your teenage kids who spend a lot of time on bigger and bigger jumps? A bit of protection never goes amiss, since certain areas of your body – such as knees, wrists and back – are more prone to injury when skiing. Wedz'e Defense Back IIP, £24.99 (36€), at Decathlon.
Tasty Beanie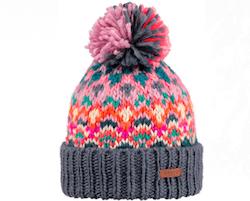 The delicious-looking beanie is a bit like a knitted cupcake and comes in a dark heather colour. It's not just a pretty face – inside is a fleece lining for extra warmth. Barts Carmen Beanie, £26.99 (38€) at Ellis Brigham.
Siberia Snow Boots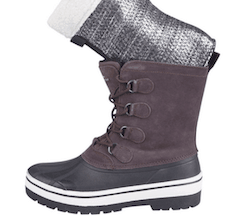 The Siberia Womens Snow Boot are insulated boots, perfect for snowy conditions. They have a waterproof membrane, and a removable ISO-THERM aluminium bonded liner for extra warmth and comfort. So if your feet get wet you can take the inners out and they'll dry a lot more quickly. Siberia Womens Snow Boot, £39.99 (57€) – reduced from £79.99 (114€) from Mountain Warehouse.
Chalet Style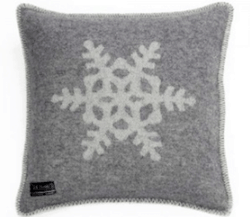 Ever wished you could decorate your home like a ski chalet? Here's the place to start. Chalet Shop was created by Hannah Allen and Sally Ingham – Hannah spent eight years renovating, setting up and managing Sir Richard Branson's Virgin Limited Edition ski chalet in Verbier. This is a shop for chalets, but you can buy their style for yourself as well. It includes everything from lighting and bathroom towels to cushion covers and throws made from the softest wool. Snowflake Cushion Cover, £44 (63€) per pair, from Chalet Shop.
Lovely Long Johns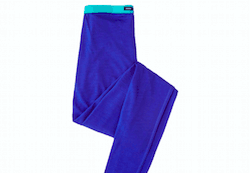 No more boring black thermals! These ones are made from Merino wool which is super soft next to the skin; they won't get smelly and they'll add an extra layer of warmth when you're on the slopes. They even look as good as colourful leggings back in the chalet or apartment. Finisterre Zephyr Long Johns, £48 (68€). There's also a matching Eddy Base Layer top for £48. Both from Finisterre.
Pretty as a Picture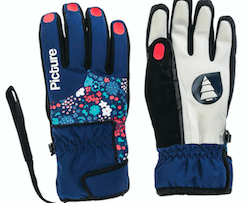 These eco-friendly gloves are durable and water repellent, with Thinsulate insulation. They are made from 64% Recycled Polyester, so you will be leaving only the tiniest CO2 footprint when you buy them! Picture Pretty Gloves, £59.99 (85€), from Picture Organic Clothing.
2-in-1 Duffel Bag/Sack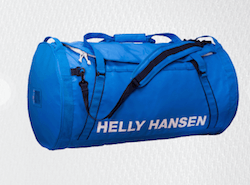 This sporty 30 litre duffel is really versatile in that it converts from an ordinary duffel bag into a comfortable rucksack for travelling.
It's made from a smooth but tough fabric that's water resistant, has an external zipped pocket, carry straps and removable padded shoulder straps. Also available in 50L, 70L and 90L sizes. Thus one is duck egg blue, but the bags come in a choice of 10 jewel colours. Helly Hansen Duffel Bag 30L, £60 (85€), from Helly Hansen.
Sherpa Jacket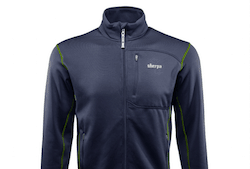 Sherpa Adventure Gear is dedicated to the Sherpas who put their lives on the line so that others can achieve their Himalayan dreams. This mid-layer jacket is made from Polartec Power Stretch: 84% polyester and 16% spandex. A proportion of proceeds are donated to the Sherpa Education Fund which supports underprivileged children in impoverished areas. Sherpa Dorje Zip Jacket, £64.99 (93€), from Sherpa Adventure Gear and Ellis Brigham.
Dragon Eyes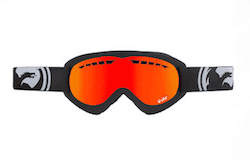 The DX is a good-value goggle from the cool Dragon Alliance company. They are extra comfortable with a fleece lined dual-layer foam, have a flexi PU frame, and they come with two lenses. A cylindrical green ionized lens is perfect for bright sunny days and a yellow lens suits variable conditions by adding definition. Dragon DX Goggles, £65 (93€) from Dragon and Ellis Brigham.
Wireless Headphones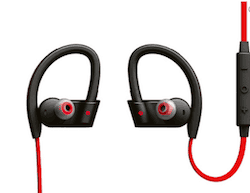 We don't normally advocate skiing with music in your ears, as you need to be able to hear what's going on around you…but…you can always use them for your pre-ski workout, and they're handy for travelling too. Bluetooth delivers your music straight from the device to your ears – so there won't be any tangled or trailing cables to deal with. JABRA Sport Pace Wireless Bluetooth Headphones, £79.99 (114€) at Currys.
Safety Backpack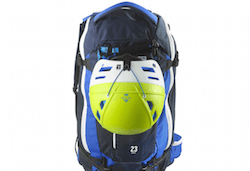 Quest 23 provides fast access to your avy and back country gear, carries skis in a variety of ways, and provides a comfy fit when skinning up or skiing down. Helmet not included! Salomon Quest 23 backpack, £100 (142€), from Salomon.
Tough Shoes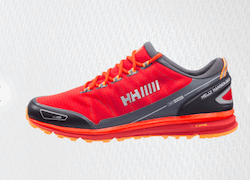 For those who don't want to wear clumpy mountain or walking boots, try these. The Rohkun is a versatile, all-around trail-runner shoe, but it is useable in winter too. The lightweight shoe has soles featuring HellyWear heel rubber and HellyGrip sticky compound in the forefoot, so you're less likely to slip up than in some trainers. The colour pictured here is rusty fire, but it's also available in deep blue. £110 (156€) from Helly Hansen.
The Sheep Suit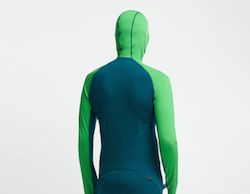 The Zone One Sheep Suit is full body armour against the weather, even at the coldest times of the year. We've tested it and can confirm that it's super-snuggly and extremely warm. It's made from 96% Merino wool and 4% LYCRA®, can be machine washed and dries very quickly (don't tumble dry it though). The colour pictured here is called balsam/night but it also comes in black for more of a James Bond look. Icebreaker Zone One Sheep Suit, £150 (214€), from Icebreaker.


For more ideas, see our features on ski gloves, ski goggles, the most expensive ski equipment in the world, and mountain safety equipment.