Professor Adrian Wilson is a Consultant Orthopaedic Knee Surgeon who has treated many skiers, both adults and children, and enjoyed many family ski holidays himself. Here he explains that with the right treatment and a commitment to rehabilitation, most skiers can get back to the sport, either with a knee replacement, or a realigned knee using a lesser-known operation called a knee osteotomy.

There is no doubt that skiing takes its toll on the knees. The bending and twisting involved, for hours at a time, puts a great deal of pressure on this complex joint, which can result in a number of short-term and long-term injuries.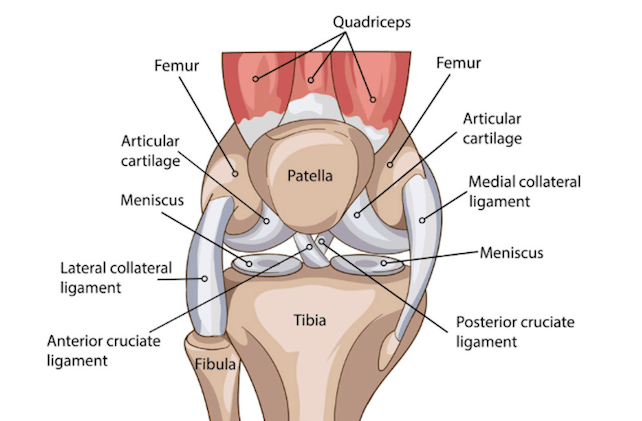 Knee Ligament Damage – First Steps
I commonly see skiers who have suffered ligament damage, typically a torn anterior cruciate ligament (ACL). Using the minimally invasive techniques I've helped to develop, despite the serious nature of this injury, patients can be back on the slopes the next season and be back to normal activity within a matter of months.
If you do injure your ACL, or have a significant soft tissue injury, it is really important not to leave it but to get an assessment from a knee specialist and, in particular, someone who has particular expertise in ligament damage. They will review your condition and usually carry out an MRI scan. It may be that something is damaged that can be fixed and it is better to do this sooner rather than later.
Persistent Knee Pain – Causes
I'm increasingly seeing people who have had a long ski career, but are beginning to suffer with ongoing knee pain in their 50s or 60s. Keen to carry on with the sport, and maintain all their other activities, there are a number of options they can look at.
The cause of this pain is usually osteoarthritis in the knee joint, which is a very common problem associated with getting older. The problem might start as a bit of stiffness and aching, but the continued wear and tear can make the problem worse over the next few months and years.
Initially appropriate physio and anti-inflammatories may be all that is required for wear-and-tear pain that has been stirred up.
New Regenerative Treatments
Where this hasn't been effective the new 'regenerative' options can be very effective. Options such as PRP or platelet rich plasma can be very effective to minimise swelling or pain. Another alternative is Lipogems treatment which is a new and exciting treatment that uses the pre-stem cells on fat to stimulate repair and decrease inflammation. More information is available at The Regenerative Clinic.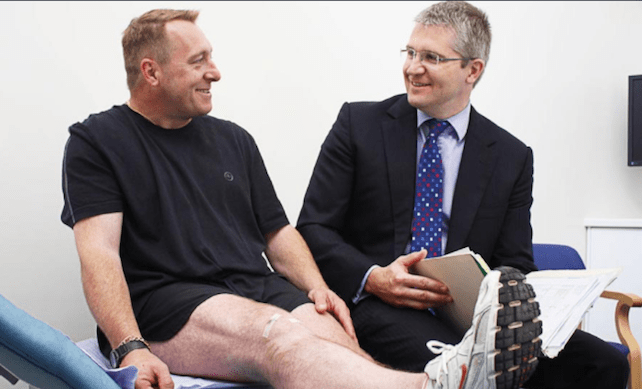 Knee Replacement – The Options
When painkillers, anti-inflammatory drugs, physiotherapy and other treatments no longer help, the only option may be surgery. In the UK, sadly the vast majority of patients with knee pain are referred for knee replacement surgery. And they are usually offered a total knee replacement.
For patients with arthritis on one side of the knee, removing the knee joint involves taking away mostly healthy tissue. In many cases it is possible to have a partial knee replacement, and this may be an option. This allows a relatively quick recovery and a high level of activity.
It is possible to ski after a partial – and sometimes also after a total – knee replacement with careful and lengthy rehabilitation of at least six months. It can be between three months and a year before you get back to normal activities. When you do get back on the slopes, you may still have some discomfort, however this is likely to be less than before your operation.
Knee Osteotomy – an Alternative Route
In active patients of all ages a knee osteotomy should also be considered as an option. By realigning the bones of the leg so that the weight of the body does not pass unevenly through the knee joint, the pressure on the damage tissue can be relieved.
The advantages of knee osteotomy in suitable patients are:
• Reduced knee pain without removing the natural knee joint.
• Improved movement and function after surgery, with a wider range of movement possible compared to after a knee joint replacement.
• Fast recovery – after an osteotomy you can be mobile immediately and rehabilitation takes six to 12 weeks. Apart from those with highly active or manual jobs, you can usually return to work after six weeks.
• An osteotomy can delay the need for a knee replacement, but does not rule this option out. If the arthritis continues to worsen, a knee replacement is still possible several years down the line.
• Knee osteotomy surgery can often make the knee feel more stable. You're less likely to feel that your knee is in danger of giving way anymore.
• As knee replacements have a life of around 20 years in someone over 65, but often only 10 years in someone under 50, this extra time becomes very significant.
To achieve the best possible outcome from a knee replacement or a knee osteotomy, it's important to follow your exercise plan which includes gradually increasing walking, and other low-impact exercises. It's important to avoid falling or injuring your new knee during this period.
Your surgeon and physiotherapist will work through your rehabilitation with you to ensure you get back on the slopes safely and continue to enjoy the sport. For more information about all types of knee injuries and the treatments available, visit my website.
Insurance After An Injury
These days, there's an ageing and more active population – due to the advancements in medicine and technology. This has led to people with pre-existing medical conditions becoming more active, especially in winter sports, where insurance would not have been available in the past.
Ski insurance specialists MPI Brokers cover on and off piste – with or without a guide – and ski racing. They have an age limit of 100 and deem a pre-existing medical condition to be something that has happened in the last 12 months. If a condition is controlled and nothing has changed in the last 12 months there will be cover. The Standard and Excel polices provide some physiotherapy when back in the UK, if the doctor has prescribed it. Maximum trip durations on a Multi Trip policy is up to 62 days.
Travel Addict Insurance Pre-Existing Medical Winter Sports Insurance has no age limits, and covers people with pre-existing medical conditions – including those who are terminally ill or have long-term disabilities. Their medical policy also provides aftercare such as physiotherapy. Pre-Existing Medical annual policies have a maximum trip duration of 45 days with the premium level of cover. Quote code 'Welove2ski' for a 10% discount.
See also our features on getting fit for skiing, ski safety, How To Wake Up Your Ski Muscles and Help Them Recover, Why Knee Surgeons Love Skiing, and Is It Possible to Get Ski Fit Quickly?