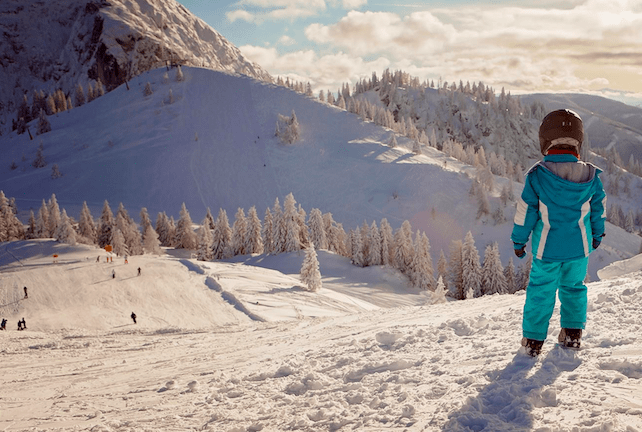 Professor Adrian Wilson is a Consultant Orthopaedic Knee Surgeon who has treated many skiers, both adults and children. As a father of five, whose own daughter suffered a serious ski injury some years ago, he knows from first-hand experience how important it is to be armed with the facts to avoid your children getting injured and what to do in the unlikely event of them getting hurt.

Skiing is a great activity all the family can enjoy, as I know from personal experience with my own children. Before long, they can be racing down red runs, leaving their more cautious parents behind! As a knee surgeon, I regularly see children (and adults) who have torn their ACL whilst skiing and need an operation to repair their knee, which I do using minimally invasive treatments I have helped to pioneer. However, these injuries are relatively rare, and luckily can be treated quickly and effectively to allow children to get back to their usual activities in a matter of months, and hopefully skiing in due course.
Preparation for a child's first ski holiday
Whilst children don't need to train before skiing in the same way as an adult, do make sure your child is in good physical condition. Skiing and snowboarding are strenuous sports that put heavy demands on muscles, tendons and ligaments in many parts of the body.
It is a really good idea to take them to a dry ski slope or indoor snow centre for a few lessons, so they get the feel of the boots and skis so know what to expect.
Make sure you enrol them in a good ski school, which is invaluable to help them gain confidence and progress on the snow. Instructors can educate beginners on the importance of a good warm-up and cool-down, properly fitted equipment, and safe skiing techniques.
Proper equipment
Appropriate equipment is critical for being safe. Poorly functioning or badly adjusted equipment is a frequent cause of injuries. Make sure the skis or snowboard your child uses are in good condition and fitted for his or her weight, size and skill.
Bindings that are too loose or too tight, as well as equipment that is improperly sized or used on the wrong terrain, can cause injury. Use a recommended ski shop and let the ski technician know if it's your child's first ski holiday. They will set the bindings just loose enough so that they will release as soon as there is any risk of the knee being overly twisted.
Purchase a helmet specially designed for skiing and snowboarding and make sure your child wears it to prevent head injuries. Do not substitute helmets that were designed for another sport. Bike helmets do not provide enough protection for skiing.
Never purchase a helmet that is too large for your child's head. If you rent a helmet, make sure it fits properly, with very minimal movement when worn. Always replace the helmet if it has sustained a significant blow.
On the slopes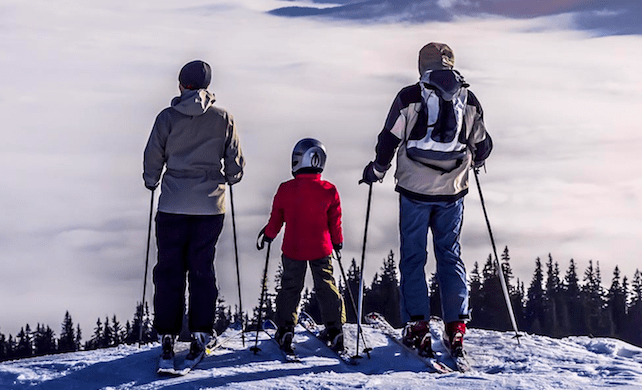 Don't be tempted to overdo things on the first few days. Injuries often occur when children are tired. Skiing uses different muscles to other sports and children's bodies they need a chance to rest after ski school.
Once they have progressed from the nursery slopes and you start skiing as a family, make sure your children avoid terrain that is beyond their ability and have routine rest breaks with rehydration and snacks. It is also important to teach your children about the danger of going too fast on skis and about sticking to the pisted areas.
Make sure your child knows how to handle a fall. Skiing and snowboarding injuries commonly occur when you try to avoid a fall or brace yourself against a fall.
More experienced skiers
Always start the day with some stretching exercises and take a few warm-up runs on gentle terrain before moving to steeper slopes.
As children progress and, as I've found, overtake their parents in speed and ability, don't be tempted to let them ski or snowboard alone. Do make sure they have a piste map and are familiar with the ski area and the terrain in case you get split up.
Make sure your children ski and snowboard only in areas matching their ability. Skiers and snowboarders get hurt when they are going too fast and lose control.
Ensure they drink plenty of fluids and eat nutritious food throughout the day and encourage them to take breaks and to stop when they get tired.
What is the most common ski knee injury in children?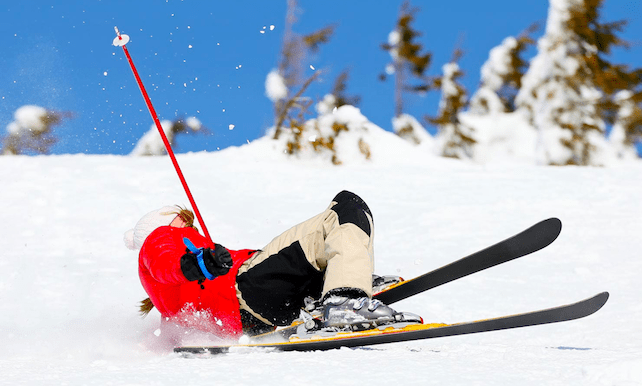 Damage to the anterior cruciate ligament (ACL) is the most frequently seen injury and is increasingly common in young people. The ACL controls the back-and-forth motion of your knee, along with the less usually injured posterior cruciate ligament (PCL), which is the largest ligament in the knee and helps give stability.
If the ACL is torn or ruptured, the knee becomes unstable when it is twisted and can give way, as well as losing its full range of movement. As the knee gives way, the delicate structures inside it, as well as the joint surface and meniscal cartilages, may also be damaged.
How does ACL injury in children occur?
As children's bones and ligaments are not yet fully developed, they are at greater risk of damage.
An ACL injury is most likely to occur when the knee is twisting and pivoting, which is of course the case in skiing. Due to the pressure on the knee, whilst the ankle is kept in a fixed position, it is one of the sports with a higher than average occurrence of ACL tears.
Jumping on skis can also cause this to happen. If the quadriceps muscles aren't strong enough, a movement can suddenly put too much pressure on the knee joint, causing the ACL, a rope-like band of tissue, to tear or rupture.
What should I look out for if I suspect my child has injured their ACL?
Usually with an ACL injury, there will be a popping sound. The child may also use their hands to demonstrate a severe twist of their knee or describe it as feeling wobbly or loose. They will definitely feel pain when the ACL tear happens, and afterwards they might have symptoms – depending on the severity of the injury. Often there is pain, which can be intense, and swelling of the knee joint, which can happen within 24 hours of the injury occurring.
Most children will have no problems walking. But if they try to go back on skis, they may have some instability, or be unable to bear weight on the affected knee.
What should I do if I suspect my child has torn their ACL?
For any knee injury or following a ski fall or collision, it is important to stop activity straight away. If the knee is swollen, ice should be applied for at least 20 minutes at a time, and the knee should be kept elevated.
A trip to the local medical centre in the resort is the first port of call. If weight-bearing is painful, your child should be kept off their feet until you can get them assessed.
If your child has any of the symptoms of a ligament injury mentioned above, as soon as you get back to the UK you must insist on getting a referral to a knee specialist, who is an expert in ligament injuries. Your consultant will need an MRI scan to confirm the diagnosis, so request that your child is referred for a scan at the same time.
While an X-ray might be taken in the ski resort, this will only show bone damage, so will be used to rule out a fracture or break. An MRI scan, which assesses ligaments and muscles, can confirm a partial or complete ACL tear so you really need one to confirm diagnosis.
I cannot stress enough how important it is to see a knee specialist early. The average time from knee ligament injury to fixing the problem is four weeks in Australia, the US and many European countries. Unfortunately, it can take 18 months in the UK, by which time there is usually significant secondary damage to the joint surface and meniscus shock absorbers, which is bad news. This is why our outcomes are less than ideal and lagging behind the rest of the world.
What's the treatment?
Once your child has had an MRI scan and been referred to a consultant orthopaedic knee surgeon, and ideally a specialist in ligament repair and reconstruction, they will review the MRI scan and carry out a full assessment.
The consultant will discuss your child's symptoms and examine the knee to check for tenderness, stiffness, swelling and any other problems. They may also ask them to move their knee into different positions to assess the range of movement and the function of the joint.
Depending on your child's age and the severity of the injury, there are two treatment routes for a torn ACL.
Non-surgical treatment: involves physiotherapy and additional support – such as a knee brace – when playing sport
Surgery: if the knee regularly gives way during normal everyday activities, or prevents your child taking part in sport, they may require ACL surgery. Traditionally, this surgery involved a long recovery period of around a year; however, new procedures for treating ACL injuries, which I have pioneered, have reduced this to around four months.
If an adult is injured and damages their anterior cruciate ligament, the tear usually occurs in the upper or middle part of the ligament. However, in children and young people the attachment of the ligament to the bone is a weak point and the ligament can become completely separated from the bone, possibly with a fragment of bone still attached.
In some cases, it may be possible to re-attach the bone fragment along with the ligament using keyhole surgery. However, ligament re-attachment can only be carried out in the first few weeks after an injury. In some cases, I might also advise carrying out the All-Inside reconstruction technique and anterolateral ligament (ALL) reconstruction alongside ACL surgery to improve the outcome.
Anterior cruciate ligament (ACL) reconstruction in children using a parent's hamstring as a donor graft
I saw this procedure, pioneered by Dr Leo Pinczewski in Sydney, Australia, and its exceptional results during my fellowship. When I returned to the UK, I decided to set up a service to provide this innovative technique.
While hamstrings grow in length, they don't thicken and can remain very thin, especially in small children. However, using a parent's hamstring to repair an ACL injury has been shown to reduce the failure rate from 30% to less than 10%. During the six years that I have been carrying out this procedure on children, surgery has been 100% successful.
How long is the recovery?
After surgery, your child will need to walk with the assistance of crutches initially, limit physical activity and wear a full-leg brace for four to six weeks. Painkillers and anti-inflammatories are prescribed initially to ensure they remain pain free.
Recovery from ACL surgery can take as little as four months using the more innovative techniques that I use. Physiotherapy is a bit part of this to restore the range of motion, regain strength and stability and reduce swelling.
Will they be able to get back to sport after injury?
Getting back to sport is a definite possibility. I operated on an 18-year-old elite hockey player who was back on the pitch within four months.
More usually, I recommend children get back to more gentle activity such as swimming and cycling before progressing to other sports. Contact sports may remain off limits for a number of years, however I always review patients regularly and advise on activities which can be safely enjoyed.

For further information about skiing and knee injuries, visit Prof Adrian Wilson.co.uk.