In a Nutshell
Jasná Nízke Tatry is located in Slovakia's Low Tatras mountain range, which is part of the Napant national park. Don't make the mistake of dismissing this as a typical Eastern European resort – because it's not. If it were in Austria or Italy it would be classed among the country's top ten resorts.
The Stats
Altitude: 1117m
Lifts: 27
Top Lift: 2024m
Ski area: 50km of piste
Adult lift pass: 178€ for six days


Official Site |

Ski Map |

Webcam
Essential Advice for the Perfect Trip
Jasná Nízke Tatry – or Jasna – is the largest ski area in Slovakia, with skiing on the north and south side of 2024m Mount Chopok in the Low Tatras, the biggest ski area in central Europe. Don't think for a moment that the skiing in the Low Tatras is inferior to that in the High Tatras at resorts such as Tatranska Lomnica, Stary Smokovec and Strbske Pleso, which are only a 40-minute drive away. In fact, the reverse is true, with more diverse terrain and longer vertical of over 1000m.
Jasna offers groomed slopes of varying difficulty, from wide and gentle beginner runs, to long reds and tricky black mogul slopes for more advanced skiers. But the 50km of marked pistes simply doesn't do justice to the enormous amount of terrain on offer here. Many a mainstream Alpine resort would claim twice this figure. Importantly, the off-piste opportunities are outstanding and the fact that the resort has hosted one of the qualifying rounds of the World Freeride Tour in February for four consecutive years says it all.
The big mistake is to bin Jasna along with nearly all the resorts in Bulgaria, Romania, Serbia, Slovenia and other countries in the former Soviet bloc. These all offer budget ski holidays but infinitely inferior terrain and infrastructures when compared with destinations in the main Alpine countries and in the Pyrenees. If Jasna were in either Austria or Italy it would rank among that country's top ten ski areas.
You need to get your head around the fact that 'Eastern Europe' in the post-Soviet era remains a political rather than a plain geographical classification. This makes life much harder for the handful of pioneer tour operators here who have to first sell their resort before they can begin to display their wares.
When visiting an 'Eastern' European ski resort many British, and indeed much of the entire 'Western' market, expect to find wonky second-hand lifts, ancient and exhausted skis and boots sold on by shops in the Alps, along with hand-me-down budget ski clothing, minimal retail opportunities, and a general air of grey, post-Soviet despondency bordering on despair.
Time to move on and update your database: the wall came down 29 years ago. Standing in the short rush hour queue for a modern high-speed gondola, we find ourselves surrounded by a predominantly 20- to 30-year-old post-mural crowd attired in quality technical clothing along with this year's top-end range of skis and boards. The rental shop was better stocked than any of those in the 3 Valleys we've visited in recent years. The mountain above was beautifully groomed and inviting.
Tatry Mountain Resorts bought the place in 2010 and has been investing in it lavishly ever since. The lift system is equal to the best you'll find in the Alps, with detachable covered chairs and speedy gondolas reminiscent of those in top resorts.
Inevitably, comparisons with the more-expensive Alpine and Rocky Mountain resorts crop up regularly. A British skier we talked to said he couldn't afford the Rockies this year and had come to Jasna instead – and was loving it. And one snowboarder said he never had a beer when he was in Val d'Isere because it was too expensive – but in Jasna he was drinking pints every night!
---
---
Guide to the Mountain
If the figures for the top and bottom lifts make you think this won't be a resort with a long season, you'd be wrong. Don't just judge destinations by the same height criteria as you would in France or Switzerland. Moving eastwards across Europe from the Pyrenees to Geneva and on, snow cover is to be found at progressively lower altitudes. Moscow, for example, is buried in snow all winter, but lies at just 156m above sea level. In Jasna the snow stays around for a full five-month season and the vertical drop is a highly respectable 1082 metres.
The 50km of piste doesn't begin to describe the scope of the terrain, which drops down on the north and south sides of the rounded Chopok mountain.
There's lots of lift-accessible off-piste, some of it in easy open bowls and some down tricky couloirs. There's a total of 12 freeride zones – with a freeride manual to help you select which ones you'd be comfortable skiing or snowboarding.
The south side has less lifts but expansive terrain and, even on crowded weekends, you can avoid the crowds by traversing skier's left from the summit and drop into a big open snow field. Unlike the Alps, you'll still be able to make fresh tracks quite some time after a new snowfall.
There's a good snow park, a timed slalom course, and you can go night-skiing on a floodlit slope. Jasna hosted the World Cup women's slalom and GS races in 2016.
One forward-thinking idea is the local GoPass, which is a points card as well as a lift pass, allowing you to earn as you ski. Every time you board a lift the points tot up, and they give you a discount on food and drinks in the resort-owned bars and restaurants. The more you ski, the more you save. Oh, and you can also monitor the kilometres you've skied each day on the GoPass website.
---
---
Where to Learn
Group lessons cost about 35% less than in the Alps, and the standard is high. There's a choice of ski schools: Ski Jasna offers ski and snowboarding tuition as well as backcountry guiding. Propaganda Snow School has ski and snowboard lessons, and runs five-day snowboard camps. Particularly recommended are the private lessons with Tatry Motion Ski School, which are a snip when compared with their equivalent in an Alpine or North American resort.

Small children can go to Maxiland, which offers group and private lessons and has an enclosed area complete with a magic carpet lift, playground swings and merry-go-round, and various ski-through objects.
---
---
Where to Stay
For the moment, at least, Jasna is more of a ski area than a destination, although such is the extent of the chalet building programme in the north-side base area that this is rapidly changing. For now the mountain base facilities are limited to a few hotels, two car parks, a couple of bars and restaurants, and a ski shop located around the chair-lift and gondola that provide mountain access.
A collection of modern apartments in traditional chalet-style buildings have been completed, along with Hotel Grand Jasna at the ski area base. The hotel contains a restaurant, bar, and wellness centre. At present, there's no food shop at the base area and almost everything shuts when the lifts close for the day.
Jasna area is located in a national park and shuttle buses ply up and down the winding valley road from the ski area base through the pine forest and as far as the Tatralandia waterpark. The sprawling settlement of Demänovská Dolina provides the main accommodation with a journey time to the lifts of normally only 10 minutes. However, this can increase to as long as 45 minutes on congested high-season weekends. The current bus service is insufficiently frequent and the scope of the parking inadequate for the number of private cars. Accommodation ranges from simple self-catering apartments to smart North American style ski hotels.
Chalet Style
Highly recommended Dragon's Lair lies an eight-minute drive from the ski area base and is the first and only catered tour operator chalet to open here. It's run by Australian Justin Garrett and his Slovakian wife Adriana, who built it from scratch. It's extremely comfortable with a wellness area and spacious living room around a log fire. The separate adjoining bar is open to non-residents. The chalet sleeps up to 19 in five attractively woody bedrooms all en suite. These include some split-level family rooms sleeping up to five.
The hard-working owners are also the drivers (they offer inclusive transfers from a choice of airports and take you daily to and from the ski area), whilst Justin doubles as chalet host, ski guide and chef – rustling up a daily cooked breakfast and optional dinners. Flexibility is the key, with stays ranging from two nights to a week or more.
The comfortable Hotel Tri Studnicky is a four-star providing transfers to and from the ski centre. The hotel houses a comprehensive wellness area and a gourmet restaurant, and is the first Feng Shui hotel in Slovakia. Riverside, also on the valley road, contains apartments, a restaurant and a small wellness area.
Although the 13th century town of Liptovský Mikuláš has further places to stay, three museums, a couple of art galleries and an ancient church, most skiers and snowboarders prefer to stay either at the base area or at Demänovská Dolina along the valley. The nearby scenic lake has yet more accommodation options along its shores.
Getting There
The nearest airport is Poprad/Tatry, 45 minutes' drive with three-times weekly flights with Wizz Air to and from Luton. Further away (two hours) is Kosice with daily Wizz Air flights from Luton, or further still is Krakow in Poland (three hours away) with lots of flights on a wide choice of airlines.
Incidentally, Poprad/Tatry airport is even nearer to other, smaller resorts. It lies just 15 minutes from Tatranska Lomnica and Strbske Pleso in the High Tatras.
---
---
Where to Eat
Surely such a relatively undiscovered and world class destination must have a few drawbacks when compared with its Alpine counterparts? Eating out is a more limited experience with a reliance on hearty meat dishes, soups, dumplings, and pickled cabbage. Sheep cheese (bryndza) is a basic ingredient in most Slovak restaurants, turning up in the dumplings and gnocchi, often served with bacon. The choice of fresh vegetables and fruit is limited. However, that is not to say that you can't eat well if you shop around and study menus carefully, and prices are remarkably low by the iniquitous standards of mainstream French and Swiss resorts.
Our favourite eatery was in Hotel Tri Studnicky, which is at Demonova Dolina and serves excellent steaks and an eight-course tasting menu. Their home-made blueberry ravioli with nuts is to die for.
Other fine dining includes Pension Drak. "Worth visiting this place. Surprisingly delicious food, white gloves service, pleasant atmosphere," was one review on TripAdvisor.
Koliba is at the base of the slopes, offering traditional Slovak cuisine in a wooden farmhouse-style interior – expect to eat gnocchi, sheep's cheese, goulash and soups. Riverside, on the valley road, has casual dining with European cuisine.
In the town of Liptovsky Mikulas there's Restart Burger ("Delicious burgers, staff was kind and helpful and speak multiple languages, the place is nice and cosy – definitely worth visiting") which offers gourmet burgers in a nice setting, and Sen (genuine Vietnamese and run by a Vietnamese couple). Until a year ago it was illegal for restaurants in Slovakia to sell raw meat or fish, but that's all changed and one result is that Alto Sushi (+421 905 404 942) has opened in Liptovsky Mikulas.
On the mountain we tried Von Roll, which is inside a former base station of an old lift which used to operate in the area. Expect to pay 11€ for a pizza and 4.50€ for a bowl of soup. We liked the slopeside Hotel Druzba, which has more of an alpine ambience and serves a nice spicey goulash.
Self-caterers are well looked after in Jasna, with a Tesco superstore in Liptovsky Mikulas and a variety of other shops including BioTopka for organic food.
---
---
Where to Party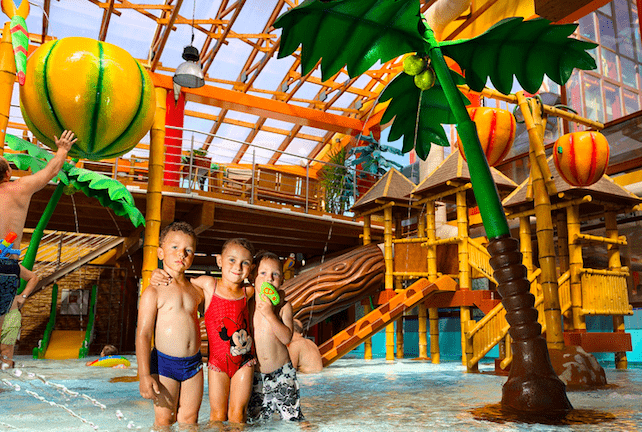 At the base of the piste you'll find the Crystal bar, which stays open until 9pm and features the mountain base area's first shot at apres-ski with a DJ in the afternoons. It's a light and modern place with huge windows, decked out with white sails, fur rugs, leather sofas, a central open fire, and a long copper bar. There's more seating outside and what is described by the resort as "the first heated burning table in Slovakia" (a bar with an open fire on top of it).
Incongruously, the mountain village which otherwise sleeps when the lifts close, is home to the Happy End nightclub that warms up at 10.30pm and keeps on going until 3am, featuring DJs, live music, and party nights.
A bigger apres ski hub is found in the town of Liptovsky Mikulas 15 minutes' from the lifts. This has clubs and bars such as Route 66 – a US-style sports bar with a nightclub upstairs. Dragon's Lair, for example, will lay on transfers there for its guests until 10pm, but any later it's a case of booking a taxi.
Interestingly, no license is needed to sell wine or beer in Slovakia (a large glass of wine or a beer is very reasonably priced), only for spirits. There's no tax on alcohol or cigarettes either, but fortunately there's a no-smoking rule where food is being served.
In the town you'll find a multiplex cinema, shopping centre, and Tatralandia, the biggest water park in the country. It's wonderful for children and adults alike, with ten swimming-pools including a hot thermal outdoor pool, a children's pirate pool, and a pool with a swim-up cocktail bar. Then there are water slides, an indoor surfing simulator, a wellness centre offering massages, two restaurants and several bars. Add to all of this Celtic Sauna World, which is a complex of 21 steam rooms and saunas – including children's bio sauna.